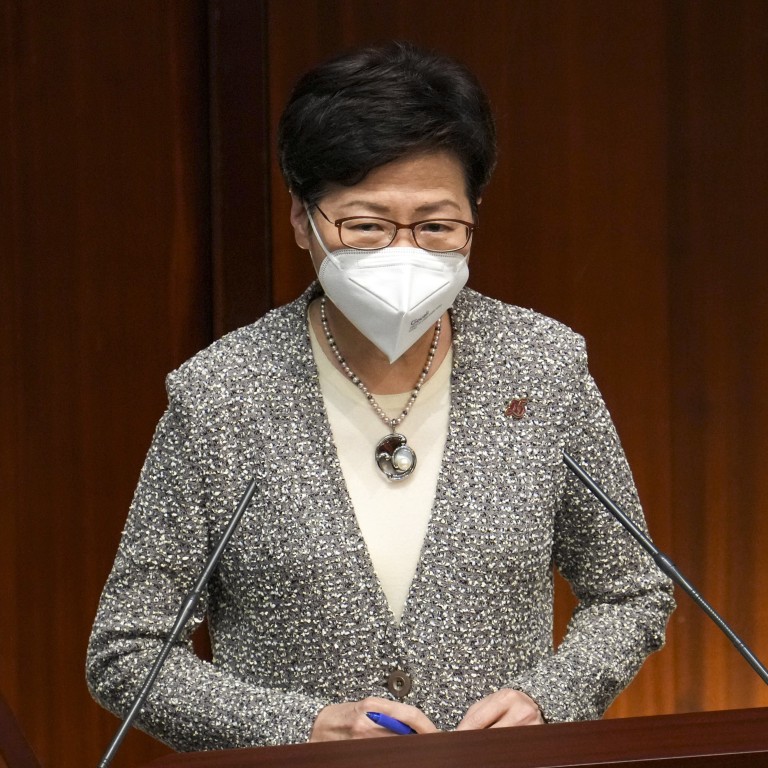 Hong Kong leader rules out reopening border with mainland China any time soon, pointing to nation's tough Covid-19 policy
While China is sticking with its 'dynamic-zero' strategy, the rest of the world is taking a more flexible approach, and Hong Kong is struck in the middle, Carrie Lam says
She also declares she has delivered a report card that she does not regret and has put down a 'perfect full stop' for her 40-year career
Hong Kong's leader has ruled out a full reopening of the border with mainland China any time soon, stressing the city is caught between the nation's stringent approach to stamping out Covid-19 and the rest of the world's more flexible attitude of living with the virus.
Carrie Lam Cheng Yuet-ngor, who will step down as chief executive in three weeks, on Thursday also said she had never considered quitting her job, nor did she have regrets despite the past five years being "one of the most challenging times for Hong Kong since the handover".
"What drives me moving forward courageously and fearlessly is a strong sense of historical mission and responsibility," Lam said with a shaky voice at her final question-and-answer session in the Legislative Council.
"I can boldly say I have delivered a report card which I do not regret, and have put down a perfect full stop for my 40 years in public service."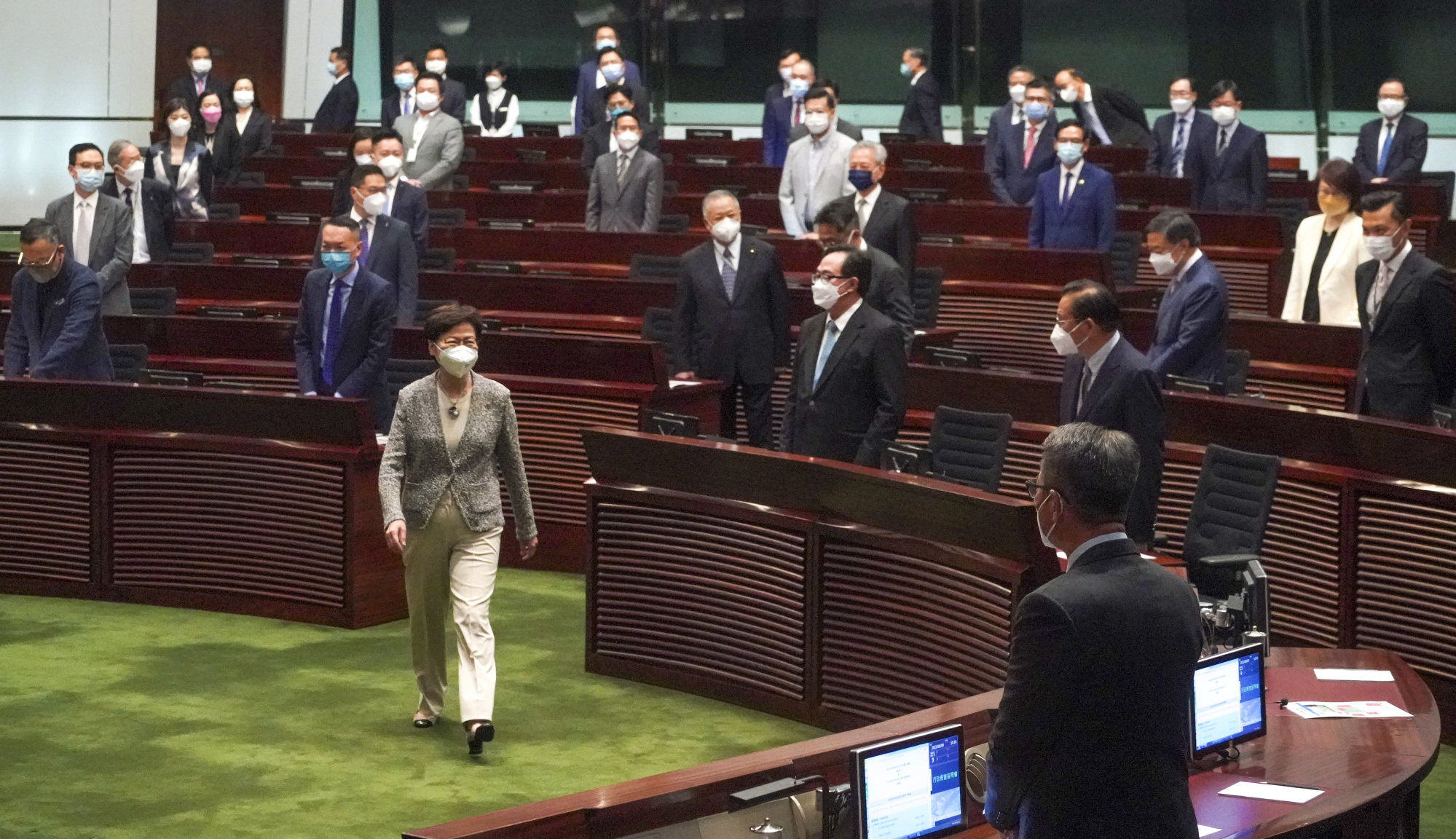 For the first time, Lam publicly acknowledged that most countries' policies on managing the pandemic were different from China's "dynamic-zero" stance.
"We are standing in the middle, and we have to be careful to evaluate the situation, and to determine what measures we should take at some point, so we can achieve the best of both worlds," she said.
"But this is really challenging, and if we are still sticking with the discussion basis [held] between September and December last year with the mainland, I cannot see a chance [of border reopening] in the near future," Lam said, referring to earlier talks between both sides.
The matter, Lam said, would have to be left to the next administration to be led by her former No 2 official, John Lee Ka-chiu.
Lee stressed during his campaign that quarantine-free travel with the mainland would be his top priority if elected, but last week admitted that achieving that goal would not be easy.
The incoming leader had said he would communicate with mainland officials after taking office on July 1 to determine exactly what conditions needed to be met, and urged residents to be pragmatic and understand that the ultimate decision was in Beijing's hands.
Health officials on Thursday reported 674 coronavirus infections, the most since April 17. The cases included 342 rapid antigen test results verified by authorities and 280 not previously disclosed by officials.
The city's Covid-19 tally stood at 1,216,842, with 9,390 related deaths after one additional fatality was reported.
Government pandemic adviser Professor David Hui Shu-cheong agreed with Lam that resuming normal travel with the mainland was highly unlikely, saying the roughly 500 community cases being recorded daily in Hong Kong was far from the "dynamic-zero" infections Beijing required.
The mainland has focused on early detection of infections through widespread testing, frequent contact-tracing, long quarantine periods and strict border controls. While the strategy has kept cases and deaths to a minimum, it also comes at a steep cost, with lockdowns that most of the world long ago abandoned still a regular occurrence in major mainland cities.
But Hui said Hong Kong could make progress in negotiations on quarantine-free travel with the mainland if the central government adjusted the national policy following its own experience with extensive Omicron outbreaks.
"The new administration could then talk to the National Health Commission again and emphasise Hong Kong's low severe and death cases," he said, adding the city had fulfilled other requirements such as launching a colour-coded health code
Ronny Tong Ka-wah, a member of the Executive Council, Lam's de facto cabinet, agreed there was no possibility of resuming quarantine-free travel in the near future, given the mainland's policy.
"Hong Kong could hardly remain shut to international communities, and even if we do so, we are still facing hundreds of cases a day, which Beijing would not accept," he said.
Tong suggested that if the city reduced the daily number of infections and increased the vaccination rate, the government could discuss a "compromise" with Beijing, which might include "point to point" travel, but he admitted a lot of hard work needed to be done.
New People's Party lawmaker Regina Ip Lau Suk-yee, also an executive councillor, said the government should negotiate for a limited corridor allowing normal travel only for the purposes of business and other essential economic purposes.
"The Hong Kong people who travel to the mainland through this limited corridor must be placed under a 'closed-loop' arrangement for a period of time before and after they cross the border, and must use the mainland's health code to reassure authorities over there," Ip said.
Lam also sought to play down fears of a looming sixth Covid-19 wave, citing experts' opinions that no immediate responses – be it restricting travel or ramping up social distancing – were needed despite the recent spike in the daily caseloads.
She revealed that her pandemic advisers had said they were "not worried" about the latest situation at a Tuesday meeting, given the city had already built a "protective shield" against severe coronavirus cases and deaths through past natural infections.
As of Thursday, only 375 Covid-19 patients remained in hospitals, with 19 in severe or critical condition and three in intensive care.
During the 97-minute session, Lam was grilled on the pandemic, housing woes and livelihood issues by 25 lawmakers, who at times heaped praises on the chief executive for her "contribution" and for being "a role model for women".
Ip described Lam's tenure as the "hardest among all four chief executives" in the 25 years since Hong Kong's return to Chinese sovereignty.
"There's no doubt that you faced immense pressure, and I respect you for your dedication," said the former security minister.
While the Legco question and answer session for Hong Kong's leader used to be a highly charged affair marked by walkouts, protests and wars of words staged by opposition lawmakers, the atmosphere on Thursday in the 90-strong legislature was significantly muted, with members returned under Beijing's "patriots-only" electoral shake-up last December.
Reflecting on her tenure, Lam said she had put effort into mending the relationship between the executive and legislative branches early in her term by reaching out to parties across the political spectrum.
The efforts paid off, Lam said, but ties were soon rewritten by the 2019 social unrest, triggered by the now-shelved extradition bill, a lesson that made her realise that the "patriots-only" concept was key to good relations between the administration and legislature.
In the absence of the principle, destabilising elements and pro-independence activists could enter political circles by exploiting loopholes, she added.
"[With patriots administering Hong Kong], it gave our officials power and confidence to show their creativity, and not be afraid of political challenges that would drag policies down," she said.
Turning down lawmakers' calls to comment on the next administration's work, Lam said that after stepping down, she would be willing to help train civil servants and promote Chinese art, culture and history as she had been overseeing the Hong Kong Palace Museum project in the past few years.