John Lee
Get more with myNEWS
A personalised news feed of stories that matter to you
Learn more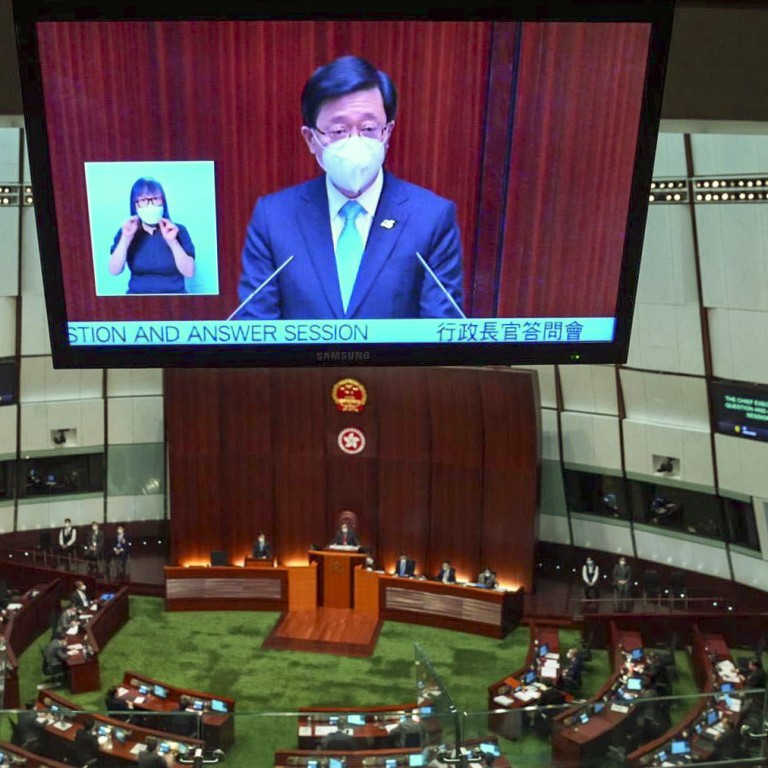 Hong Kong leader John Lee in Legco: city not 'lying flat' in pandemic fight, PCR tests can be extended to exempt residents from restrictions
Lee answers questions from legislators during his first appearance in the Legislative Council as chief executive
He also stresses positive relationship between his administration and Legco, dismissing previous era in which some used 'two systems to resist one country'
Hong Kong Chief Executive
John Lee Ka-chiu
made his first appearance at the Legislative Council as city leader on Wednesday in a 90-minute question and answer session with lawmakers.
But Lee courted controversy before the session even began by making an unprecedented request for lawmakers to confine their questions to a handful of policy areas, sparking criticism the move would belittle the chamber.
The seven policy areas to which Lee hoped legislators would restrict themselves were: the government's response to a speech by Chinese President
Xi Jinping
in Hong Kong last week; housing supply; measures to combat Covid-19; youth development; innovation and technology development; environment hygiene and the cityscape; and "promoting Hong Kong in the international community and telling a good Hong Kong story".
Lee on Tuesday insisted his request was only made in replying to questions from the Legco secretariat on whether he would make any remarks in the chamber and if discussion should focus on particular areas. He pledged to answer "any questions from all lawmakers".
The Chief Executive's Policy Unit
Lee revealed he had decided to rename the Policy Innovation and Co-ordination Office (PICO), formerly the Central Policy Unit before it was revamped by his predecessor Carrie Lam Cheng Yuet-ngor, to the "Chief Executive's Policy Unit".
The renaming indicates that the city's leader is someone who takes into account the interests of Hong Kong and also visions of the country's development, according to Lee.
The unit will formulate policy plans and discuss them with Lee and the director of the Chief Executive Office.
Lee said it would look into public sentiment, public opinion, and the needs of people from different sectors in Hong Kong when formulating social policies, with national development and international situations taken into account.
The chief executive did not only serve the city, but also had to be responsible to the country, he said, citing Xi's speech on the administration having a Hong Kong vision, affection for the country and an international perspective.
Wiping out security risks
Lee said the cornerstone for Hong Kong to "allow the city to develop without any worries" was to wipe out any security risks.
"National security risks are of course [important]. But financial safety, food safety, supply safety and the safety of systems, among other things, are also imperative," he said, adding that the handling of the pandemic could also be an issue.
Lee urged for understanding, pointing out the government could not be completely transparent when it came to security issues.
"If we let people know, they will have peace of mind. But sometimes we can't because we can't let our enemies know," he said.
'Lots of petty people in the world'
Lawmaker Chan Siu-hung asked Lee how the city should combat smearing by foreign forces and be more progressive in "telling better stories of Hong Kong and China". Lee said the previous "pragmatic and conservative" approach would no longer be the most ideal now.
"We are gentlemen, but there are lots of petty people in the world," he said. "We have to be bold to speak out and tell people how great we are."
He said he would task his ministers with presenting the city's niches and showcase achievements in relevant policy areas, as well as explore new social media platforms and communication channels while sending delegations overseas to deliver official messages.
Soft power to promote patriotism
Lee cited Xi's speech delivered on July 1 multiple times.
Referring to the Chinese leader's point on how all Hongkongers should "vigorously" promote mainstream values centred on love for the country and city, Lee said it was important to use soft power to promote patriotism, through areas such as the arts and culture, social media and journalistic works.
"That's why we have to go out and tell others the good Hong Kong stories," he said. "From these achievements, residents will be proud to be Hongkongers, and this can build up a sense of identity."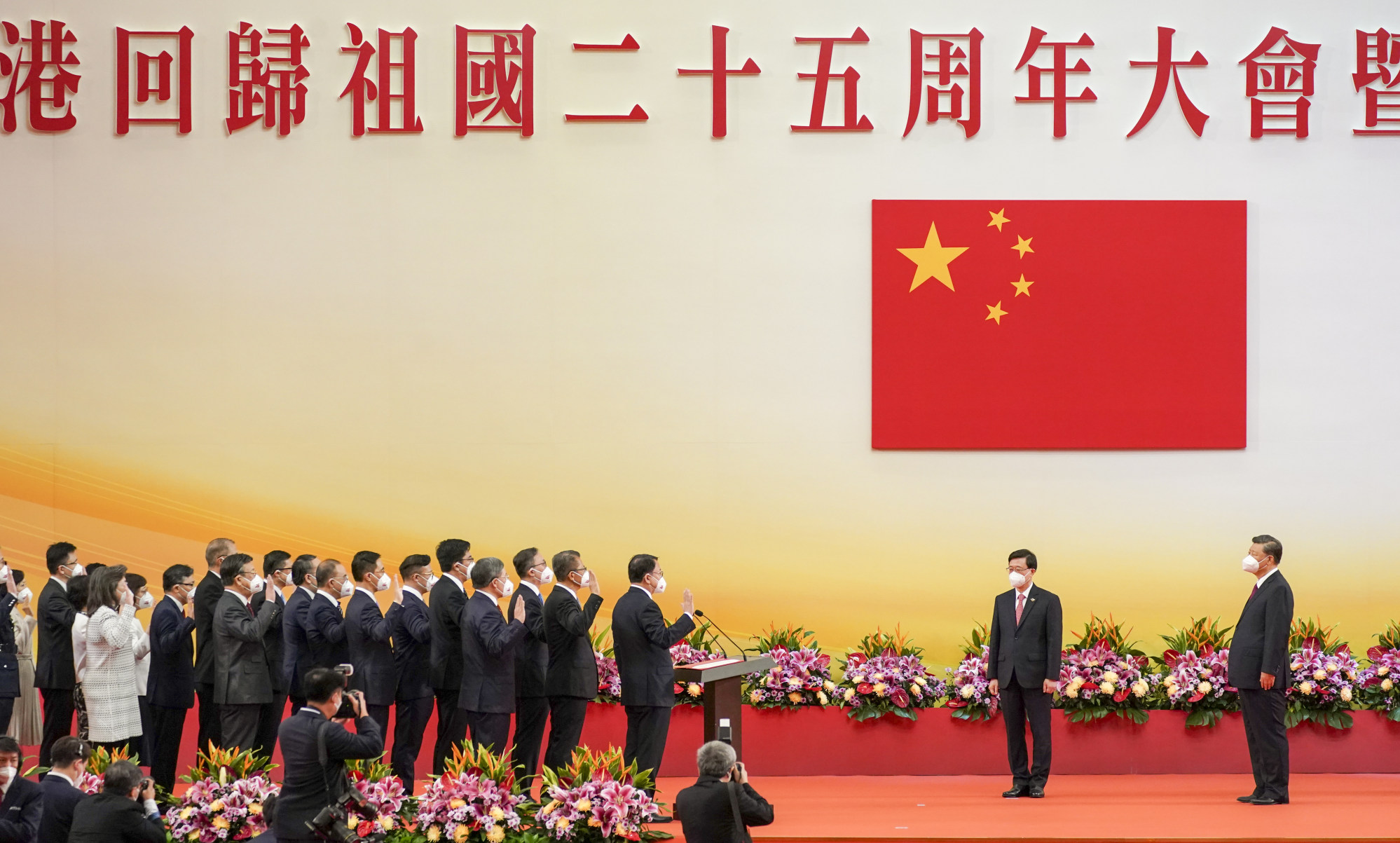 On Xi's call for youth care, Lee said there was a need for an overall blueprint to assist young people, given they were the city's future.
Lee said he hoped to hear young people tell him by the end of his term: "Chief Executive, although there is still something the government can do better, I have at least achieved some of my goals and am heading towards my dream."
'No talent, no competition'
Lee said he had ordered his Commerce and Economic Development Bureau to come up with new policies to boost Hong Kong's competitiveness and report to him in the coming month or two, after lawmaker Tony Tse Wai-chuen said the government was not proactive enough in retaining talent.
"The goal is to compete for talent with the rest of the world," he said, acknowledging the importance of this aspect. "If there is no talent, there is no competitiveness," he said.
Lee argued that Hong Kong was known for its vibrancy, transparency, and rule of law, which were good starting points to draw talent. "We should not underestimate ourselves," he said.
He pledged to increase opportunities for Hong Kong by expanding its market, including tapping into the potential of the Greater Bay Area.
He added he would lure leading enterprises to come to Hong Kong to further boost the city's innovation and appeal.
'Be fair to civil servants'
Responding to New People's Party lawmaker Dominic Lee Tsz-king's demand to reform the perceived bureaucratic culture of the civil service as "doing as little work as possible", Lee appealed to the public to "be fair" when evaluating the performance of government workers.
He said the 180,000-strong civil service greatly contributed to government efficiency.
"Why do they fail people's expectations sometimes? Whether one's potential can be fully unleashed depends on the system and departmental collaboration," he said. "A simple answer I can give is to evaluate on a case-by-case basis, and reform the system if needed."
He added that a government overhaul had created room to further improve efficiency, and his KPI approach would allow the administration to better keep track of the implementation of policy goals.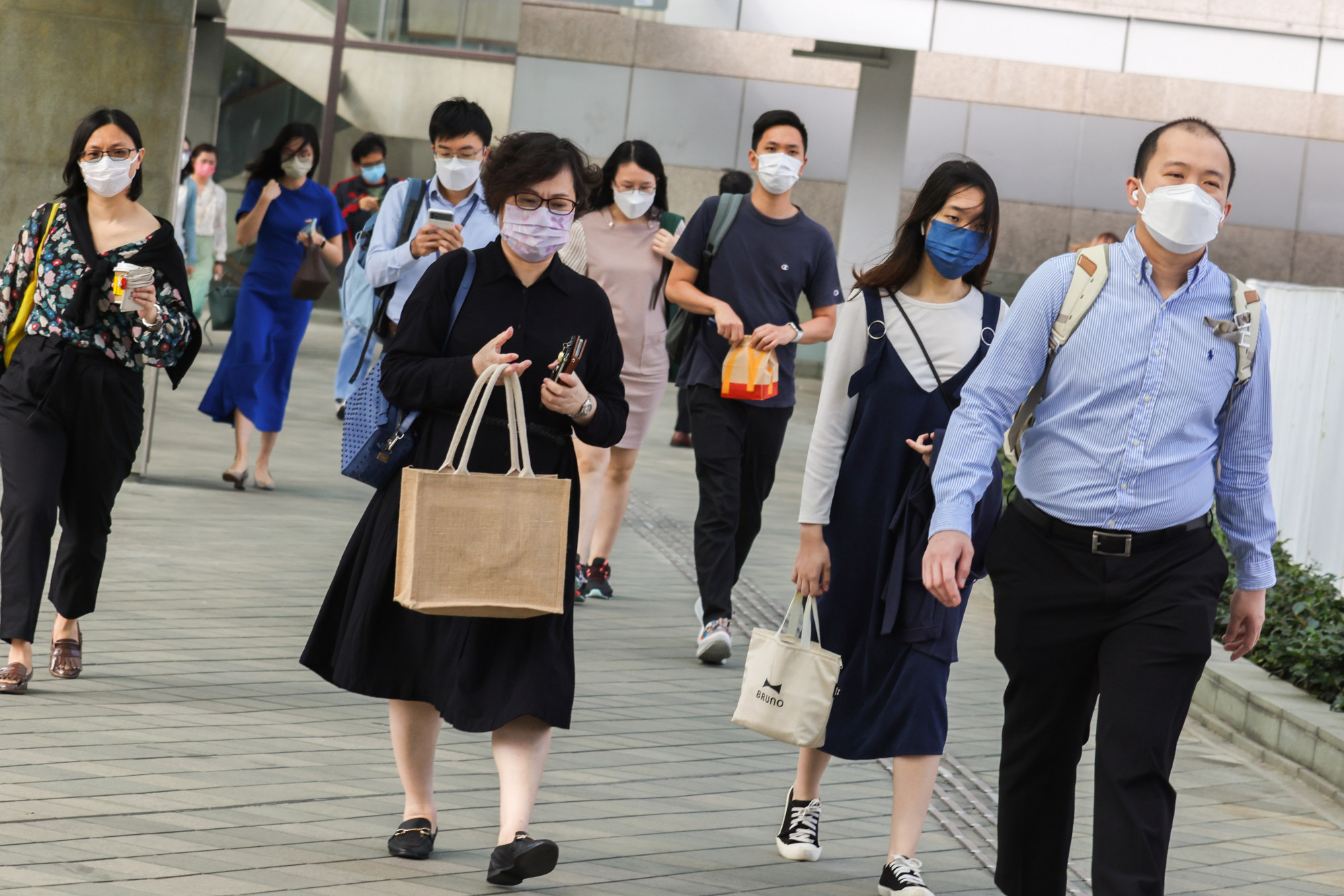 Innovation and cultural development
Lee vowed to turn Hong Kong into an innovation hub by tapping the resources of Chinese cities in the Greater Bay Area. The bay area is an ambitious project aimed at integrating nine Chinese cities, along with Hong Kong and Macau, into an economic powerhouse rivalling Silicon Valley.
Lee said Hong Kong could make use of talent and production resources across the border.
On art and culture, Lee started by thanking mainland officials for supporting Hong Kong in building its Palace Museum.
"Hong Kong will merge both its old and new cultural capital … to become a cultural hub between the East and West, while also becoming a prime location for art performances," he said.
Not 'lying flat' in pandemic fight
On pandemic strategies, Lee said he disagreed with criticism the city was "lying flat", a mainland Chinese slang referring to those idling.
"We cannot let infection numbers continue to rise," he said, pointing to the burden on the city's healthcare system and the impact on high-risk residents such as the elderly and chronically ill patients.
He said the government would focus on measures that would have lesser impact on residents, such as effective use of PCR tests, to exclude people who were not infected at an earlier stage.
"This could exempt them from restrictive measures, so that they can work and live normally soon," he said, adding the government would also make use of technology to minimise the inconvenience of quarantine.
"We should surround the trees that are sick instead of those who are not," he said.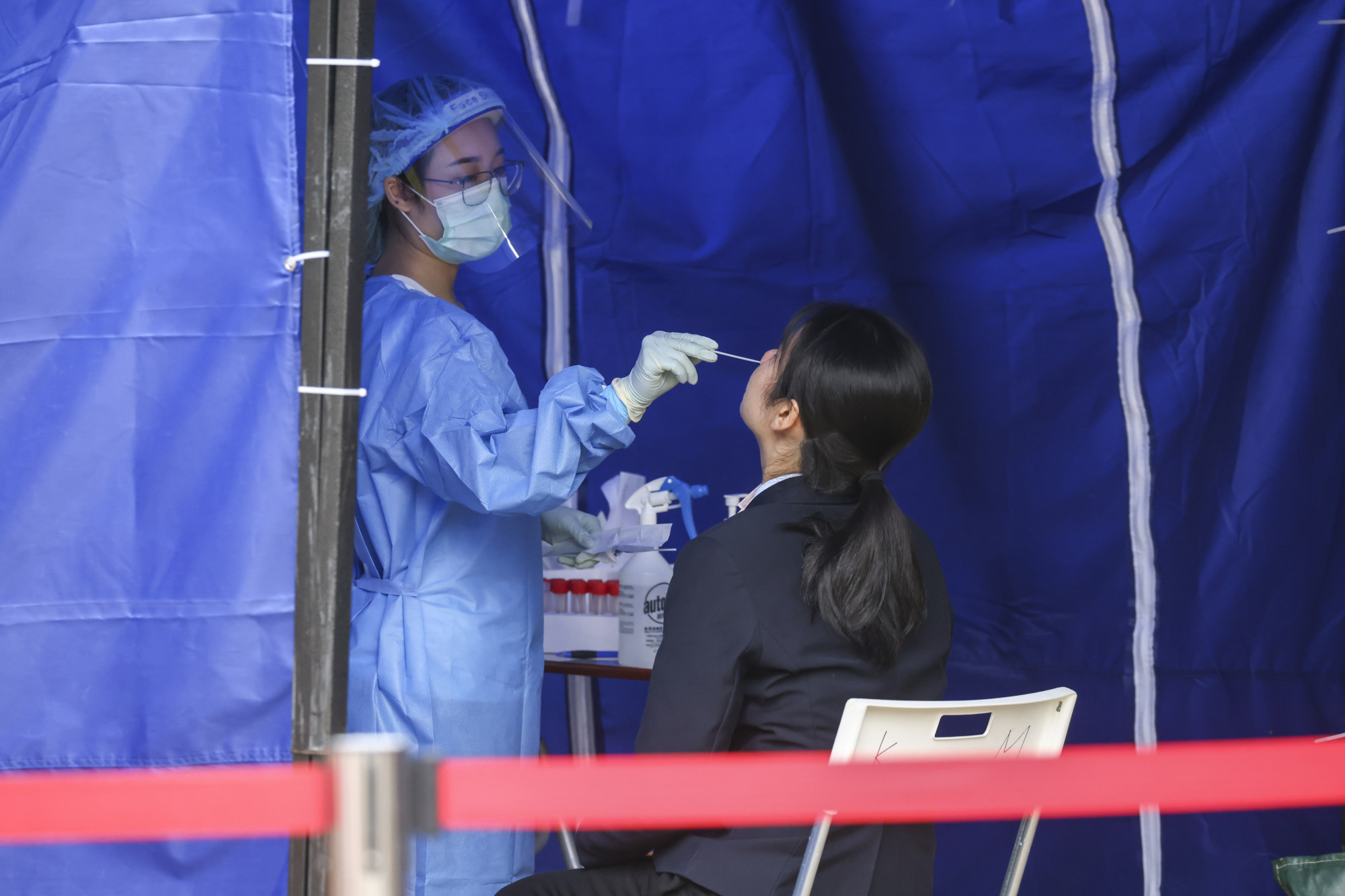 Reopening border with the mainland
With the city maintaining one of the toughest quarantine systems in the world, Lee said his health bureau was looking into ways to minimise inconvenience caused to inbound travellers, such as shorter isolation periods in hotels.
"It might not be appropriate for us to go back to those restrictive measures," he said.
On reopening the border, Lee said he appreciated concerns on the mainland side, with Hong Kong logging about 2,000 Covid-19 cases daily.
He pledged to communicate with mainland authorities to build mutual trust and consider the interests of both sides, and to come up with a plan under which both parties could meet each other halfway.
"We aim to minimise inconvenience for residents, and will see if there can be any interim measures. This is a pragmatic way of doing things," he added.
Four cross-departmental task forces
On his sixth day of work as the city's leader, Lee said he would set up four interdepartmental groups headed by four top ministers, to tackle major issues.
The four groups will focus on:
An intergenerational poverty alleviation programme led by the chief secretary

A land supply push led by the financial secretary to coordinate different planning and lands department, as well as to streamline procedures.

A districts affairs coordination group led by the deputy chief secretary to identify locations with hygiene or street obstruction problems, and to set up action targets within two months, formulating plans for implementation citywide.

Expediting public housing projects led by the deputy financial secretary to suggest how to speed up supply in this sector within 100 days, and to mostly deal with early allocation of public flats.
Ministers to submit policy goals next month
In his opening speech, Lee said his government would actively fulfil expectations laid out by Xi during his visit to Hong Kong last week. Lee said Xi's comments "showed great foresight" and were "hugely significant".
"My leadership style requires my ministers to race against time to resolve problems before they escalate," he said. "I value team spirit. Ministers will cooperate with each other and create synergies."
Lee, who has pledged to adopt a result-oriented approach and set key performance indicators to measure progress, also said he already required ministers to submit goals in their relevant policy areas to the Chief Executive Office next month.
Last Friday when Xi swore in Lee and his new team, the president instructed them to improve governance, strengthen the momentum of development, solve deep-seated livelihood issues, and ensure harmony as Hong Kong "cannot afford any chaos".
Antechamber chat
Lee started his speech by announcing that he planned to introduce an "antechamber chat" at the Legislative Council between lawmakers and top officials once a month. Such sessions will be held in a separate room near the main chamber.
He proposed on each occasion, secretaries and deputy secretaries, the highest-ranking officials, would lead five or six ministers to discuss various topics with lawmakers.
He said he would head the first session, leading Chief Secretary Eric Chan Kwok-ki, Financial Secretary Paul Chan Mo-po and Secretary for Justice Paul Lam Ting-kwok, as well as their deputies, if lawmakers were keen on the proposal.
"It can bring regular exchanges so that the executive legislative branches could have better relations … while allowing a better understanding of public opinion," he said.
He stressed a positive relationship between Legco and his administration was important as it was the foundation of "opening a new chapter for Hong Kong", citing a mantra of his election campaign.
He also said that without the opposition lawmakers, Legco had been back on track, ending an era when some used the notion "two systems to resist one country".
Mainstream opposition parties shunned the Legco election last December after a Beijing-imposed, "patriots-only" overhaul of the system.
Reporting by Chris Lau, Lilian Cheng, Natalie Wong, Harvey Kong, Tony Cheung and Jeffie Lam