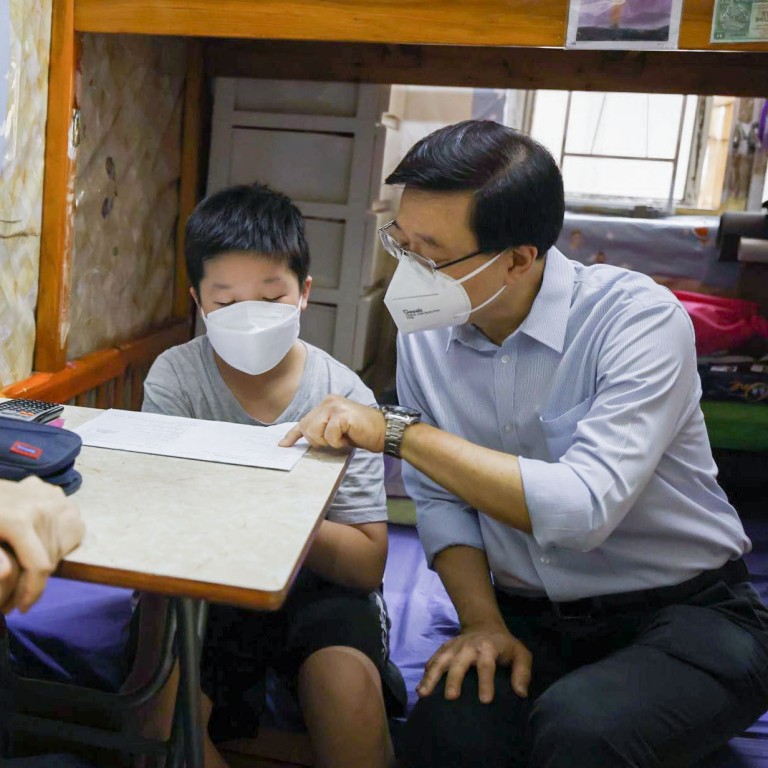 Hong Kong's John Lee conducts first community walkabout in Sham Shui Po. What did he discuss with residents and shop operators?
City leader says matters raised on the ground will help him draft maiden policy address in October
Lee also visits subdivided flats in district, exchanging views with residents
Hong Kong's new leader conducted his first walkabout session on Saturday in Sham Shui Po, visiting subdivided flats in the area and chatting with shop operators to gauge their views on topics he will touch on in his maiden policy address in October.
Chief Executive John Lee Ka-chiu said he spent the two-hour visit discussing with residents matters ranging from housing to education, youth development, livelihood issues and border reopening.
In a chat with a family of three in a subdivided flat, Lee said a Form Two student had expressed hopes about "joining the government when he grows up".
Lee, who did not arrange for media coverage, posted photos on Facebook after the visit, showing him sitting on a bunk bed and talking to the student, also with the same surname.
Sham Shui Po is one of the poorest districts in Hong Kong, its cramped blocks of subdivided flats, a notorious housing type for the underprivileged, are indicative of the proportion of low-income families in the area.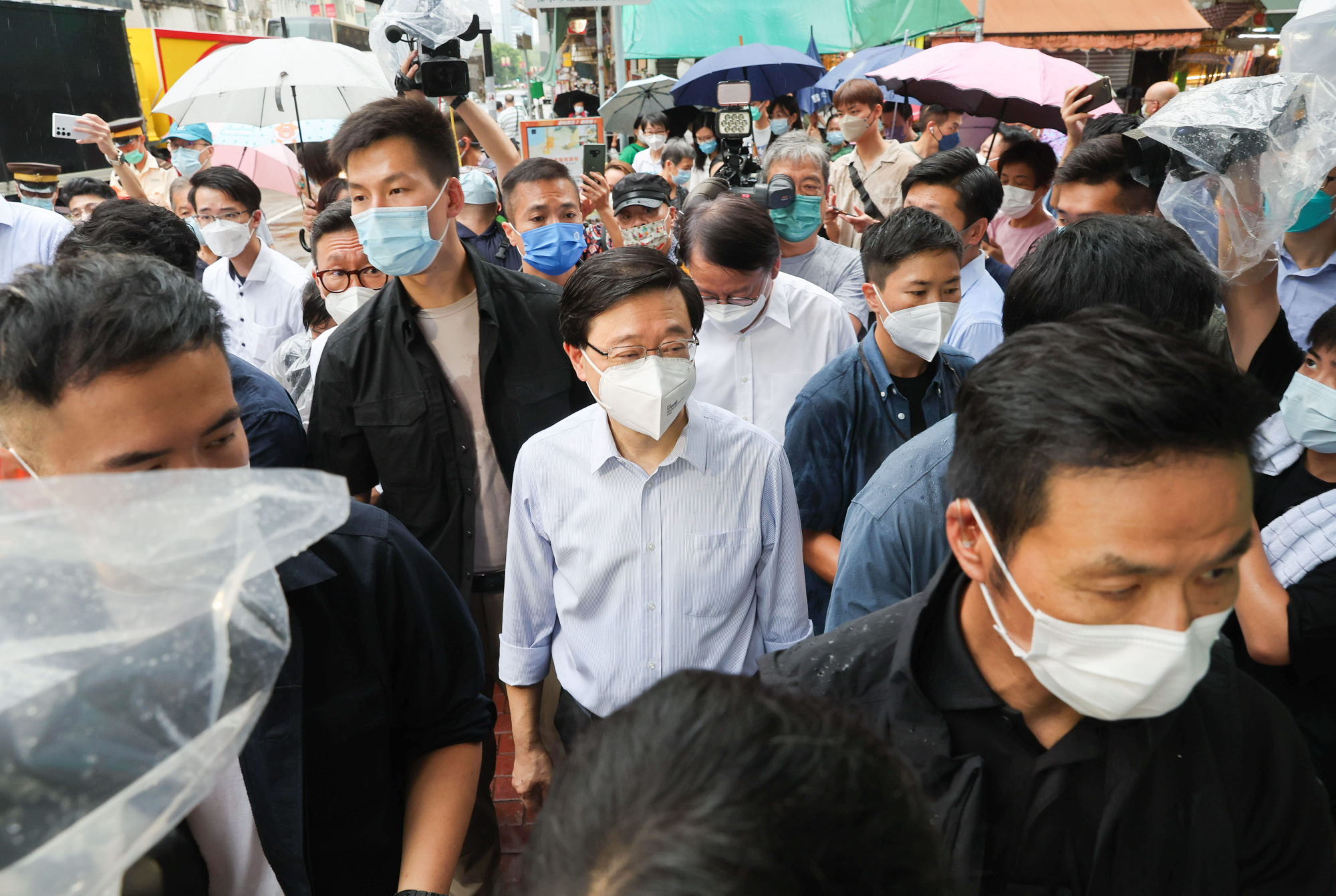 The chief executive wrote on social media: "Student Lee told me that his favourite subject is Chinese history, and when he grows up, he hopes to join the government to serve society and repay his parents."
Lee went on to describe how the teen had told him about his interest in playing the violin and being recruited for his school's orchestra, yet the family was unable to afford the expensive examination fees.
"I hope that in the future, the 'Lift Underprivileged Students out of Intergenerational Poverty' task force can help more ambitious young people like Lee, who have economic constraints, create opportunities and hope for them, and enhance their upward mobility and develop talent," he added.
The city leader was referring to a team formed under Chief Secretary Eric Chan Kwok-ki, who also joined the Saturday visit.
In a media stand-up later, Chan said details for a proposed mentorship scheme for junior secondary school students living in subdivided flats would be revealed next month.
"The scheme will initially accommodate 2,000 such students and we are now seeking qualified mentors to teach them how to manage their finances and do career planning for a year," the No 2 official said.
Lee also visited some shops in Sham Shui Po and a district community centre, where he talked to residents and played chess with some elderly people.
"The visit in Sham Shui Po lasted only approximately two hours, but I got the chance to discuss topics with residents on housing, education, district improvements, youth development, while some of them were concerned about border reopening with the mainland," Lee said. "All their opinions gave me insights to draft the policy address."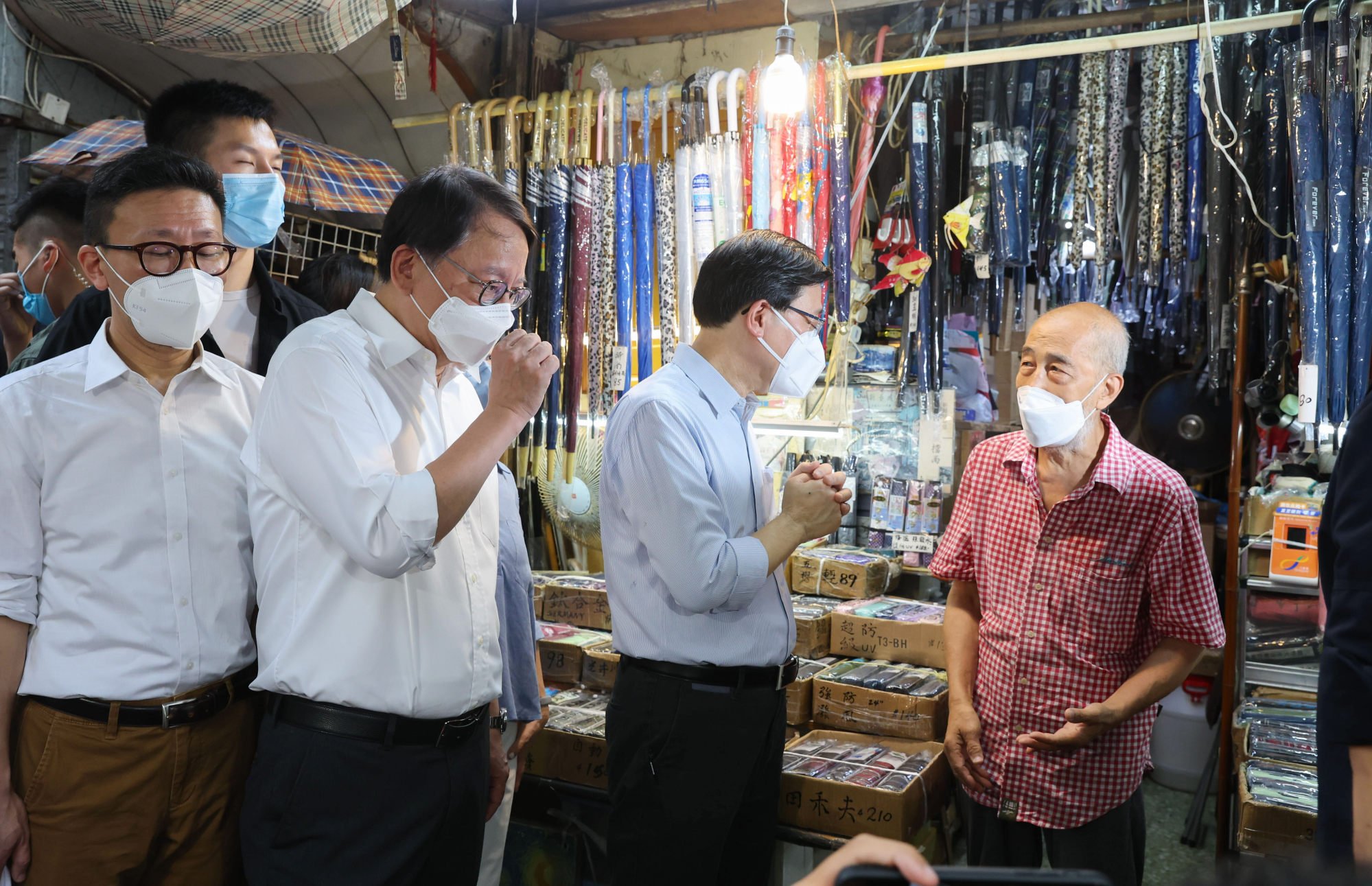 Lee's visit to shops in the area also attracted many photograph seekers, while a woman took the chance to lodge a complaint about how she was victimised by a property scam across the border.
Those he greeted included Yau, a fifth-generation owner of an umbrella shop with a history stretching back more than a century. Yau said it was his first time interacting with a chief executive and Lee had impressed him by coming across as a kind person.
"I told him to keep Hong Kong prosperous and continue the good policies done by the previous administration," he said. "I also hope the government can slow down a bit on development. Many people who live in old buildings that will be rebuilt are not rehoused, so they struggle to adapt to the change."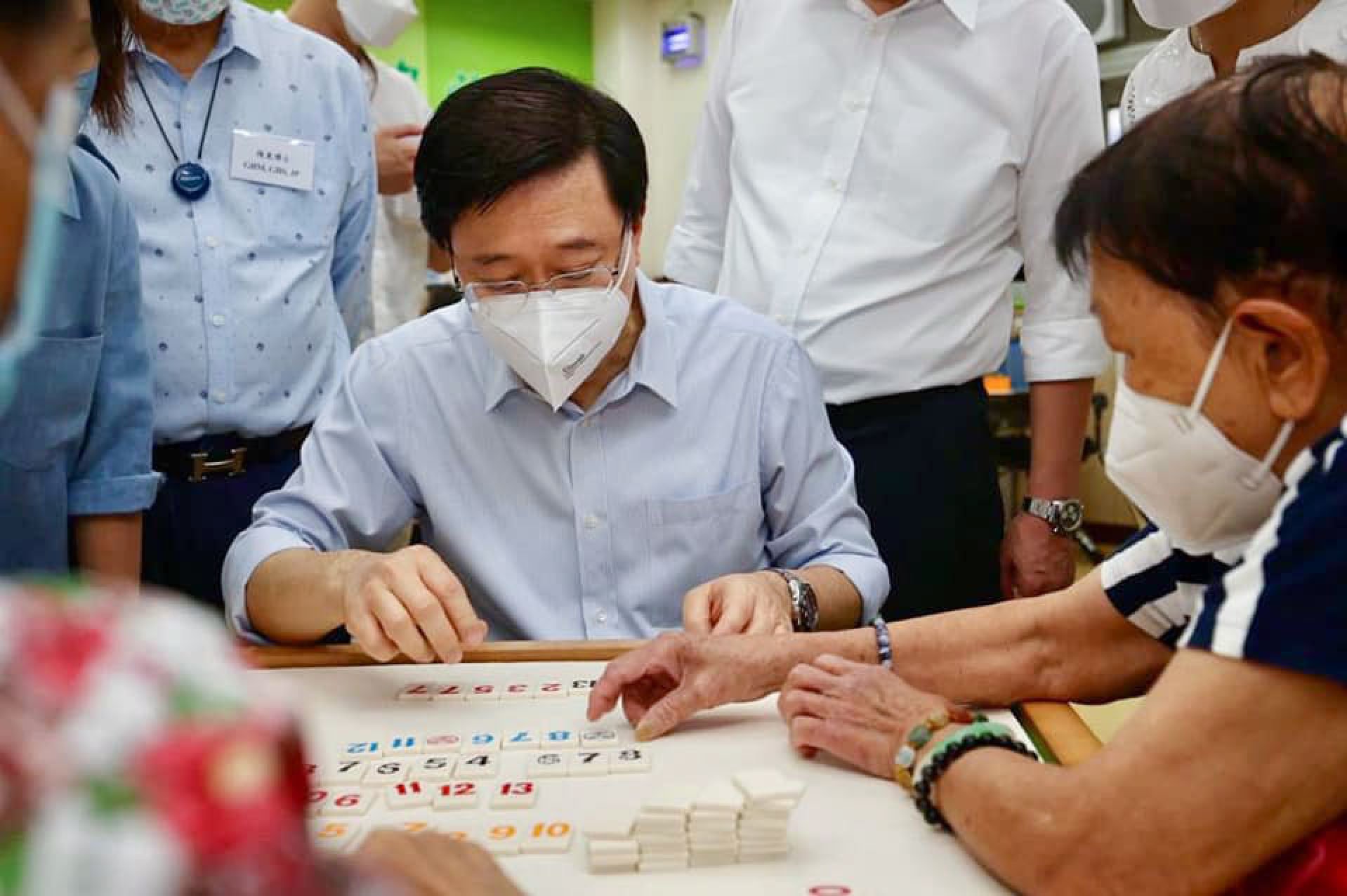 At a bakery Lee visited, a shopkeeper, who only gave his surname as Leung, said they talked about the widening inequality gap in the fifth Covid-19 wave.
"I am happy that he visited this district. He feels closer to residents," he said.
During his visit to a subdivided flat, Lee also scrutinised the building's door handle which was installed by a technology start-up. The handle adopted three-dimensional printing technology to create a protective layer that can kill the coronavirus.
"Lee believed the handles are easy to install and can be applied to other types of buildings. We have been cooperating with the Home and Youth Affairs Bureau to install the first batch of these in over 100 'three nil' buildings in Sham Shui Po since mid-June," said Kan Chi-wai, associate dean of Polytechnic University's school of fashion and textiles, who has been involved in the invention of the product.
"Three nil buildings" refer to those without any owners' corporations, residents' organisations or property management companies.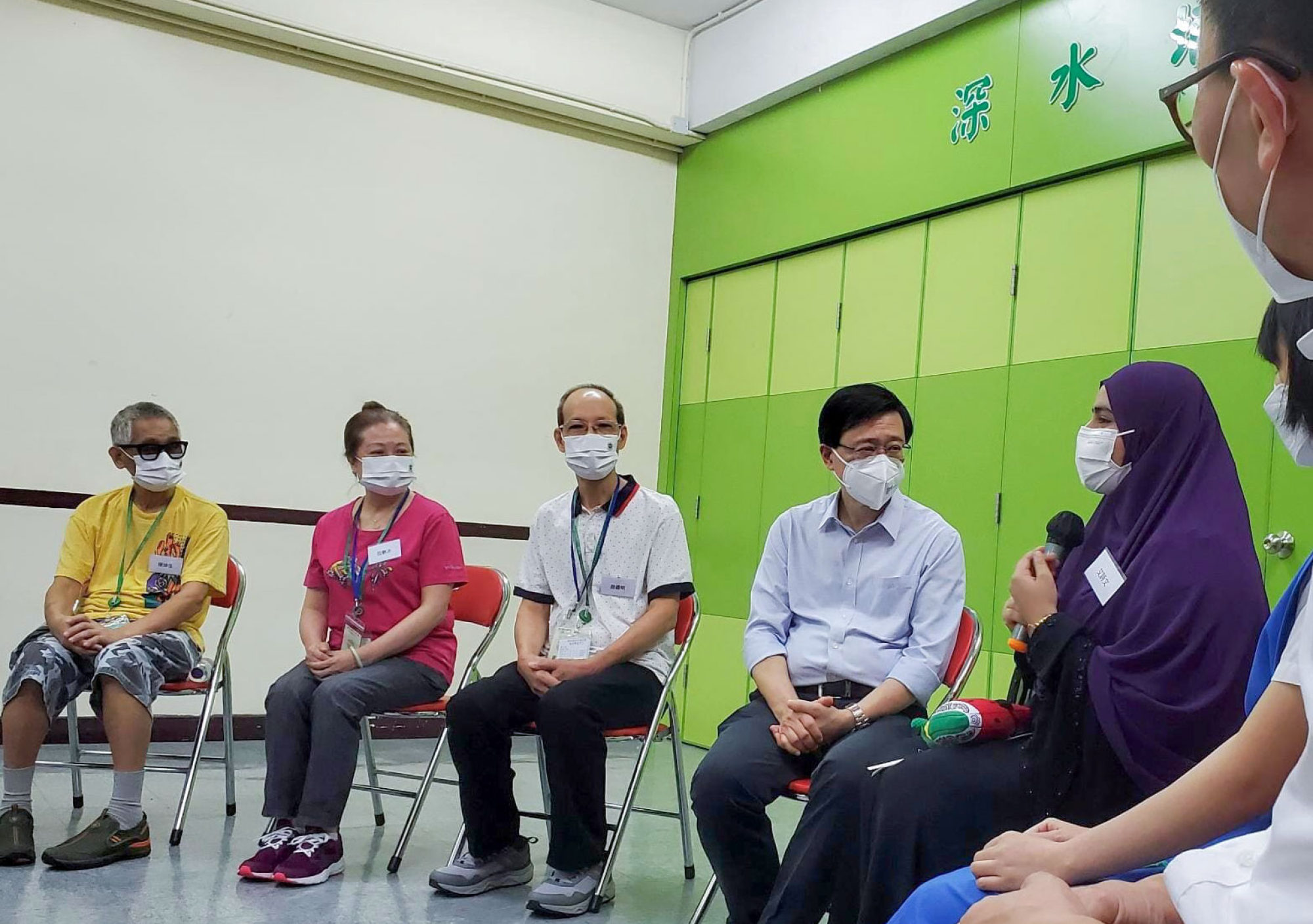 Lee had planned to visit districts and hold dozens of town hall meetings to gather feedback from the public ahead of his policy address in October, including about 30 consultation sessions to listen to views and suggestions from lawmakers, representatives of various sectors and members of the public.
According to the Legislative Council's latest schedule, Lee will give his policy address on October 19 and attend a question and answer session the next day.