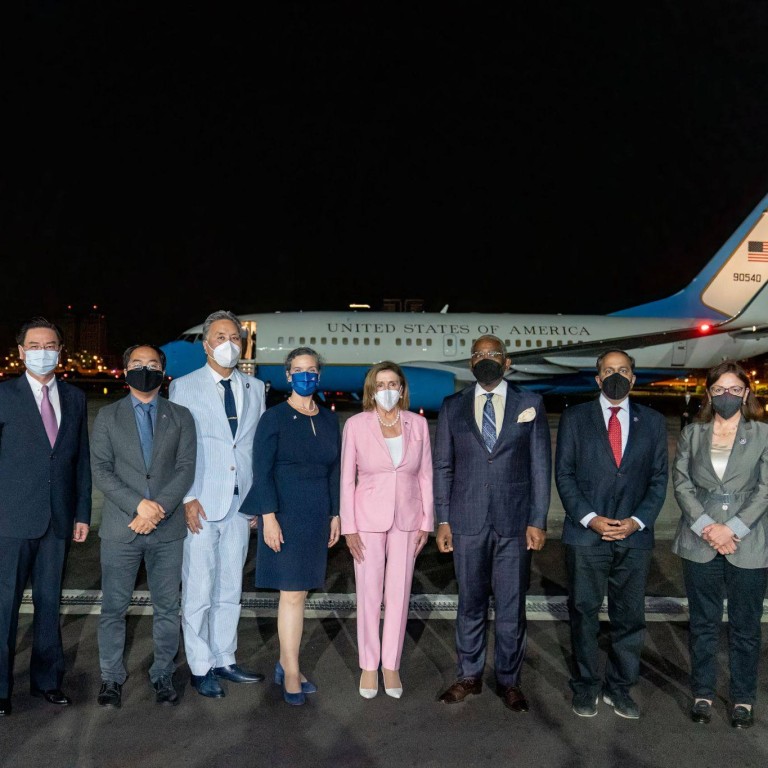 Hong Kong leader vows to help Beijing safeguard national sovereignty after US House Speaker Nancy Pelosi visits Taiwan
Chief Executive John Lee says visit infringes upon China's sovereignty and territorial integrity
Tough response sparks concerns Hong Kong might follow mainland China in suspending some types of Taiwanese imports
Hong Kong's leader has pledged to assist Beijing with "all necessary measures" to safeguard national sovereignty after US House of Representatives Speaker Nancy Pelosi
visited Taiwan
, as he condemned her attempts to smear the city's democratic development.
The tough response by Chief Executive
John Lee Ka-chiu
has sparked concerns that Hong Kong might follow mainland Chinese authorities in suspending some types of Taiwanese imports.
Lee issued his damning statement just hours after Pelosi arrived in Taipei on Tuesday night, and he gathered together his top aides, including No 2 official Eric Chan Kwok-ki, financial chief Paul Chan Mo-po and Secretary for Justice Paul Lam Ting-kwok, for a meeting on Wednesday, a portion of which was carried on his Facebook page.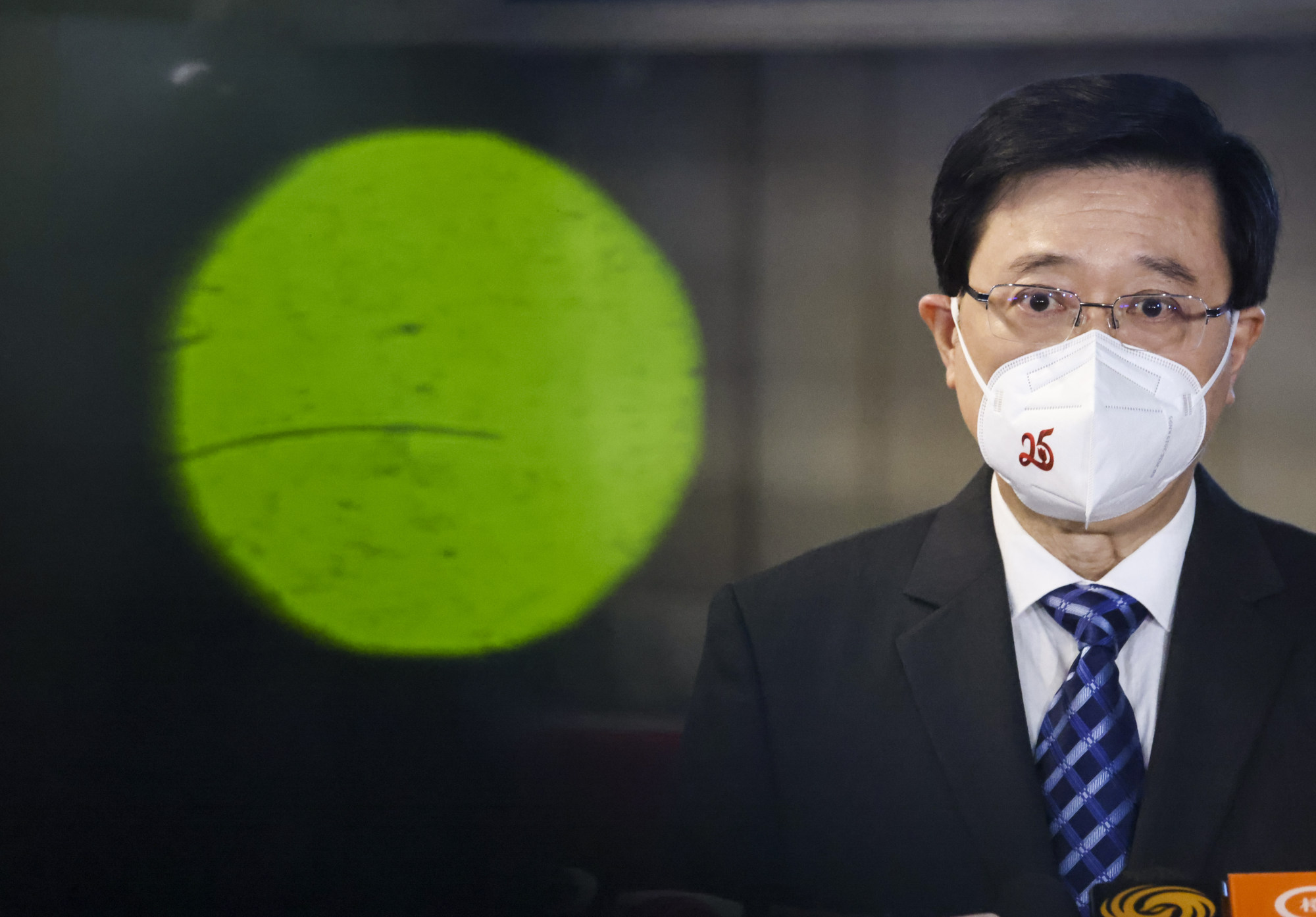 "Taiwan and the Hong Kong Special Administrative Region are both inalienable parts of the People's Republic of China. Pelosi's sneak visit is an attempt to use Taiwan issues in challenging China's sovereignty," Lee was seen telling the officials. "It is a selfish move for her to bet on, and in contempt for the well-being of more than 20 million people in Taiwan in return for her own political interest."
Without elaborating further, he said: "The Hong Kong government would fully support and facilitate all necessary measures by Beijing to safeguard national sovereignty and territorial integrity."
The mainland suspended imports from hundreds of Taiwanese food factories ahead of Pelosi's visit to the self-ruled island, which Beijing claims as its territory and has vowed to take back by force if necessary.
While the Chief Executive's Office said it had nothing to add when asked whether Hong Kong would follow suit and suspend Taiwanese imports, a government source said the city had to wait for any instructions from the central government.
Lee also accused Pelosi of ignoring "the successful implementation of the 'one country, two systems' principle" by making unfounded criticisms over the state of the city's democratic development.
He was responding to Pelosi's suggestion that Taiwan was a model of democracy in the region and offered a "stark contrast" to what was happening on the mainland and in Hong Kong.
"No more evidence [is] needed than what happened in Hong Kong under 'one country, two systems'," she said.
Leading a Democratic congressional delegation, Pelosi – an outspoken critic of Beijing and staunch supporter of Taiwan – arrived in Taipei on the unannounced visit shortly before 11pm, after making high-profile stops in Singapore and Malaysia.
Beijing, which had repeatedly warned the United States against allowing her to visit Taiwan, denounced the trip immediately after Pelosi's military plane landed, claiming it violated the one-China policy Washington had committed to uphold. She was the highest-ranking US official to visit Taiwan since 1997.
Pelosi and her group met Taiwanese President Tsai Ing-wen and other senior officials on Wednesday and attended a meeting with a small group of pro-democracy activists, including former Causeway Bay Bookstore owner Lam Wing-kee, who fled to the island from Hong Kong in 2019, and former Tiananmen Square student movement leader Wuer Kaixi.
Activist Nathan Law Kwun-chung, who is currently in a self-imposed exile in Britain, described Pelosi as a "very important ally" and expressed hope her visit would encourage more countries to engage with Taiwan.
Pro-establishment heavyweight Tam Yiu-chung, Hong Kong's sole delegate to the nation's top legislative body, said Hong Kong did not have much latitude to decide on actions against Taiwan, such as a suspension of imports.
"It depends on what Beijing wants us to do. We can only facilitate, but not take the lead under the one country, two systems principle," he said.
Regina Ip Lau Suk-yee, convenor of the government's top decision-making body, the Executive Council, said Lee's statement on Pelosi's visit be the most "explicit" one yet by a city leader on working with Beijing to safeguard territorial integrity.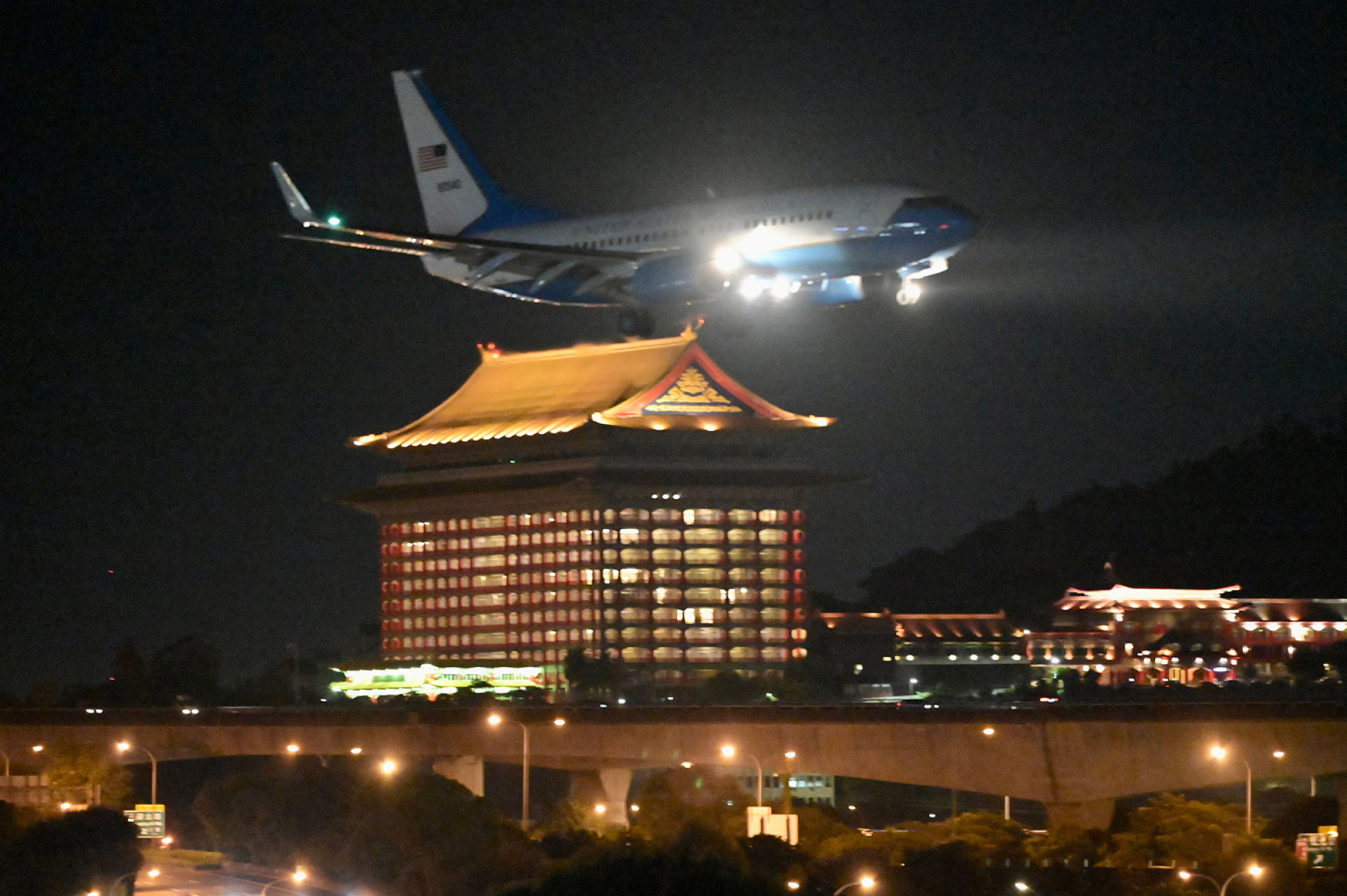 But she argued that given recent changes by the central government to Hong Kong's electoral system, his pledge was to be expected, "particularly at the current stage of the implementation of one country, two systems, when Beijing has laid down clearly, only patriots can be in charge".
"Those in important positions of the government must share the nation's core values on sovereignty, national security, developmental interests and territorial integrity," she said, adding it was difficult to say how much leeway Hong Kong had on this issue.
Businessman David Lie Tai-chong, a member of the nation's top advisory body and who has strong ties with Taiwan, said he was still studying the possible impact on Hong Kong's trade with the self-ruled island, saying it was the first time the city's administration had made such a pledge.
Speaking in a personal capacity, Lie said the interaction between the semi-official Hong Kong–Taiwan Economic and Cultural Co-operation and Promotion Council, which he heads, and its Taiwanese counterpart had been limited since 2019, when the city's government pushed through a now-withdrawn extradition bill which triggered unprecedented social unrest.
Lie said he expected the latest developments to have little impact on Hong Kong as Taiwanese goods only amounted to a small portion of the city's imports, unlike Japanese products.
Economists and trade groups agreed the impact of the mainland's suspensions of Taiwanese imports was likely to be limited as the ban did not touch on its electronic products such as semiconductors, which Beijing needed due to Washington's economic sanctions on the mainland.
Government data showed the share of Taiwan's total trade in Hong Kong grew from 4.6 per cent in 2010 to 6.7 per cent last year. The self-ruled island's semiconductor-related trade in Hong Kong rose from 18 per cent in 2010 to 36 per cent in 2021.
In 2021, the total trade value between Taiwan and Hong Kong was more than US$64 billion, according to Taiwan's Bureau of Foreign Trade.
"Mainland China's bans on Taiwanese sand, fruits and seafood will only have a small impact on Hong Kong's re-export trade, unless the bans extended to Taiwan's electronic goods such as semiconductors," said Gary Ng Cheuk-yan, a senior economist at Natixis Corporate and Investment Bank.
Kennedy Wong Ying-ho, who represents the import and export sector, told the Post he had not received any news of a change in government policy.
As part of its response to Pelosi's visit, China has been holding military drills in the Taiwan Strait. According to the Airport Authority website, four passenger flights and nine cargo flights were scheduled to depart from Hong Kong to Taiwan on Thursday, but one of the cargo flights, China Airlines CI6844, was cancelled.
A Cathay Pacific spokesman said it was monitoring the developments very closely. "Our flights currently avoid going through the designated airspace zones around the Taiwan region. This may potentially lead to more flying time for some flights," he said.
On Wednesday, pro-Beijing political groups also took turns to protest at the US consulate in Hong Kong. The Hong Kong Federation of Trade Unions, which staged a small demonstration, condemned Pelosi's trip and said the United States "must pay full responsibility for playing with fire".
"China will take resolute and powerful countermeasures to protect its sovereignty and security interests," the federation's lawmaker Bill Tang Ka-piu said.
The Democratic Alliance for the Betterment and Progress of Hong Kong said it fully supported the Chinese government and military in taking all necessary measures in response to the visit.
Former city leader Leung Chun-ying, now vice-chairman of the nation's top political advisory body, the Chinese People's Political Consultative Conference (CPPCC), said Pelosi's trip only served American interests and did nothing for the people of Taiwan. He asked why China could not recover the self-ruled island by force.
Former World Health Organization (WHO) chief Margaret Chan Fung Fu-chun, a member of the CPPCC Standing Committee, also expressed her opposition to any official interaction between the US and Taiwan.
"As the No 3 figure in the US government, Pelosi visiting Taiwan on a US military plane is a gross interference in China's internal affairs, seriously undermining China's sovereignty and territorial integrity, wantonly trampling on the one-China principle, seriously threatening the peace and stability of the Taiwan Strait, and seriously damaging Sino-US relations," said Chan, who served as the city's director of health between 1994 and 2003 before joining the WHO.
Pelosi began her tour of Asia on Monday with a visit to Singapore. The delegation left Kuala Lumpur on Tuesday afternoon, arriving in Taiwan by a roundabout route. She left for South Korea on Wednesday.
Additional reporting by Cannix Yau, Oscar Liu and Rachel Yeo