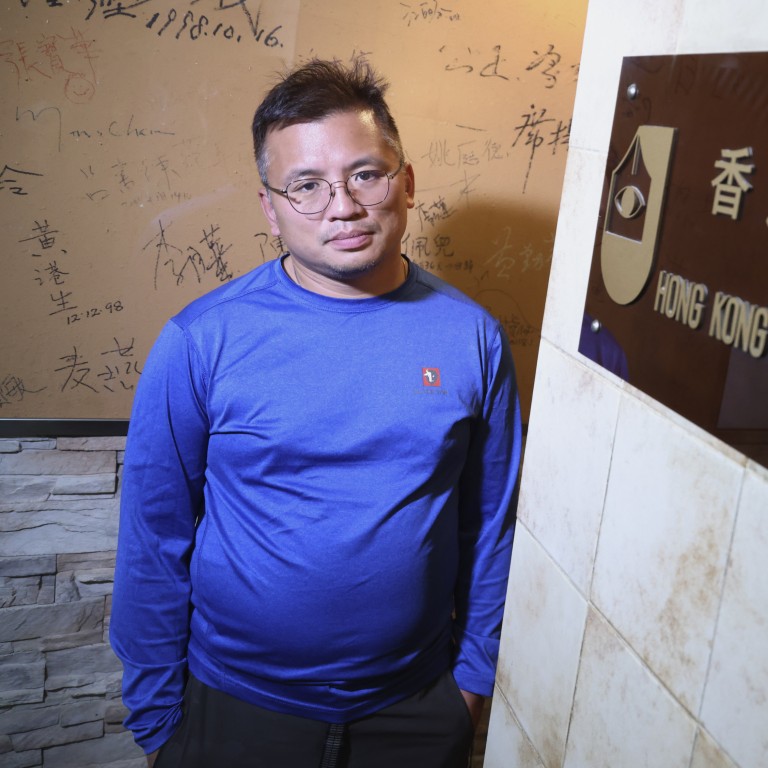 Chairman of Hong Kong's biggest journalist group arrested on suspicion of public disorder, obstructing police
Ronson Chan, chairman of the Hong Kong Journalists Association, taken into custody after officers intercepted him for a stop and search
International media watchdog Reporters Without Borders calls for Chan's 'immediate release'
The head of Hong Kong's biggest journalist union was arrested on Wednesday for alleged disorder in a public place and obstruction of a police officer.
Ronson Chan Ron-sing, chairman of the Hong Kong Journalists Association, was taken into custody after officers intercepted him to conduct a stop and search.
International media watchdog Reporters Without Borders called for the association chairman's "immediate release" following news of his arrest.
Chan, a deputy assignment editor at online news portal Channel C, was in Mong Kok providing media coverage of a meeting of Long Ping Estate property owners.
The force said their officers had stopped Chan, 41, and his companion, a 42-year-old man, for an identity check because they thought the pair were "suspicious". It said Chan was uncooperative, refusing to provide his identity card, and was arrested on suspicion of disorderly conduct and obstructing a police officer after multiple warnings.
The man with Chan was let go after he assisted officers during the check, according to the police's statement. Chan was released on bail at about 11.30pm on Wednesday and must report back to police later this month.
Chan said he was astonished by his arrest after he was released from Mong Kok Police Station.
He said he was stopped by two plain-clothes officers shortly after they parked their car and approached the event venue. The pair disclosed their identities only after his repeated requests but did not explain why he was intercepted.
When he was about to produce his identity card, a third plain-clothes officer approached him and told him to cooperate and back up. The officer had shown his warrant card upon Chan's request but Chan said he was issued two verbal warnings after he repeatedly asked the officer, a station sergeant, to disclose which unit he worked for.
He said the officer did not yield and arrested him after issuing a third verbal warning. Chan said he was pushed against a wall, handcuffed and taken into a police vehicle.
Chan accused the third officer of swearing at him and said he called the association "rubbish".
"The Police General Orders state officers have to show their warrant card and disclose which units they belong to … I hope police will understand after looking into the case that I was just exercising my civil rights," he said.
Under Chan's leadership, the association amended its charter following an extraordinary meeting in August, reducing the number of votes required for it to disband. The move came on the back of mounting government pressure for the group to disclose details of its operations.
But the group's chairman had said the association, which comprised 486 members as of last September, did not intend to disband for the time being.
While working for the now-defunct Stand News, Chan was taken in for questioning by the force last December, but was not arrested by the police's National Security Department during its investigation into the media outlet over allegations of publishing "seditious" material.
A total of seven people were arrested during the operation, with two of the outlet's top editors later charged under the city's colonial-era sedition law. The maximum penalty for the offence is two years' imprisonment.
Dozens of civil rights groups have disbanded since Beijing imposed the national security law on the city on June 30, 2020, with the legislation targeting acts of secession, subversion, terrorism and collusion with foreign or external forces.
Additional reporting by Danny Mok