LIVE
As it happened: no mention of '0+0' in Hong Kong policy address, but John Lee lays out 5 directions in Covid fight, vows city won't 'lie flat'
Chief executive sets out vision for rejuvenating a city closed off from the world for nearly three years amid the coronavirus pandemic
Measures rolled out include efforts to tackle housing, livelihood and talent issues
Topic |  
John Lee policy address 2022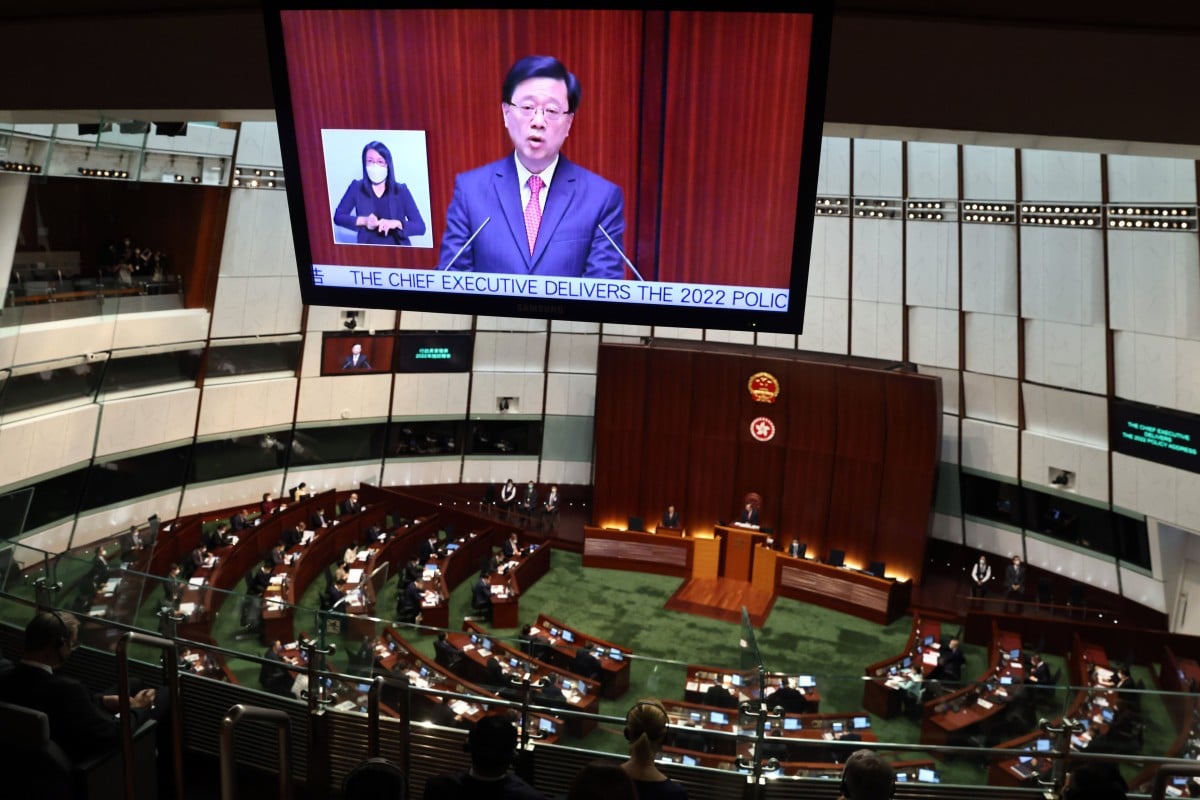 Chief Executive John Lee delivers his speech in Legco. Photo: K. Y. Cheng
INTRODUCTION
This blog has been made freely available as a public service to our readers. Please consider supporting SCMP's journalism by subscribing.
Hong Kong leader John Lee Ka-chiu delivered his maiden policy address on Wednesday, laying out his vision for a city seeking to rebrand itself to the wider world following tough Covid-19 pandemic restrictions that have undermined its competitiveness.
Lee unveiled a slew of fresh measures to tackle the housing crisis, improve livelihoods, revive the economy and lure global talent.
Update the civil service code to require government employees to have strong awareness of safeguarding national sovereignty and security, and launch a special award to recognise "meritorious and exemplary" staff

Set 110 indicators, including key performance indicators (KPIs) for monitoring the effectiveness of the government as part of a 'result-oriented' approach

Set up new bodies: the Chief Executive's Policy Unit will gauge the public pulse and research on mainland policies and international trends, while the Hong Kong New Investments Corporation Limited will optimise use of fiscal reserves

Wage an all-out-war to woo talent by granting top graduates a two-year visa, allowing employers to hire foreign workers without needing to prove local hiring difficulties, lengthening employment visas to three years and refunding extra stamp duty to foreigners-turned-permanent residents who are property-owners

A new Mega Arts and Cultural Events Fund will bring more international events to Hong Kong and foster more exchanges with mainland China

Build 30,000 new simple public housing units and increase overall housing production by about 50 per cent in the next five years

Boost land supply by amending laws to build reserves more quickly

Launch six new railway and highway projects to tackle heavy traffic in certain areas, including the Sha Tin Bypass, Northern Metropolis Highway and the Central rail link, which connects Kam Tin with Kowloon Tong via Kwai Chung

Set up a primary healthcare authority to manage such services provided by the public and private sectors

Five directions in Covid strategy, including not to "lie flat", as well as to use scientific and accurate methods to identify risks, but no mention of "0+0"
Our live blog below captured his speech in the Legislative Council.
Reporting by Jeffie Lam, Lilian Cheng, Tony Cheung, Chris Lau, Sammy Heung, Rachel Yeo, Harvey Kong and Jess Ma