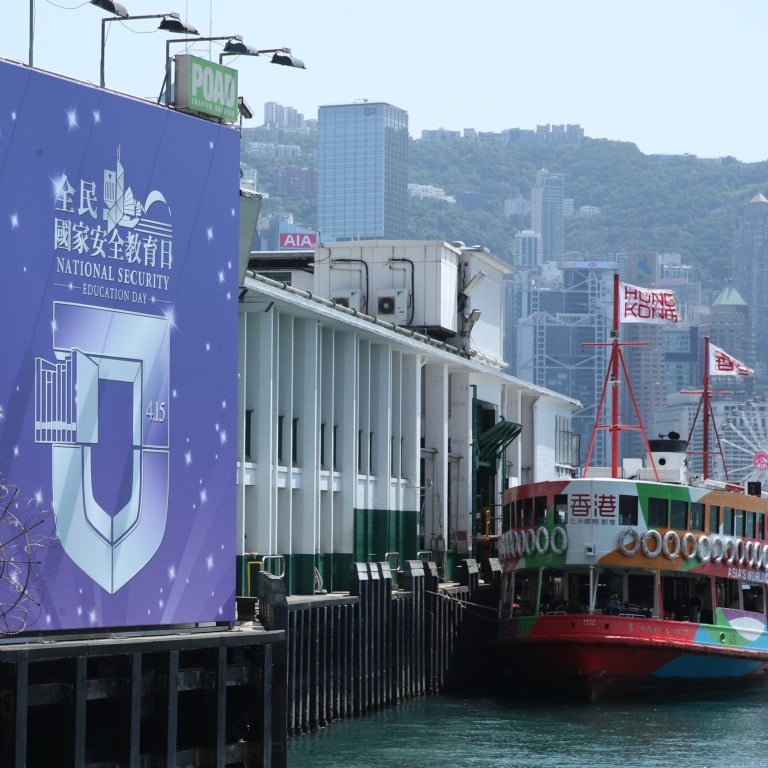 Attacks on national security come in many guises, Hong Kong's leader says, calling for time in drafting local law to protect state
New national security law must anticipate how risks to state might change, Chief Executive John Lee tells Legislative Council
Infiltration, espionage and other tactics have become tools of another 'kind of warfare', he says, in explaining approach to crafting home-grown national security law
Attacks on national security have become another "kind of warfare" carried out by infiltration, espionage and other means, Hong Kong's leader has said, underscoring the need to locally draft a law comprehensive enough to fend off all "enemies".
Chief Executive John Lee Ka-chiu delivered the warning on Thursday after pro-Beijing lawmaker Junius Ho Kwan-yiu asked during a Legislative Council meeting why the
annual policy address
did not include a timetable for passing a local version of the national security law imposed by Beijing two years ago.
"Your address should have scored 90 points, but I deducted 20 points because it only briefly touched on Article 23," Ho said. "This is a very important piece of work. Why didn't you set a timetable and key performance indicator for this?"
Lee, who was in charge of the city's security when anti-government protests erupted in 2019, said that rather than rushing the legislation, he wanted to ensure the new law could tackle "extreme situations".
"​We need to review the national security laws around the world because we want to identify our blind spots," he said, arguing the city needed an "effective" law that met China's requirements.
"Nowadays, there are thousands or countless ways to endanger national security. Were cyberattacks in the past as serious as what we see nowadays? Did fake information [spread] like what we see nowadays? No," he said.
Beijing imposed the national security law to target acts of secession, subversion, terrorism and collusion with foreign forces in the wake of the social unrest. But under Article 23 of the Basic Law, the city's mini-constitution, Legco must enact its own version that also outlaws treason, theft of state secrets and foreign political bodies engaging in political activities in the city.
As part of that process, the government must anticipate how national security threats might evolve and craft a law that could respond adequately, Lee argued, pointing to how personal information could be weaponised by criminals.
"Our enemies have changed. [Attacks on] national security have become another kind of warfare as they could be in the form of colour revolution, infiltration and espionage," he said, adopting a term used by Beijing to describe popular uprisings in eastern European countries and the Middle East. "Shouldn't we be serious about these means?"
The government tried to pass Article 23 legislation in 2003 but was forced to backtrack when an estimated half million residents took to the streets in protest, fearing their civil liberties would be undermined.
Lee said that while the administration at the time could have been satisfied with the bill, safeguarding national security had become far more complicated now. His administration would therefore proceed in a cautious manner, but fully aware of the pressing need to enact the new law.
"Don't we need to think of the best ways so that [the risks] cannot touch us? Is it something that we need to take lightly and finish as soon as possible?" he said.
"I don't want to wait until we are faced with a threat, and then we react. I want to make sure that [threats] wouldn't dare to come because the law is so effective, so the preparation work needs to be the best it can be."
President Xi Jinping issued a reminder on the need to strengthen existing national security mechanisms as he delivered his work report at the Communist Party's five-yearly congress on Sunday.
But in the policy address he delivered on Wednesday, Lee only said his administration would press ahead with preparatory work for Article 23 legislation, as well as enact laws to regulate crowdfunding and enhance the city's cybersecurity.
His administration earlier removed the item from this year's legislative schedule, saying more time for research was needed.
Lee was also asked whether he had plans to help with the rehabilitation of young residents arrested for their role in the 2019 social unrest.
The chief executive said the Correctional Services Department had been equipping inmates with skills so they could find a job or continue their studies after being released. Lee's policy address revealed that as part of that effort, the Security Bureau would sign a memorandum of understanding with the Hong Kong Metropolitan University later this month to support young prisoners with their studies,
The bureau will also launch a "youth lab" by the end of the year to improve counselling services for young persons inmates and establish service centers by the first quarter of next year to provide similar outreach after their release.
Speaking at a press conference on Thursday, Secretary for Security Chris Tang Ping-keung said the rehabilitation initiatives were aimed at helping young people who harboured hatred against Beijing and Hong Kong.
"They have a mentality against the government, so we are enhancing psychological services to enhance their positive thinking, correct their values and let them understand more about our country, our history - basically helping them gain a positive mindset," he said.
As for the cybersecurity law, Tang said it would require owners and managers of key financial, communications, and energy infrastructures to draw up protection and contingency plans.
"We have to enhance the responsibility of the operators, in terms of their cybersecurity management, risk management framework, risk assessment [and] emergency responses," he said. "Basically … ensuring the operators have a certain level of protection against any attacks."
It was unlikely to touch on individual investigations of crimes, which were already covered by the Crimes Ordinance, Tang added.