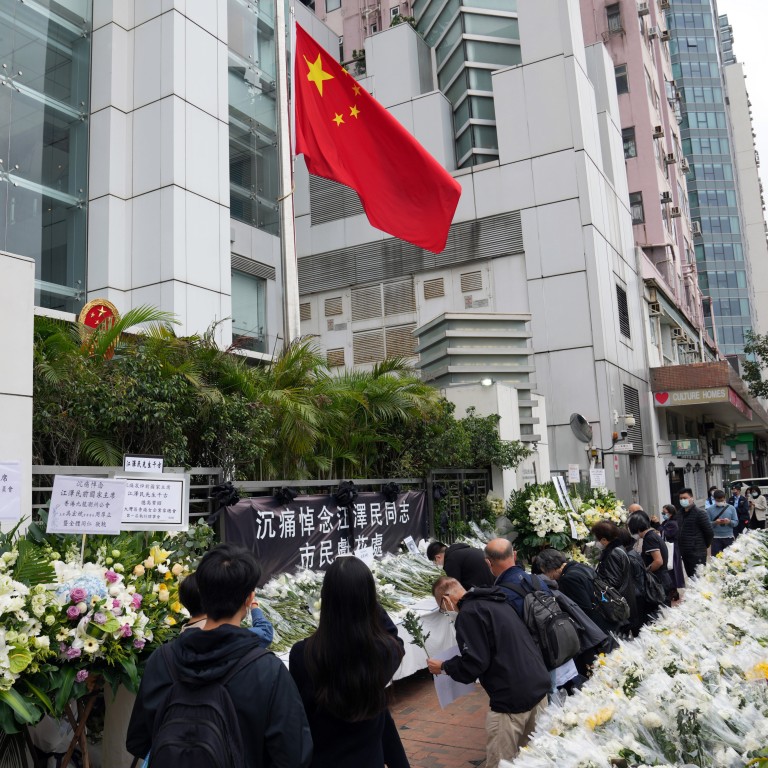 Hong Kong to observe 3 minutes of silence on Tuesday at start of Jiang Zemin's memorial service
State funeral of Jiang, who died last Wednesday at age 96, will be held in Great Hall of the People in Beijing at 10am
In Hong Kong, students, civil servants, healthcare staff to join residents in honouring late leader
​Hong Kong is set to mourn the death of former Chinese president Jiang Zemin on an unprecedented scale on Tuesday, with schools, courts, hospitals and businesses pledging to heed the governments' call to observe three minutes of silence in the morning.
While the Hong Kong Exchanges and Clearing (HKEX) would not follow their mainland counterparts and briefly halt trading at 10am in conjunction with the late leader's memorial service, it would stop displaying data on its external screens at its office until the end of the moment of silence.
The Chinese Gold and Silver Exchange will also halt activities to observe three minutes of silence at 9am after the market opens.
The Hong Kong government earlier announced that citywide arrangements would be put in place on Tuesday to mourn the death of Jiang alongside "mainland compatriots", with officials and civil servants required to observe three minutes of silence and entertainment activities across the city being called off.
The state funeral of Jiang, who died last Wednesday at age 96, will be held in the Great Hall of the People in Beijing at 10am and aired by the city's public broadcaster and played at the government headquarters and its 18 district offices.
Schools at different levels have also made special class arrangements after the Education Bureau requested they suspend all celebratory activities and suggested arranging students watch the live broadcast of the funeral on campus.
Chu Wai-lam, principal at Fung Kai No 1 Primary School, said the school would play video biographies of Jiang before watching the funeral service.
"We will avoid any celebratory elements in lessons tomorrow. For example, in music lessons we won't be singing festive songs," he said.
Chu added all students would then sign a book of condolence, which would be displayed near the school gate.
Lo Siu-yin, principal at May Nga Kindergarten, said pupils would observe a 20-second period of silence on Tuesday, instead of three minutes, considering the challenge of keeping young children still for an extended time. The school however would not watch the funeral service due to insufficient broadcast equipment, she added.
"It's not that difficult for children to understand who Jiang was as they are very familiar with [the current leader] President Xi Jinping," she said. "We will also tell children the meaning of grieving, when someone who's made great contributions to our country passes away, we should mourn his death, the same way we grieve the loss of our family members."
Also joining the three minutes of silence will be the English Schools Foundation, the largest international school organisation in the city.
All schools, as well as government premises in the city and abroad are required to fly their flags at half-mast, while official vessels should also sound their horn for three minutes.
In an internal circular, the Hospital Authority called on staff members to pay tribute to the late president.
"Where practicable and not affecting clinical or patient services, colleagues should observe the three-minute's mourning in silence by standing at their work station or area in a dignified manner, and not engage in any form of activity during the period," it said.
An authority spokesman stressed all emergency and non-emergency services would continue to function normally.
The judiciary said all judges, judicial officers and staff members – except those providing emergency services – would join the commemoration, with court proceedings and services to be adjourned and suspended. Court hearings originally scheduled for 10am would be pushed back for three minutes, it added.
With the administration's appeal for entertainment and celebration activities to be postponed, three shopping malls under Sino Group – Olympian City, Tuen Mun Town Plaza and Citywalk – said the live broadcast of four World Cup matches from Monday night to the early hours of Wednesday would be cancelled.
Nina Mall and Central Market under Chinachem Group would do the same for three matches for two days from Monday, with the latter also switching off Christmas lights and suspending some entertainment events until Tuesday night.
The iconic symphony of lights will be suspended on Tuesday, with festive lights on the facades of some buildings across Victoria Harbour switched off, including Tsim Sha Tsui Centre and Empire Centre. The "Hong Kong WinterFest" by the West Kowloon Cultural District would similarly be suspended.
The Harbourfront Commission said it will switch off all Christmas lights at seven promenades along Victoria Harbour and at Tsuen Wan.
The mourning hall, which has been set up at Beijing's liaison office in Sai Wan since last Thursday, would stop receiving visitors on the day of the state funeral.