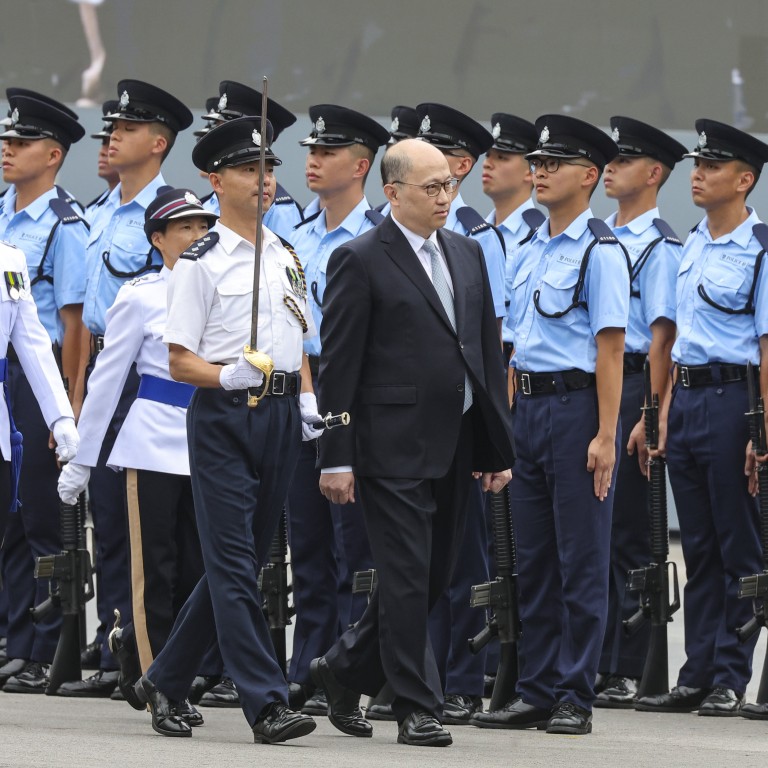 Hong Kong national security law: Beijing's top envoy in city hails police, warns 'hostile foreign forces' still at play
Liaison office director Zheng Yanxiong praises work of officers at passing-out parade at police college
He says force has made significant contributions to Hong Kong's 'transition from chaos to order'
Beijing's top envoy in Hong Kong on Saturday called on local police to strictly enforce the
national security law
, warning that "hostile foreign forces" were still attempting to undermine the city's stability while anti-China elements were plotting a comeback.
Liaison office director Zheng Yanxiong, who inspected officers at a passing-out parade at the Hong Kong Police College in Wong Chuk Hang, also hailed officers' efforts as a "heroic work of honour". The force had eased entry requirements in the past year amid a hiring slump.
Zheng is the first liaison office chief to inspect a police passing-out parade. He took over his current position in January and attended a similar parade last July as the head of Beijing's national security commission in the city.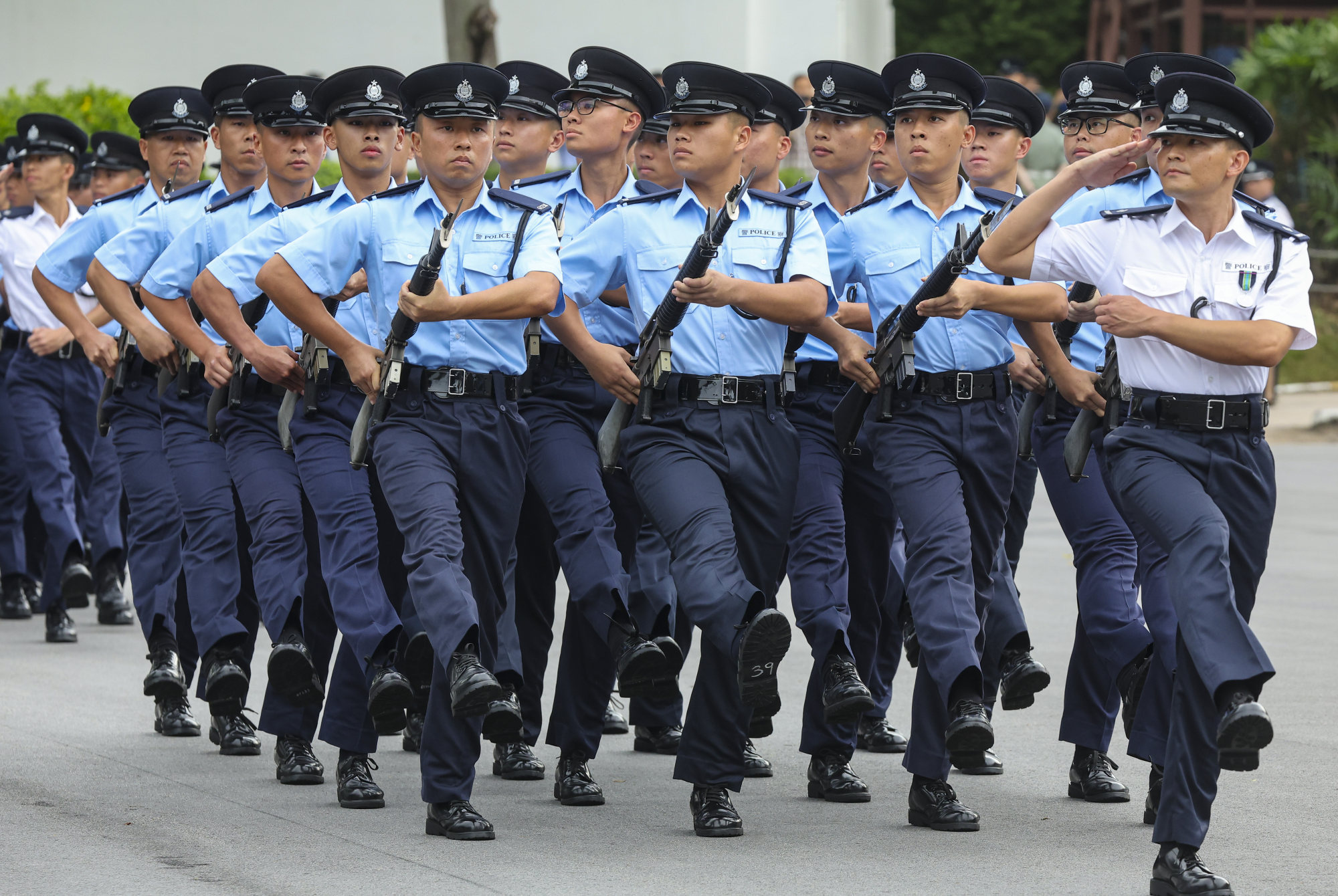 "In the past few years of working in Hong Kong, I have been fortunate enough to witness first-hand the outstanding performance of the
Hong Kong Police Force
in being fearless and loyal to their duties in the face of protester violence, the pandemic and foreign sanctions," Zheng said in a speech.
He said the force had made significant contributions to Hong Kong's "transition from chaos to order" while facing unprecedented tests in recent years – an apparent reference to the
2019 anti-government protests
– by upholding social stability and cracking down on activities that endangered national security.
But he cautioned there was still a long road ahead in the mission to safeguard national security.
"There are still hostile foreign forces trying to disrupt Hong Kong's development and stability, and anti-China elements are attempting to make a comeback in Hong Kong," Zheng insisted.
"The police force should steadfastly safeguard the constitutional order of the special administrative region, rigorously enforce the national security law and local legislation, and make every effort in building a solid defence line for national security."
Hong Kong police in
July
announced a HK$1 million (US$127,750) reward for information leading to each arrest of eight opposition figures based overseas and wanted under the security law.
The US last month slammed Hong Kong for "ongoing harassment" against family members of the wanted and jailed activists. Beijing has since hit back, accusing Washington of "desecrating" Hong Kong's rule of law and having double standards in national security.
Zheng, in his Saturday speech, cited occasions in which senior Beijing officials had recognised the work of local police, including President
Xi Jinping
's meeting with representatives of the disciplined forces during his 2022 visit to Hong Kong.
"I want to tell everyone that the police force is a profession of honour. They are the guardians of the security of the country and citizens. They are heroes who face dangers that are too harsh for ordinary people, and bear pressures that are too heavy for ordinary folk," he told the graduates.
He also urged the force to contribute to preserving Hong Kong's reputation as the safest city in Asia and support district councils and local care teams in serving the community.
The parade marked the graduation of 28 probationary inspectors and 113 recruit police constables.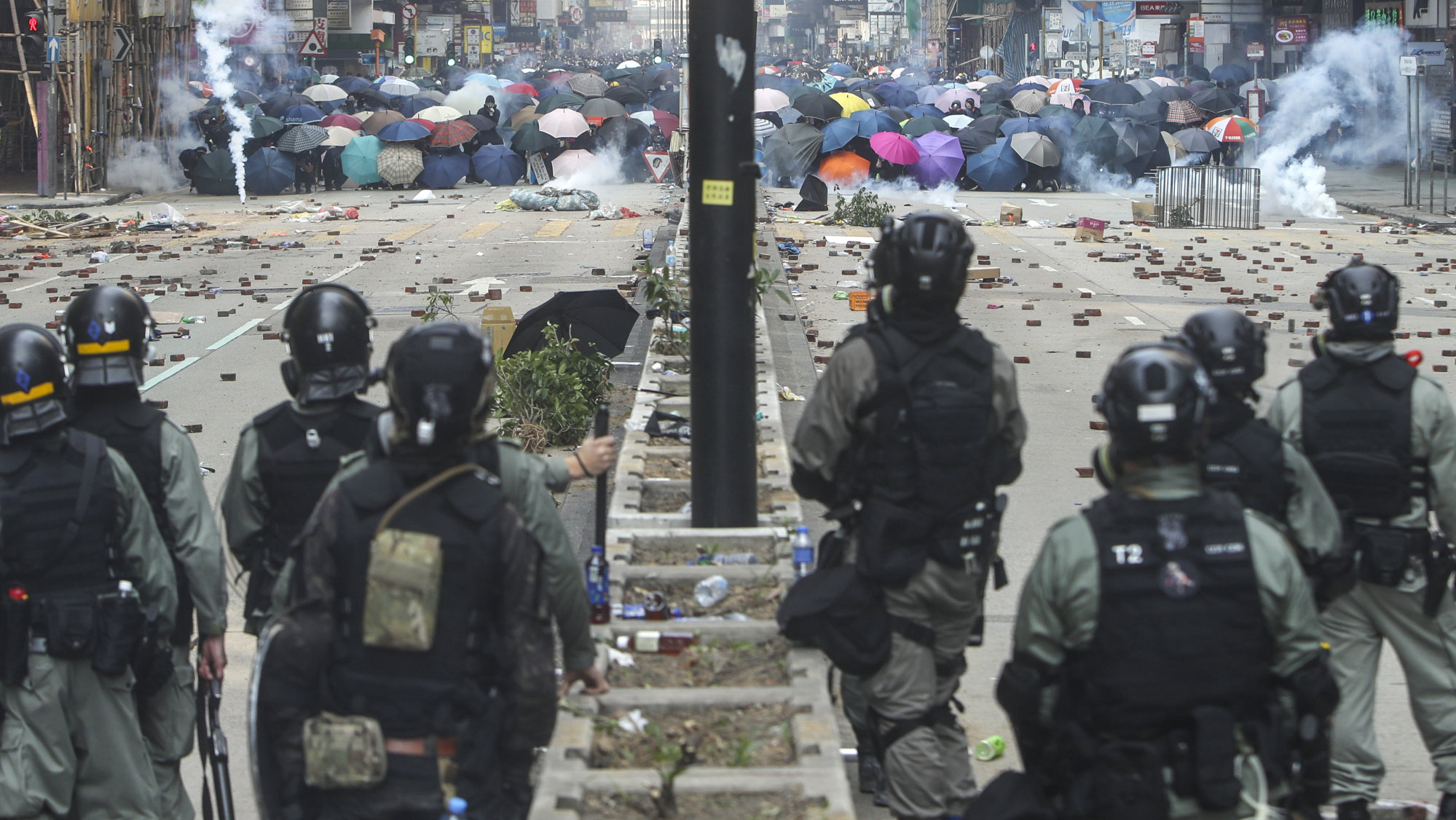 Interest in police recruitment had waned following political unrest in 2019, where law enforcement had been on the front lines of crackdowns on anti-government protesters and opposition activists in an increasingly polarised society.
Police Commissioner Raymond Siu Chak-yee on Saturday said the force's relaxation of entry criteria in May had boosted the number of applications.
He noted that 5,241 people had applied to join between May and August, representing a 74 per cent surge from the same period last year.
A breakdown of the figure also showed police constable applications had increased by 91 per cent from the year before.