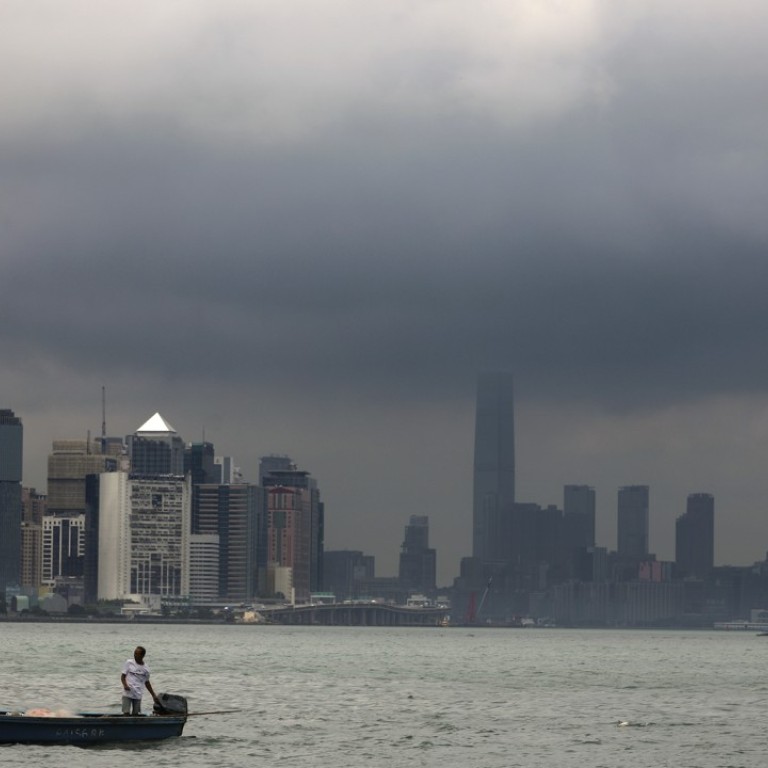 Super Typhoon Mangkhut: city's residents prepare for worst as most powerful storm since records began edges closer to Hong Kong
Residents begin boarding up homes, building flood defences and stocking up on essential supplies as cost of everyday items soars ahead of weekend
Hongkongers began preparing for the worst on Thursday, boarding up windows, building flood defences, and stocking up on essential items as Super Typhoon Mangkhut edged ever closer to the city.
Predicted to be the most powerful storm since records began, with maximum sustained winds of up to 240km/h (149mph), the tropical cyclone is forecast to pass within 100km (62 miles) of the city on Sunday morning.
The
Hong Kong Observatory
warned that conditions were expected to deteriorate significantly later in the week, with very hot weather forecast for Friday and Saturday, followed by frequent heavy rain, squalls, and rough seas predicted for later this weekend.
As of Thursday afternoon, the storm was located 575km (357 miles) east-northeast of the Philippines with winds gusting up to 255km/h (140mph).
Queenie Lam Ching-chi, senior scientific officer at the Observatory said the typhoon "could be very close to Hong Kong".
"It has a large circulation with intense winds, so even if it is not a direct hit … it can constitute a great danger to Hong Kong."
At the Pei Ho Street Market in Sham Shui Po in the morning, where prices had gone up by as much as three times, shoppers were already stocking up on fruit and vegetables.
A vegetable seller, surnamed Wong, said suppliers had raised prices ahead of the expected storm.
"Choi sum has surged three times from HK$5 to HK$14 [per catty]," she said.
But, a shopper surnamed Sui said she would wait before completely stocking up fearing "the vegetables may turn bad".
Another store holder, called Chung, said egg sales had gone up between 10 and 20 per cent on Thursday morning, but he had not raised prices.
"More people came to buy eggs," said Cat, one of the women working at the stall. "The sales have gone up by a bit, people don't want to go out to buy food during a typhoon."
An elderly woman called Leung, who visits the wet market twice a week, said the cost of fish had also gone up.
"The typhoon is coming, so I've bought some vegetables and fish," the 80-year-old said. "They are not cheap, vegetables went up by HK$1 and HK$2, and fish went up by HK$10. Some fish was even sold out."
Ng, a vegetable store owner at the market, said the typhoon, and the rainy season on mainland China, "where the vegetable farms are", had forced prices up by 10 per cent.
"Not many customers are buying vegetables as the price is too high," she said.
At a ParknShop nearby, a woman surnamed Lai, said she was stocking up on other items so she didn't have to go anywhere if the storm hit.
"I'm buying some melon, chicken wings, and biscuits," she said. "The prices in supermarkets are pretty much the same, but prices in the wet market have gone up a lot."
The store's manager, meanwhile, said they had already sold out of meat, which was much earlier than usual.
On Wednesday, the city's government convened an interdepartmental meeting, chaired by the security minister to discuss contingency measures and ensure preparedness.
"Representatives from relevant bureaus and departments also reported their preparatory work and contingency plans, particularly on measures in the prevention and handling of flooding, backflow of seawater and emergency plans for high-risk locations," a government statement read.
The Home Affairs Department urged property management companies and residents to take precautions while District Council members, village representatives, rural committees, owners' corporations, owners' committees, mutual aid committees and resident liaison ambassadors were mobilised to remind residents to pay attention to the latest weather information.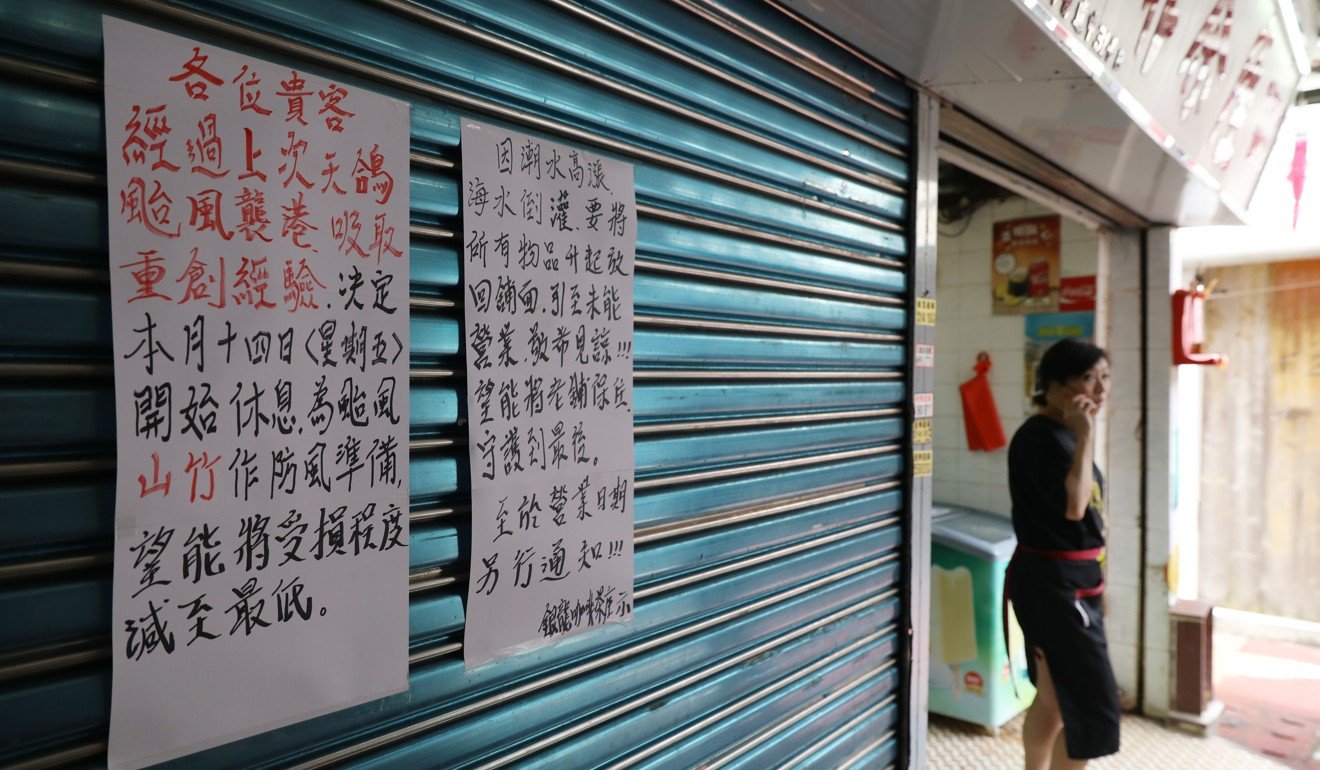 The department said it would have an emergency hotline at 2835-1473 once Typhoon Signal No 1 was issued, while District Councils would open 48 temporary shelters after the signal was raised to No 3. Residents in the low-lying area of Tai O on Lantau Island would be taken to temporary shelters on Saturday.
The Hospital Authority also held a meeting to put in place "contingency arrangements" to ensure enough doctors and nurses would be around in the city's 43 public hospitals.
Sam Wong, who operates a restaurant on the Lei Yue Mun waterfront, said he would begin preparing for the potential affect of the storm on Thursday evening.
"We will move outdoor items [back into the store] to prevent them hitting our full-height glass windows," Wong said.
He said they would also place sandbags and boards in front of the store to prevent water coming in, and expected that his restaurant will be closed for business starting from Saturday.
Kate Lee, the owner of a cafe which has been in Lei Yue Mun for about 50 years, said the business would close on Thursday afternoon, when she would begin preparing for the super typhoon. The cafe was hit hard when Typhoon Hato struck the city last year.
Lee said she would need to bring goods that were stored at the back of her cafe, where part of the structure is above the sea, back to the indoor area.
She also planned to place the five refrigerators in her cafe at a higher level to prevent them being damaged by any flooding.
A notice displayed outside her cafe said: "We hope to minimise the level of destruction. We hope to safeguard our old store."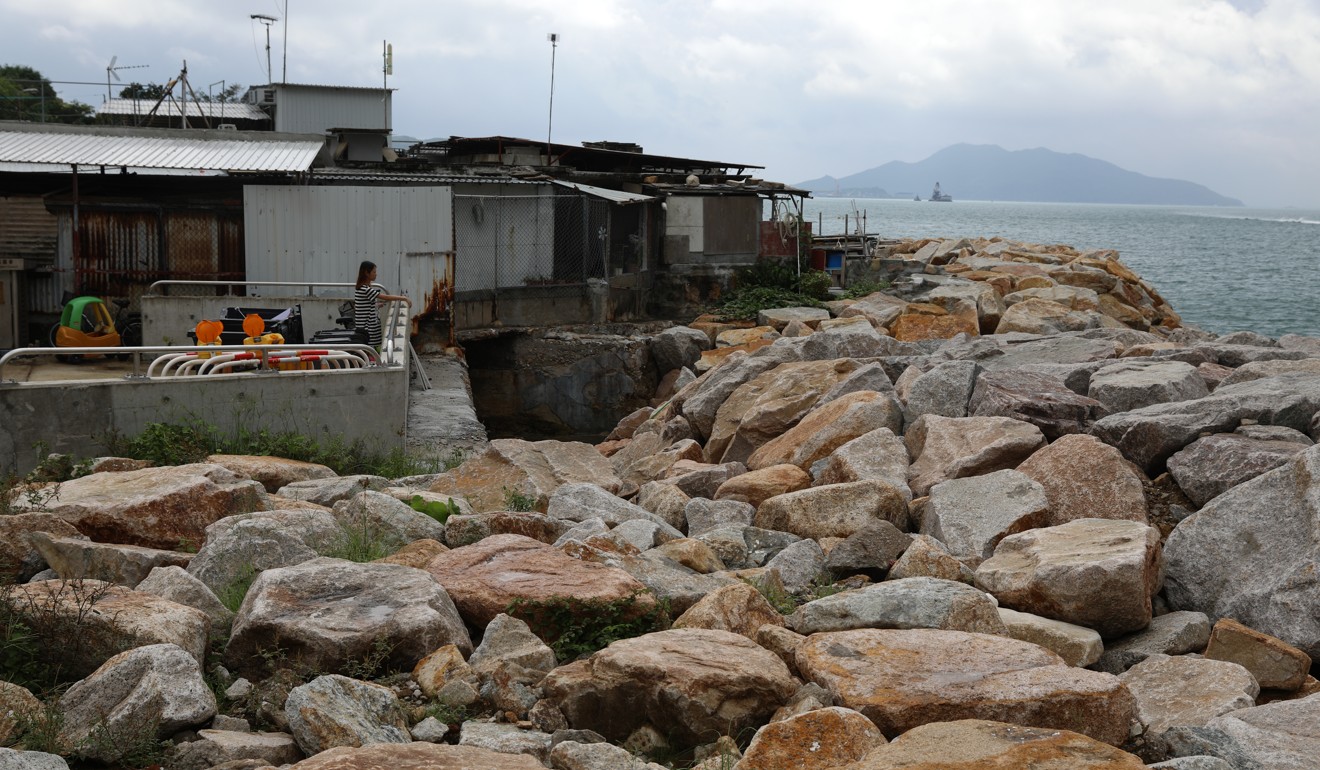 But Li Kwok-ping, who lives in Ma Wan Tsuen on the Lei Yue Mun waterfront with his family, said he was not worried about the approaching storm.
"I have built a brick wall to prevent water coming in," said Li, adding the wall is around 1.2 metres high.
He said the wall was built last year, after Hato brought extensive damage to various parts of the city, including Lei Yue Mun.
"There should not be any problems this time," he said, adding that the government had strengthened the breakwater at the area after Hato.
Heng Fa Chuen, a housing development where playgrounds and an underground car park were flooded during Hato last year, was also not taking any chances.
MTR Corp, which manages the property, said water level sensors had been installed in the car park and extra water pumps purchased. During the typhoon period, sandbags would also be placed in appropriate locations.
In Tai O, about 80 volunteers had been recruited to help 40 to 50 families move furniture and electrical appliances to higher locations and securing trees to reduce falling risks.
Eddie Tse Sai-kit, executive secretary for local concern group Tai O Sustainable Development Education Workshop, said the government had improved the help rendered to those who suffered the wrath of typhoons over the years, but they might not be able to work fast enough.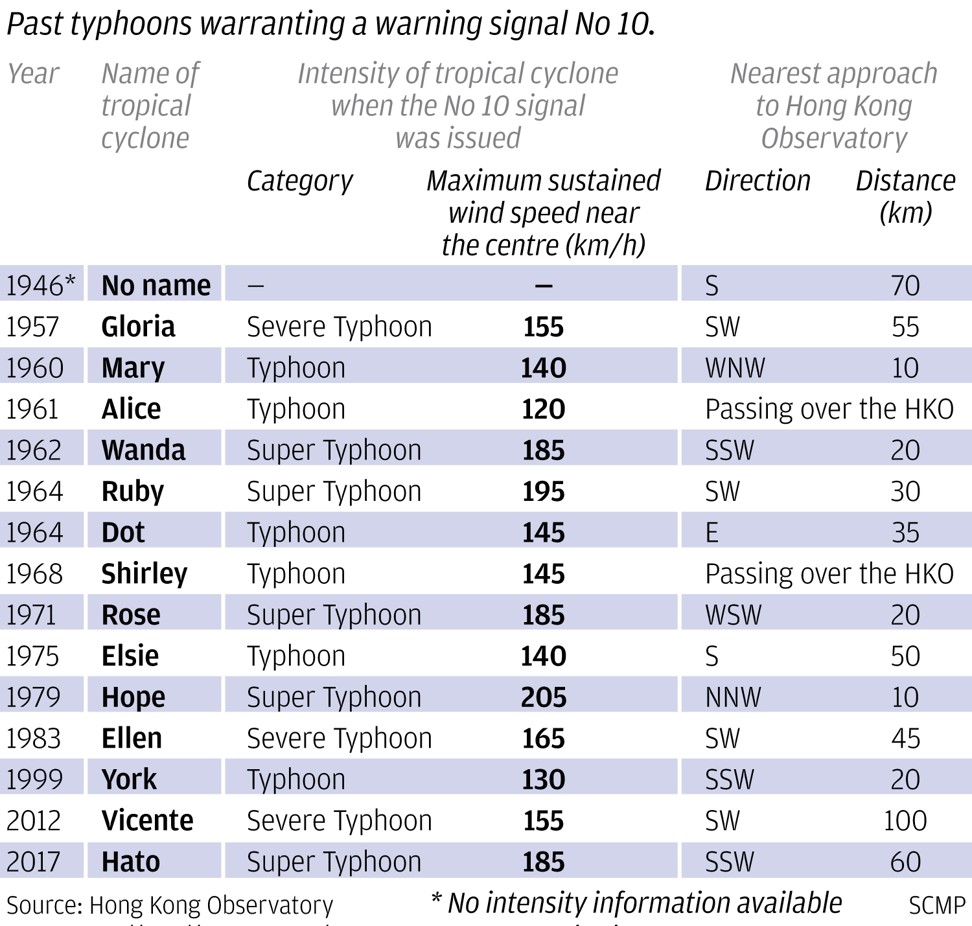 Residents living in Tai Mei Tuk, Tai Po, which was seriously flooded during a heavy rainstorm in August last year were also gearing up for a big hit on Thursday afternoon.
Ng Yuk-ngun, 65, who has been living on the ground floor of a three-storey house at the bottom of the slope of Tai Mei Tuk Tsuen for more than 10 years said: "Last year, the water from above rushed down here and entered my house. The water with mud got up to my ankles and soaked some of my cabinets. I spent half a day cleaning them."
"I have put towels under the door ... I will tape the windows as usual," she said.