Focus
Get more with myNEWS
A personalised news feed of stories that matter to you
Learn more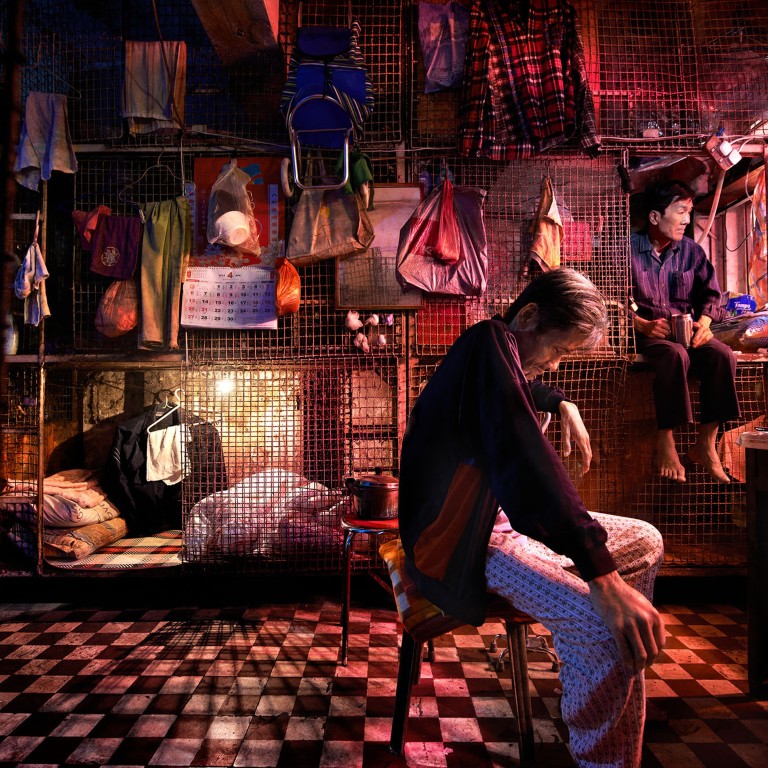 How can Hong Kong's poor beat poverty when work doesn't pay?
The number of city residents living below the poverty line keeps rising. Experts say hand-outs alone will not solve the problem, and labour market reforms are sorely needed
Even before the sun rises, Ah Wing is out on the streets collecting garbage, and he does not return home until midnight.
It is his daily routine except for the one day a month when he takes a break to spend time with his wife and two children.
The 43-year-old earns HK$18,000 (US$2,300) a month. Together with his spouse, who works part time at a fast-food restaurant, their household income is about HK$20,000. The figure puts the family slightly above a recently revised poverty line for a four-person household, set at HK$19,900.
However, they are forced to spend HK$3,300 on renting a tiny 100 sq ft subdivided flat in Mong Kok.
"Even though my salary is low, the pay comes in on time and I can take on extra shifts to earn more," Ah Wing said.
Their predicament may seem tough, but such stories of labouring long hours while struggling to make ends meet are not uncommon in Hong Kong.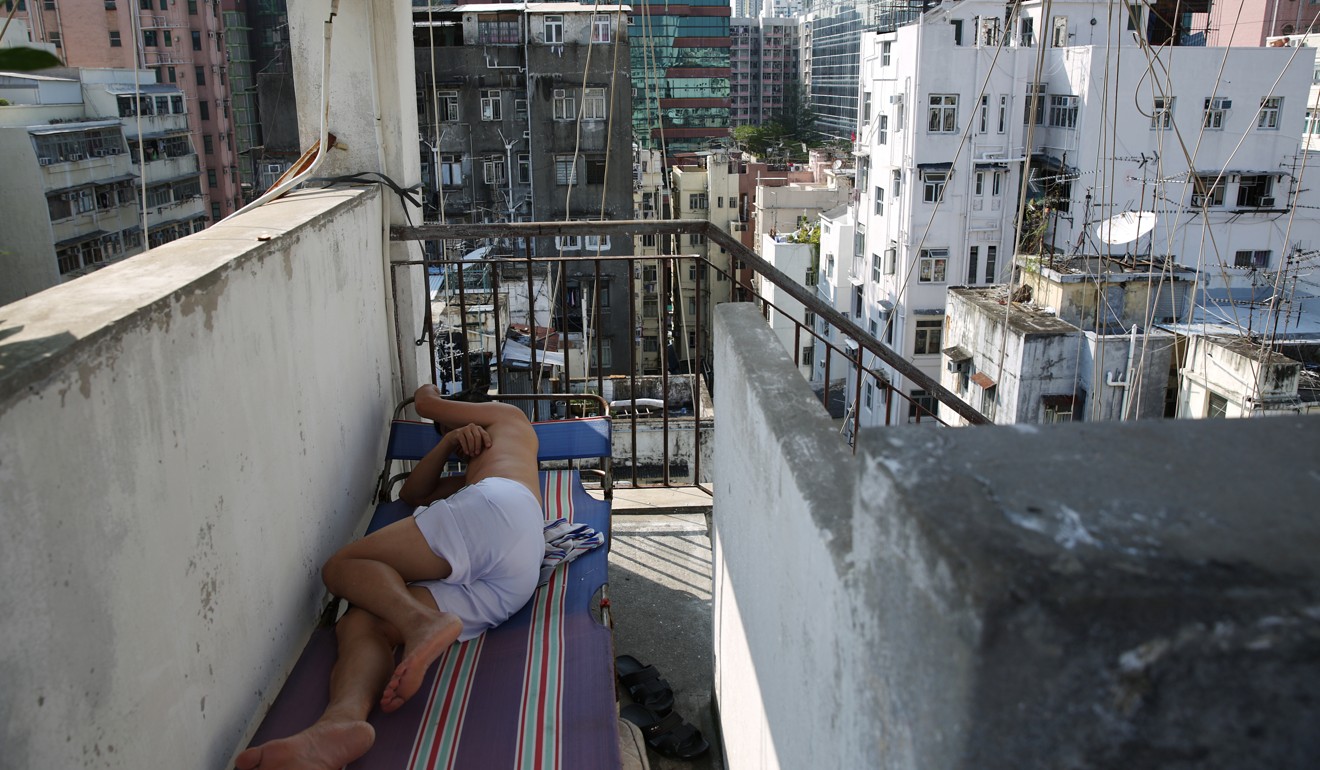 The government's recently released 2017 Poverty Situation Report revealed a record high of 1.38 million city residents were living below the official poverty line – 25,000 more than the figure in 2016.
The line is set at 50 per cent of the city's median monthly household income before taxation and welfare hand-outs.
Officials only began compiling statistics on the poor in 2009.
The rate of poverty also rose, by 0.2 of a percentage point, to 20.1 per cent, its highest since 2010.
But more alarming is that many households defined as poor are working ones.
In 2017 just over 10 per cent of households in employment and not receiving welfare payments in the form of Comprehensive Social Security Assistance (CSSA) were defined as poor – a 0.6 percentage point increase on 2016.
The CSSA scheme provides a safety net and is designed only to help meet basic needs.
According to the 2017 report, poor households were often those with retired elders and only one family member working, often in a low-skilled job.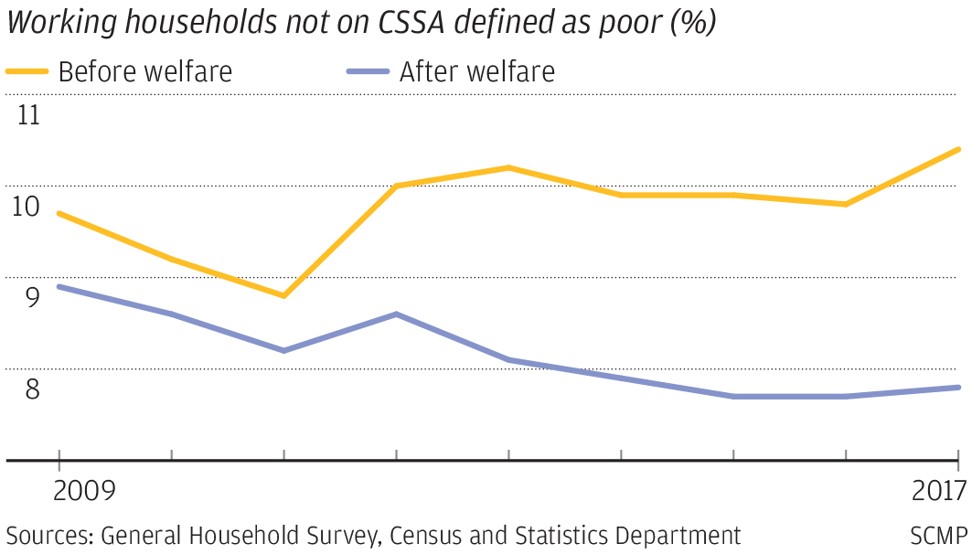 Some 182,000 of these families were below the poverty line, the highest since 2009. Even with state help such as the government's working family allowance, the figure only fell to 139,000.
Officials have said an ageing population, improving economy and changing demographics have contributed to the high numbers.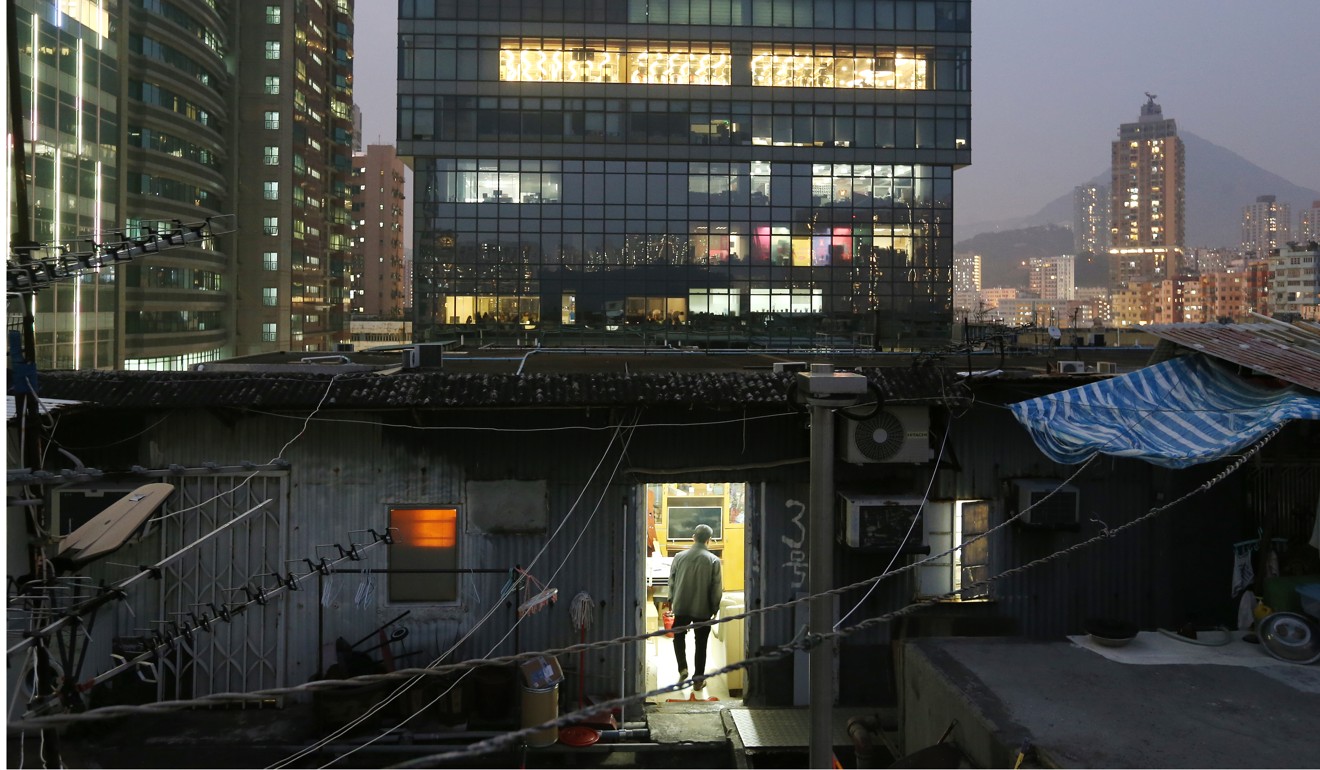 Paid but still in poverty

Professor Paul Yip Siu-fai, chair professor of population health at the University of Hong Kong's department of social work and social administration, said many jobs did not pay a living wage.
"Low-skilled people in Hong Kong are still very disadvantaged. They are poor despite working, say, 12 hours a day," he said.
But for Ah Wing, who only studied at school in mainland China up to the equivalent of Hong Kong's Primary Five level, work, no matter what the wage, is a necessity, and he does not have the luxury of being picky.
He follows a garbage truck daily on its rounds between 6.30am and 3.30pm. After taking a one-hour break, he then stations himself at a refuse collection point until 11pm.
He lamented that he had no time to spend with his daughter and son, both six years old, as he goes out every morning before they wake and returns after they go to bed.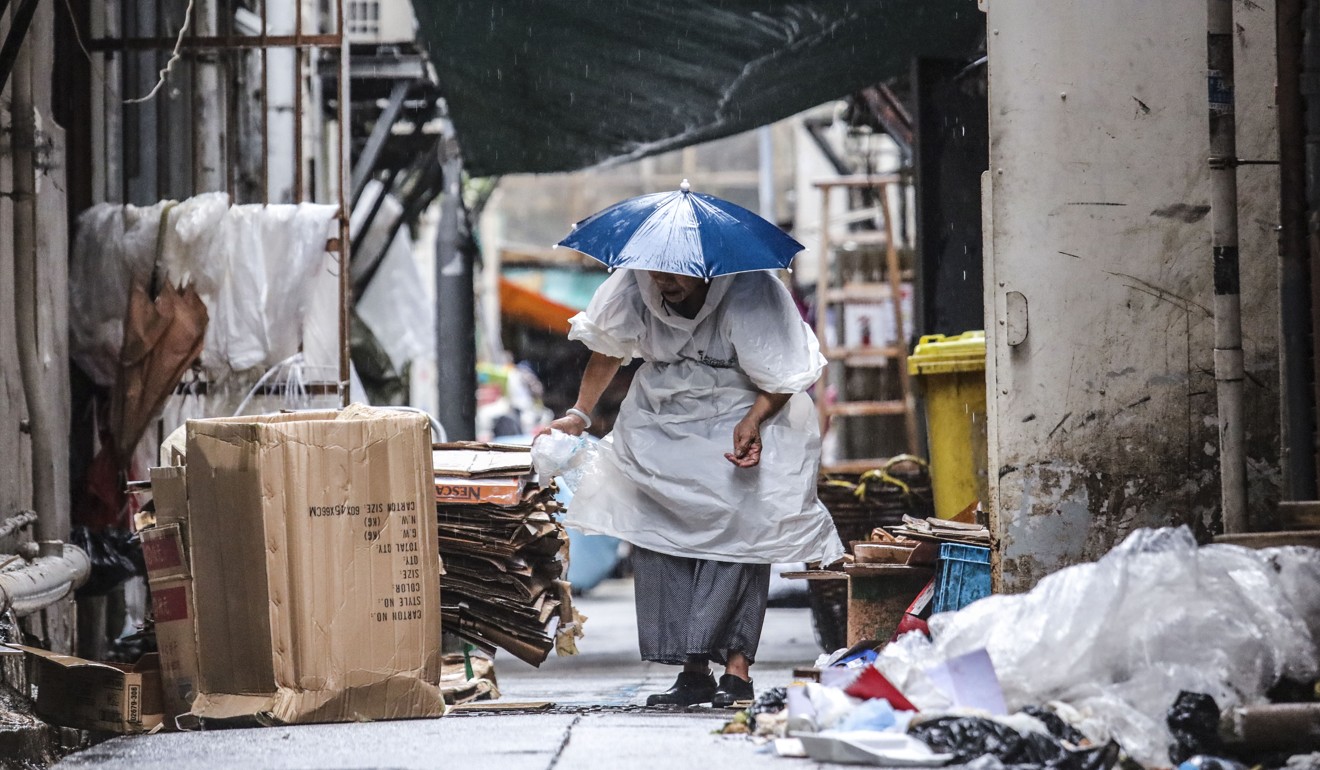 "My daughter sometimes complains about me working all the time and not taking them out to play and eat, but I have no choice as I have to make ends meet," Ah Wing said.
Heavy items and long hours have also given him chronic back pain.
Yip asked why working people in other developed economies such as Australia earned sufficient funds to maintain a decent lifestyle.
Even worse for Hong Kong was that many of the working poor were toiling in government services that had been outsourced to private contractors. These include security guards and cleaners under the Food and Environmental Hygiene Department and the Leisure and Cultural Services Department. Ah Wing is one.
Officials began outsourcing services around 2002 when the government was downsizing and reducing expenditure, Yip said.
But the amount it paid contractors was not much less than the cost of employing the workers directly.
"They still do the same job, but instead of earning, say, HK$13,000 a month, the workers are getting about HK$8,000 to HK$9,000, with 20 to 40 per cent going to the contractors," Yip said.
The government had thus created a new group of working poor which it then had to subsidise with the working family allowance, he said.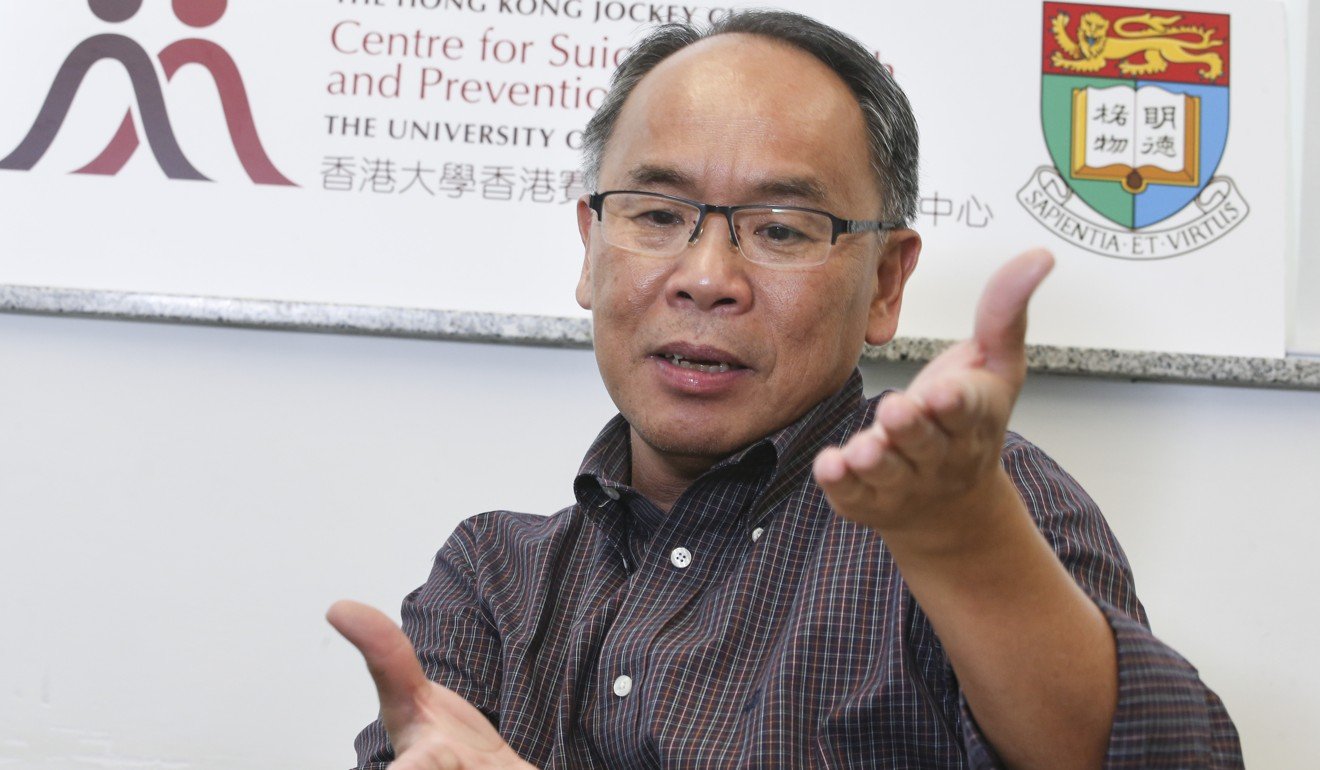 The allowance is awarded based on assets and working hours. For example, a four-person household working 144 hours a month collectively, with a monthly household income of HK$20,100 or below, can claim HK$800 as a basic allowance and HK$1,000 for each child.
Yip said other countries outsourced public services, but had stricter labour laws to protect the workers.
"The government is different from a private company – these workers are working for society," he said.
The city had between 60,000 and 70,000 such labourers, Yip estimated.
Labour Party lawmaker Fernando Cheung Chiu-hung said workers providing public services outsourced to contractors accounted for the bulk of Hong Kong's minimum wage employees.
In the long term the government should hire these workers directly to ensure better pay, he said. But in the short term he believed officials should focus on quality rather than price when selecting contractors. Such an approach would encourage companies to invest more in technology and boost pay to hire experienced workers, he said.
A government task force studying the outsourcing system will submit a report soon.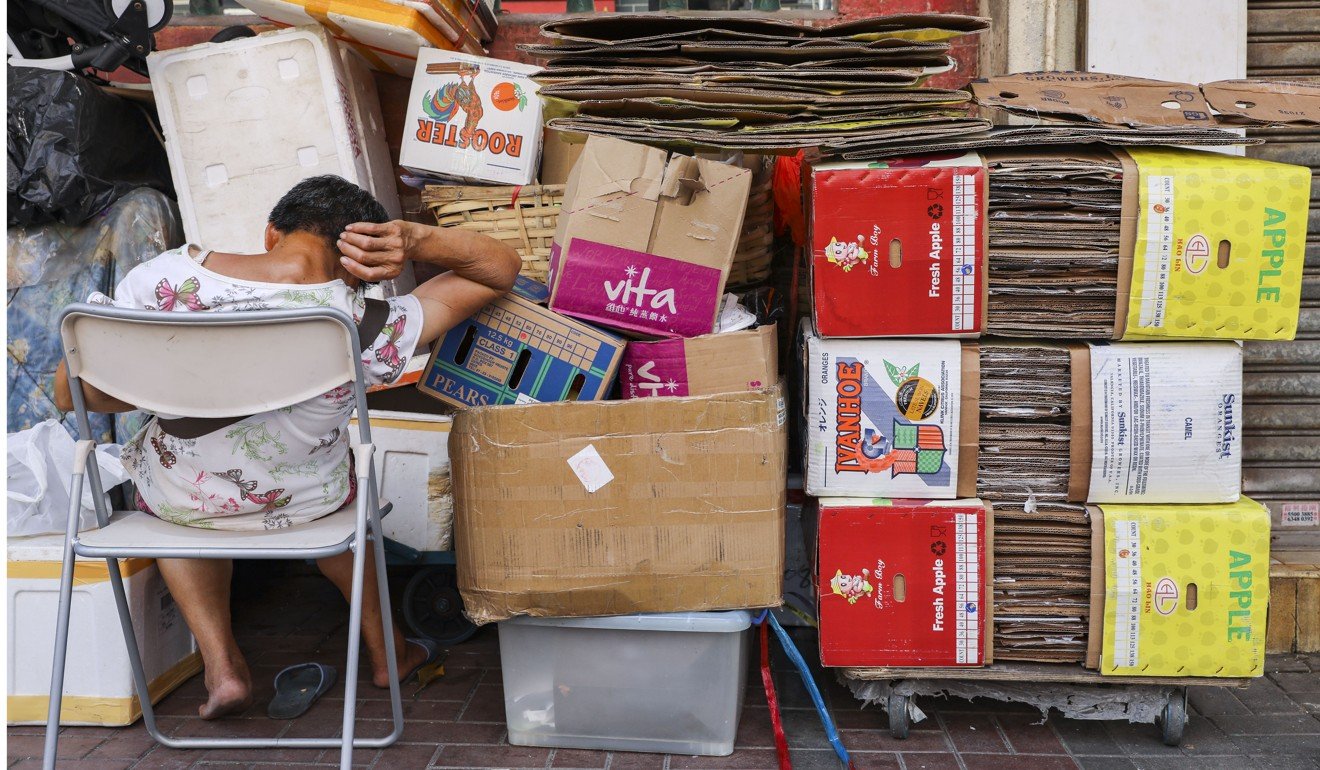 Not the Hong Kong promised
Another group prone to poverty are new immigrants from the mainland.
According to the 2017 report, the poverty rate among these new arrivals' households was 36.2 per cent, and after state intervention 30.2 per cent.
The figures were close to twice those for the population as a whole.
Between 60 and 70 per cent of Hong Kong's population growth over the past 10 years had come from mainland migrants using so-called one-way permits, Yip said.
The permits are usually issued to facilitate reunions among cross-border families.
"It does not mean we should not allow them to come, but we have not prepared well and have not really made good use of this human capital," Yip said.
Some 60 to 70 per cent of newly arrived mainland women had attained secondary level education, he added, but an inflexible labour market without sufficient part-time opportunities kept many out of work.
Ah Yu and her husband moved to Hong Kong five years ago in hope of securing for their two nine-year-old sons a better education. The boys were born in Hong Kong in 2009.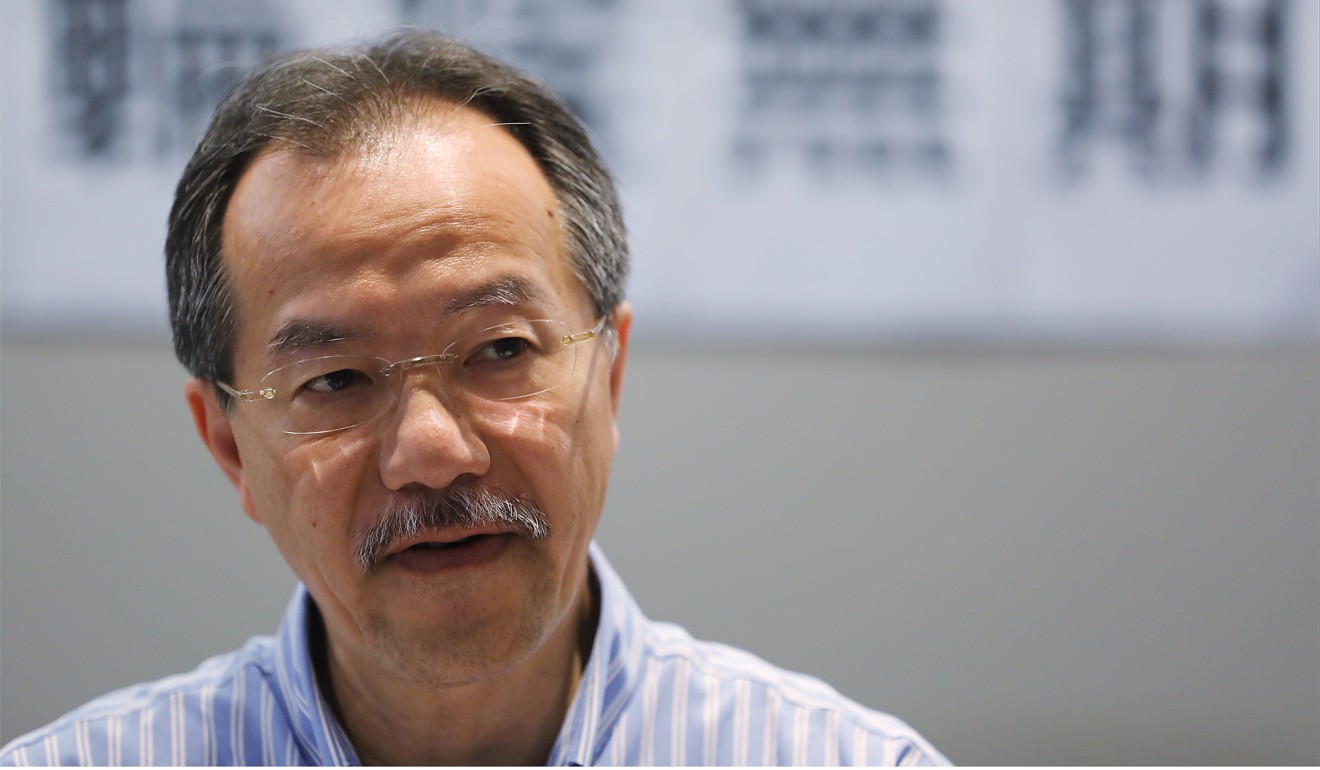 The parents have an upper secondary education and have low-skilled jobs paying a total of about HK$14,000 a month. More than half of their income goes on renting a 100 sq ft subdivided flat in Cheung Sha Wan.
The father fits and repairs air conditioners while she works part time at a fast-food restaurant.
"I have been thinking of looking for a job with better pay, but I can't get full-time work because I have to take care of my children," Ah Yu, 38, said.
She has six years' experience in sales, accounting and administrative work for a paper company in Shenzhen.
But she said she could not leave her children at home alone as they had previously injured themselves.
Ah Yu said she had considered applying for the working family allowance, but had difficulties filling in the complicated forms. Her husband's working hours were irregular and increased in summer, while some winters he was out of work for close to two months. This made applying for the scheme difficult, she said.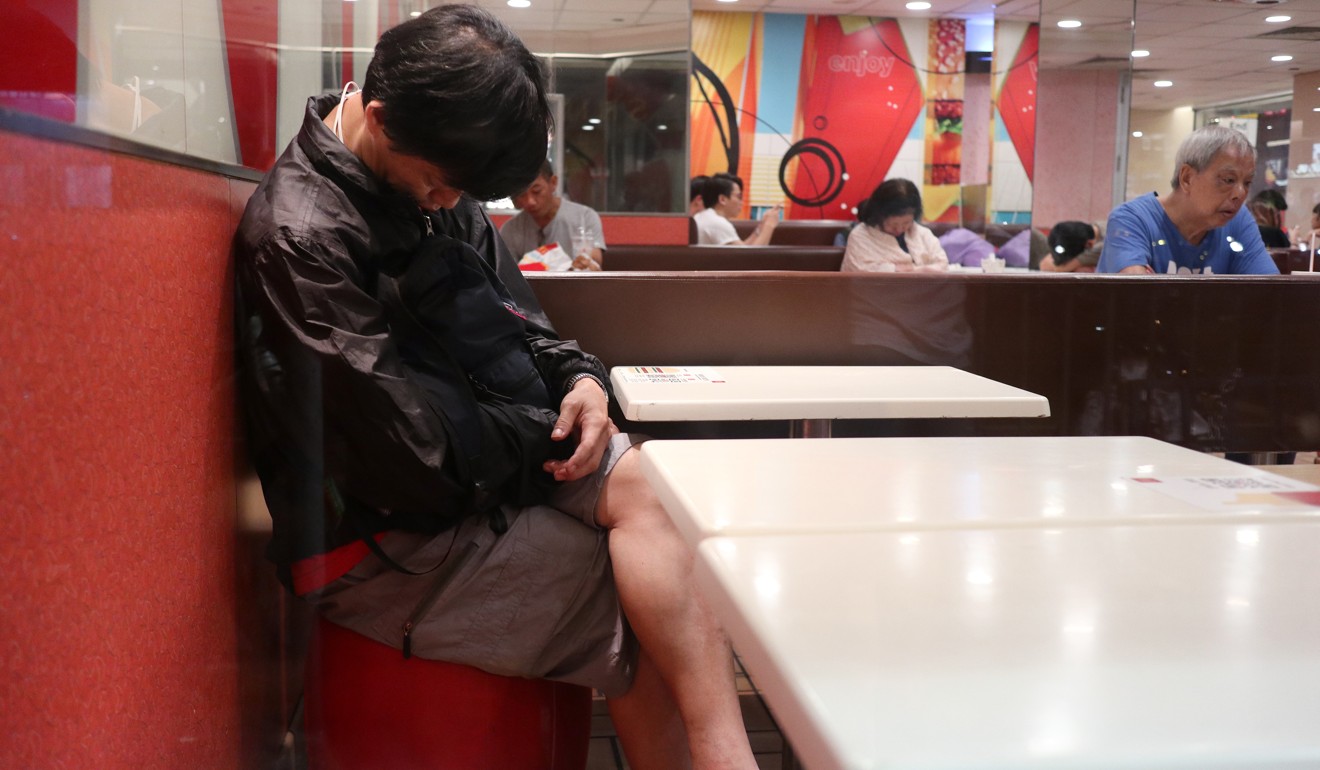 Stuck in the cycle
A big worry for families like Ah Yu's is that their predicament will be passed to the next generation.
The poverty rate among children before government intervention rose by 0.1 of a percentage point to 23.1 per cent in 2017.
Chua Hoi-wai, head of the Hong Kong Council of Social Service, warned that the financial pressures placed on families at the poorer end of society significantly affected a child's education, and if the impact was left unchecked would lead to poverty for generations to come.
The amount of money needed monthly to lift poor households above the poverty line increased in 2017 to HK$5,800, up from HK$5,500 in 2016 and HK$3,900 in 2009. The 2017 figure is the highest since records began in 2009.
Despite this, government spending on social welfare is extensive and second only to education. It has been estimated at HK$79.8 billion (19.6 per cent of recurrent expenditure) for the 2018-19 financial year. That was an increase on the HK$65.8 billion the previous year. The poverty rate in 2017 fell to 14.7 per cent after taking into account welfare hand-outs.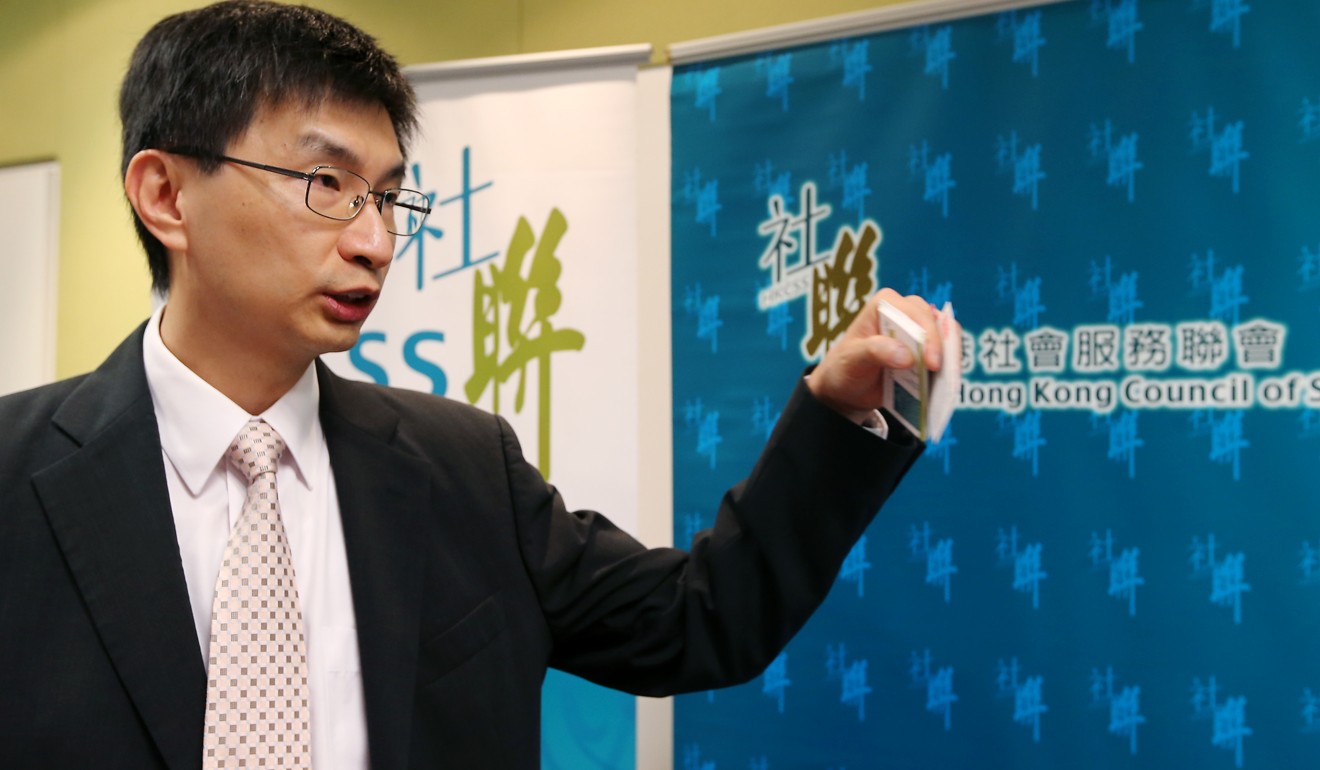 But Yip said despite good intentions, the figures showed the vast amounts of money were not effective.
"The government cannot and should not boast about how much it has spent on helping the poor," he said.
What were needed were labour market reforms to encourage employment, Yip believed, such as flexible working schedules and improved pay structures.
"I don't think anybody, if they can earn money, likes to rely on welfare," he said.
But Yip acknowledged that the working family allowance was a good intermediate measure to tackle the poverty Hong Kong was currently dealing with.
Sze Lai-shan, community organiser at the Society for Community Organisation, suggested officials look at average salaries over six months instead of one month when deciding how much working family allowance recipients should be entitled to. The working hours requirement should also be lowered, she said.
Subsidies could be offered to those forking out high rents for subdivided flats, Sze added.
Ah Yu said just HK$2,000 extra a month would make a big difference to her family's lives.
"We could rent a bigger place for my two sons to move about more," she said.
Their current flat did not even have a proper table for the boys to do their homework.
"I sometimes feel they are so mischievous because the flat is so small. There is no space for them to release their energy.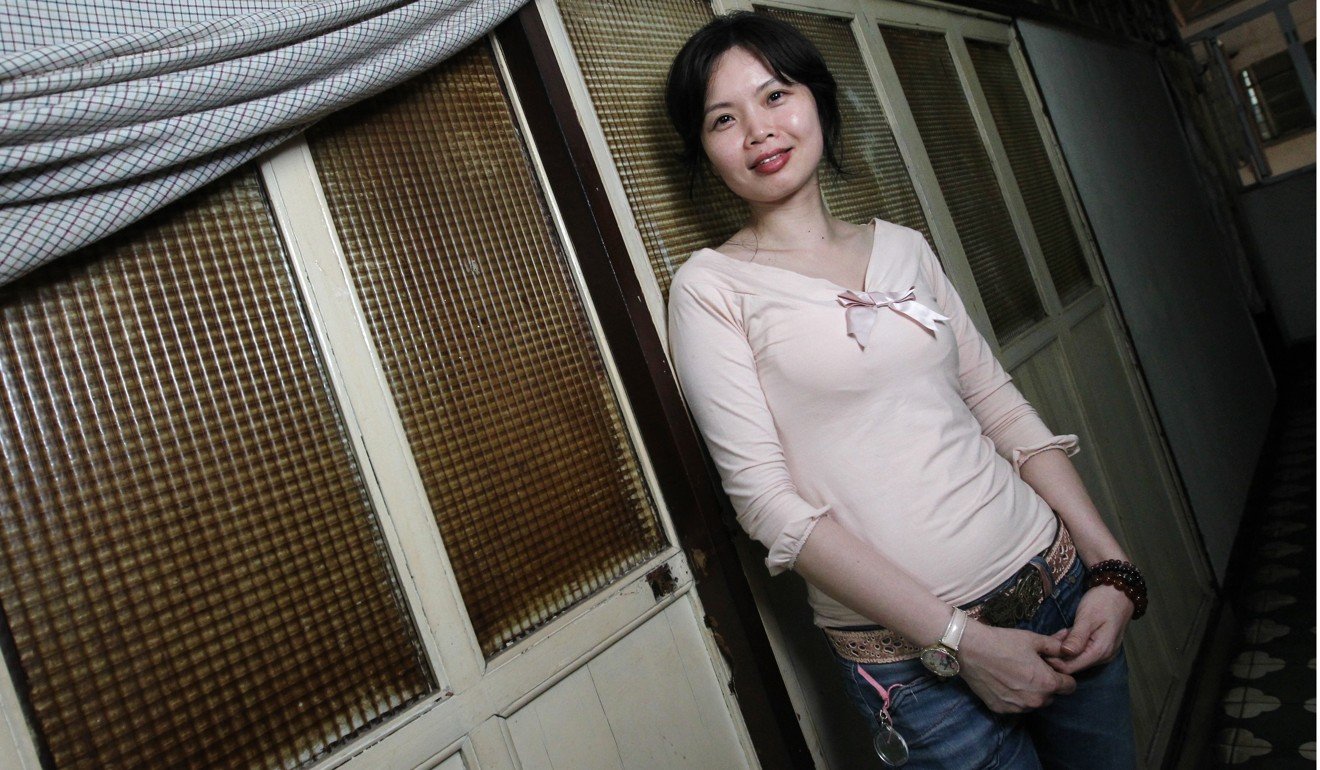 "I have no time to take them out because I have to prepare meals when I'm not working."
Ah Yu and her husband argued a lot over their financial situation, she added.
The procedures involved in applying for the working family allowance should be simplified, Ah Yu said. She hoped the government would get her family into public rental housing, for which they had been waiting 4½ years.
Securing government accommodation reduces a family's chance of being poor, according to government research, to the extent it had cut the city's poverty rate by 3.5 percentage points – an effect greater than that of CSSA.
For Ah Wing, his outlook is upbeat despite his struggles.
"I'm very happy that I can stand on my own two feet and do not need to depend on the government," he said.
Children at his daughter's school from families on CSSA were looked down upon, he revealed.
He sets aside HK$3,000 every month from his modest earnings to pay his children's tuition fees because he does not want them to be disadvantaged.
His hard work and optimism have been rewarded. After a seven-year wait, the family have finally managed to get a public rental flat in Sha Tin, and will move this year.
He said he was heartened by his daughter's success at school, where she scores above 90 in most subjects.
"I will do my best to raise them and will even borrow money to let them continue studying," he said.