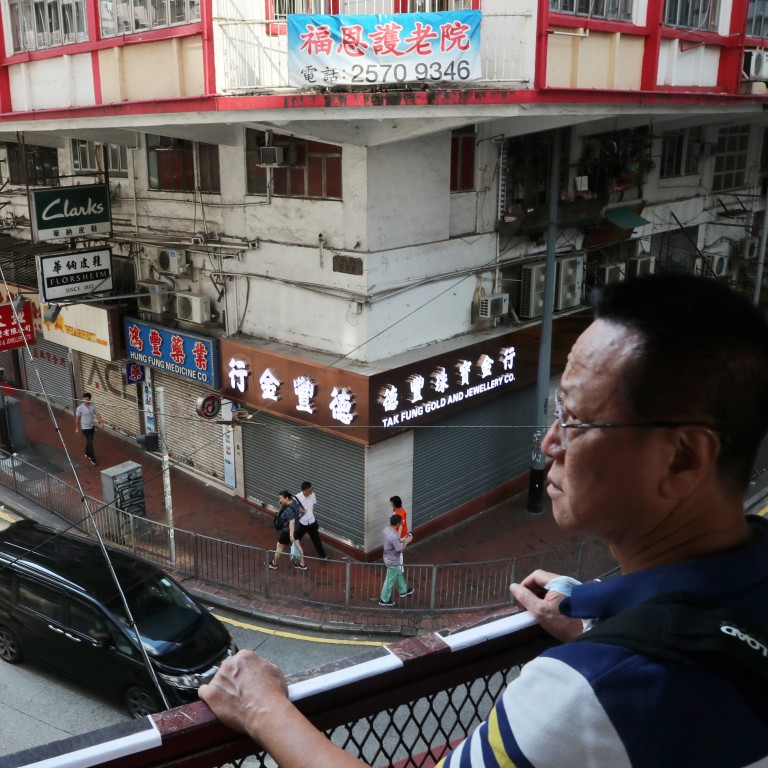 Rumours of armed gangs heighten North Point tensions after anti-government protesters' fight with mob
Anti-government protesters clashed with men wielding sticks on Monday night
Unsubstantiated reports of Fujianese reinforcements coming to settle scores in the area prompt businesses to shut up shop early
More than half the businesses in the main shopping area of North Point were shuttered on Tuesday afternoon after rumours that protesters and armed gangs were out to settle scores after a fierce skirmish a day earlier.
From about 2pm on Tuesday, businesses on King's Road near Ming Yuen Western Street, where the brawl occurred on Monday night, began closing, even though they would usually be open for about seven hours more.
Metropole Department Store, one of the largest shopping centres in the area, closed just after 2pm. "Because of an air conditioning problem, we stopped working today," the mall's hotline said.
Banks, supermarkets, restaurants and Cantonese opera venue the Sunbeam Theatre all closed about 4pm.
Simon Kwok, who runs a newspaper stand, closed his shop at 3pm, four hours earlier than usual.
The shopkeeper, who is in his 50s and has had the stand for decades, said he heard from fellow stallholders there would be clashes between protesters and local residents.
"Most shops nearby are either already closed or preparing to close earlier than usual," he said, adding he heard rumours Fujianese people living nearby were preparing knives and other weapons to fight anti-government protesters if they came to the neighbourhood.
The demonstrators fought with staff-wielding attackers on Monday, during a citywide strike which ended in road occupations and clashes with police.
"There will be no business anyway because of the protests," Kwok said.
Amid a stream of rumours and fake news flying around online, the threat about looming violence in the area spread quickly online and through WhatsApp groups. A person who claimed to be from a Fujianese family, but on the side of protesters, wrote a popular post on online forum LIHKG urging people not to go to North Point to fight.
According to conversations in chat groups set up on WeChat by Fujianese in Hong Kong and mainland China, people from the province were being mobilised to take revenge for the clash on Monday night.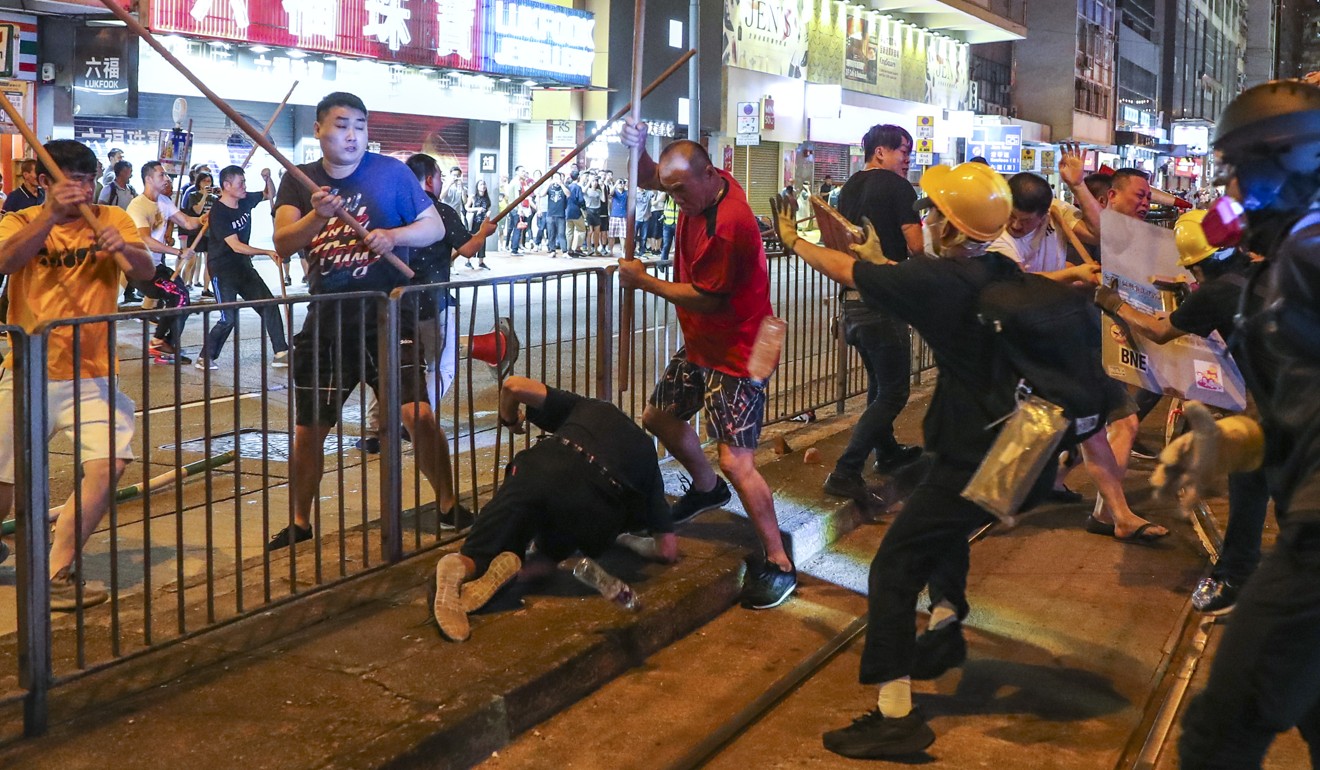 "At least five buses of Fujianese have already left for Hong Kong," claimed one message seen by the Post. But it was uncertain whether and when they arrived. In a video clip circulating on social media, a speaker says: "We Fujian people should go [to Hong Kong] to fight back!"
On Monday night around 8pm, about 10 people with poles fought with protesters on King's Road in North Point.
They were seen running along the nearby Ming Yuen Western Street, some darting into the office of a group called the Hong Kong First Youth Association.
Dozens of protesters chased after them until they reached the building, smashing the windows of the office as they asked for the men to be handed over. A man inside a flat in the building took out a knife and shouted at the protesters outside.
About six people originally from Fujian province were at the association when the Post visited on Tuesday afternoon. Three of them said they lived and worked in Hong Kong but were not members of the association. "We came to help when we heard that the association's windows were smashed," said one man, who refused to give his name.
A middle-aged man who gave his surname as Wong said seven men from Fujian ran into the building on Monday evening and they let three people stay inside the office. "A lot of people from Fujian live in this area," he said. "We don't know these people. But we let them in because they were injured and bleeding."
The man said the protesters shouted insults about Fujianese people, which sparked people's anger.
On Tuesday, at about 6pm, more than 20 people gathered at the roadside of Ming Yuen Western Street.
Two police cars arrived on King's Road before 4pm. By 6pm, a dozen officers were seen near North Point MTR station.
A staff member from Hong-kin for Golden Aged Citizens, a facility home to 30 elderly people on North Point Road, said they received a call from police at about 9am on Tuesday asking them to close all windows and keep residents inside.
"The police didn't mention anything about a clash or violence," the worker said.
At 8.30pm, dozens of people gathered in front of the mall and near the footbridge on King's Road facing Ming Yuen Western Street, some chatting in Mandarin and Min, a dialect common in Fujian province. A man among the group told the Post he arrived in the city on Tuesday, but refused to say where he was from and why he came.
A woman said she was a local resident. "I'm just enjoying the cool air," she said, refusing to comment further.
At 9pm, more than a dozen police officers went to the association office. They took away some objects wrapped in tarpaulin as evidence and put them in a truck. One police officer said no arrests were made and did not comment on what evidence they took away.
Pole-shaped objects could be seen among the evidence. The police left after 10 minutes.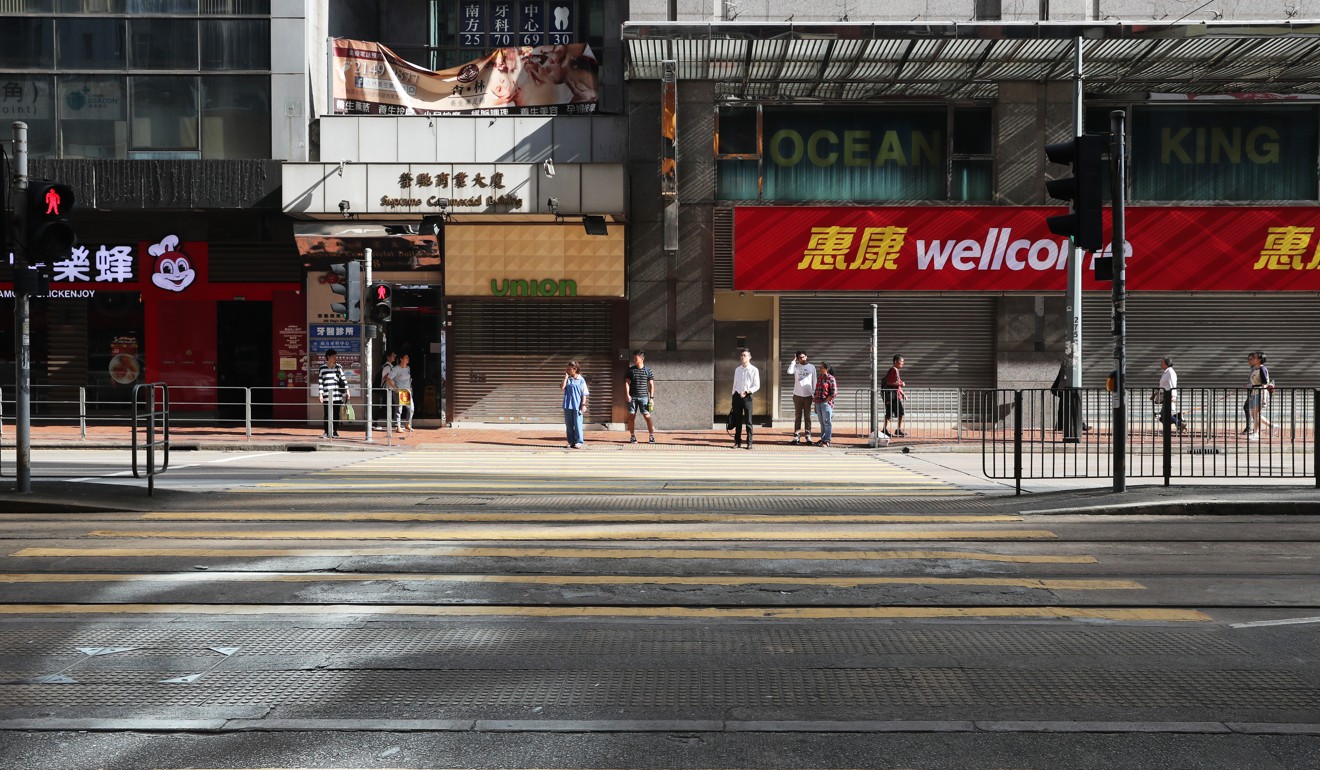 Senior Superintendent Kong Wing-cheung from the force's public relations office said emergency calls on Monday were received shortly after 7pm, but officers could only arrive on the scene to handle the attack at 11pm as North Point Police Station was besieged by a large group of violent protesters.
"When officers wanted to leaveand head to the scene to handle the situation, we were attacked by the protesters. Therefore we could not deploy officers in an appropriate time," Kong said.
Asked why no officers were patrolling the streets, Kong said: "The services of 21 police stations were affected by violent protesters on Monday. You have to be fair. We deployed quite a number of officers to handle violent incidents, which inevitably affected our service to emergency calls."
This article appeared in the South China Morning Post print edition as: shops close as rumours of armed gangs heighten tensions in north point after monday Clashes