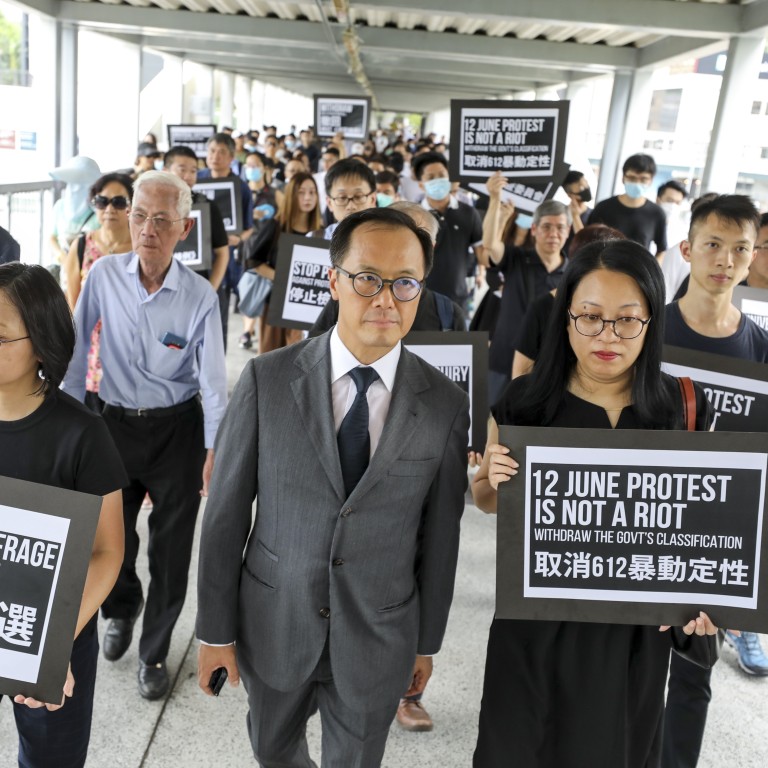 Thousands of Hong Kong accountants join protest march – despite pleas from employers and promise of free lunches
Industry lawmaker Kenneth Leung estimates 5,000 accountants joined the silent noontime march, exceeding expectations.
Leung defends protest, saying 'This is not the Hong Kong we are familiar with and proud of'
Thousands of accountants joined a silent noontime march on Friday to protest against the now-abandoned extradition bill – despite warnings, pleas and offers of free lunch.
Industry insiders, some wearing business suits and masks, gathered in Chater Garden in Central to take part in the march to the central government complex in Admiralty.
Some participants held signs urging the government to withdraw the now-shelved extradition bill and set up an independent inquiry into police tactics.
Raymond Cheng, a 30-year-old accountant, wore a black shirt, mask, sunglasses and a helmet.
"I came here to join not just as an accountant, but also as a Hong Kong citizen," he said. "Hong Kong communities are not very safe any more with the police (use of force). So we citizens need to take safety measures to protect ourselves."
Two insiders told the Post that PricewaterhouseCoopers (PwC) offered free lunches to various employees just before the Friday rally.
In a letter to its staff, Raymond Chao, the chairman of Asia-Pacific and Greater China for PwC, asked staff not to identify themselves as PwC employees when they expressed their views on the protests.
"Individuals should not hold themselves out as PwC employees in responding to inquires received from media or via other channels on these matters, as it could create the impression that they are speaking for the firm, " Chao wrote.
Kenneth Leung Kai-cheong, an accounting sector lawmaker, declined to comment on the strategy of different firms.
"I think the fact that this afternoon over 5,000 participants joined the march tells the world that we are not intimidated," he said.
"Every citizen has a right to lawfully express their views – whether pro-government or anti-government."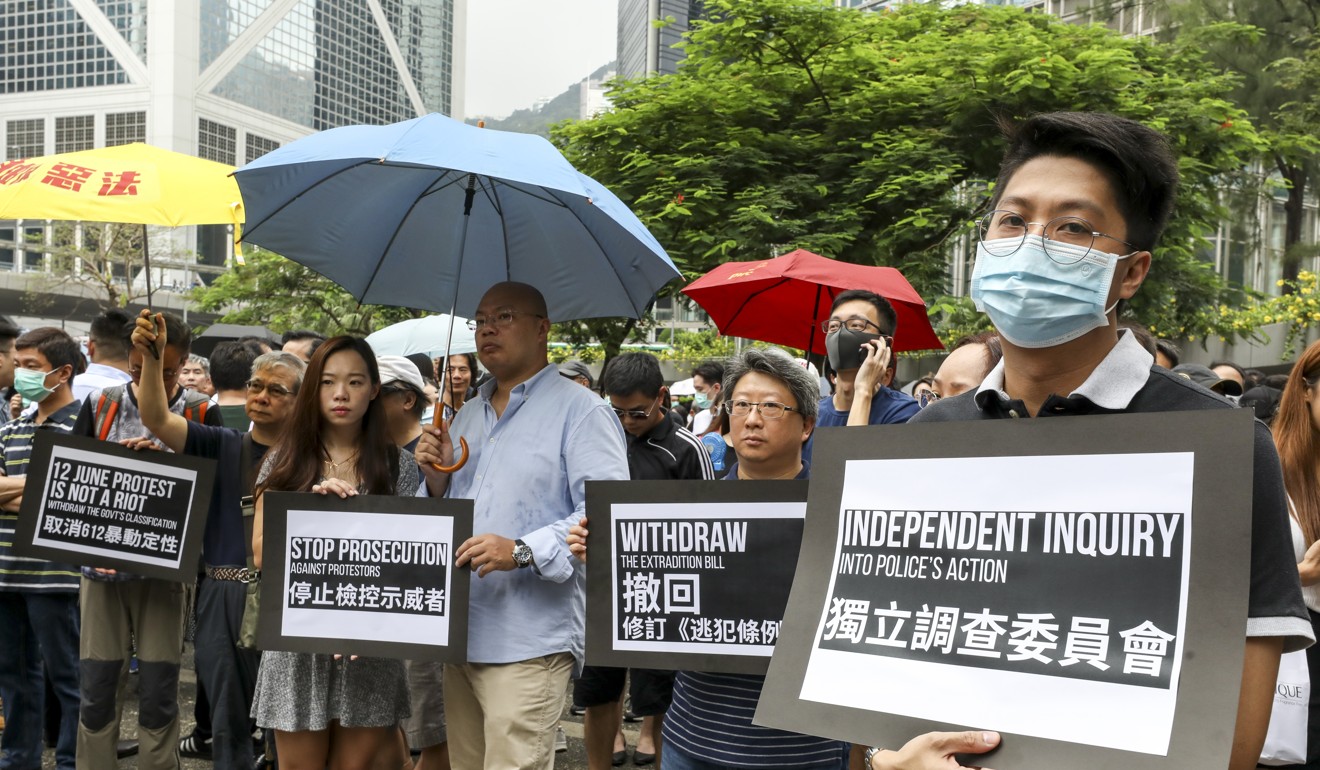 Leung, an organiser of the police-approved march, said the reported attendance of 5,000 accountants exceeded his expectations. It was his office that applied for approval from the police for the protest.
"This is the first time since 1997 that people from the accounting sector have joined a protest over a social issue," he said.
Leung also pointed out recent statements by banks and accounting firms that had condemned the violence of protesters.
"Even employees using their own time to join legal activities to express their political opinions could be warned or even sacked by their companies," Leung said. "This is not the Hong Kong we are familiar with and proud of."
Businesses in Hong Kong have been pressured by Beijing to show their disapproval of the protests and act against employees who took part in the demonstrations.
Last week, four global accounting giants – KPMG, Ernst & Young Deloitte and PwC – played down an advertisement placed in the local Apple Daily newspaper that criticised the firms for ignoring Hongkongers' "yearning for democracy and freedom".
The advert was reportedly crowdfunded by staff from the four accounting companies. The firms said, among other remarks, that the ad did not represent their official position.
Additional reporting by Alvin Lum