Hong Kong shoppers clear shelves as panic grips a city struggling to cope with chaos of anti-government protests
Supermarkets, shopping centres and MTR stations all remain closed for second day
Hong Kong shoppers emptied supermarket shelves and queued up at ATMs on Sunday as the city's metro system remained half shut and major shopping centres stayed closed after chaos hit multiple districts in the city.
While early-bird shoppers complained about having to queue for almost 45 minutes at cashiers at supermarkets, latecomers were confronted with almost empty shelves. Throughout the morning, social media was awash with pictures of supermarkets and grocery stores that appeared to have almost no stock.
In Mong Kok, a housewife, Mrs Ma, rushed to a Wellcome supermarket around midday on Sunday, only to find many of the shelves already empty.
"Staff said that they opened for a half day on Saturday and did not have time to stock up new supplies because of the chaos all over Hong Kong," she said.
"I am not sure if people have overreacted. But I have never seen this in my life. It is like wartime. I saw people even stock up on toilet paper."
In Wan Chai, a shopper let out sighs of disappointment as she was denied entry to a Wellcome outlet that closed late afternoon.
"I only planned to run an errand and should have been back home very quickly," the frustrated shopper said. "But I have been walking around the area for half an hour and could not find a supermarket that was open."
The woman blamed the anti-government protesters for messing up Hong Kong.
"Can't they just protest peacefully? Why must they turn Hong Kong upside down to make their point heard? We are only laymen and we have our life to live," she said.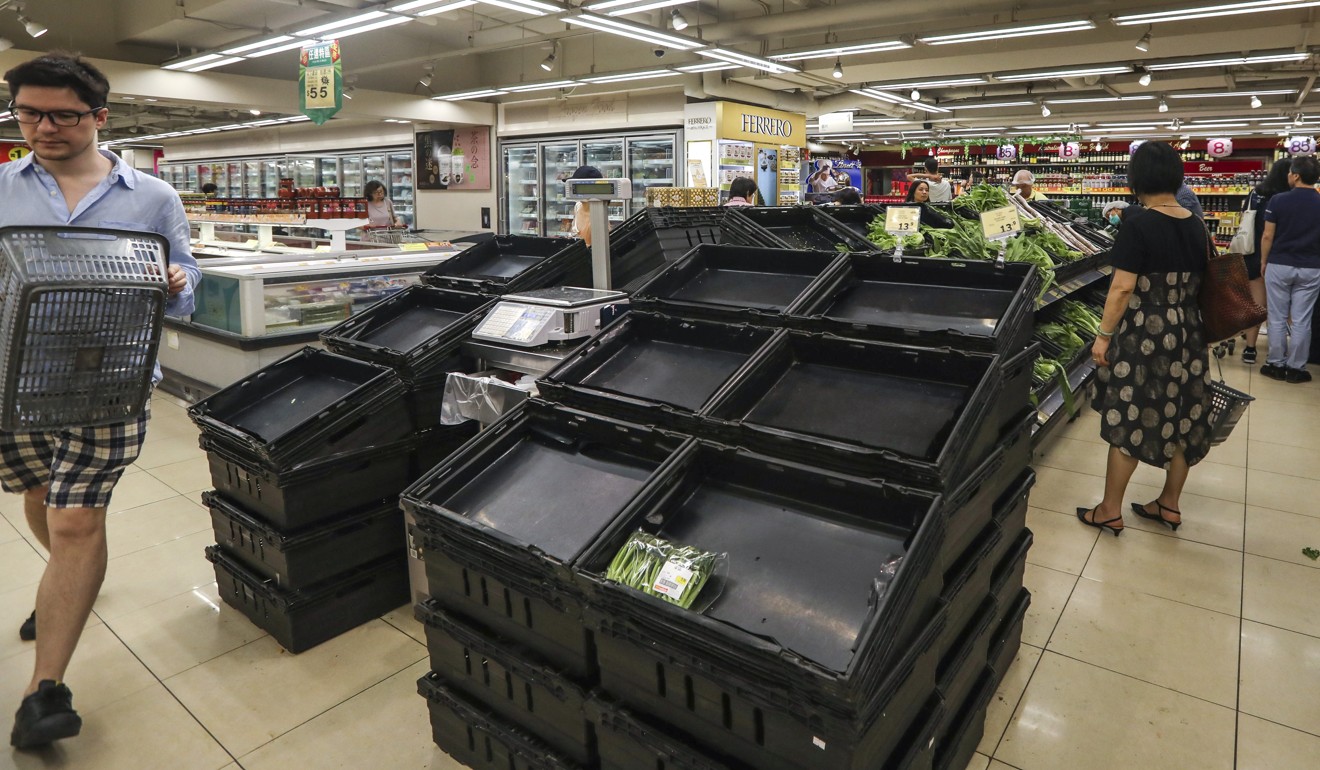 Protesters unleashed chaos across the city in an angry response to an anti-mask law, introduced by city leader Carrie Lam Cheng Yuet-ngor on Friday in a bid to quell the social unrest that has rocked the city for nearly four months.
The move backfired and tens of thousands of people poured on to the streets to protest on for a second day on Sunday.
Half of the city's metro stations were closed and a number of shopping centres around the city remained shut in anticipation of more mayhem on the streets, as demonstrators called for more protests in Causeway Bay and Tsim Sha Tsui in the afternoon.
On Saturday, MTR services were shut down totally for the first time in its 40-year history, paralysing the city's public transport, while protesters targeted stores they believed had business connections with mainland China.
Chinese banks were also targeted, with many ATMs vandalised and branches set on fire.
A spokesman for the Hong Kong Monetary Authority said 10 per cent of the 3,300 ATMs across the city could not function because of the weekend's vandalism, and banks sought to arrange logistics companies to deliver and refill bank notes to those machines still in service.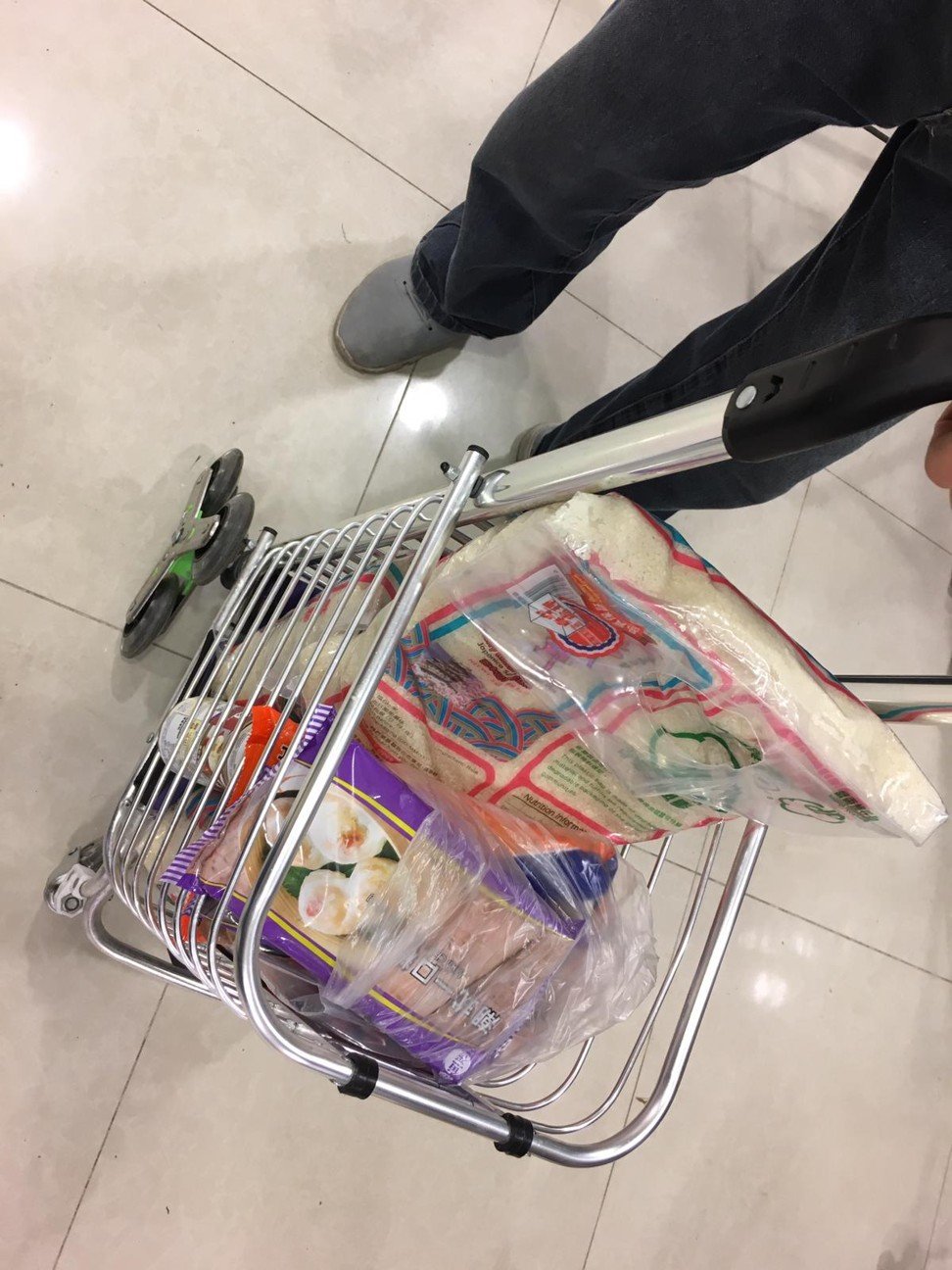 In Ma On Shan, in the New Territories, long queues formed at the ATMs that still functioned.
"It is very inconvenient," one customer, called Mr So, said. "Malls are closed. ATMs at branches are vandalised. Those are rioters. I don't think the police should let them go."
Views were mixed, however. Another Ma On Shan resident, Grace, said it was the government that should be blamed.
"If the government had met the demands of the protesters earlier, the situation might not have become so bad now," she said.
A man surnamed Cheng, who is in his 70s, bought three bags of rice weighing a total of 15kg, as well as a trolley's worth of frozen dim sum and canned food, when he stocked up at a ParknShop supermarket in Tsuen Wan on Sunday.
Fearing more closures, he said: "I'm greatly inconvenienced. I don't know when supermarkets will close, so I have to go shopping early."
Meanwhile, one convenience store chain Circle K seemed to be able to cash in on the city's lockdown when its major rival, the 7-Eleven chain, which stays open during typhoons, closed.
In a Causeway Bay store, shop assistant Jim Chan said: "People just keep coming in. You know, 7-Eleven shops closed. We are neutral and do not care much about black clothes or white clothes. We serve all customers."
Additional reporting by Laurie Chen
This article appeared in the South China Morning Post print edition as: Supermarket shelves emptied in rush for supplies