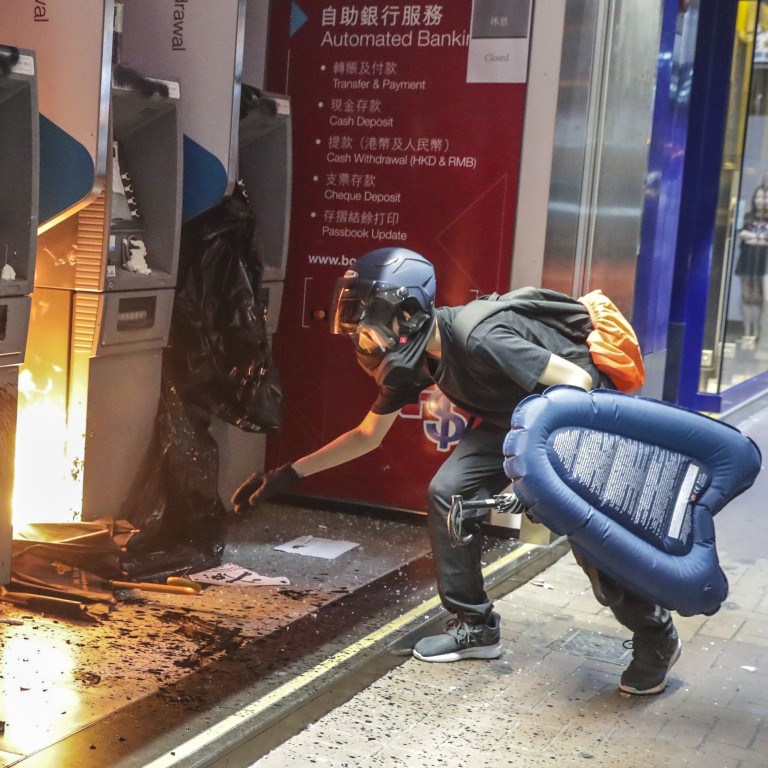 Hong Kong protesters go on yet another rampage, attacking police, meting out mob justice and trashing train stations and mainland China-linked businesses
Mobs block roads, trash or firebomb Bank of China outlets, and attack administrative buildings as well as offices of pro-establishment politicians
In one of multiple attacks on frontline police, officer is slashed in the neck with a box cutter during a confrontation in Kwun Tong
Anti-government protesters went on yet another violent rampage across Hong Kong on Sunday, attacking police officers – one of whom was slashed in the neck with a box cutter – meting out mob justice to people in their way, vandalising shops with mainland Chinese business ties, and trashing metro stations.
They blocked roads, trashed or firebombed Bank of China outlets, and attacked administrative buildings as well as offices of pro-establishment politicians to mark the 19th straight weekend of lawlessness, after more than four months of
protest chaos
sparked by the government's now-withdrawn
extradition bill
.
In one of multiple attacks on frontline police, an officer was slashed in the neck with a box cutter during a confrontation in Kwun Tong. He was said to be in a stable condition in hospital, with a 3cm cut, while two suspects were arrested at the scene.
"One rioter used a sharp-edged object to slash the officer's neck from behind," the force said in an official statement.
A video circulating online showed a lone riot policeman being attacked by masked, black-clad radicals, one of whom drop-kicked the officer as he was trying to make an arrest in Mong Kok. Police said they had tried to snatch his rifle, which he managed to hold on to.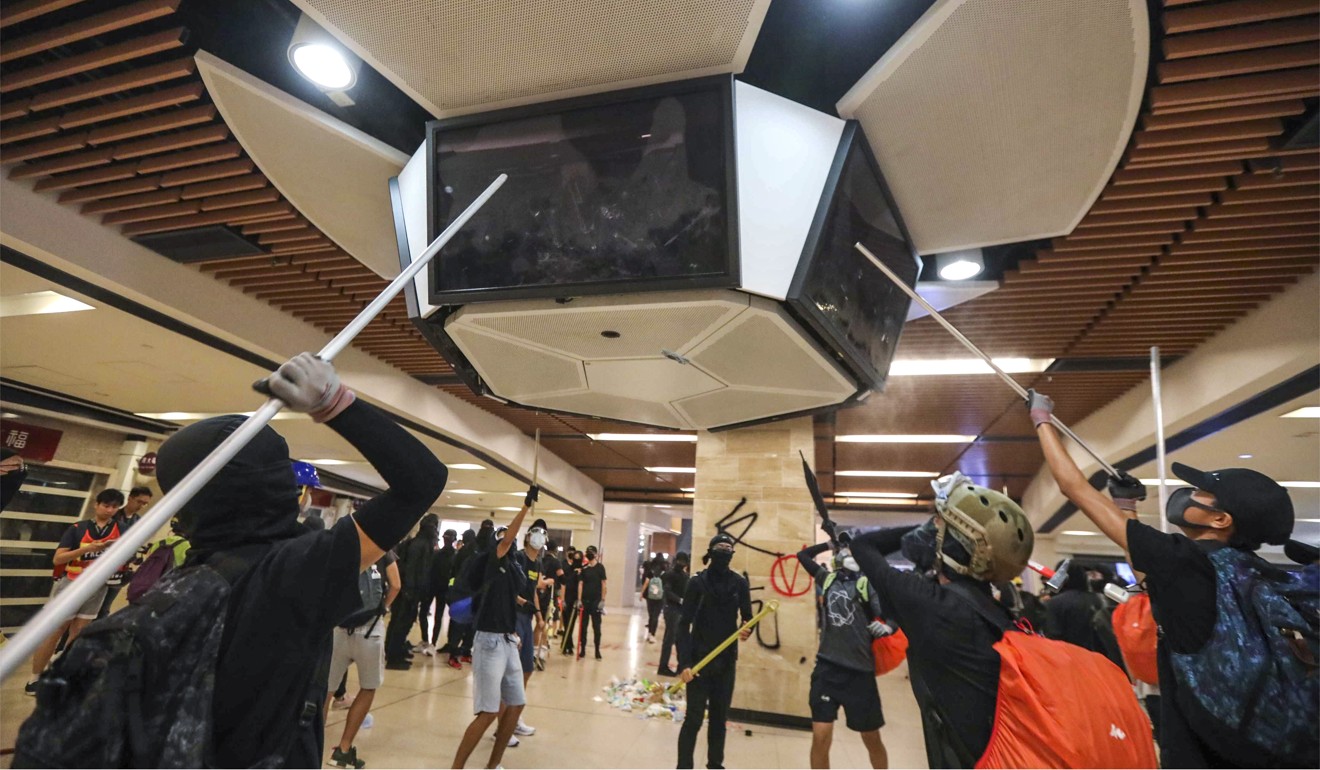 A police van was set ablaze with petrols bombs thrown from above in Sha Tin, while a black-clad undercover officer was beaten and bloodied by a mob. They took his baton away and threw it down a drain.
Police said rioters had also trashed and looted a private car used by Identification Bureau officers who were investigating a burglary case not related to the protests.
More than 20 petrol bombs were hurled at Mong Kok Police Station alone.
There were also multiple cases of lone individuals being subjected to vigilante violence by mobs. Television footage showed two women being separately assaulted and having black paint splashed on their faces while their attackers held up opened umbrellas to hide their actions.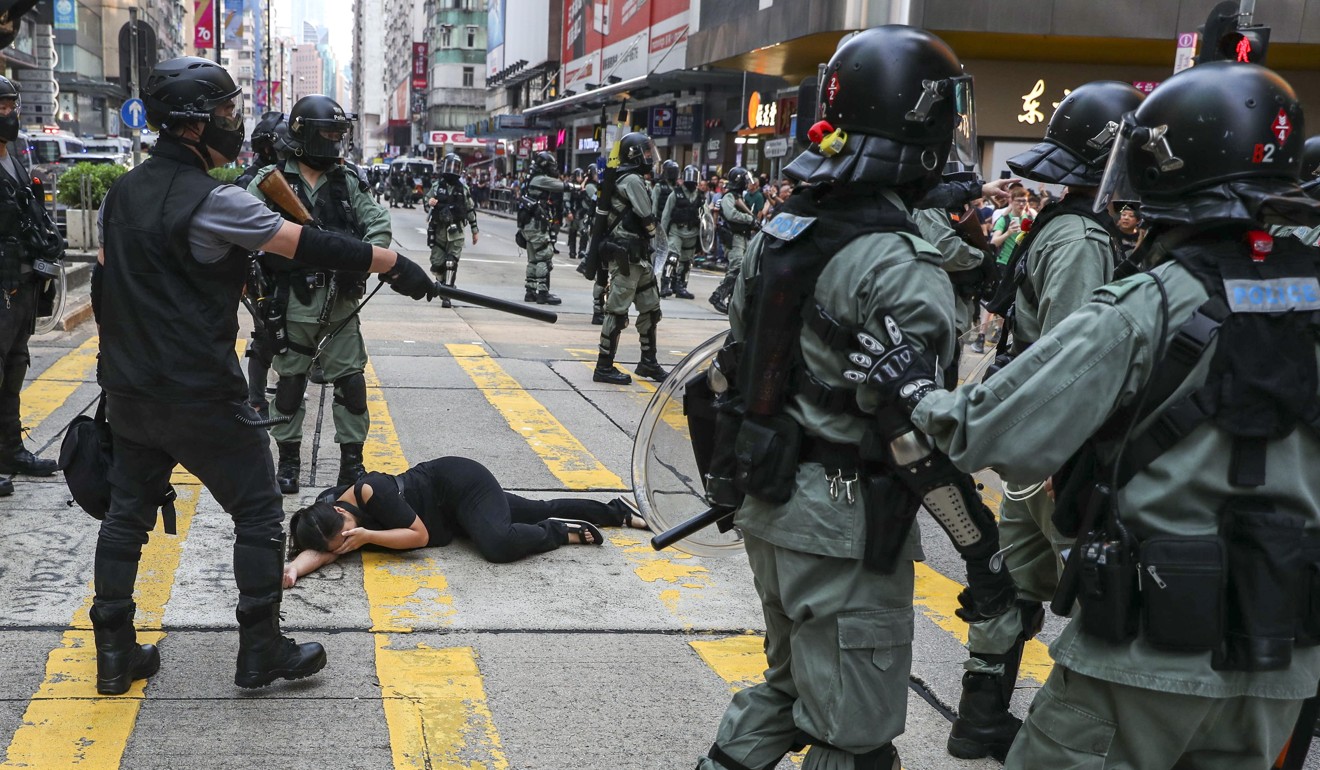 Police said they had adopted a new strategy on Sunday by deploying plain-clothes officers at shops often targeted by protesters.
They arrested seven protesters who vandalised the Best Mart 360 branch at Metroplaza in Kwai Fong.
"We want to impose some deterrent effects by making arrests with officers ambushing them at the shops," a police source said.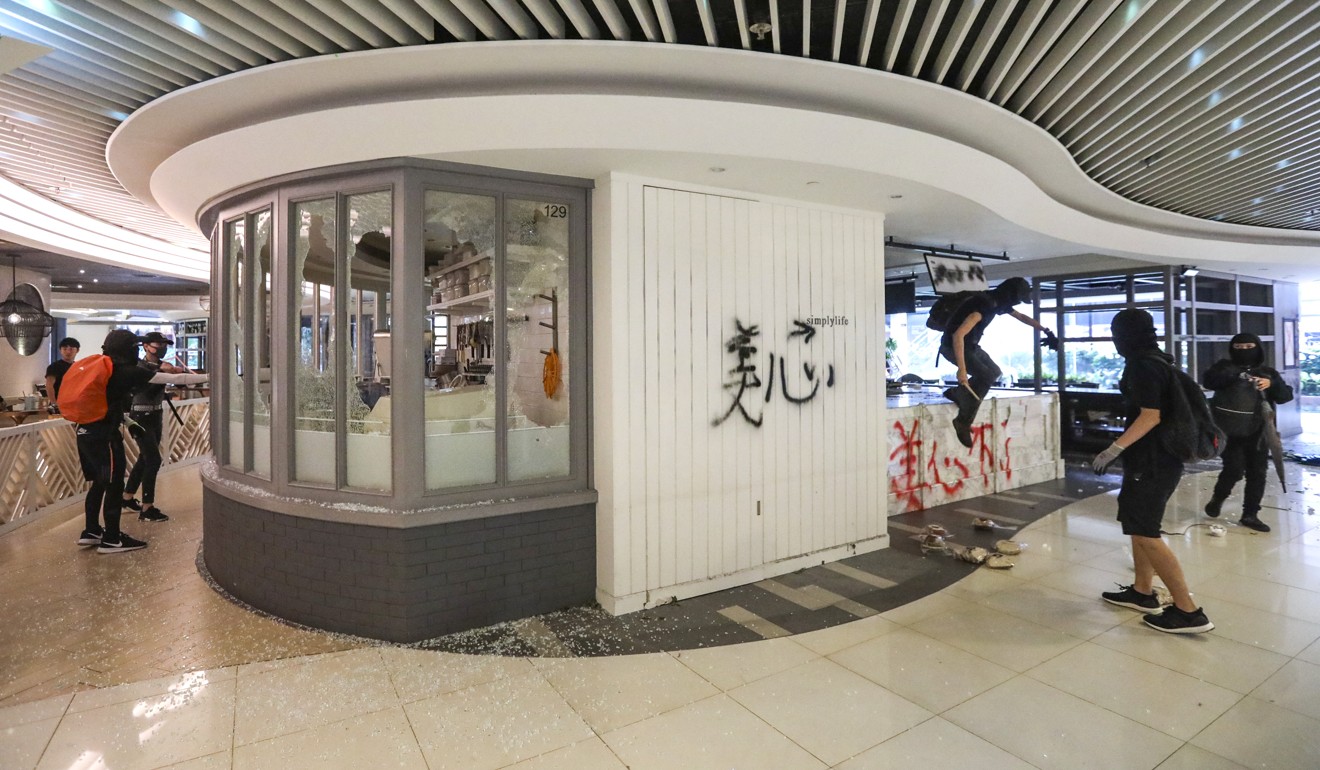 Police were also seen taking quicker action on Sunday against protesters employing hit-and-run tactics, deploying a faster-moving squad of around 30 tactical unit officers to some scenes instead of the usual practice of waiting to assemble a full contingent of more than 100.
Sunday's chaos erupted in the afternoon when groups of protesters, mostly masked and wearing black, launched lightning attacks on targeted stores at several shopping centres, vandalising outlets and restaurants with mainland Chinese ties.
In Cityplaza in Tai Koo, they had forced open the shutters of a Starbucks outlet, operated by the Maxim's group, and spray-painted its counters and tables with obscenities.
Protesters have been
targeting the catering giant
for weeks after Annie Wu Suk-ching, daughter of the group's founder, spoke up against the movement at a UN meeting earlier.
In New Town Plaza in Sha Tin, protesters trashed Best Mart 360, Lenovo and Huawei shops. Starbucks, Simplylife and Chiuchow Garden, all owned by Maxim's, were not spared either.
"It's a way for us to express anger," a 16-year-old protester in New Town Plaza said, adding that he was upset with businesses which had "sold Hongkongers out".
"We don't have any burden any more, therefore we don't need to care much," he said, admitting that he did not expect to achieve much through such acts, and had already considered it could turn public sentiment against them.
There were similar outbreaks of vandalism in Tsuen Wan Plaza, Telford Plaza in Kowloon Bay and Popcorn mall in Tseung Kwan O, where a doctor from Tseung Kwan O Hospital was among those arrested.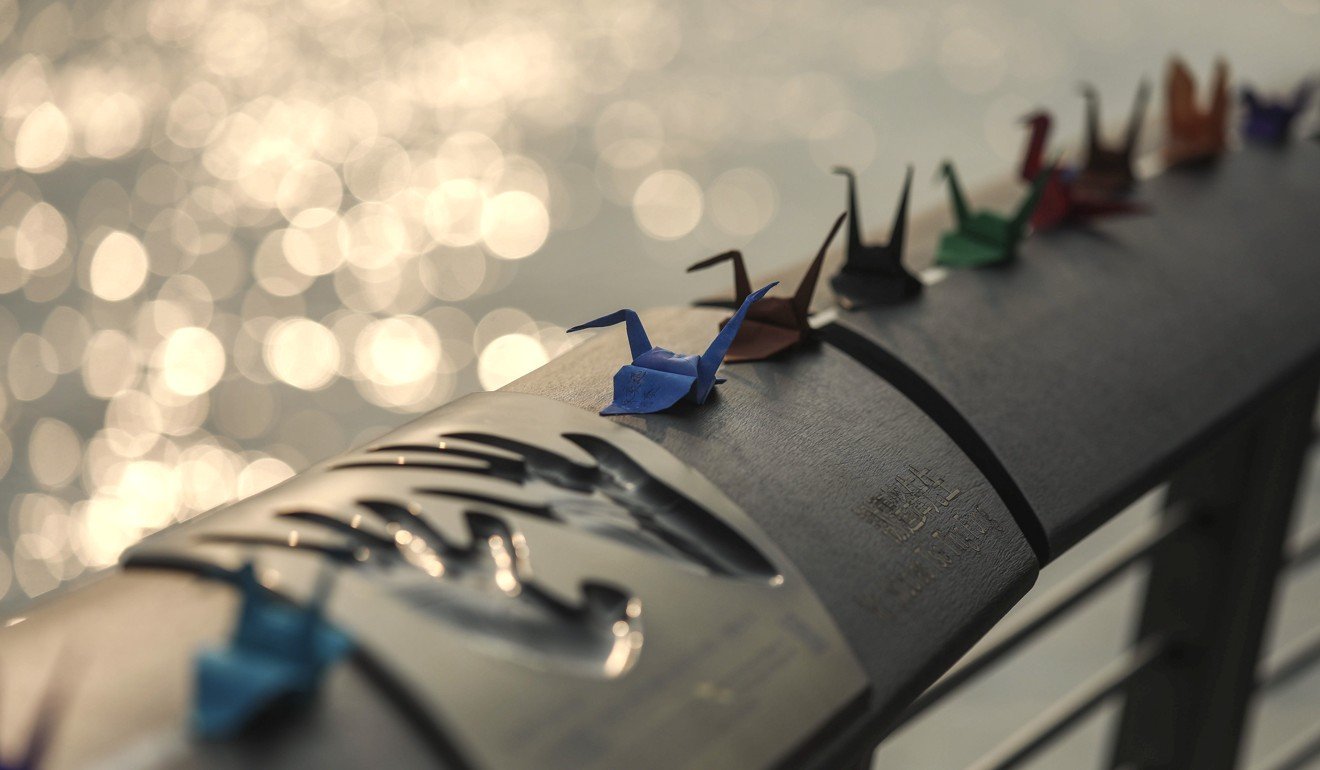 Protesters also continued their onslaught against the
MTR
, accusing the railway operator of colluding with police and bowing to pressure from Beijing.
They dumped debris on the tracks at Sha Tin station, trashed some other stations and vandalised two light rail stops. The railway operator eventually shut down the entire light rail network and closed at least 27 MTR stations.
Police fired tear gas in Sha Tin, Tsuen Wan and Tuen Mun to disperse violent mobs, while an officer reportedly drew his service revolver outside New Town Plaza, but no live rounds were fired.
Meanwhile, more than 100 Hongkongers participated in a peaceful demonstration at the Tsim Sha Tsui promenade, where they folded paper cranes and formed a human chain.
"Now the protests are turning violent, with this event I hope to send a positive image to the outside world that Hongkongers are peace lovers," a man surnamed Tin said.
Reporting by Simone McCarthy, Elizabeth Cheung, Fiona Sun, Jeffie Lam and Danny Mok
This article appeared in the South China Morning Post print edition as: Officer slashed in neck as violent mobs go on rampage