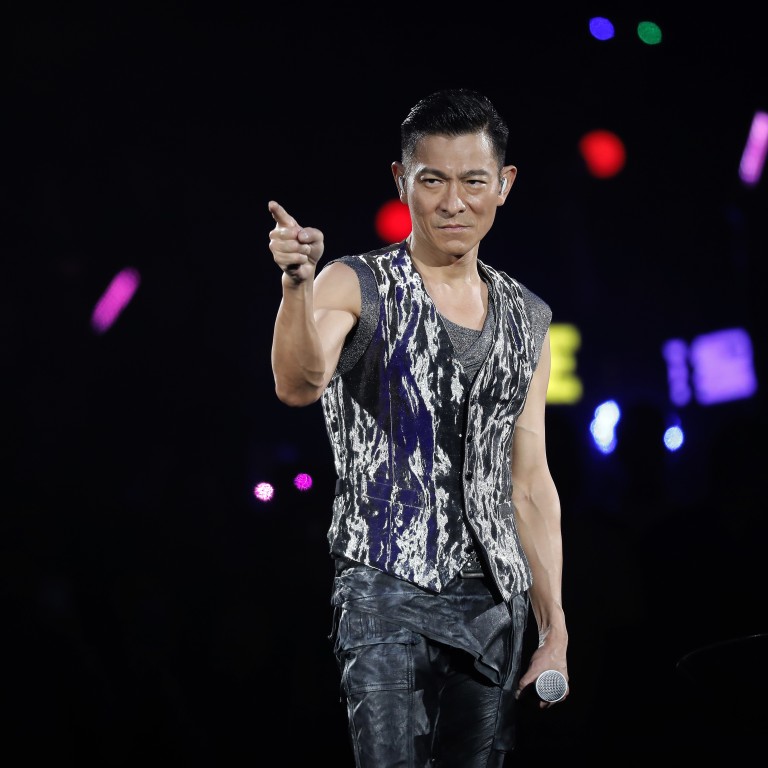 China coronavirus forces Andy Lau to call off Hong Kong concerts, following closures of Disneyland, Ocean Park until further notice
Twelve of Canto-pop singer's concerts cancelled at Hong Kong Coliseum over the Wuhan contagion
Theme parks shut from Sunday as precaution under government's emergency response to the outbreak
Canto-pop star Andy Lau Tak-wah has called off 12 Hong Kong concerts because of the coronavirus outbreak, which had already forced the cancellation of major events in the city and the temporary closure of its theme parks.
More than 100,000 fans are set to be affected by the canning of his shows at the Hong Kong Coliseum between mid and late-February, with organisers citing health and safety concerns over the virus that has claimed dozens of lives in mainland China.
It follows the closure of Hong Kong's two major theme parks on Sunday until further notice as part of the government's emergency response.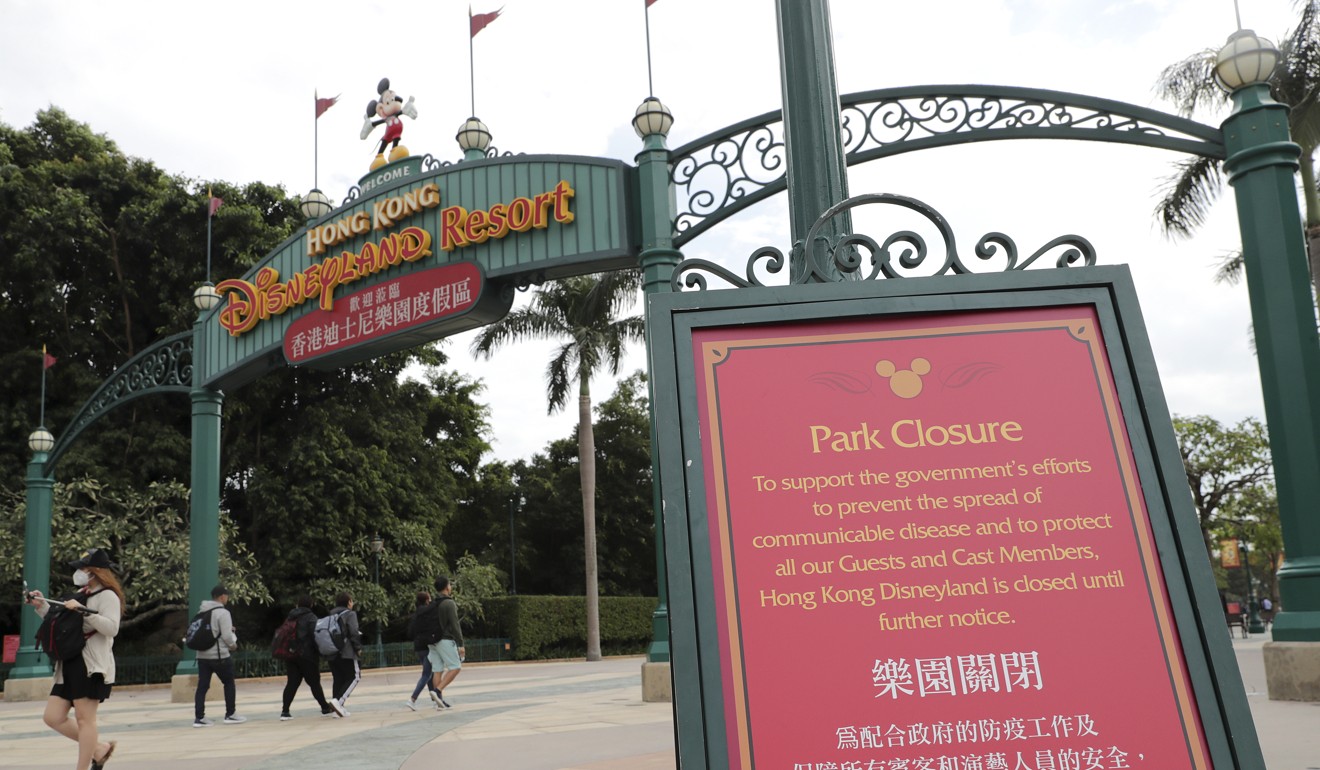 "We apologise to all those who have purchased tickets in support of Mr Andy Lau," the organiser said, adding refund arrangements would be announced shortly.
Hong Kong singer-actor Leon Lai Ming's two concerts in Macau, originally scheduled for Friday and Saturday, have also been postponed for the same reasons to dates not yet announced. Macau confirmed three new cases of the coronavirus on Sunday, increasing its total to five.
Ocean Park and Hong Kong Disneyland Resort announced the shutdown on the second day of Lunar New Year, the day after Chief Executive Carrie Lam Cheng Yuet-ngor
escalated the government's outbreak response
to its highest level.
Ngong Ping 360, meanwhile, said its Lantau Island cable car service between Tung Chung and popular tourist attraction Ngong Ping village, would be suspended from Monday until further notice. Ngong Ping Village would remain open although attractions there would also be suspended.
The government's new year receptions have also been suspended – and large-scale events such as the annual
Standard Chartered Marathon
were already cancelled – to prevent the spread of the infection.
Hotels at both parks would remain open during the closure period, while exchanges and refunds would be offered to those who had pre-booked tickets, the resorts said.
"As a precautionary measure in line with prevention efforts taking place across Hong Kong, we are temporarily closing Hong Kong Disneyland park from today out of consideration for the health and safety of our guests and cast members," said a statement from the resort, which is majority-owned by the government.
"In the interim, we will be providing refunds to guests who have booked tickets to the park or rooms at our resort hotels," it added, confirming all three hotels at the resort would remain open.
Ocean Park also announced on its website the attraction would be closed in response to the "government's enactment of the emergency response level" and to put the safety of guests and staff first.
Guests could swap their pre-booked tickets for exchange or refund, it said. A spokeswoman added the Ocean Park Marriott Hotel would operate as normal.
"The park will closely monitor the situation, and cooperate with the government on epidemic prevention and control measures for the prevention of community outbreaks," the Ocean Park statement read.
Both theme parks attract millions of visitors every year, and the ongoing Lunar New Year holiday is traditionally a peak period for people coming to the city.
Both venues publicised the closures about an hour before they were due to open on Sunday.
At Ocean Park's entrance on Sunday morning, dozens of guests including tourists and families were turned away, leaving many disappointed.
Riza Prado, 32, a tourist from the Philippines, said it was her birthday on Sunday and she had planned the Hong Kong trip with her fiancée for almost a year.
"I'm upset. I like to celebrate here. Ocean Park is very popular in Hong Kong," she said.
Her fiancée, Soni Bhambra, also 32, was unhappy with the handling of the closure and the "late notification to guests".
"They have to tell us earlier," he said. "Now that we've come here and they said [the park is closed]. I want to enjoy the park inside, but I'm standing outside because of this. I'm angry."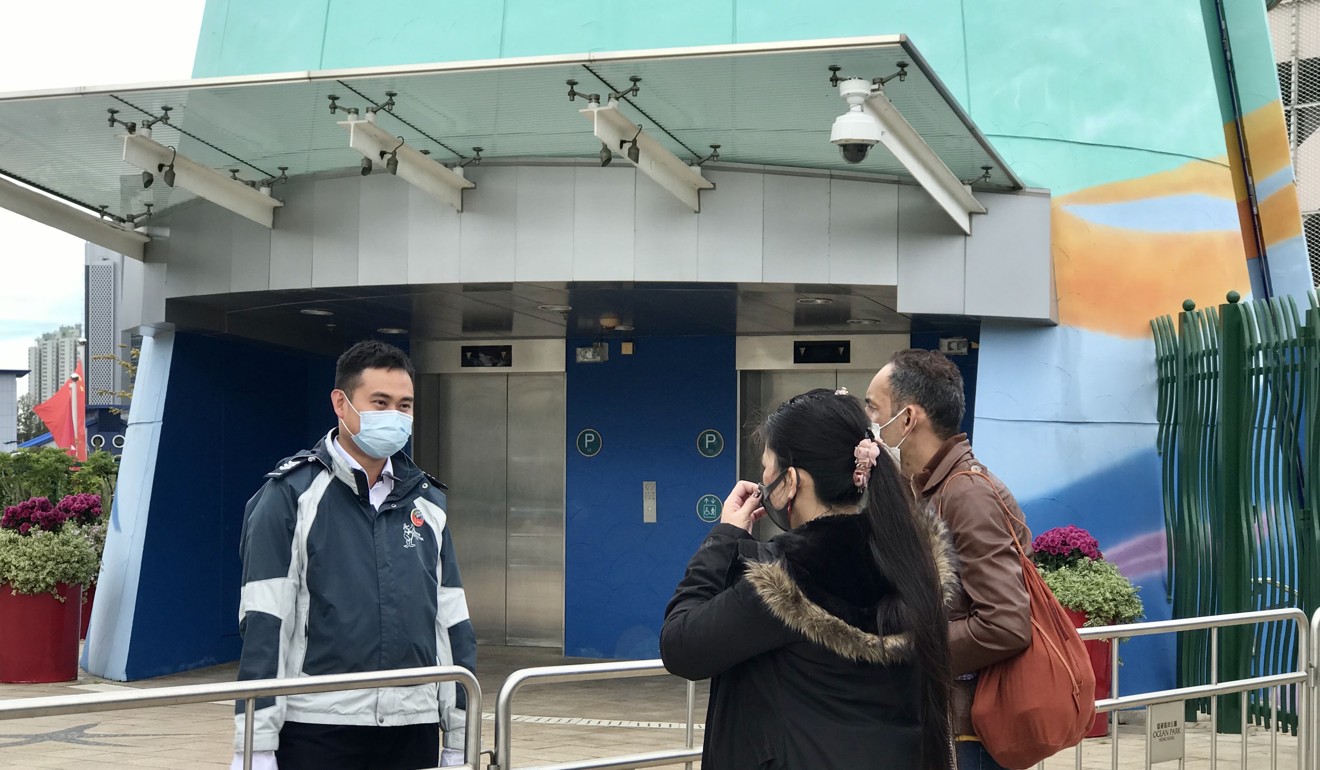 Natasha Cheng, 28, from Kaohsiung in Taiwan, who came with her parents and brother, said it was a pity the park was shut because she had not visited it for 20 years.
"I checked yesterday [Saturday] night and the park said they were still open. Only on my way here I've seen the news that the park is closed," said Cheng, who will try and get a refund from her travel agent on her return to Taiwan.
But Wendy Butt, who is from Macau and turned up to the park with her 6-year-old son, said the closure was understandable given the contagion was still spreading.
"I feel that prevention of the virus is important," said Butt, who is in her 40s and said she might cut short her trip to Hong Kong.
The closures for an unknown period come at a difficult time for the parks amid the Hong Kong anti-government protests, triggered in June by the now-withdrawn
extradition bill
.
The 43-year-old Ocean Park, which sits in the south of Hong Kong Island, has been operating at a loss since 2015 and earlier this month sought a HK$10.6 billion bailout from the government.
Hong Kong Disneyland Resort, which first opened in 2005, has also recorded a loss in the four consecutive years to 2018, and the Lantau Island theme park has warned of further losses with visitors put off the city by the protests.
Tourism sector lawmaker Yiu Si-wing said the temporary closures of both theme parks could hit their businesses hard, especially during the Lunar New Year holiday period and with no dates set for reopening.
"There are still regular costs including staff salaries that have to be paid. The closures are of course going to bring financial pressure to both parks, especially for Ocean Park which is currently under financial difficulties," Yiu said.
He said both attractions might look at cutting costs through measures such as reducing the number of temporary staff.
Under the government's emergency protocol for the outbreak, the Hospital Authority has also announced all general visiting arrangements, volunteer services and clinical attachment programmes would be suspended at the city's public hospitals.
Meanwhile, the MTR Corporation said the cleaning and disinfection of train stations would be carried out more regularly to every two hours in areas such as escalators, lifts and tickets issuing machines.
All station staff were required to put on masks, the rail operator added.
A bleach solution is being used at MTR stations that link to travel hubs such as the West Kowloon high-speed rail terminus, Lok Ma Chau, Lo Wu, as well as Airport Express stations.
This article appeared in the South China Morning Post print edition as: andy lau cancels concerts and theme parks shut gates