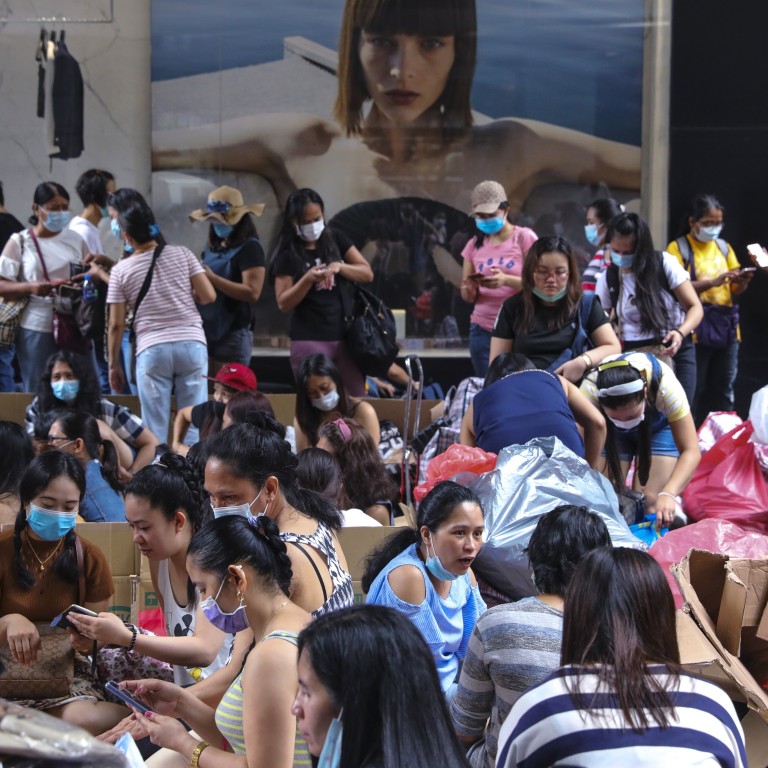 Coronavirus: Hong Kong domestic helpers should be quarantined in government centres on arrival as most families do not want to house them initially, union says
Most employers do not want to share their home with new hires over initial 14-day period, Hong Kong Union of Employment Agencies says
Up to 10,000 domestic helpers expected to arrive in Hong Kong to work over the summer, union estimates
Employment agencies have called for newly hired
domestic helpers
to be quarantined in government centres on their arrival in Hong Kong, saying most families did not want to house them over the 14-day period.
Up to 10,000 maids are expected to flock to the city over the summer as the Philippines and Indonesia drop restrictions on their citizens heading overseas to work, the Hong Kong Union of Employment Agencies estimates.
"We all understand most Hong Kong families live in cramped conditions," union chairman Thomas Chan said.
"Some 85 per cent of the employers we contacted cannot afford to spare a separate bedroom or a separate bathroom for their maid to use during the two-week quarantine period."
Bed-space hostels managed by employment agencies were not suitable either, according to Chan.
"The employers are not trying to evade their responsibility. They are aware of the need for their maids to be kept under quarantine.
"We only want to suggest a better option for the government to consider. If it is a public health issue, it should be the government's job to handle it, not for individual citizens."
Union vice-chairman Ricky Yeung also said almost all of the employers his members had contacted did not want to stay under the same roof as their maid over the quarantine period.
"Most of the families hire foreign maids to take care of the elderly, children, or babies, who are the most vulnerable groups. If a maid ends up being found to be a virus carrier, the whole family can be infected and if it could lead to community outbreak," he said.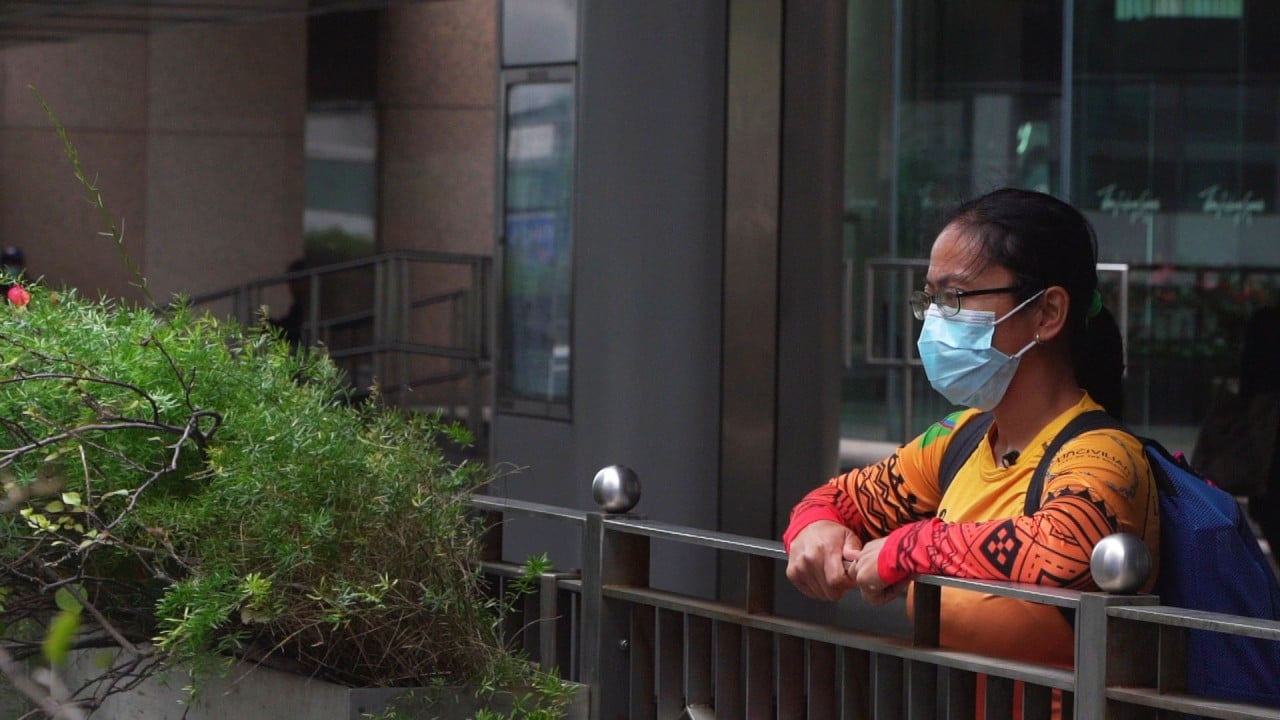 03:53
Domestic helpers in Hong Kong pitch in to try and stop the spread of coronavirus in the city
Domestic helpers in Hong Kong pitch in to try and stop the spread of coronavirus in the city
Hong Kong residents must undergo 14 days of compulsory home quarantine on arrival in Hong Kong under the coronavirus restrictions.
Since March 25, all non-residents arriving by plane have been denied entry to the city, with only a few exemptions.
The union said the government could use existing capacity in quarantine facilities such as Chun Yeung Estate in Fo Tan to accommodate all arriving domestic helpers, and test them before the expiry of the 14-day quarantine period.
With a membership of about 100, the union says it represents one-fifth of the companies in the sector. It said each of its members work on an average of 20 foreign maid contracts.
There are about 400,000 domestic helpers in Hong Kong. More than half are Filipino, and another 40 per cent are from Indonesia.
Based on figures obtained from the Immigration Department, the Hong Kong Union of Employment Agencies believe as many as 8,000 to 10,000 domestic workers will come to Hong Kong in the next three months.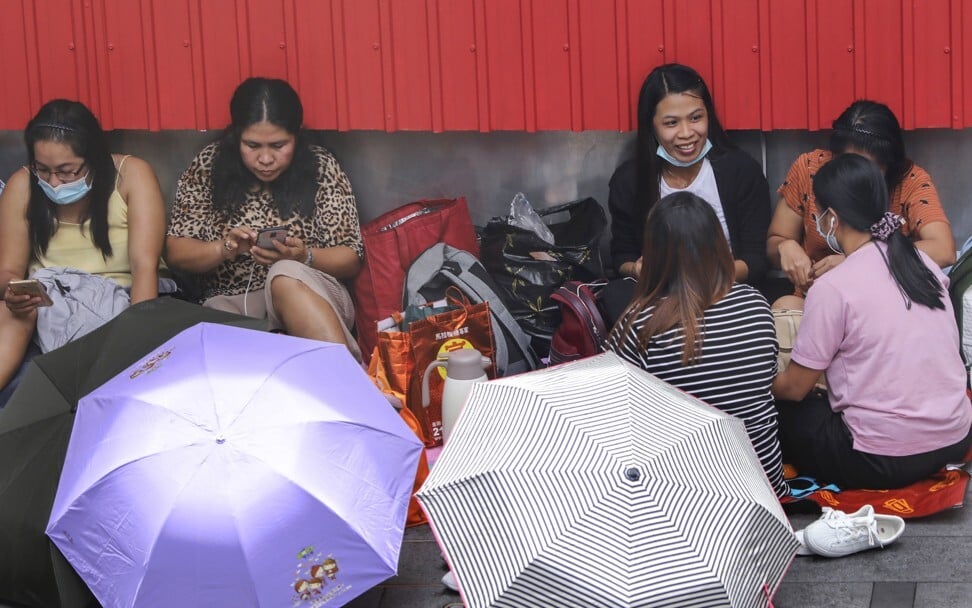 Most would hail from the Philippines and Indonesia, the two major sources of labour in this sector.
Under Covid-19 lockdown, many of the newly hired maids could not fly in and report for duty.
Earlier this year, the government introduced flexibility into the system to enable employers to extend the validity of their contracts with departing maids, while also helping those waiting to come back to the city and resume their employment.
At present, employers of domestic helpers are responsible for meeting the requirements of compulsory home quarantine for maids arriving in Hong Kong.
Employers are expected to host the worker over that period or to put them up in a hotel.
A hotel room for 14 days of quarantine could cost about HK$5,000, meals excluded, according to the union, a sum it said many employers could not afford.
In a statement, a government spokesman said that unless the domestic helpers came from countries or places where returnees were required to stay at quarantine centres after risk assessment, their employers should make appropriate arrangements for them to undergo compulsory quarantine upon arrival in Hong Kong.
"Should an employer arrange [for a domestic helper] arriving in Hong Kong to stay out from his or her residence [for example, in a hotel] for the purpose of meeting the quarantine requirement, the employer should make prior arrangements," the spokesman said.
"Employers are also reminded to comply with their obligations under the [employment contract], including bearing the accommodation expenses, providing food allowance to the [helper] and not to compel [them] to work outside their residence."