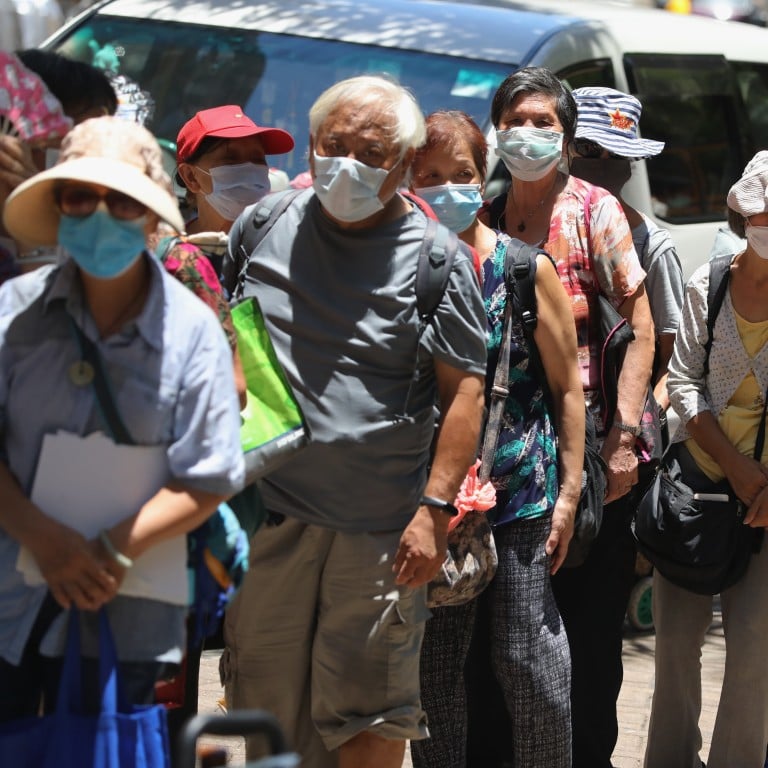 'We need food': as Covid-19 pandemic strikes hard, desperate Hong Kong families turn to charities for help
NGOs, churches roll out schemes to meet requests from 'newly jobless' hit by hard times
Pandemic restrictions force some charities to halt services, adding to woes of the vulnerable
Anne*, 33, fights back tears as she describes how the Covid-19 pandemic has changed her family's life.
Her husband, a 42-year-old construction worker, lost his job last month. From earning HK$22,000 (US$2,838) a month at the beginning of this year, he brought home only half the amount for the past two months.
He found work last week, but she worries about money all the time. After paying the HK$8,000 rent for their flat in Fanling, there is little left over for food.
"I try to save money by cooking and packing his lunch, but it is still very hard for us to survive," says Anne, who is from Shenzhen and stays home to care for their four-year-old daughter.
They had a scare recently when one of her husband's colleagues contracted Covid-19. Although he tested negative, the fear remains.
"I was so worried he would get it," Anne says. "I want him to work again, but I am also worried about his health."
Hundreds of thousands of low-income families have been hit hard by the pandemic, as the city confronts a third wave of infections which has taken the total number of cases
beyond 3,000, with 27 deaths
, resulting in the reintroduction of stringent restrictions.
Charities and churches are seeing more jobless individuals and families seeking help for basic food and other necessities, and new programmes have been rolled out to meet the demand. But strict social-distancing measures have also forced some to scale back operations, including the delivery of food.
Feeding Hong Kong, a non-governmental organisation that collects surplus stock from food companies to distribute to a network of charities, surveyed 40 of its frontline partners last week and found that almost half had reduced or paused services, yet two-fifths reported an increase in demand for food and hygiene products.
"The key difference between now and February is the number of charities facing increased demand for food," said the food bank's chief executive, Gabrielle Kirstein.
It responded by starting a new progamme to source, pack and deliver two-week food boxes containing dry food, such as rice and canned food. It has distributed 14,000 boxes so far, as well as 6,000 food packs tailored to the needs of the elderly.
Because of the pandemic restrictions, it has cut down on its volunteer shifts and adjusted its distribution methods.
"The biggest challenge for frontline charities now is how to safely distribute the food to families and individuals that need it," she says.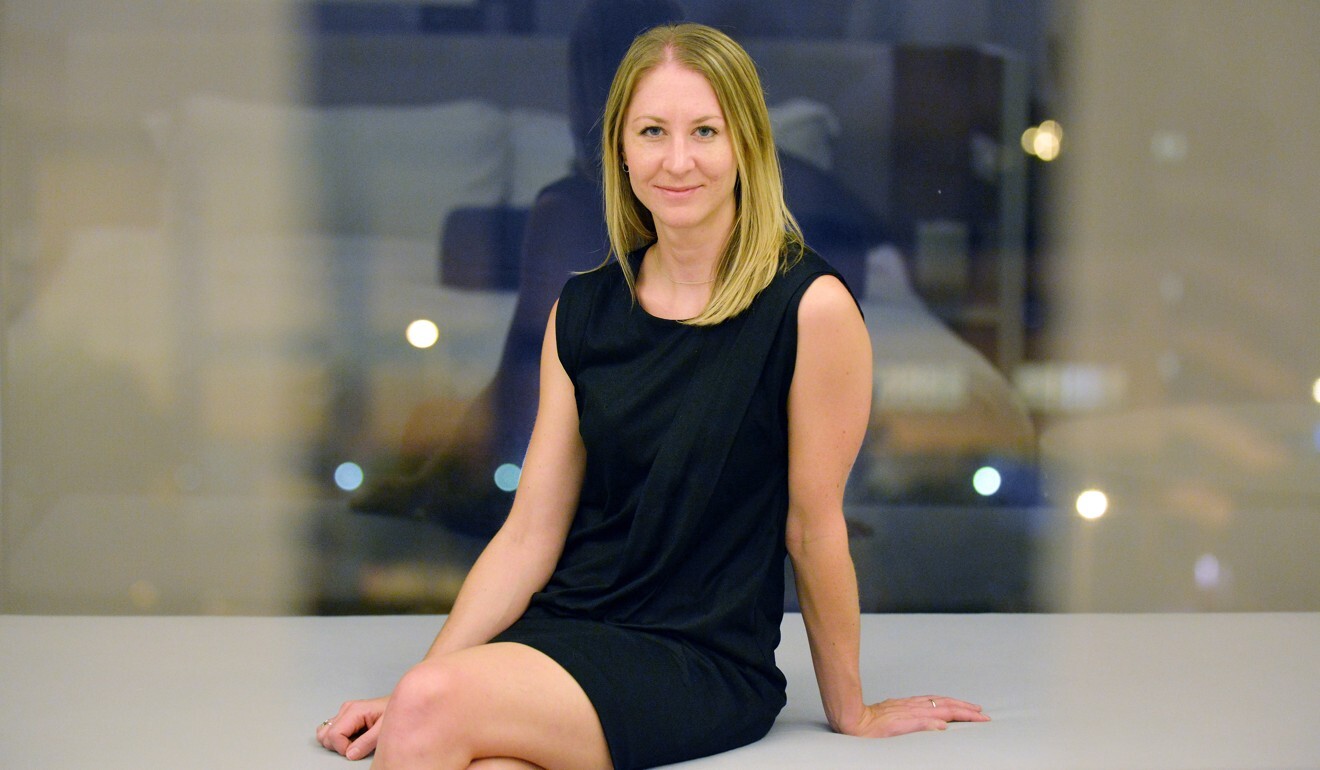 Another charity, HandsOn Hong Kong, has temporarily paused one of its progammes, delivering more than 3,000 care packages with masks, hand sanitisers and enough rice and canned food to prepare about 10 meals for a two-person household.
The group has delivered packages among refugees and asylum seekers, the elderly, and people with mental illness all over the city. Its virtual services, including a phone-in programme to connect volunteers with elderly residents in need, remain in place.
"This is the first time during the crisis that this service has come to a standstill. It's a real shame," says its associate director, Catherine Dannaoui Wun-tchi.
The group is ready to deliver an additional 1,600 care packages, once it becomes safe to do so. 
With rising requests for food help, the Hong Kong Church Network for the Poor, which has around 700 partners including churches, schools, NGOs and businesses, started a service linking churches with restaurants that provide a cooked meal to aid recipients who present a HK$30 coupon.
The initiative started in May, with 40 churches and 34 restaurants on board so far. Each church can apply for aid of HK$4,800 from the Church Network, which is equivalent to 160 coupons.
Anne is among 80 recipients being helped by the Church on the Rock Yan Shing Church in Fanling. Up to three times a week, she redeems her coupons at a restaurant, picking up a rice box with enough food for the family's dinner.
"It's been very helpful, because I spend less money and it saves my time so I can look after my daughter," she says.
Another food aid recipient, Shirley*, 64, has been finding it hard to make ends meet since her part-time job as a supermarket cashier was put on hold for the second time recently. In March, she was out of job for two months.
She lives with her 33-year-old son, a bank teller, in a housing estate in Siu Sai Wan. They received some supplies of food and masks from the Lutheran Elderly Centre, but not in the past two weeks.
"I worry that when the items run out, I'll need to go out to the streets and that will increase my risk of getting infected," says Shirley, who is fearful of leaving home even to go to the local wet market.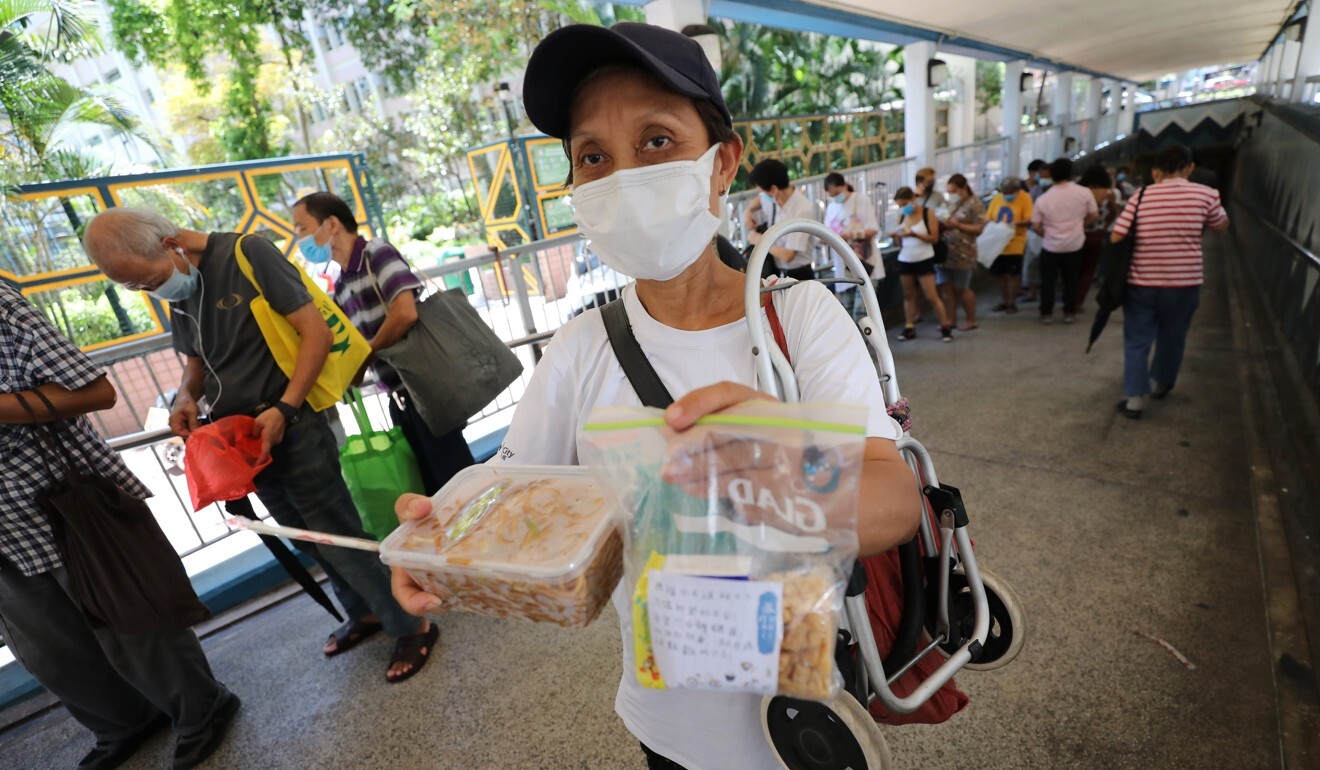 One group which has not allowed the pandemic to disrupt its services is ImpactHK, which helps the homeless with meals and help to find jobs. Its thrice-a-day free meal service in Tai Kok Tsui is drawing longer queues of not only the homeless, but also street cleaners and the elderly.
Among them is Lily*, who is in her 60s and sleeps in a park in Sham Shui Po. She has been homeless for three years, after becoming estranged from her family. She used to rest at a McDonald's outlet, but pandemic measures have stopped the restaurant from having dine-in customers from 6pm to 5am.
She depends on various NGOs and churches for a free meal every day. "If I do not get food here, then I will starve for the night," she says as she queues for her meal of fried noodles.
Hong Kong had nearly 1,300 registered homeless people at the end of 2018, but experts say the real number is likely to be much higher, as many living in the notoriously tiny subdivided flats referred to as "caged homes" prefer to rough it out on the streets.
Jeff Rotmeyer, founder of ImpactHK, says there has been a "huge increase" in homeless people recently. "We're seeing people who are very, very new on the streets and that's quite scary," he says, adding that they include those who lost their jobs and cannot afford their rent.
Jobless people can apply to the Social Welfare Department for the Comprehensive Social Security Assistance (CSSA) scheme, which gives monthly cash handouts. New applications have risen about three times from a year ago.
According to government data, about 18,600 jobless people received CSSA help in June, an increase of 0.9 per cent from the previous month.
But Peace Wong Wo-ping, chief officer of social security and employment of the Hong Kong Council of Social Service, says there is a stigma around applying for CSSA and only around one in 10 unemployed people do so.
"Many people are suffering, but they avoid applying for CSSA," he says. He fears that some who chose to use their savings earlier in the pandemic may see their funds dry up as the crisis continues with no end in sight.
In addition to the one-off cash handout of HK$10,000 to all permanent adult residents, the government has increased the maximum rent allowance under the CSSA scheme for six months from July 1. A single beneficiary will now receive up to HK$2,475 per month in rent allowance, compared with HK$1,945 earlier, with families getting between HK$4,370 and HK$7,656 per month, up from HK$3,915 to HK$6,820.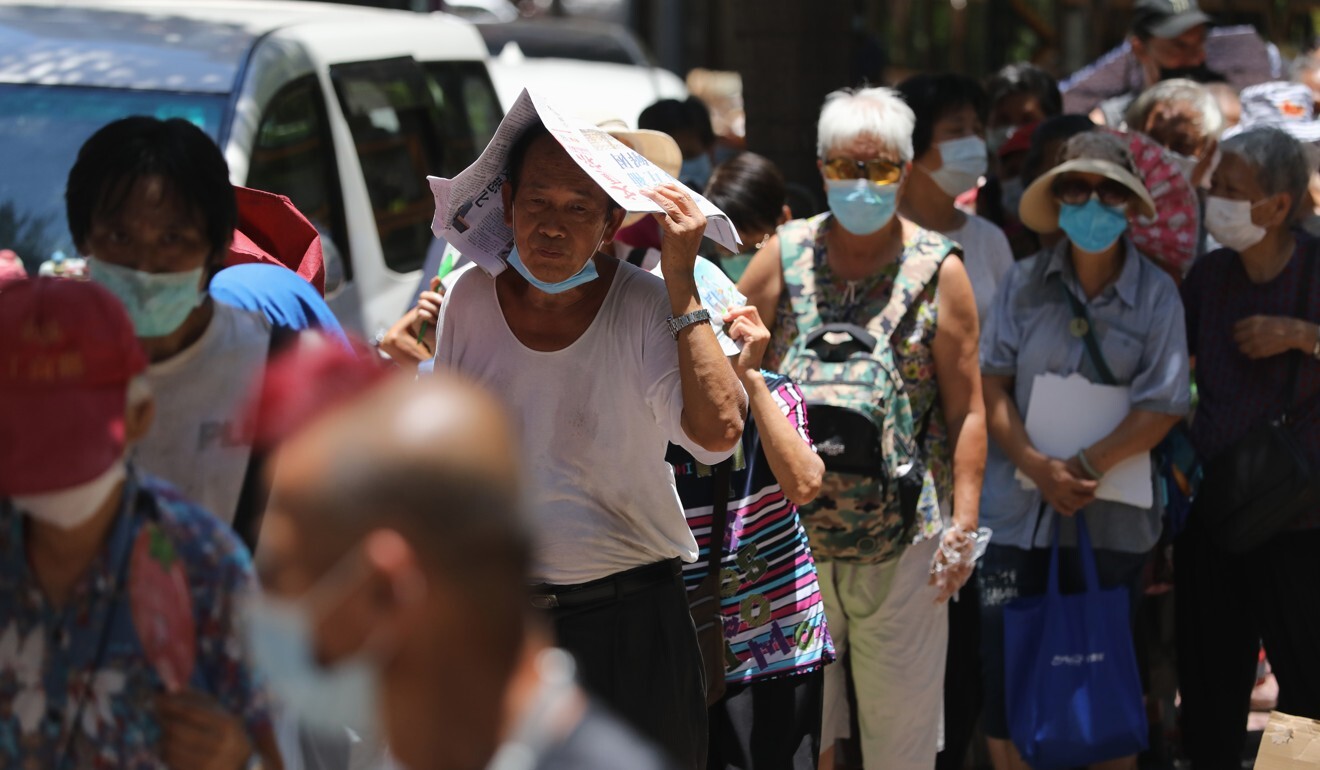 The government estimates that about 40,000 households will benefit.
But Labour Party lawmaker and social worker Fernando Cheung Chiu-hung says it is not enough to provide support to those who are jobless or have had their working hours reduced.
"Instead of cutting back on services such as food help programmes or home care services for many frail elders or disabled persons, the government should increase these services," he said.
"Those who are jobless can be recruited to provide more home delivered meals to poor families and the frail elderly, for example."
The charities providing food help expect to see more from this group seeking help through next year.
"When people lose their jobs, their first impulse is not to ask for help," says Feeding Hong Kong's Kirstein. "It really is a last resort, which is why we did not see an immediate increase in the first couple of months of the pandemic. The longer the situation goes on, the harder it will be for families to stretch what they have."
* Names changed at interviewees' request.