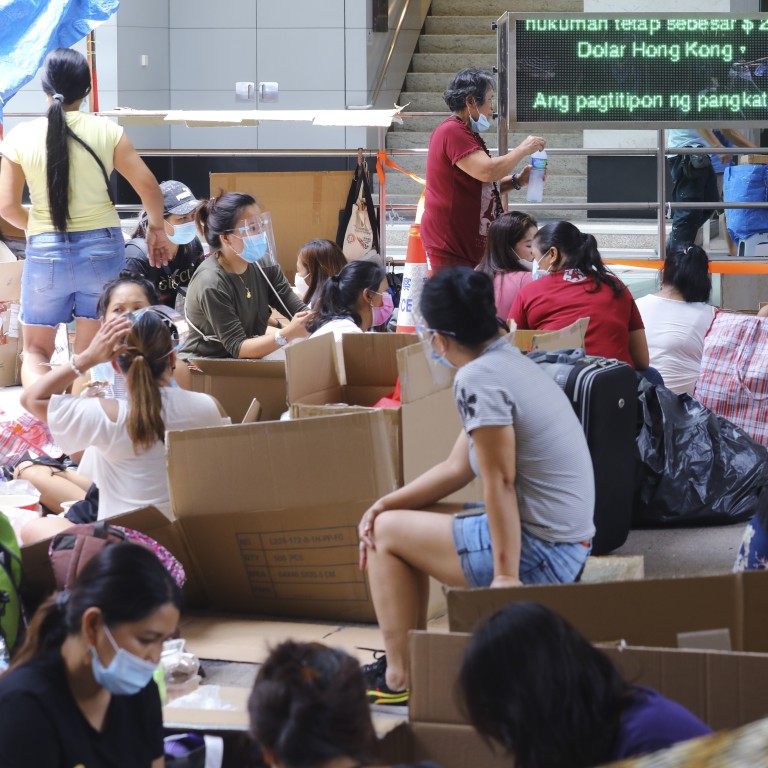 'Masks, Covid-19 tests can't fix crammed living woes at Hong Kong domestic worker dorms'
Advocates call to fix overcrowding even as authorities race to contain an outbreak cluster linked to the boarding facilities
Those familiar with the issue blame heightened demand for domestic worker lodging on lockdowns in workers' home countries and government delays in processing paperwork
Indonesian domestic helper Susan always avoided rolling around at night because she worried that even a slight twitch could wake up other residents sleeping shoulder to shoulder by her side in a jam-packed room.
Susan (not her real name) was staying in one of the estimated hundreds of boarding houses in Hong Kong two weeks ago, when the first in a string of Covid-19 infections hit multiple helpers' accommodation in the city.
Unlike migrant worker dormitories in Singapore, which offer long-term lodging and were the site of a massive outbreak of Covid-19 infections earlier this year, Hong Kong's budget boarding houses, mostly run by agencies, provide helpers with a cheap place to say – usually less than HK$100 per night – while they wait for visa renewals in between jobs. When hired, helpers in Hong Kong are legally required to live with their employer.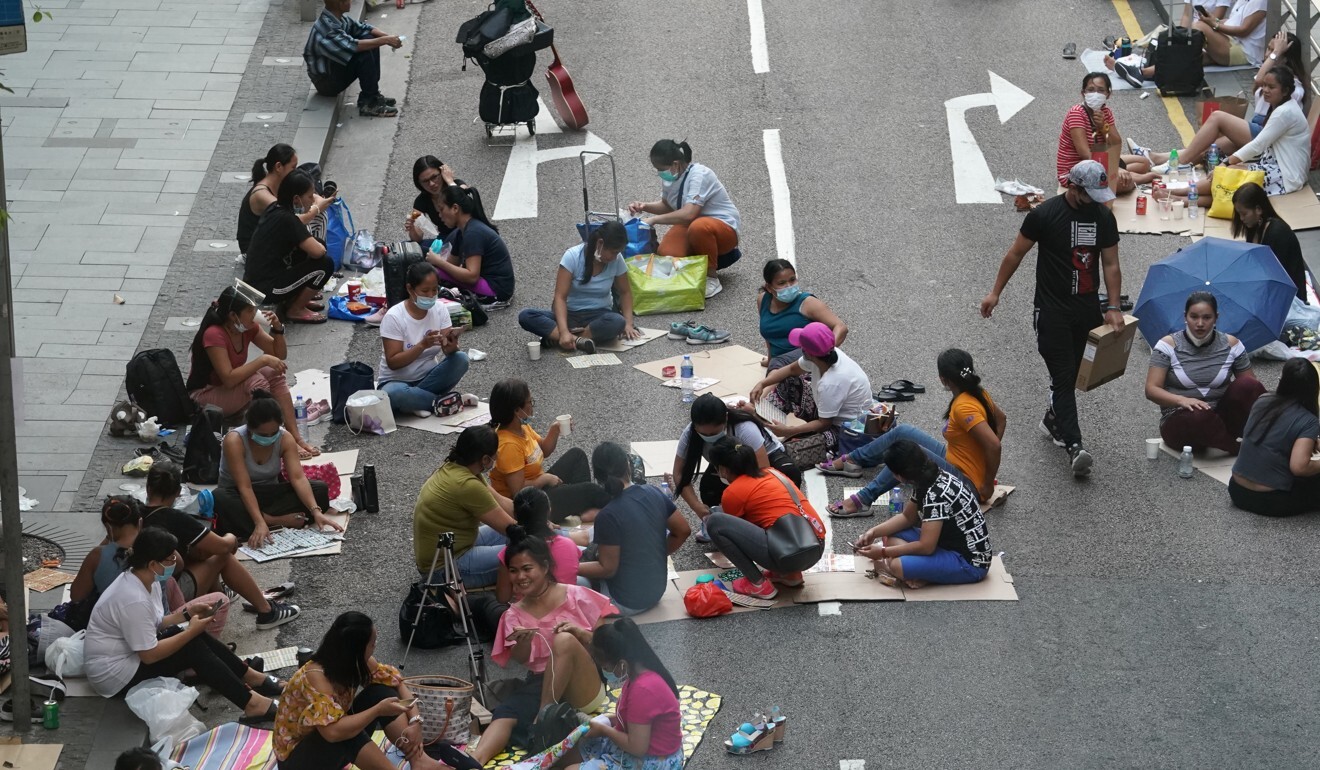 However, the guest houses' cramped living environments, the need to share common amenities and their high turnover rate appear to have made them especially susceptible to coronavirus transmission.
As of Wednesday, the number of cases involving foreign domestic helpers from boarding houses had ticked up to 18. Though they represent just more than a tenth of the 173 recorded cases linked to helpers, and a minuscule fraction of the city's cases overall, the boarding houses' transient nature – with new guests constantly moving in as others depart to live with their new employers, and some even moving between different facilities – has led to frantic efforts by health authorities to conduct contact tracing of those linked to affected sites.
Two weeks after the first case tied to the dorms, the government is offering mass testing as a countermeasure, but agency operators and advocates for helpers' rights have argued that testing fails to tackle the root of the problem – namely the packed spaces helpers are forced to share for up to weeks at a time.
Most of the infected domestic helpers had spent their days in crowded premises shared with about six others before their diagnosis, according to health authorities.
It was fortunate the virus did not hit where Susan had stayed – she spent three weeks with at least 14 others crammed into a tiny flat in Sai Wan Ho where they could barely move.
"It was so crowded," said the helper, who asked to remain anonymous for fear of retribution from her agent.
"There was an air conditioner, but it was only turned on from time to time because it was expensive to do so. And even so, it felt very hot because it was very crowded," said the helper, who has since left to live with her new employer.
The 30-year-old Surabaya native, who has been working in Hong Kong for two years, declined to give the exact location of her boarding house, but provided pictures showing more than a dozen helpers sharing food on the floor of a windowless living room measuring some 100 sq ft or less.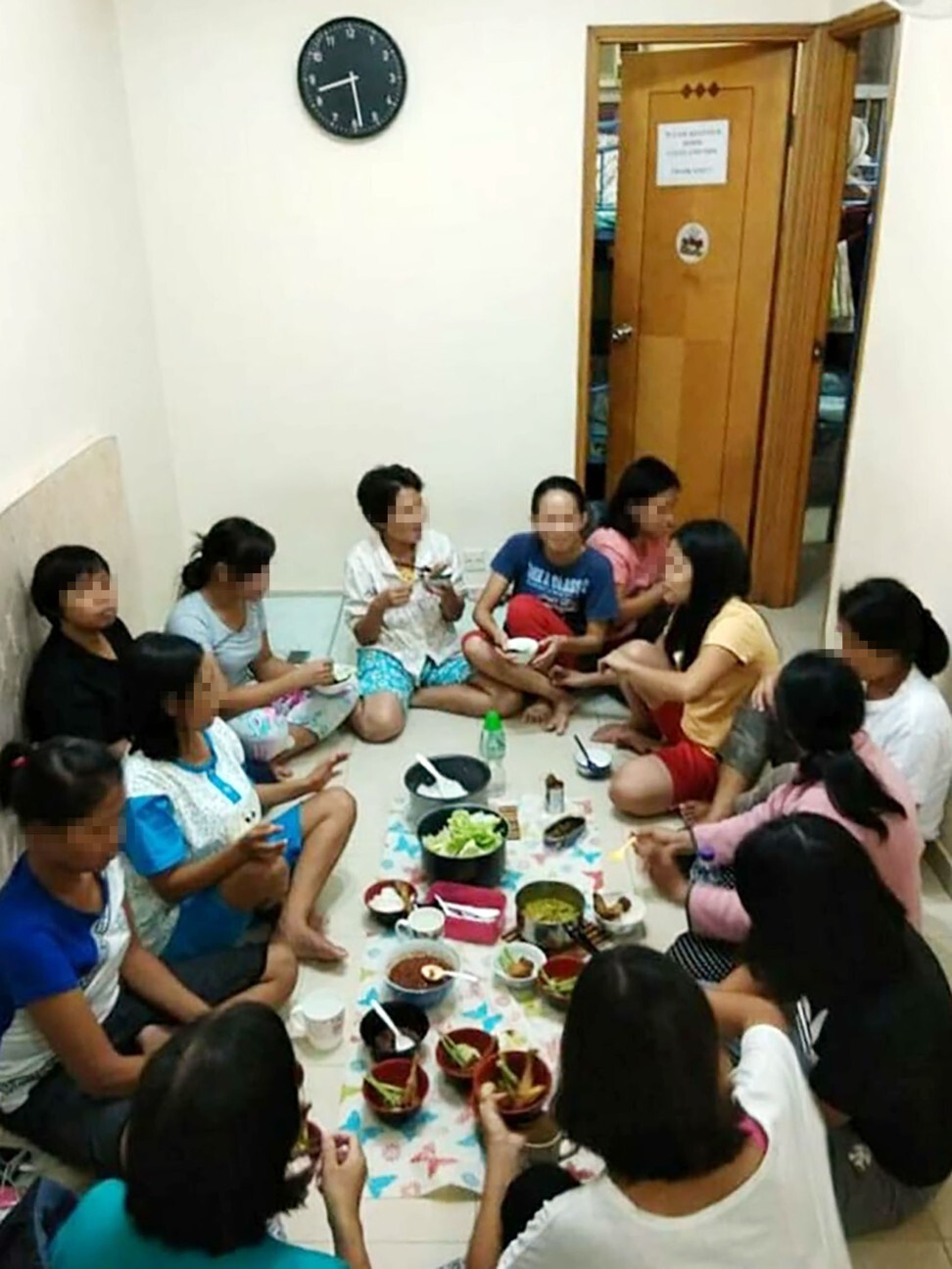 The living room, Susan said, also doubled as the bedroom of 11 of the helpers, who bunked together on thin mattresses. Four others stayed together in an even smaller room equipped with two bunk beds.
"All of us shared the one bathroom where we showered and answered nature's call, so sometimes we would have to wait," she said, noting that the bathroom was nonetheless hygienic.
Susan and the others seldom went out because they were scared of catching the virus, she added. And when they did go out, "I washed my hands immediately [upon returning], took a shower and got changed," she recalled.
The city's health department has long been aware of the vulnerability of helpers, but had previously focused its efforts on screening workers returning to Hong Kong at the airport.
But on August 5, health authorities began a shift in strategy after the first helper linked to temporary accommodation tested positive. In the fortnight prior to her diagnosis, she had stayed in three different premises and come into contact with at least 45 other helpers.
"We are worried there's a possible outbreak in these hostel settings, because Singapore had a similar experience. These hostel settings are usually crowded, with shared facilities where it is easy to transmit Covid-19," Dr Chuang Shuk-kwan, head of the communicable disease branch of the Centre for Health Protection and the face of the city's anti-epidemic battle, cautioned in a daily press briefing in early August.
Susan's experience was not so different from that of 12 others at a boarding house run by Overseas Employment Agency in Lan Kwai Fong in Central. They shared the same room with foam mattresses on the floor, as well as one bathroom and one dining area, according to a Filipino worker currently waiting for a visa extension after being terminated in late July.
"The situation has improved compared to a few weeks ago. Now the centre distributes face masks and has conducted Covid-19 testing for the people living here. The results came back negative," the worker said in an interview.
As the number of cases linked to boarding houses continued to rise, the Labour Department began distributing testing kits, but in a statement to the Post, the department itself acknowledged that it did not keep any information about these facilities.
"The government has distributed masks via [employment agencies] to [foreign domestic helpers] staying in boarding facilities," it said.
Industry insiders explained that the facilities mostly remain officially unrecorded because having a boarding facility is not a requirement when employment agencies apply for licences with the Hong Kong authorities. They are, however, necessary for an agency to secure accreditation with the consulates of the Philippines and Indonesia, which together account for almost all of the city's 390,000-strong helper workforce.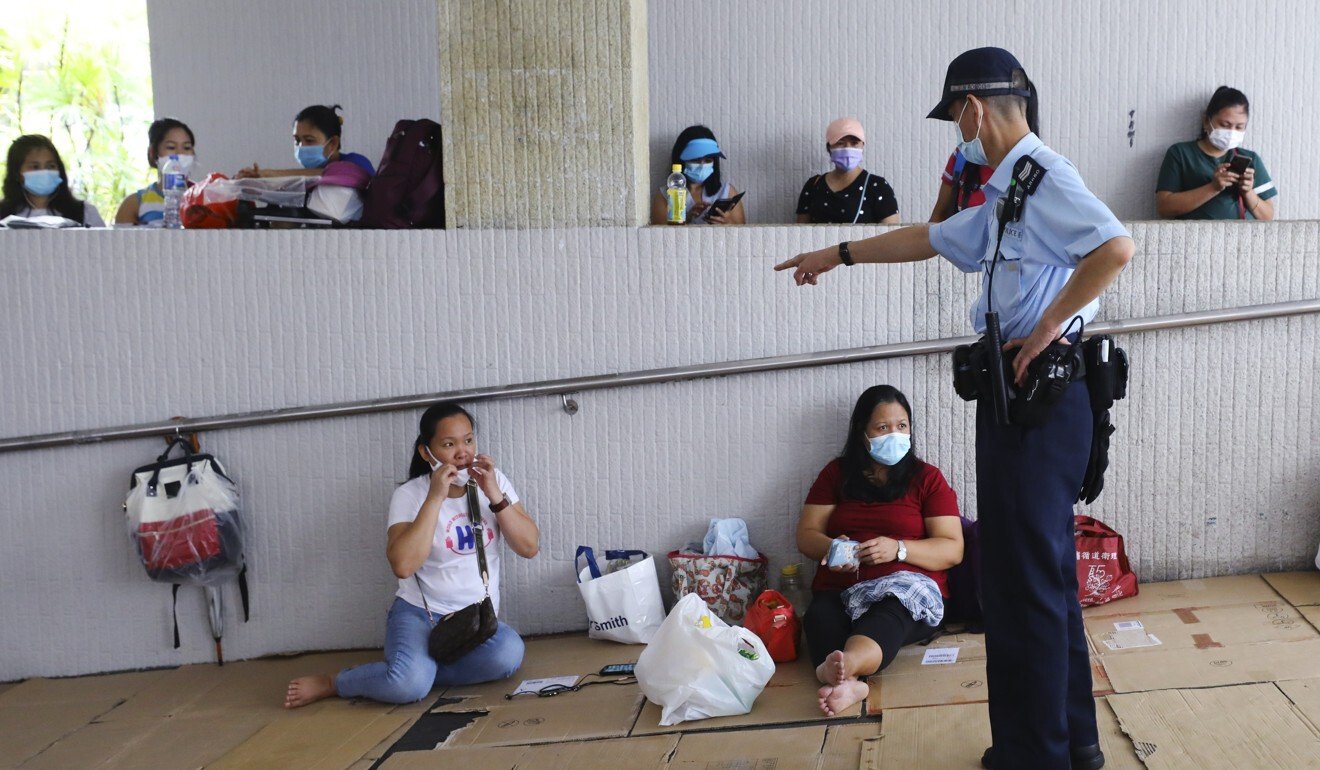 Cheung Kit-man, chairman of the Hong Kong Employment Agencies Association, said only a quarter of the 1,200 agencies in the city kept a boarding house accredited with the consulates. The rest relied on the accredited agencies to provide accommodation, he said. But when places run out, helpers are forced to turn to cheap unlicensed guest houses.
"You can imagine how bad the conditions at those unlicensed houses can be," said Cheung.
Chief Executive Carrie Lam Cheng Yuet-ngor said on Tuesday that 6,000 helpers were currently waiting for the Immigration Department to approve their visas, but despite the fact that many Covid-19 test bottles have been distributed through agencies, only about 900 have been collected.
Agencies said the low figure exposed the difficulties of tracking the whereabouts of the helpers waiting for visas, particularly those staying at unlicensed guest houses.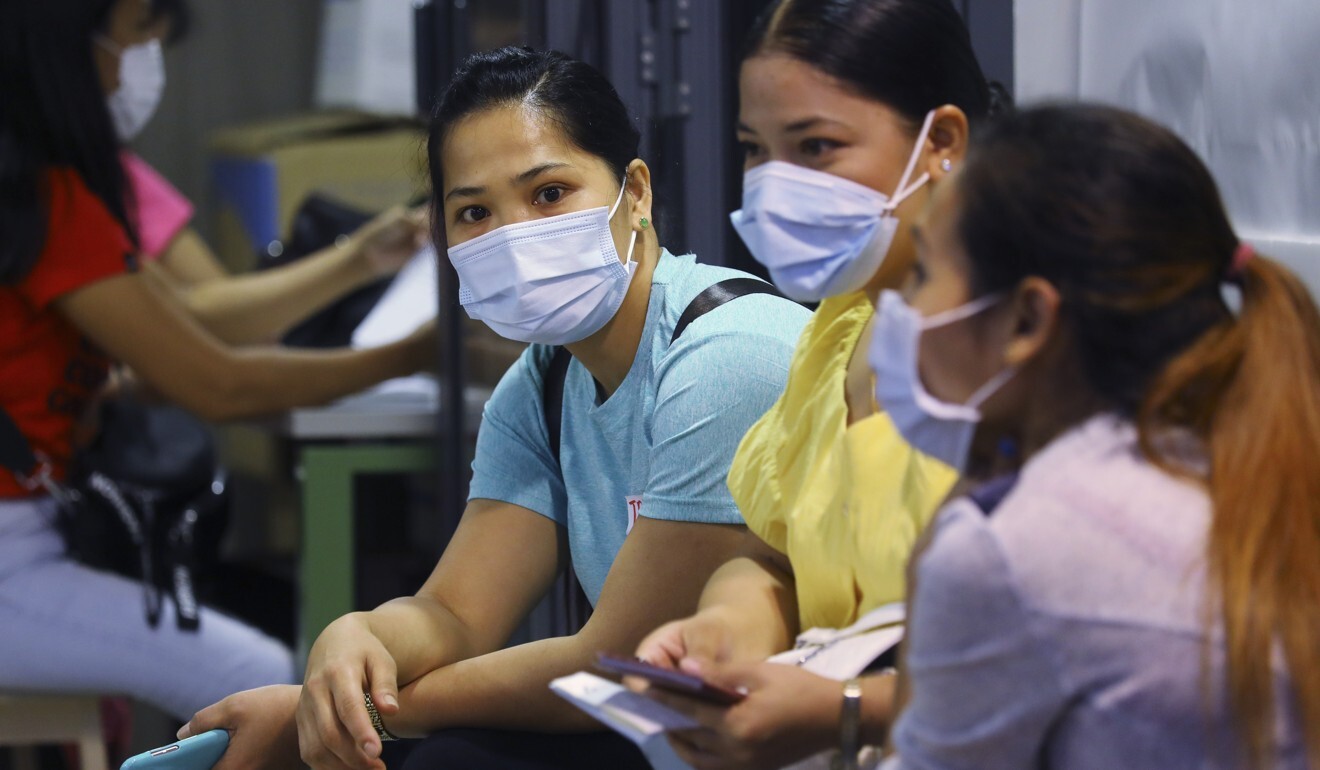 Meanwhile, demand for accommodation has only risen during the pandemic.
An agent in Tai Po, who specialises in referring Indonesian helpers, told the Post that lockdown in the helpers' home country had contributed to heightened demand simply because they were unable to go home. One of his helpers had extended her stay three times in the past three months, he said.
Cheung said he attributed the overcrowding to the Immigration Department's delay in granting helpers' visa applications due to the pandemic.
Two weeks ago, agencies complained that it was taking up to two months for the Immigration Department to process helpers' visa applications – double the time it took before the pandemic.
Two weeks on, the agencies say the department has still not sped up the process.
Cheung said it was crucial for the department to expedite domestic workers' visas so they could leave their boarding houses for their employers' homes as quickly as possible.
An Immigration Department spokesman said while it had made special work arrangements for staff in view of the pandemic, it maintained a team which could provide steady services for domestic helpers.
The spokesman said because of Covid-19, the department had granted 3,000 applications for helpers to extend existing contracts, 4,300 applications for postponing their return to home, and a further 10,000 extensions for workers to stay on and find new employers, renewable every month.
Meanwhile, application numbers for helpers' visas have also jumped between April and July compared with the previous three months. Extension requests surged from 660 monthly on average to 3,200, while the number of applicants seeking to renew existing contracts shot up by nearly 30 per cent to 14,000 a month.
The spokesman said applications could be granted within two weeks, if all necessary documents had been provided.
Cynthia Abdon-Tellez, general manager of the advocacy group Mission for Migrant Workers, said the living conditions at migrant boarding houses were "very unhealthy" and could put helpers at risk.
And despite the fact that some of the helpers had been provided with masks, and the government was offering testing, the central issue of "minimising the number [of workers staying there] has not been addressed", she said.
Abdon-Tellez urged the government to open up emergency centres and women's shelters to help cope with the situation.
"It's a difficult issue," she said, acknowledging the challenge in repurposing those facilities. "But it's a pandemic."