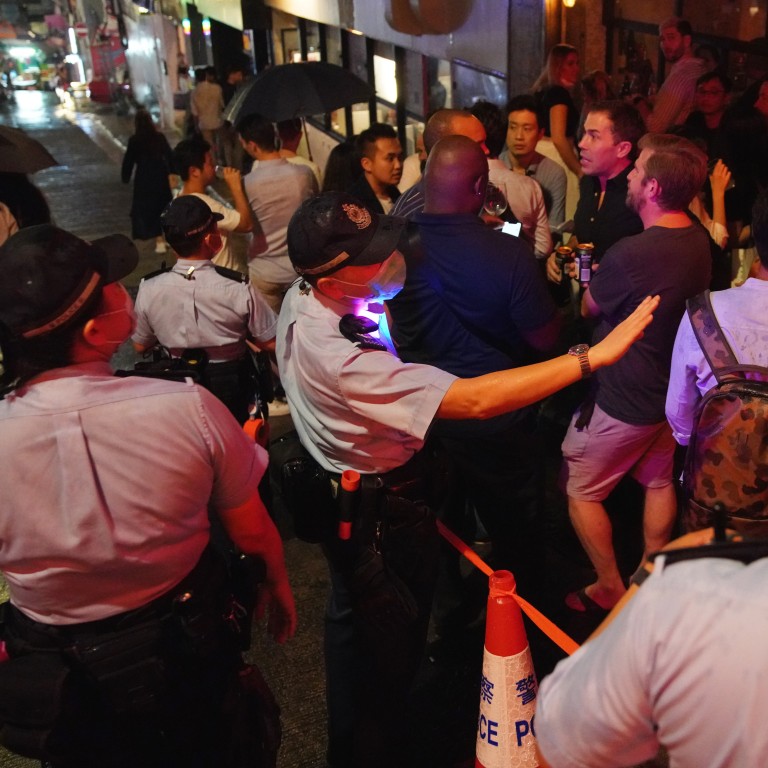 Hong Kong bars open to brisk business on Friday after two-month closure amid third wave of Covid-19 infections
Anti-pandemic measures have been put in place at the city's nightlife venues to ensure public health safety
The bar trade has suffered about HK$260 million in losses
Hong Kong's loss-making bars and pubs woke up to brisk business on Friday evening after weeks of closure as Covid-19 social-distancing restrictions were relaxed, with customers happy to be out for a round or two of drinks in the city's nightlife districts.
Much to the relief of some 1,280 bars and pubs, venues were reopened on Friday after two months of coronavirus-related closures that left them with estimated losses of HK$260 million (US$33.3 million).
Crowds were building at nightlife hotspots in Central, such as Lan Kwai Fong, SoHo and Wyndham Street, at around 8pm, with anti-pandemic measures put in place to ensure public health. However, sporadic heavy showers later in the evening put a damper on the number of visitors.
Bars in SoHo and on Wyndham Street were busier, with pockets of people larger than four – wearing no masks – gathering in the area in between showers, including on Peel Street, which became notorious during the second wave of
Covid-19 infections
for groups of mostly expatriates assembling in large numbers. Police could be seen monitoring the situation.
Several people with drinks inside some bars and pubs were seen without masks while chatting with their companions.
For friends Olly Ng and Anna Hui, it was a relief to be able to hang out after months of staying at home.
"I feel free now," Hui, 28, said.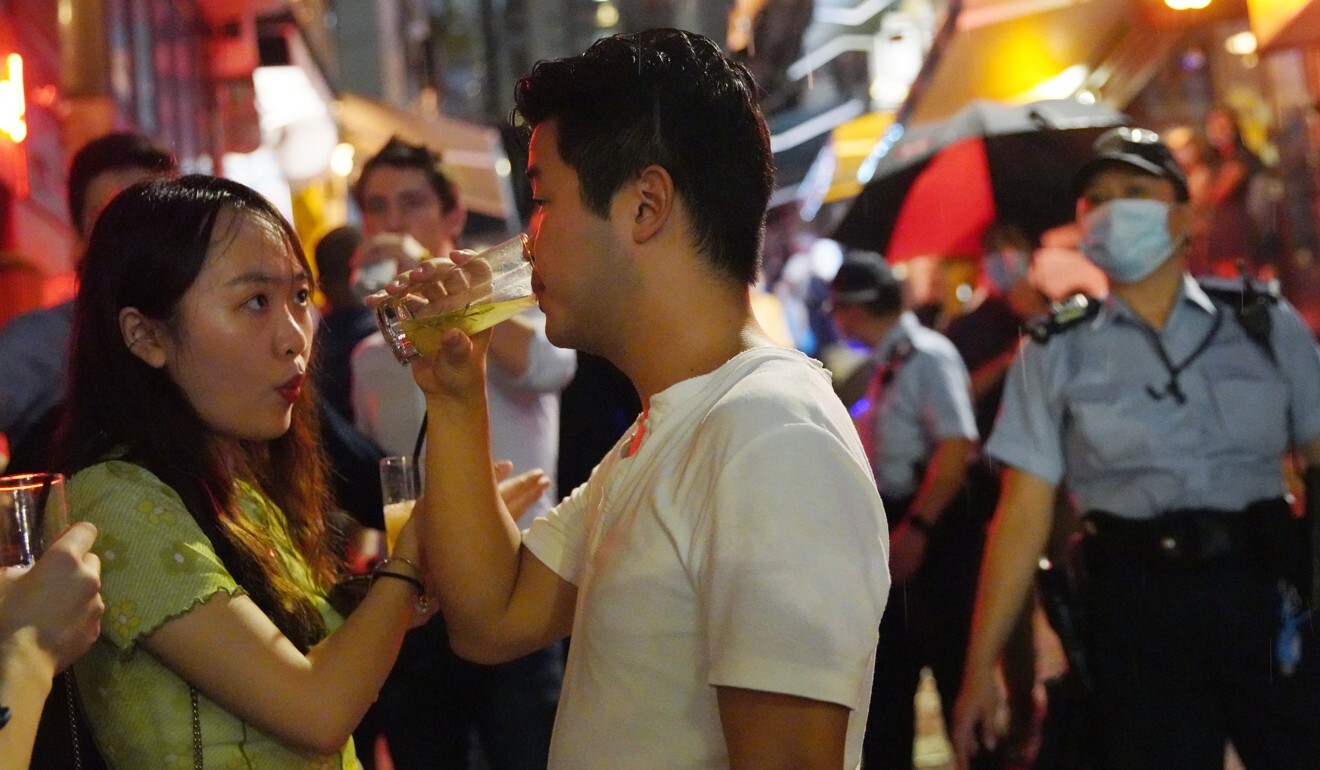 Both women had their masks on hand and said they were observing social-distancing rules, and were not worried about contracting the virus.
"I am not that insecure now, because the cases are not rising like they were before," said Ng, also 28.
The Pontiac, on Old Bailey Street, had closed twice – for five weeks from April, reopening on May 8, and then for four weeks from July 28. It has a restaurant licence and has been open for three weeks.
Co-owner Beckaly Franks said the
anti-government demonstrations
last year coupled with the pandemic had hit the industry hard, and the lack of consistency in the social-distancing restrictions was making it difficult for bar owners.
"It has been really hard to navigate when it changes day to day. You're in a constant state of limbo and the livelihood of your staff weighs in the balance," she said.
David McEwan, owner of Bobby's Rabble on Wyndham Street, agreed the lack of clarity had led to some confusion.
"The restrictions change week on week, so it is hard to keep up with everything, which is confusing for the venue, for the customers and for police who are trying to enforce it," said the 43-year-old resident.
"There are some places with outside drinking, how is that managed by the venue or police? It's a grey area."
Among the customers at Bobby's Rabble was Lyndsay Byres, who had not been to the area since June. The Hong Kong resident works in the hospitality industry, and admitted to feeling torn between wanting to support the sector she works in and not wanting to risk spreading the virus.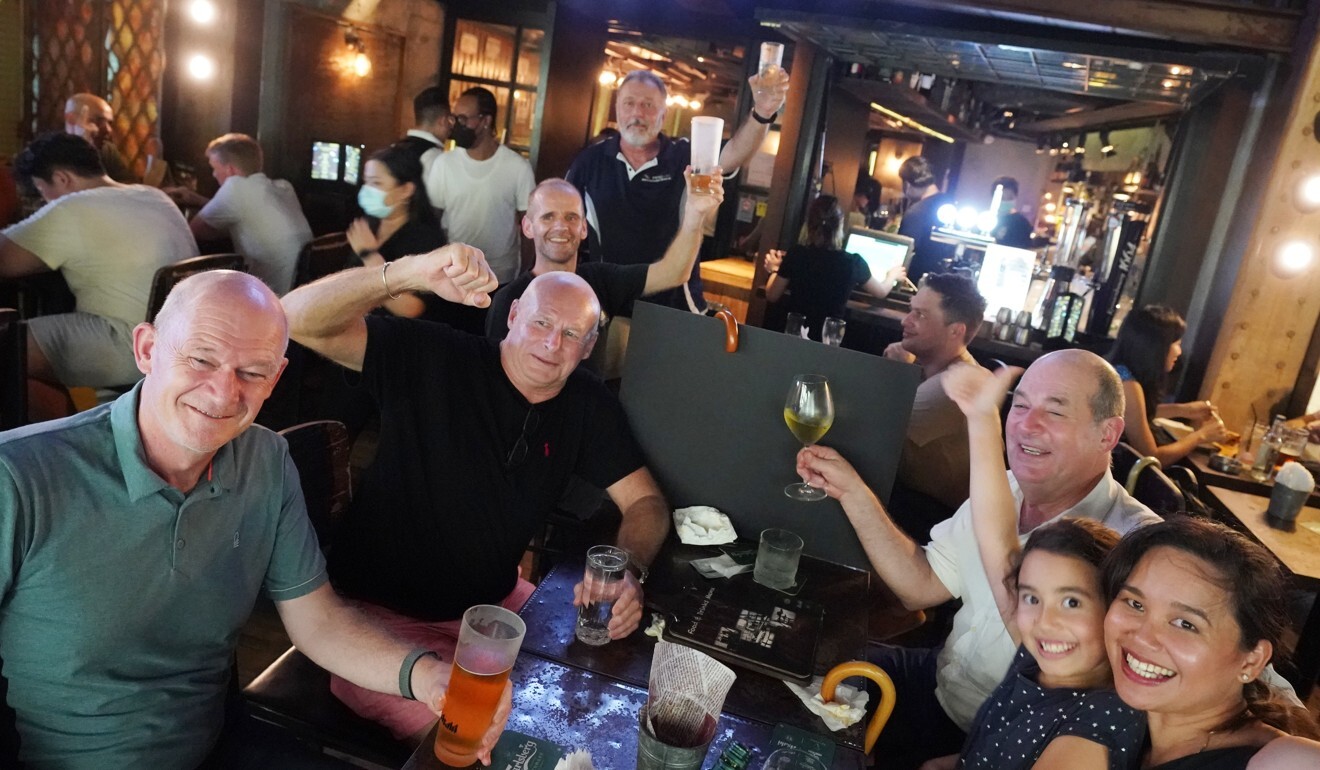 "I want to give them revenue that they're so sorely missing, but I also realise that by me going out there is a risk of spreading and, therefore a risk of another spike and then closure, which will hurt the industry and my friends even more," the 32-year-old said.
But for businesses, cash is desperately needed.
McEwan said the easing of the restrictions had come just in time to save a lot of bars in the area from closing.
"I hear a lot of places were very close to going out of business."
Origin, on Wyndham Street, was one of hundreds of bars and pubs that had been closed for two months. The bar, which has been operating since 2013, does temperature checks on arrival, and does not serve anybody not wearing a mask. Early on Friday night, there were a few tables occupied in the bar.
"I am not expecting a big crowd to come out tonight. Being two to a table is difficult, as not everyone is a couple," owner Charlene Dawes said. "It's a progression to show we can open, and behave and do the right thing, but it's not enough to support the business."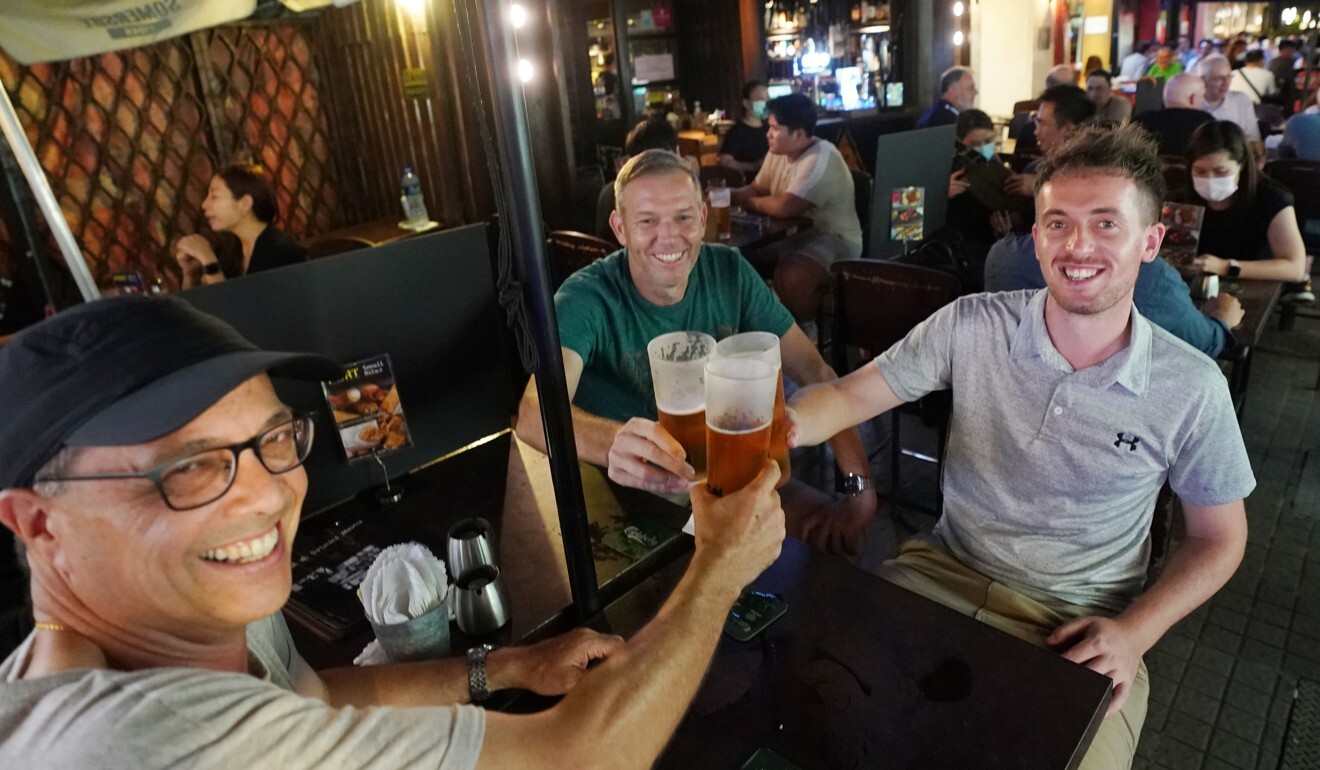 As Hong Kong battled a third wave of Covid-19 infections, the government tightened social-distancing rules on July 15, including closing bars, pubs, clubhouses and any part of catering premises mainly used for the sale or supply of alcohol.
As the city's daily coronavirus cases recently dwindled into single digits, however, health officials announced an easing of the rules allowing restaurants and pubs to stay open until midnight, with four people allowed per table in eateries, and two per group in bars from Friday. Live music and dance performances remain banned.
Hong Kong's total tally of Covid-19 cases was 4,996, with 103 fatalities, as of Friday.