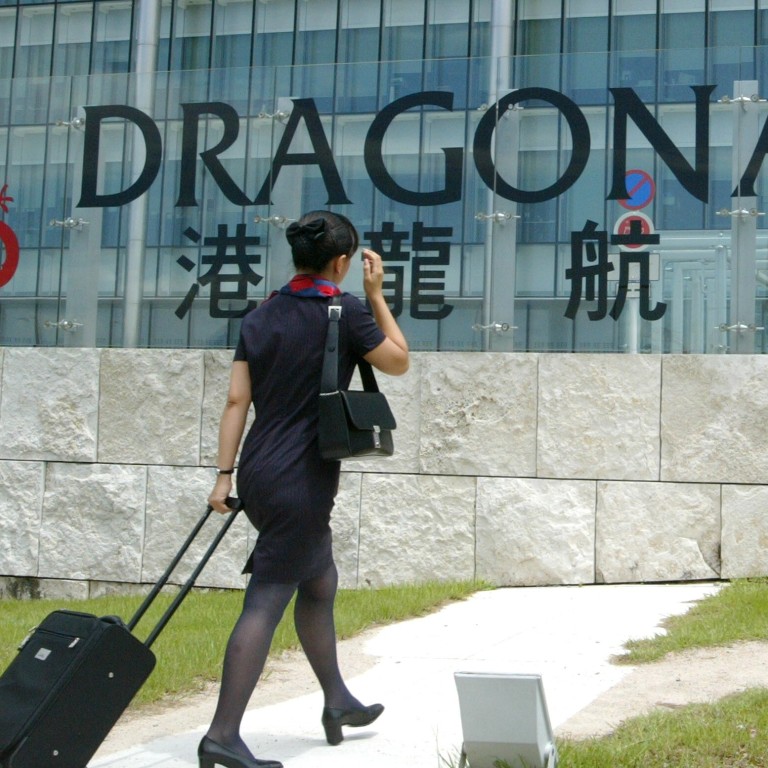 'Like we've lost a home': Cathay Dragon employees surprised, shaken by decision to axe Hong Kong airline
Despite rumours of job cuts, 'no one ever expected the entire airline would shut down overnight', says flight attendant let go after 10 years
'We don't feel management fought very hard to keep the brand,' vice-chairperson of its flight attendants' union
Lisa Mok woke up on Wednesday to the news her 10-year run as a Cathay Dragon flight attendant was over – and so was the airline.
Mok* had not been aboard a flight since January, as the spread of
Covid-19
ground global travel to a halt. She was soon asked to go on unpaid leave, then watched helplessly as her monthly salary was halved.
"There had been rumours in the past half year that there could be job cuts, but no one ever expected the entire airline would shut down overnight," said Mok, who is in her early 30s.
Mok is among the more than 2,500 Cathay Dragon flight attendants and pilots whose jobs were lost overnight under a restructuring by parent company Cathay Pacific. Passengers were also affected, as the carrier's few remaining regional routes were abruptly eliminated.
Many of her laid-off colleagues were still in shock, she said, especially those with children, who now faced the harsh reality of suddenly needing to find a new career path.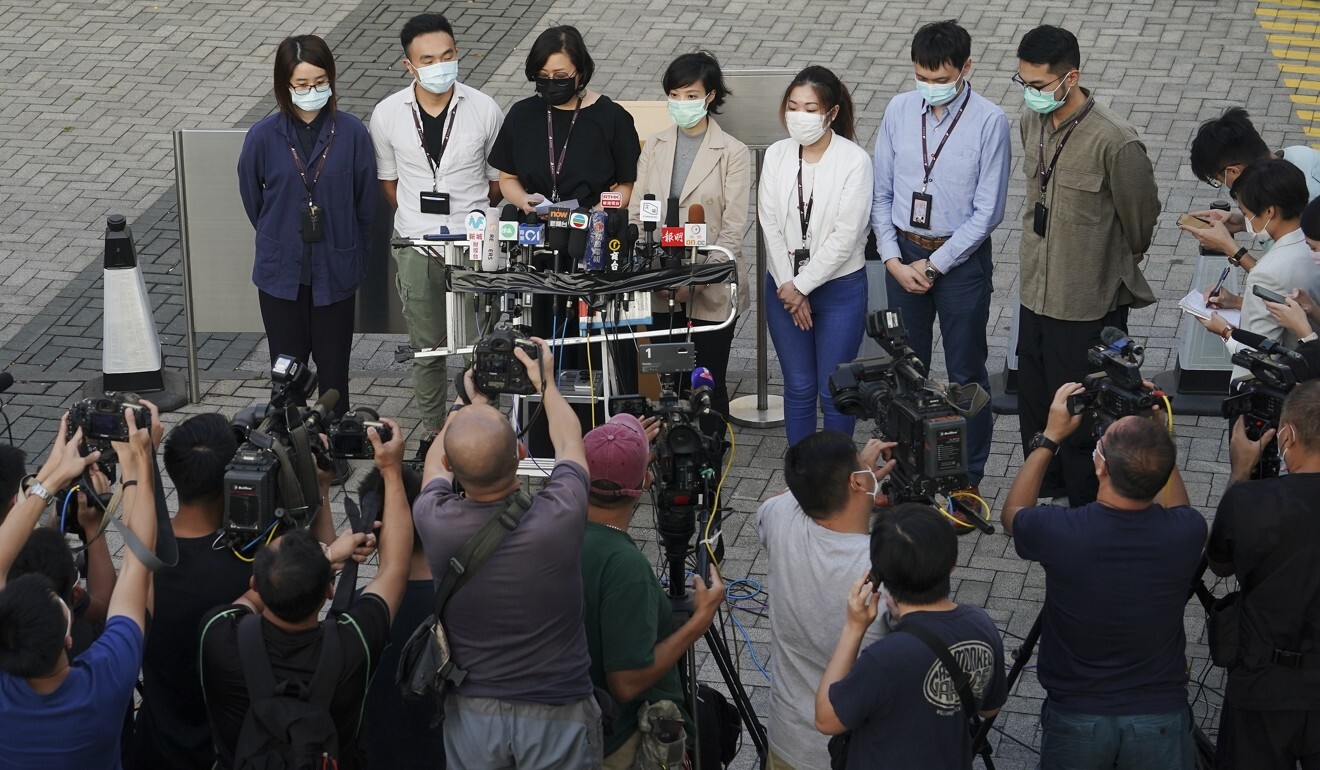 On Wednesday, the mood outside Cathay Pacific City, the company's headquarters, was sombre.
Staff walking in and out of the building declined interviews, while press were kept under close watch by more than a dozen security guards. Reporters hoping to use the restrooms were escorted by a security team.
Union leaders speaking at a press briefing lamented what they said was a lack of transparency from Cathay management.
"It's like we've lost a home. We weren't even given a chance to say goodbye to our family," said Connie Leung Pui-wuan, vice-chairperson of the Hong Kong Dragon Airlines Flight Attendants' Union.
Even though the union had been in constant communication with management, Leung said they had received no indication of what was to come. "We are very disappointed, we don't feel management fought very hard to keep the brand."
She said the company was aware of the value of the Cathay Dragon brand, which knew mainland China flight routes the best and had an efficient team of staff who worked hard to satisfy customers.
Leung, who had served with the company for 20 years, fought back tears as she spoke, saying she currently had no plans for the future.
"For the past 35 years, Cathay Dragon has been a part of the city, so in a way it is also representative of the Hong Kong spirit," she said.
Aside from the entire Cathay Dragon staff, another 2,000 Cathay Pacific cabin crew members will be cut, along with about 100 pilots and 700 ground staff.
One Filipino flight attendant, who spoke on the condition of anonymity, received an email from Cathay Pacific just before 1pm, ending her three-decade career at the airline.
"I'm officially unemployed," she told the Post. "Thank you for the 32 years, Cathay Pacific."
She was among the first batches of cabin crew members recruited from overseas in 1988 to help build Cathay Pacific's brand as an international carrier.
"The best thing in my life was joining Cathay and getting to travel with my family, making many memories together," she said with a mix of nostalgia and sadness.
"It's just sad. We didn't even get to celebrate our last flight or say goodbye to our beloved colleagues."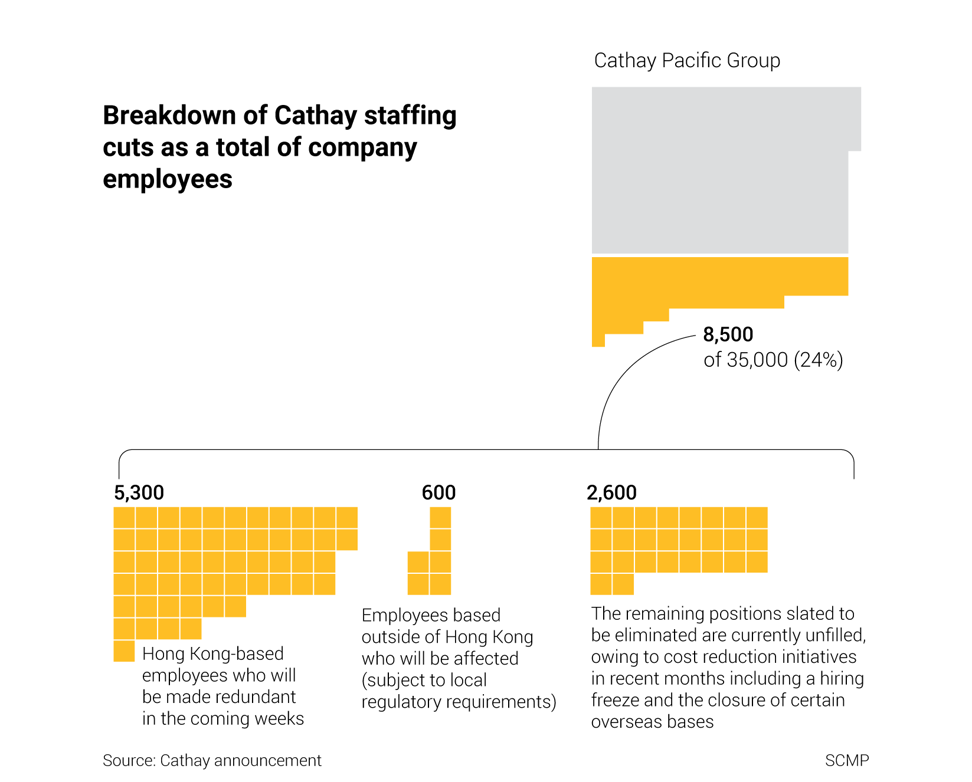 Keith, a Cathay Pacific veteran of six years who asked to be identified only by his first name, said he had already taken part in the unpaid leave programme announced in March, hoping it would help tide the company over.
While still unsure if he would be among those laid off, he said he felt management had tried their best to make sure not too many people lost their jobs.
"Compared to my friends at other companies, I think Cathay has already been quite considerate. I think there are not that many companies in Hong Kong with a conscience," he said.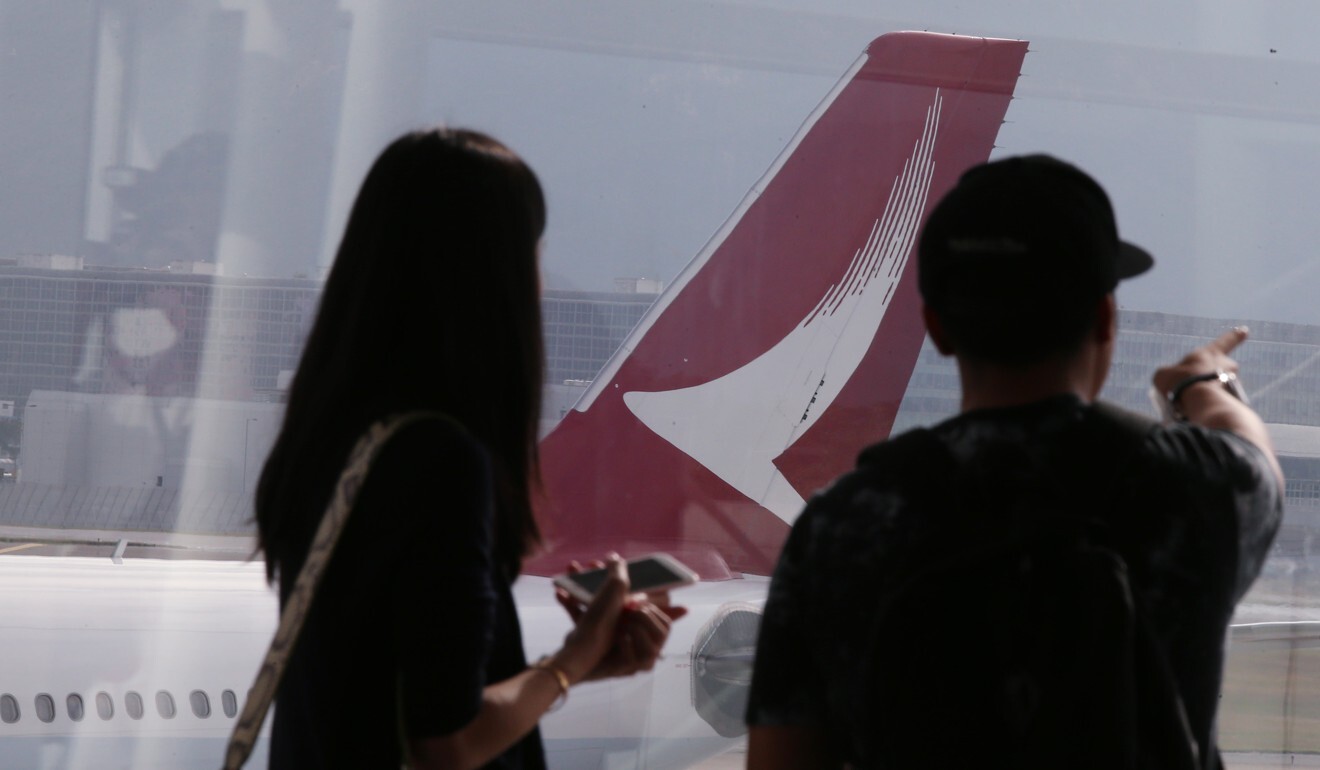 Cabin crew members who receive the letter of termination have seven days to sign their consent to the company's severance pay terms.
The unexpected axing of Cathay Dragon, meanwhile, has also forced passengers with flights booked on the airline to rethink their travel plans.
A Post employee who had a December flight to Kuala Lumpur with the airline had it cancelled on the spot on Wednesday.
"No airline can say with certainty that they'll fly tomorrow," he said, as he tried to find alternative flights with carriers such as AirAsia and Malaysia Airlines.
*Name changed at request of interviewee
This article appeared in the South China Morning Post print edition as: Shock, sadness and nostalgia as staff digest news