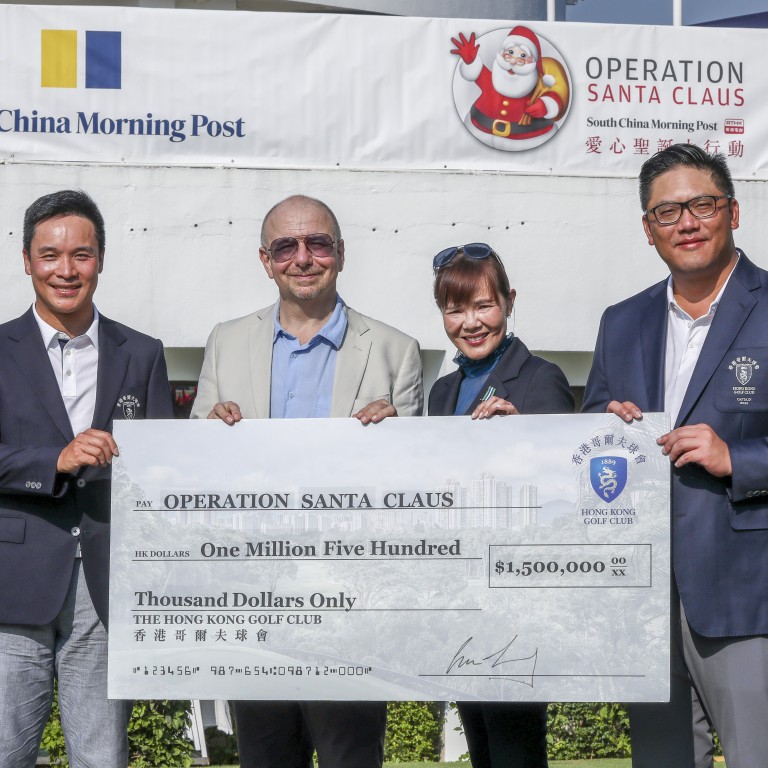 Hong Kong Golf Club event raises HK$4 million for charity in spite of pandemic
The club's annual Cup of Kindness event was in support of the Home of Loving Faithfulness and Operation Santa Claus
The event raises money from members through participation fees, raffle ticket sales and cash donations
Organisers of an annual charity golf tournament have said that in spite of the ongoing
coronavirus pandemic
, 2020 proved to be one of the event's most successful years.
The 33rd Cup of Kindness kicked off on a blazing hot Sunday at the Hong Kong Golf Club's Fanling course on October 11. Held every autumn, the event saw 200 club members compete against one another, the youngest being just 11 years old.
In addition to the competition taking place on the course, off it, members also vied for a selection of raffle prizes and silent auction items.
The enthusiasm apparently was not dampened by the club's two closures earlier this year – once from March to May, and again from July till September – when the Hong Kong government ordered those under recreational leases to shut their facilities amid rising Covid-19 infections.
There was some uncertainty as to whether the event could even be held because of ever-changing social-distancing regulations, and the previous closures meant organisers had difficulty promoting the tournament.
"The general atmosphere of the city is not very positive right now, and we know many charities have been struggling to get funding over the past few months," Clarence Leung Wang-ching, the club captain, said. "So, we are grateful that members have, once again, made it possible for the club to help those in need."
The event raises money from members through entry fees, raffle ticket sales and cash donations. Some funds also come from corporate sponsorships.
This year's Cup of Kindness Charity Day raised a total of HK$4 million (US$395,500), a quarter of which goes to Home of Loving Faithfulness through
Operation Santa Claus
– the annual fundraiser jointly organised by
South China Morning Post
and public broadcaster RTHK since 1988.
This is the third year the Hong Kong Golf Club has partnered with the initiative. Another HK$500,000 will go to Operation Santa Claus' general pool.
"We are very happy to be working with Operation Santa Claus again," said William Doo Guilherme Jnr, chairman of the club's charity committee, said.
Home of Loving Faithfulness is the club's neighbour in Sheung Shui, and both Doo and Leung said it was important they chose smaller charities with an emphasis on local community work.
"We have had a decades-long relationship with the home and it is always a joy to see adults who have benefited from our fundraising as children," Leung said.
Established in 1965, the Home of Loving Faithfulness provides lifelong care for children and adults with physical and mental disabilities.
The club typically invited residents of the home to the Cup of Kindness, Leung said, but they were unfortunately unable to this year because of the virus.
You can make donations to Operation Santa Claus here