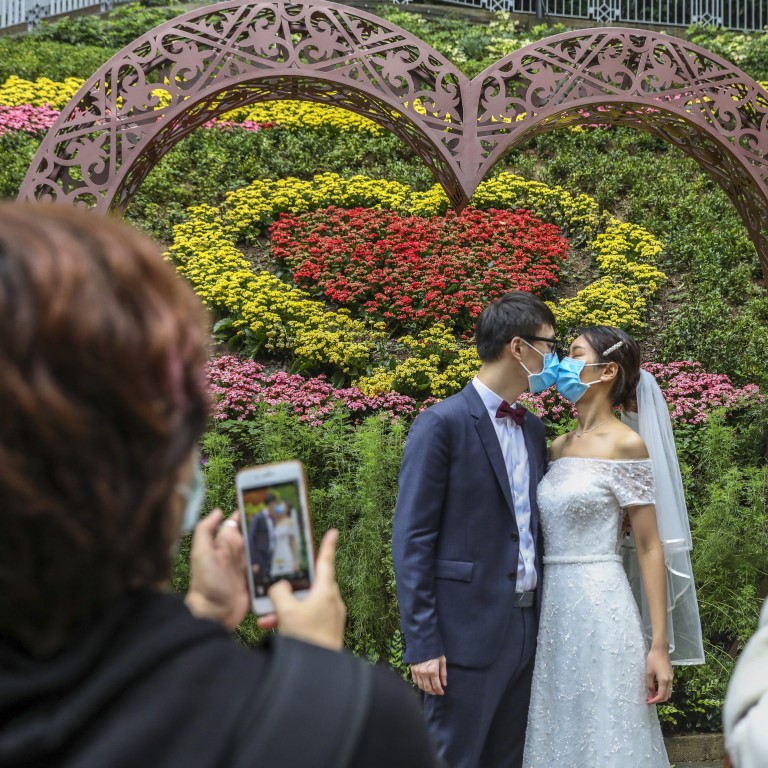 Hong Kong watchdog finds nearly three dozen civil marriage celebrants not legally qualified to officiate ceremonies
The law requires civil celebrants to be either practising solicitors or notaries, but a cross-check by the Audit Commission finds many are not
The commission has also called out the Immigration Department for its handling of suspected fake marriages, more than 2,200 cases of which remain unresolved
A government audit has found that nearly three dozen of Hong Kong's registered civil marriage celebrants are not legally qualified, though the Immigration Department has assured couples that the weddings the officiants presided over would not be affected by the discovery.
In a report released on Wednesday, the Audit Commission also called attention to the department's huge backlog of cases of suspected fake marriages between foreigners and residents, more than 2,200 of which remain unresolved, with some investigations dragging on for as long as 11 years.
According to official figures, about half of the 44,500 marriages registered in 2019 were officiated by civil celebrants, a scheme first rolled out in 2006 both to give couples more choices when it came to their big day, and to create new business opportunities for the private sector.
Under the marriage ordinance, civil celebrants must be either practising solicitors or notaries public. They are usually appointed to the role by the Immigration Department for a period of five years.
However, when the Audit Commission cross-checked the list of 2,277 civil celebrants recognised as of last November against the list of practising members of the Law Society and the Society of Notaries, it found 34 of the officiants to be ineligible.
Even so, an Immigration Department spokeswoman on Wednesday told the Post weddings presided over by unqualified celebrants were still legally sound.
She added that under the law, civil celebrants whose status as a practising solicitor or notary had changed should file a written notification of cessation within two weeks, or else they could be fined HK$10,000 (US$1,288).
The Immigration Department said it would also look into strengthening its protocols to address the issues, including by exploring the feasibility of checking its roster of celebrants against the membership lists of the law and notary societies on a regular basis.
Solicitor Bruce Liu Sing-lee – himself a civil marriage celebrant – said he believed some of the unqualified officiants had probably just seen their certifications lapse.
"It is possible that when some civil celebrants were first appointed, they were practising solicitors or notaries, but when [the Audit Commission conducted the check] they were no longer practising members," Liu said.
The Audit Commission also identified 291 inactive civil celebrants who had not officiated any marriages between January 2016 and last October, adding they should be required by the government to attend refresher courses upon applying for renewal.
Meanwhile, the commission also found the Immigration Department to be dealing with a backlog of thousands of unresolved cases of suspected fake marriages between residents and non-locals.
Between January 2016 and last December, the department investigated 2,547 suspected fake marriages, arresting 4,623 people and successfully prosecuting 356.
However, the commission found that there were still 2,237 outstanding cases of suspected fake marriages as of last December, 167 of which had been under investigation between six and 11 years.
About half, or 1,110, of the outstanding cases had been under investigation for two years or less, while 38 per cent had been open for two to four years and 5 per cent had been open for between four and six years, the audit found.
In one suspected case referred by mainland Chinese authorities in 2012, the commission declared the Immigration Department had been "not entirely effective" after it failed on multiple occasions to compel one of the suspects to attend inquiries. The man was later found to have died in a local hospital in January of 2019.
The department told the Audit Commission that in the majority of outstanding cases, the suspects were pending interception after all possible means to locate them had been exhausted. It also pledged to expedite clearing the backlog cases by reassessing manpower requirements and taking other "appropriate measures".
The department spokeswoman added that the investigation into each suspected fake marriage required extensive evidence gathering, which took time. She also – without naming the Audit Commission – expressed "deep regret" over "indiscriminate criticisms made by those who do not understand the processes of criminal investigation", which she said had undermined the department's public image.