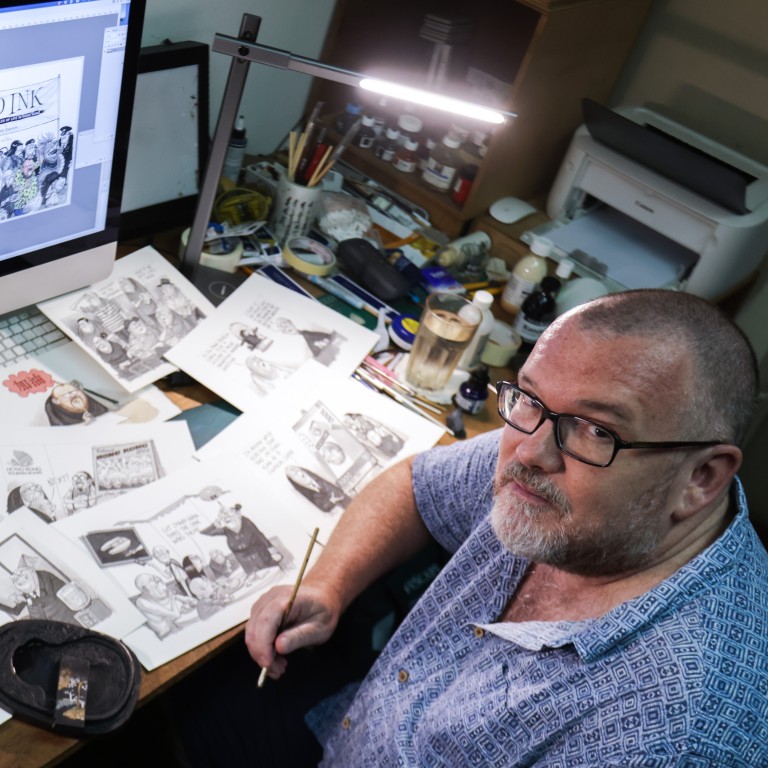 Harry's View of Hong Kong: new book marks cartoonist's 20 years at the Post, with snapshots of key events from protests to coronavirus crisis
A keen observer of Hong Kong life, Harry Harrison pokes fun at the powerful, rich and famous
Collection of cartoons covers everything from social unrest and national security law, to Covid-19 pandemic and Trump's years in office
Harry Harrison has never spared anybody's feelings in his daily illustrations for the South China Morning Post.
"I don't mind if people hate them, as long as they don't get ignored," said the editorial cartoonist behind Harry's View, which pokes fun at the rich, powerful and famous, as well as everyday situations in Hong Kong.
His new book of 150 cartoons marks his two decades as the Post's daily cartoonist and charts six years of tumultuous change in the city.
Add Ink: Cartoon chronicles of life in Hong Kong
is in six sections covering everything from the social unrest and
protests
in the city in 2014 and 2019 to the arrival of the Covid-19
pandemic
and Beijing's imposition of the
national security law
last June.
There are chapters on local politics, the social and economic aspects of Hongkongers' daily lives, business in the city, and global events, including former United States president
Donald Trump
's term in office, viewed through a Hong Kong lens.
"It has been like a roller coaster, depending on what's happening in Hong Kong," said Harrison, 59.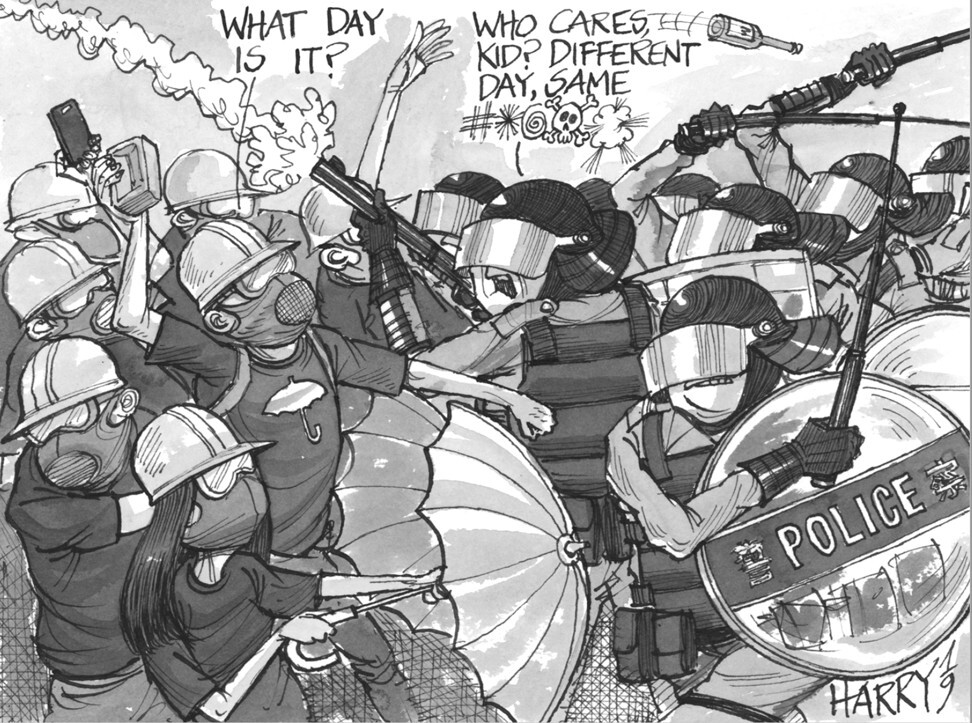 Born in Britain, he spent part of his childhood in Libya and Singapore, going where his father's air force job took the family. He worked in a number of jobs before becoming an illustrator, and was in his 30s when he arrived in Hong Kong to earn a living and stayed.
Harrison lives on Lamma Island and works from a shared studio in bustling Central. A pile of his cartoons is stacked haphazardly on a table next to his desk, with no discernible filing system in sight.
He tracks the daily news closely, but often gets his ideas from walking the city's streets. It is his understanding of the unique characteristics of Hong Kong society – from the quirks of politicians to the elderly women collecting cardboard on trolleys – that often delights readers.
Familiar characters in his cartoons over the years include his pandas, to represent the Chinese government, and two elderly men discussing Hong Kong affairs, with a caged bird above them.
Both men are based on real people. Mr Wong, usually dressed in a sleeveless singlet, is based on a night watchman from the building on Wellington Street where Harrison had his first studio. The two sometimes had dim sum together.
The other character, Mr Lee, is based on a man who regularly rode the ferry to Lamma Island to practise speaking English with the foreigners living there and was "interested in everything".
Harrison said his aim is to draw something that resonates with people.
"I like to get something in that has a bit of humour but makes people think. Either they think I'm wrong or think I'm right," he said.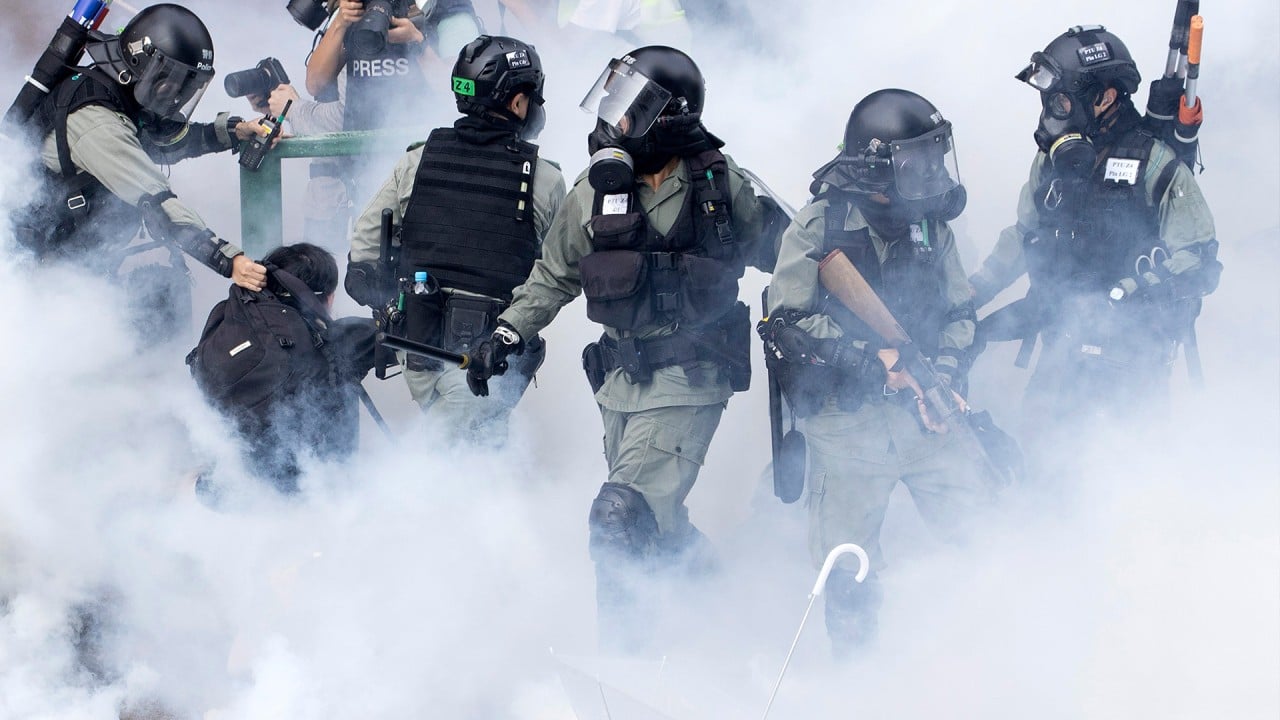 07:30
China's Rebel City: The Hong Kong Protests
China's Rebel City: The Hong Kong Protests
The social unrest and major political changes in Hong Kong over the past two years had an impact on his work. Harrison said he was more direct
in his illustrations during the
anti-government protests
of 2019, but has become "more artful", often drawing on parallels to make a point.
"Actually it makes you a better cartoonist," he said. "Being direct can be a bit lazy. If you are going to get something decent in the paper, you really need to think about it."
His new book was edited by Alice Wong, a chief production editor at the Post, who spent six months on the project. She said she often laughed out loud while selecting the cartoons to include, and it reminded her of working with the senior editors who decide on Harrison's cartoons that are used in the newspaper.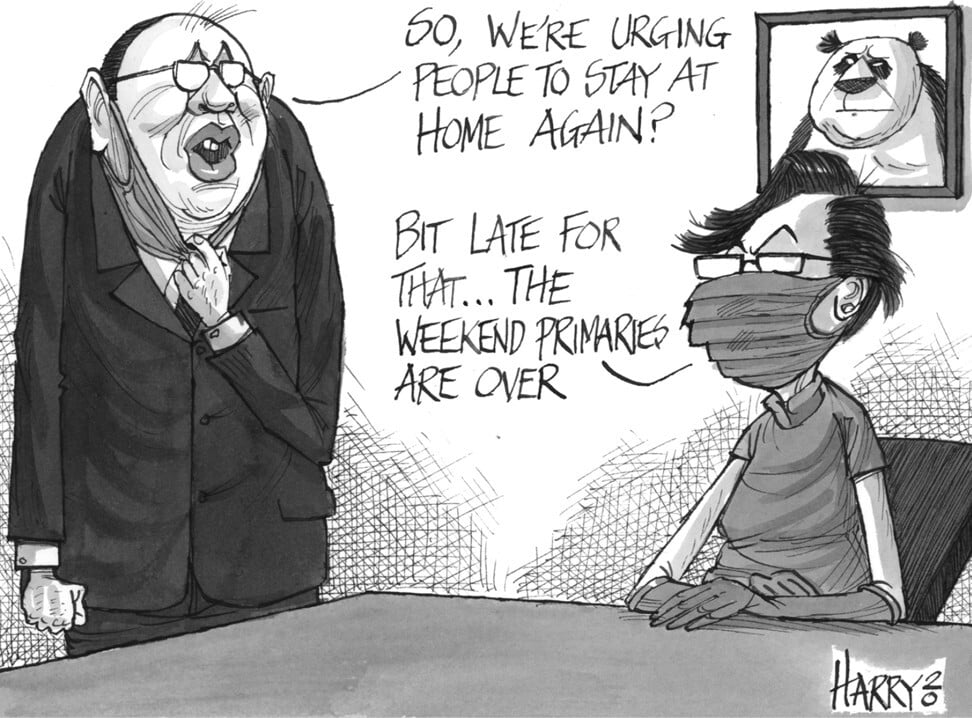 She said picking 150 from the thousands he produced over the past six years proved a balancing act, covering all aspects of Hong Kong and global events, with each a snapshot of a specific event.
"They give people another perspective on the same event," she said. "I might see it one way, but there can be a funny or even a dark humorous side to it."
Among Harrison's fans is district councillor Paul Zimmerman, who looks out for Harry's View every day.
"In times of change, especially times as dramatic as Hongkongers are facing today with Covid-19 and the national security law, Harry's humour counts ever more to lighten up our mornings and shine a light on critical issues," said Zimmerman, who is CEO of Designing Hong Kong, a group that advocates better urban design.
Harrison, who has won awards for his editorial cartoons and is also an illustrator of children's books, lives on Lamma Island with his wife Helena.
Their children have his artistic streak, with son Charlie, 23, working as a graphic designer in Hong Kong, and daughter Lucy, 21, studying animation at university in London.
Harrison also sings and plays the guitar in a six-member band called the Midlife Crisis Cowboys, and is looking forward to performing again when
Covid-19 restrictions
are lifted.
With no plans to retire or leave Hong Kong, he said: "I'll probably keep going until I go senile."
Add Ink
costs HK$280 (US$36) and can be found at major Hong Kong bookstores such as Bookazine, and on the
Post
's
website
.