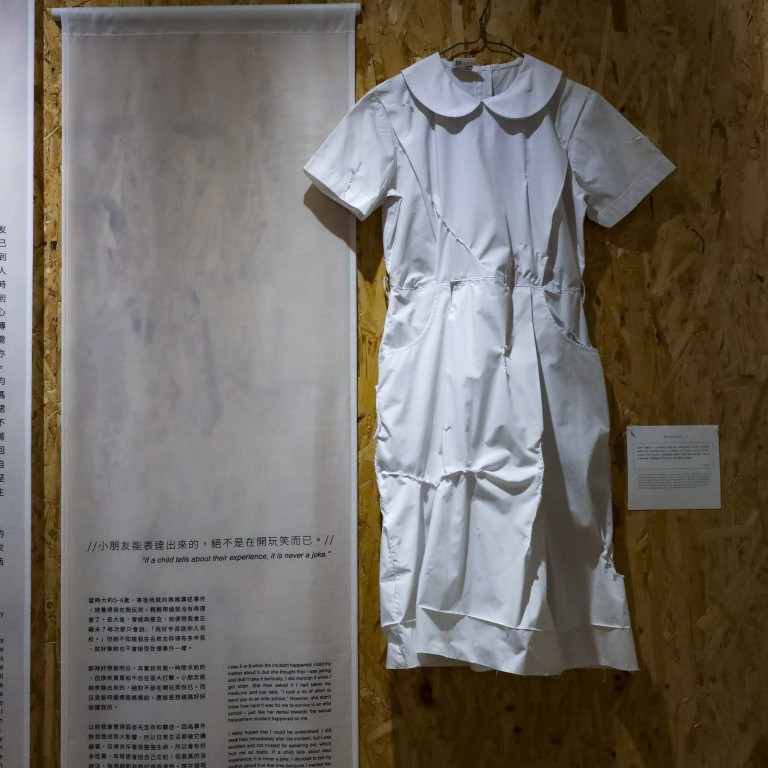 Sexual violence: exhibition gives voice to Hong Kong victims who felt isolated, blamed and did not report attacks
Eleven women find support, 'alternative justice', by coming forward to share painful experiences
Most victims stay silent, daunted by having to face medical checks, police and court process
Yoyo* put aside her treasured violin 10 years ago and never played it again. Every time she looks at it, she says, she is reminded of the day she was raped by three men.
She was a 20-year-old music student in university and a part-time violin teacher, when a girlfriend from high school introduced her to the men.
She went out with them one night and they attacked her, she says, changing her life forever.
Yoyo went to hospital for her injuries, but did not make a police report. She says she was worried they would not believe her.
She told her girlfriend, but was crushed when her friend accused her of being dressed inappropriately that day and demanded: "What do you mean you could not resist them?"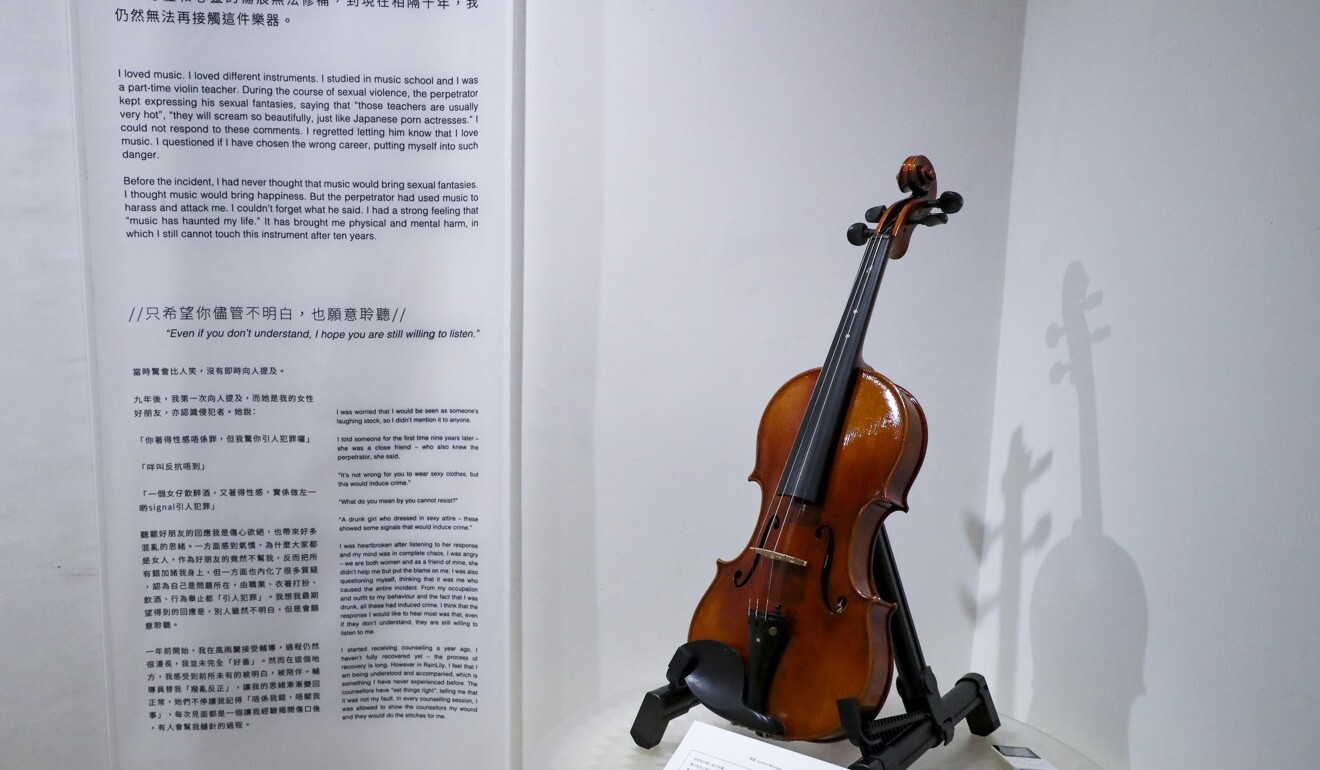 Yoyo ended up blaming herself. She put music behind her, carried the burden of her ordeal alone, and went on to become co-owner of an online store selling pet food and other products.
It was only in 2019 that she sought help at RainLily, Hong Kong's first sexual violence crisis centre, which was formed in 2000 and provides counselling and crisis intervention services to about 2,000 victims of sexual violence annually.
"I think a lot of people are like me," she says. "They are lonely as I was for many years. There is a lot of hurt."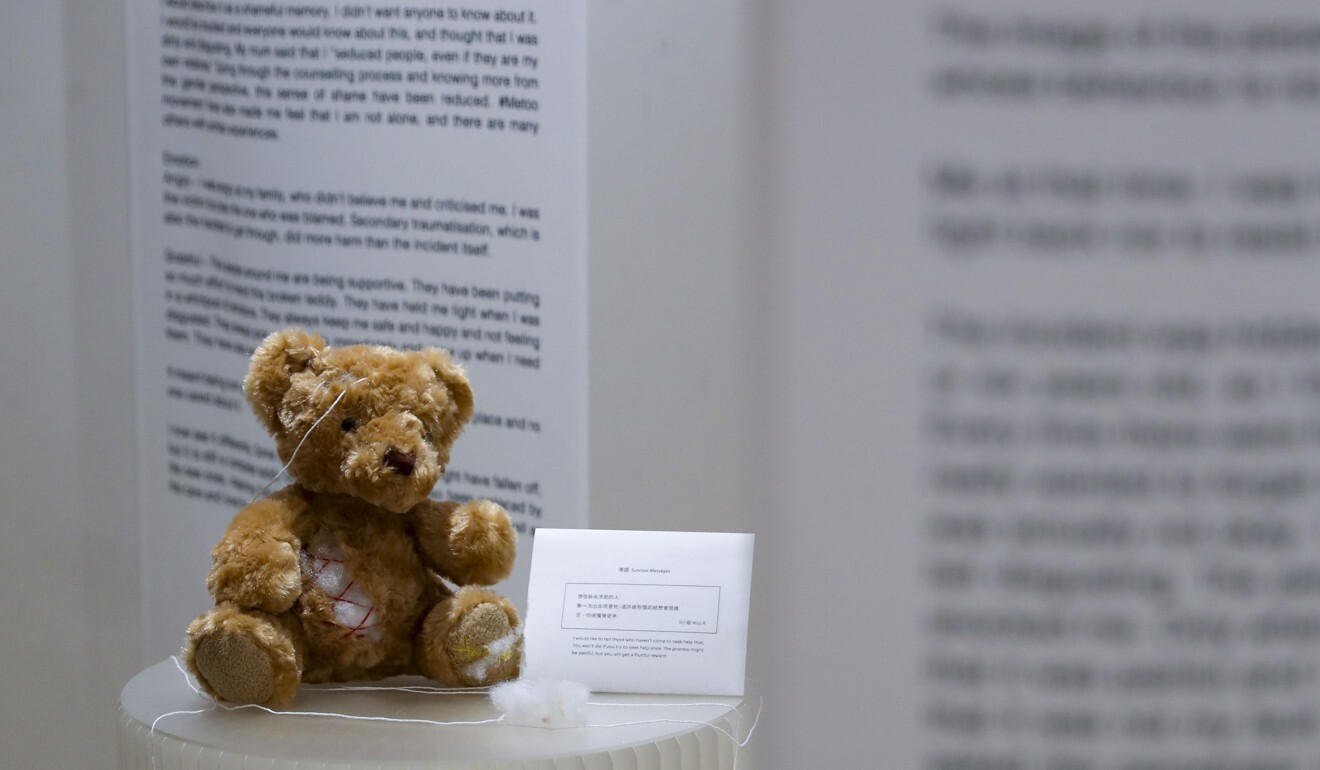 Now 30, she is among 11 women sharing their experience of sexual violence in an exhibition called "#OneInSeven: Stories Beyond the Numbers", at the 480.0 Gender & Art Space run by the Association Concerning Sexual Violence Against Women in Yau Ma Tei.
The exhibition title refers to the statistic that one in seven women in Hong Kong has experienced sexual violence in her life.
There were 64 rape reports to the police last year, up from 50 in 2019, according to official data. Indecent assault cases fell from 982 in 2019 to 682 last year.
According to police, 98 per cent of rape offenders are known to the victims.
Most victims of sexual violence in Hong Kong do not come forward, daunted by prospect of undergoing medical examinations, telling police and enduring the court process.
Delayed disclosure is also common according to RainLily, which has found that victims of child sexual abuse wait an average of 13 years before reporting what happened to them.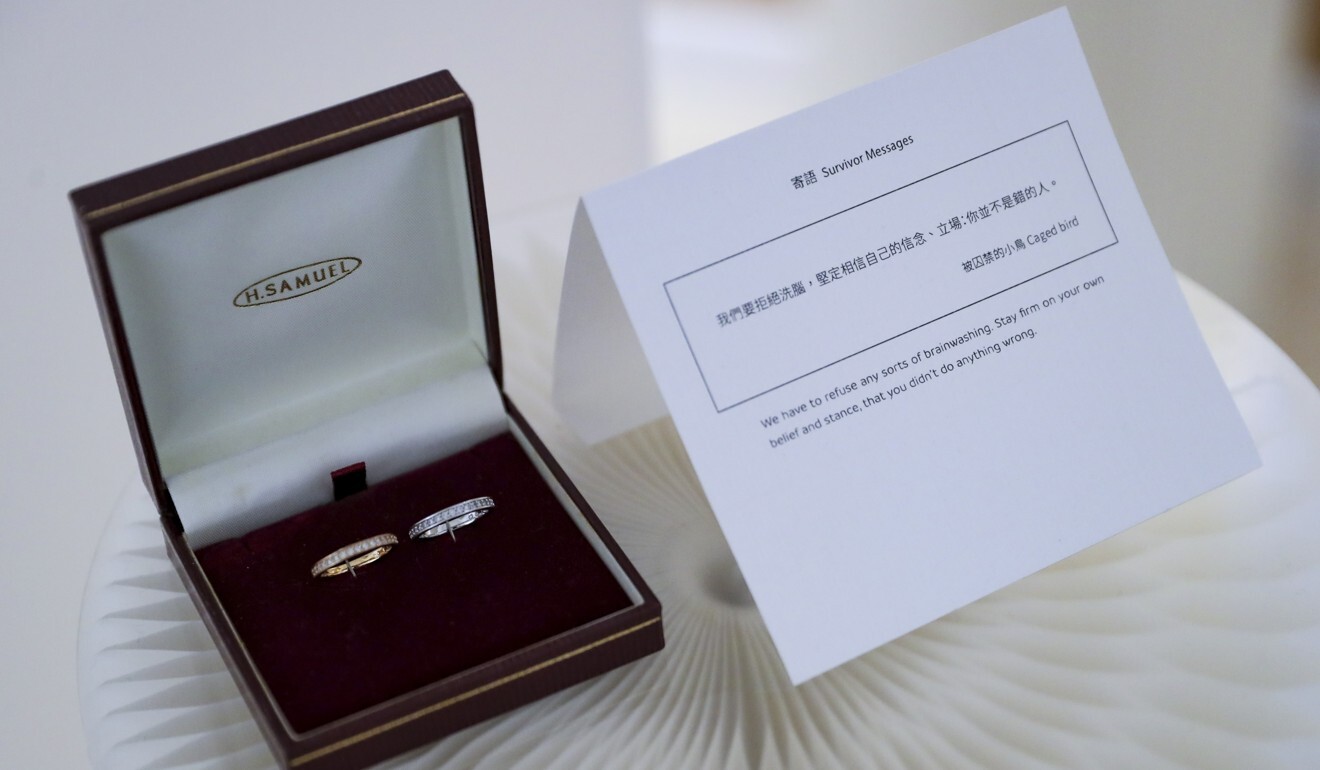 Most of RainLily's clients are women. Calls to its hotline rose from 2,035 in the 2019 financial year to 2,155 last year.
RainLily counsellor Rebecca Lam Wai-men says many victims feel isolated or are blamed by people around them, and the exhibition has helped people like Yoyo reconnect with the community.
"It's important to have a voice and be heard and seen," she adds.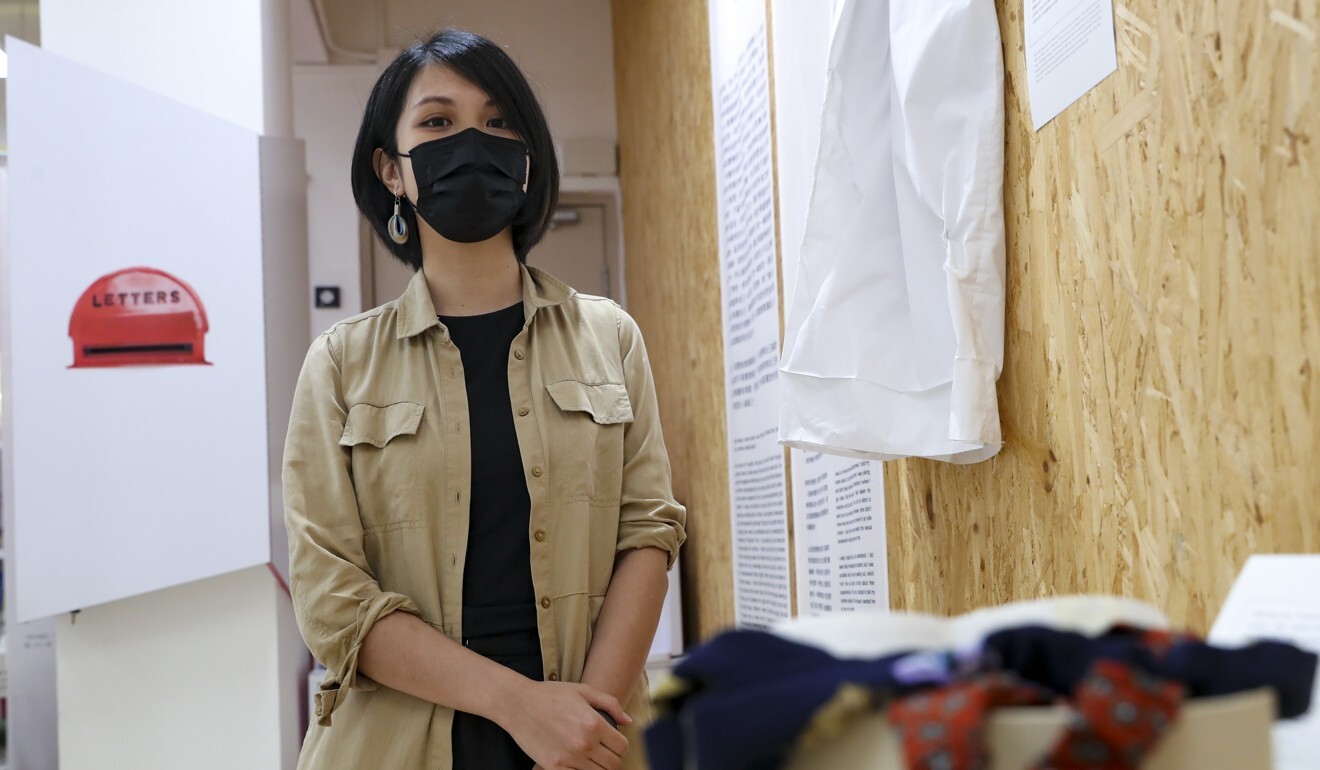 The exhibition was curated by Irene Lam Kit-man, a senior communication and resource development officer at the Association Concerning Sexual Violence Against Women.
She says being able to share their experiences is a form of "alternative justice" for the victims, none of whom reported the abuse to police.
"When people know how they feel, it empowers them and gives them justice," she says.
For the exhibition, each woman chose to display an object through which to tell her story. Yoyo chose her violin, and music from her last performance, to place next to her account of what happened to her.
"There has never been any real justice for me. I have been hiding myself for so many years," she says.
Other objects include two rings in a box, given to a woman by an ex-boyfriend who raped her, and a damaged teddy bear stitched together in parts, from a woman who was abused as a child.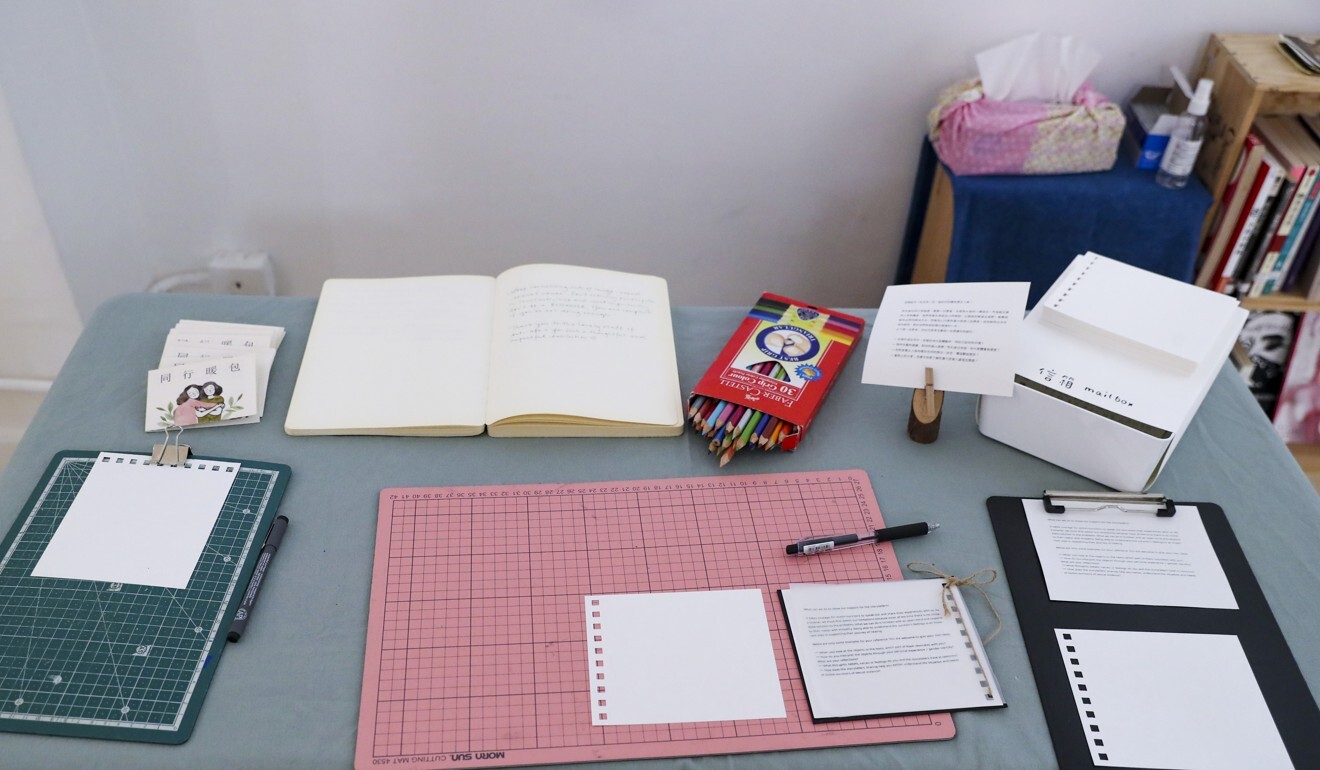 Visitors can leave messages for the women. Yoyo received six messages last month, including one saying: "It's not your fault. You are very brave."
Another note in tidy, clear handwriting, says: "I will take care of you for the rest of your life."
It represents the happy ending to her story, as it is from the man she married in 2017.
She recalls through tears that when they met, she felt she did not deserve his love, but eventually accepted his proposal. The couple have two Sheba dogs.
Yoyo says the messages of support have helped.
"I feel the people who come here are like angels to me, because they think it is not my fault. It makes me stronger," she says.
The exhibition, at 1A, Tougha Mansion, 502-504 Nathan Road, Yau Ma Tei, runs until July 18 and attendance is by
appointment
.
*Name changed at the interviewee's request