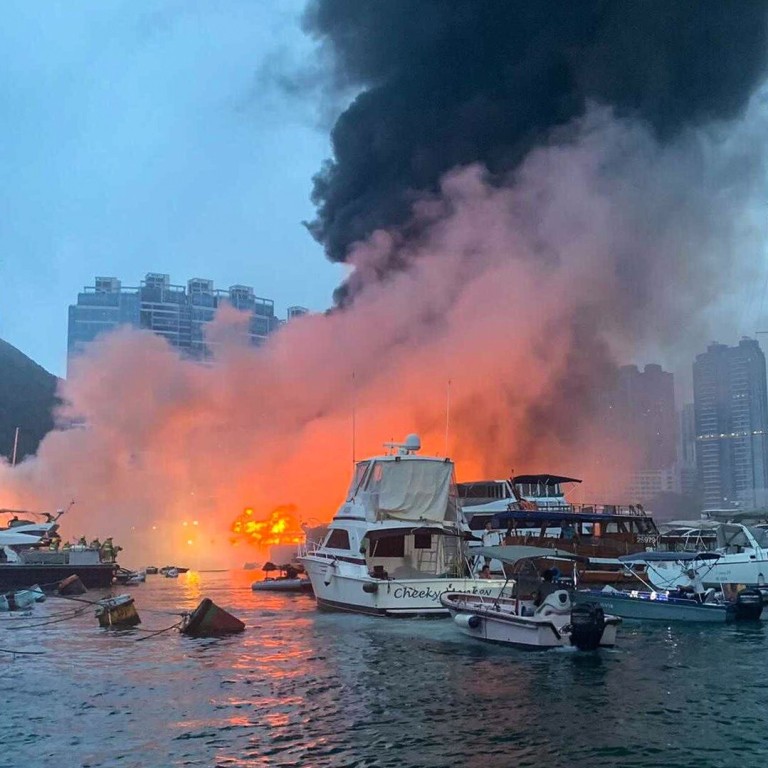 Hong Kong typhoon shelter blaze sinks at least 20 vessels, damages 12, prompting renewed calls for authorities to fix long-standing 'structural problems' in marinas
Fire, which broke out in the early hours of Sunday morning, started on a yacht, then quickly jumped from boat to boat
The narrow channels between the boats at anchor made it challenging to extinguish the conflagration, fire services commander says
A fire ripped through a Hong Kong typhoon shelter on Sunday, sinking 20 boats, damaging a dozen more, and leaving victims counting the cost of a night when only quick thinking saved lives.
The blaze in Aberdeen prompted politicians to renew calls for authorities to fix long-standing "structural problems" in the city's marinas and typhoon shelters.
A boy reporting feeling unwell was sent to Ruttonjee Hospital and more than 30 boats in total were damaged or destroyed as the fire raged in the early hours of Sunday.
One of the victims who lost their boat and two cats on board was already finalising plans to relocate to Tokyo.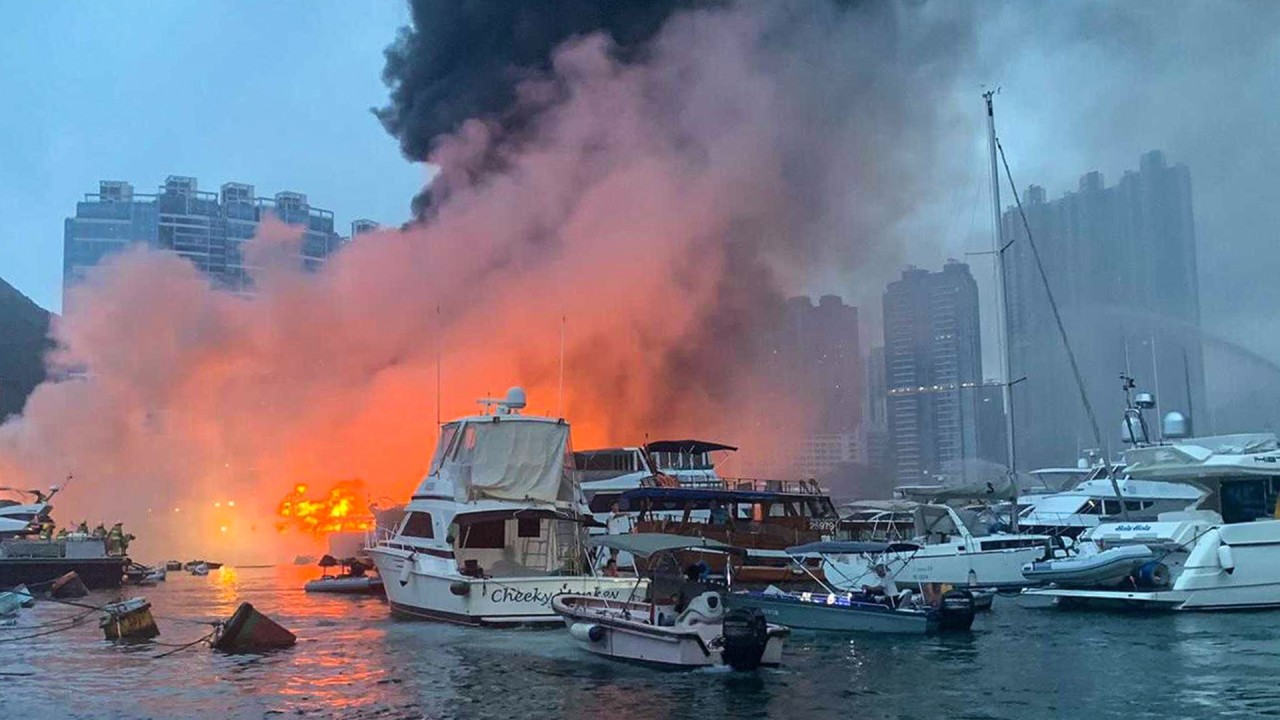 01:25
Massive fire in Hong Kong's Aberdeen typhoon shelter damages more than 30 boats
Massive fire in Hong Kong's Aberdeen typhoon shelter damages more than 30 boats
It was one of Hong Kong's worst fires involving boats and on a similar scale to a September 2015 blaze at Shau Kei Wan typhoon shelter when about 30 vessels were damaged.
On Sunday evening, the Marine Department said it was working on retrieving the sunken vessels.
The fire started at Aberdeen South Typhoon Shelter at 2.34am, and quickly spread to at least 14 vessels. By 4.44am, fire services had upgraded the alarm to No 3 status – a No 5 blaze is the most severe on the department's scale.
As large amounts of smoke billowed from the burning vessels, residents at nearby housing complexes complained of the fumes.
The blaze was brought under control by 8.08am and largely put out 30 minutes later. Firefighters employed 11 water cannons and eight smaller jets in the effort, mobilising four breathing apparatus teams.
Fire services commander Yiu Men-yeung said firefighters found it challenging to extinguish the flames because of a lack of space between the anchored boats.
"The fire first broke out on a yacht … and it spread to many vessels because of the wind," he said.
It was able to spread to so many boats because burning vessels had tipped onto their side, Yiu added.
More than 200 emergency response officers and about 40 fire engines and ambulances were mobilised in the operation, while police also used 10 vessels to evacuate 22 men and 13 women to a nearby marine police base.
The Marine Department said it had engaged a contractor to clean up debris and an oil spill covering an area about 50 square metres in width.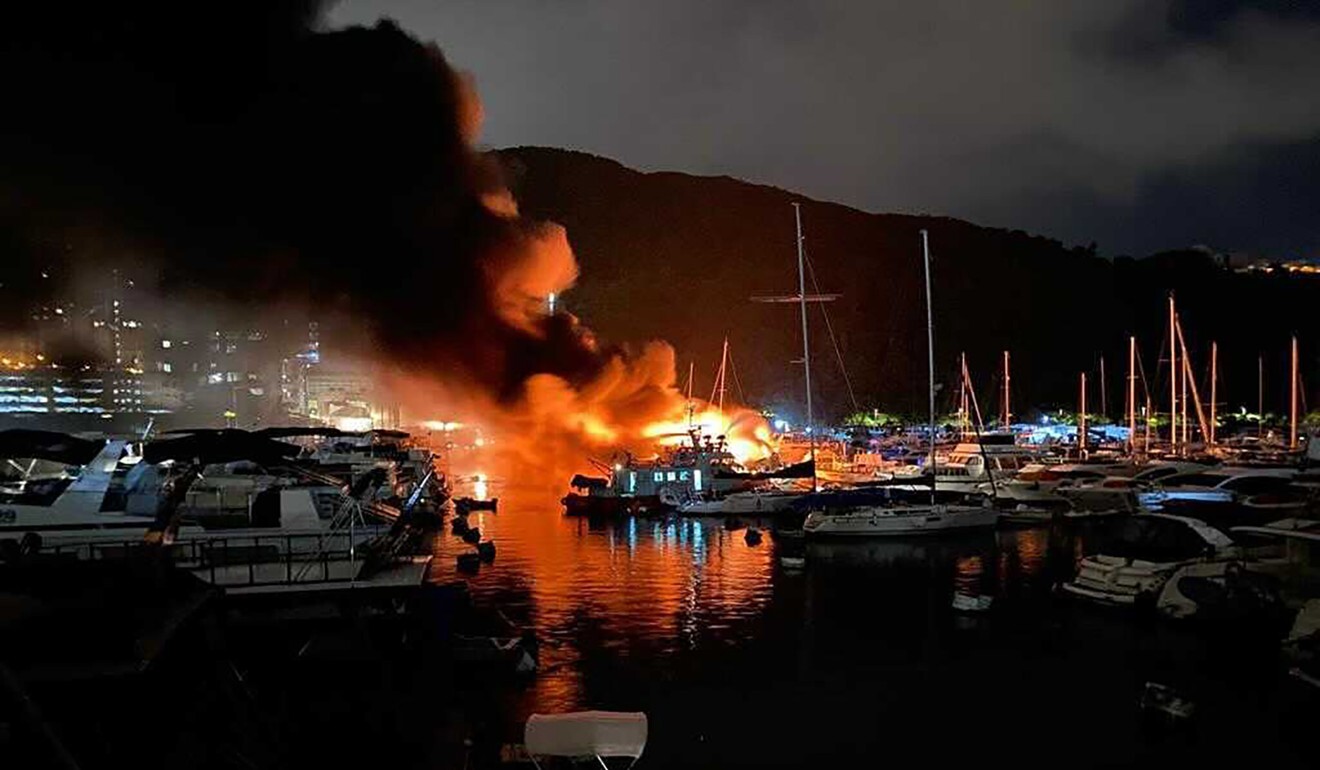 Yves Sieur, photo editor at the Post, whose boat was about 20 metres away was woken at about 3am by his neighbour telling him to escape as the fire raged close by.
"I was dead asleep," Sieur said. "If my neighbour had not woken me up, and moved his boat to create space for me to move my boat out, I would have been in grave danger. He saved my boat and me."
Sieur said firefighters took more than five hours to tamp down the blaze with petrol from the boats continuing to explode on the water's surface.
"At one point, there were 25 firefighters at the top of my boat trying to hose down the fire," said Sieur, adding he and others later spent hours trying to help rescue those affected and were still hard at work on Sunday evening.
The sunken boats were no longer visible by daylight, but the damaged ones needed to inspected to see what could still be salvaged.
The fire was believed to have started at a barbecue one of the house boats was hosting, and it quickly spread from west to east under a strong wind.
An estimated 300 boats are moored on that side of the marina, according to residents there.
Boat owners the Post spoke to said police and fire services were slow to act, and took a while to organise the residents in the community. It took a resident blowing his horn very loudly to alert them to flee to safety, Sieur said.
Steven Ho Chun-yin, lawmaker for the agriculture and fisheries sector, said the blaze should prompt the government to rethink the way it managed the city's marinas.
"There are just not enough mooring spaces for all the boats in Hong Kong," he said. "The problem is similar to how there is not enough housing in the city, you need to have enough space for the boats to minimise the risk.
"Some small fires might still happen, but at least it will not affect up to 30 boats, like this time."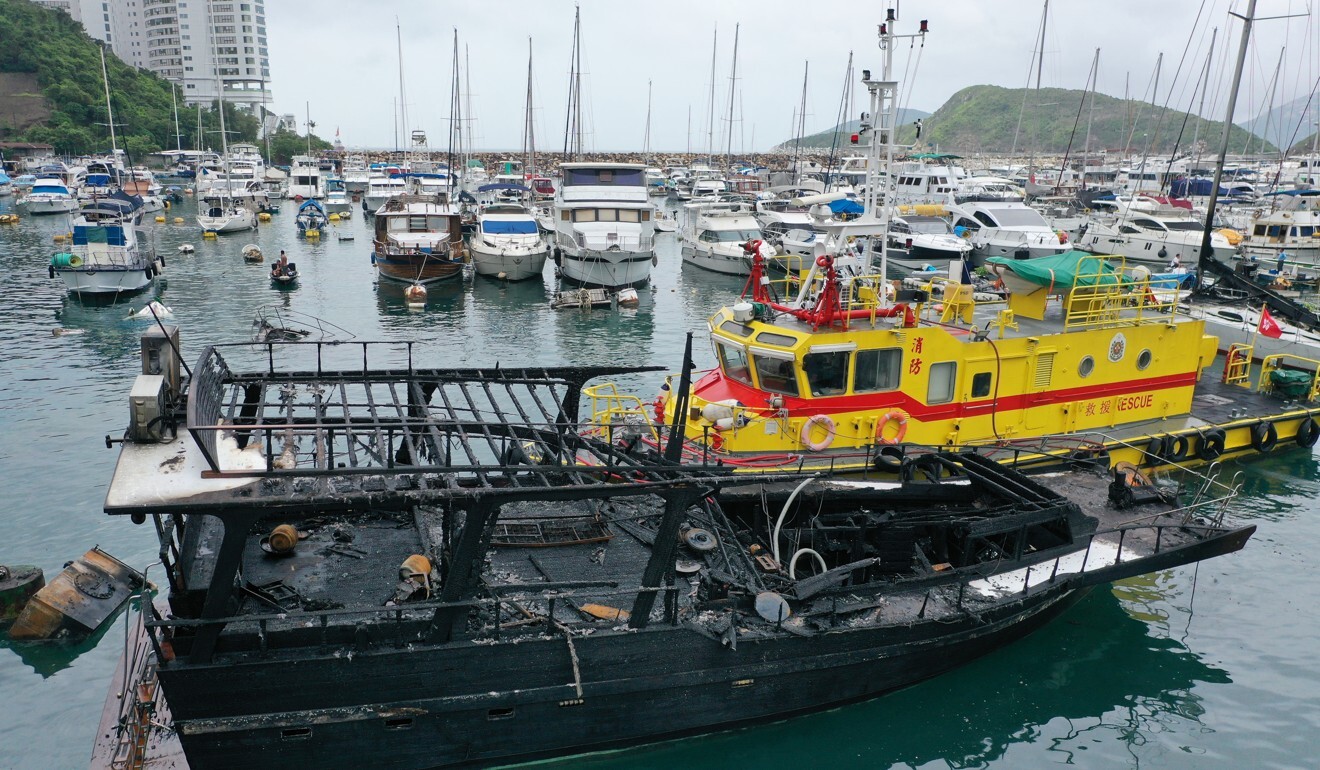 While the government had consistently said the moorings were underutilised, he pointed out the problem was that it depended on the types of facilities available at the marina, with fishing boats tending to cluster near fish markets, for example.
This meant certain berthing areas were more crowded than others, Ho said.
He suggested the government also needed to change the way it managed the typhoon shelters, such as by engaging boat owners to monitor the use of the berths themselves.
Southern district council member Angus Wong Yui-hei, who represents the Aberdeen constituency, also said the lack of berthing facilities had long been overlooked by the government.
"The fire today should prompt people to pay attention to this problem," Wong said. "The yachts were packed so closely, so it is worth looking at whether the Marine Department has been managing the moorings adequately."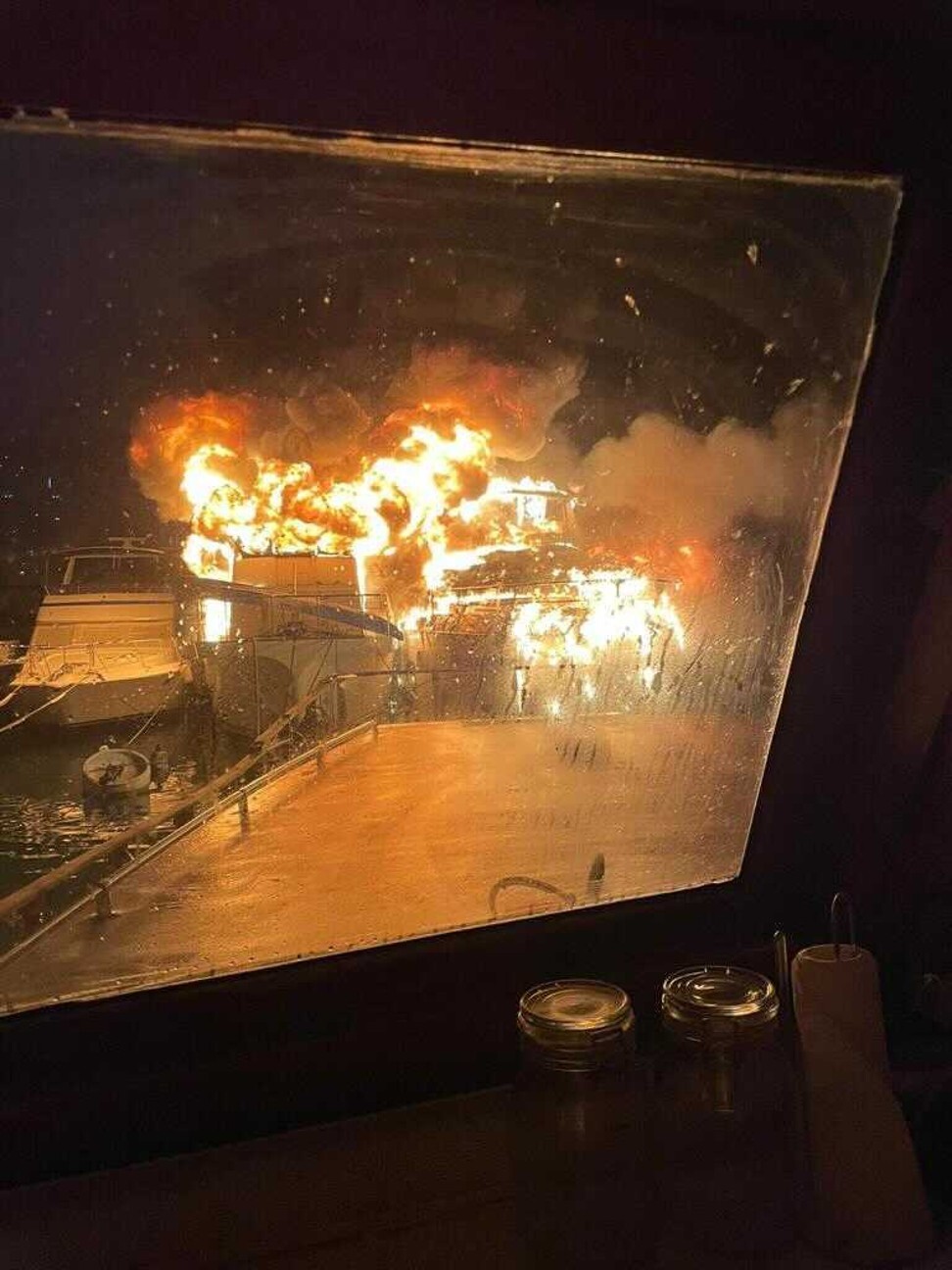 He added the government should have clearer guidelines for how much space needed to be kept between each boat, as well as separating out different types of vessels.
"It's really a structural problem, and how the berthing spaces are managed between different types of boats should really be looked at," he said.
The Marine Department said all locally registered boats could enter and use the space within typhoon shelters, but were not allowed to berth within the passageways of the shelters, or prevent other boats from mooring at unused berthing space.
It said it regularly carried out inspections at different areas including typhoon shelters, including fire safety checks.
Additional reporting by Tony Cheung
This article appeared in the South China Morning Post print edition as: Typhoon shelter blaze sinks 20 vessels, damages 12