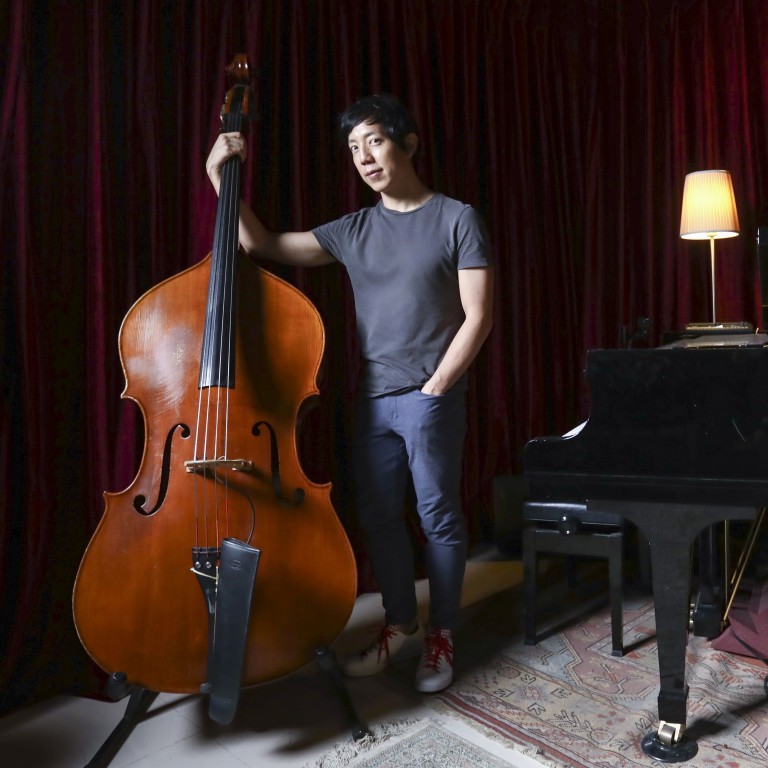 Jazz, fish balls and live streaming: Hong Kong musicians play from eatery to keep music going amid coronavirus pandemic
Justin Siu and his band play in an empty noodle restaurant, an experience he says is unique and inspirational
He hopes to reach more people via online performances and integrate jazz into Hong Kong's grass-roots culture
Squeezed into a cramped Hong Kong noodle restaurant and perched on drink crates, a jazz band live-streamed its performance to bring out the grounded grass-roots spirit of jazz and reach a wider audience amid the
coronavirus pandemic
.
Bringing jazz music to the 300 sq ft Yuen Hing Lung Noodles in Sai Wan was the idea of Justin Siu Wai-jung, a 44-year-old jazz bassist from Hong Kong, and a regular at the eatery for its original fish ball noodle soup.
The band played a collection of its original music works during the 90-minute performance. Siu plucked the strings of his double bass next to the cooking stall, while other band members, including a saxophonist, a trumpeter, a guitarist and a drummer, played in the dining area. There was no audience.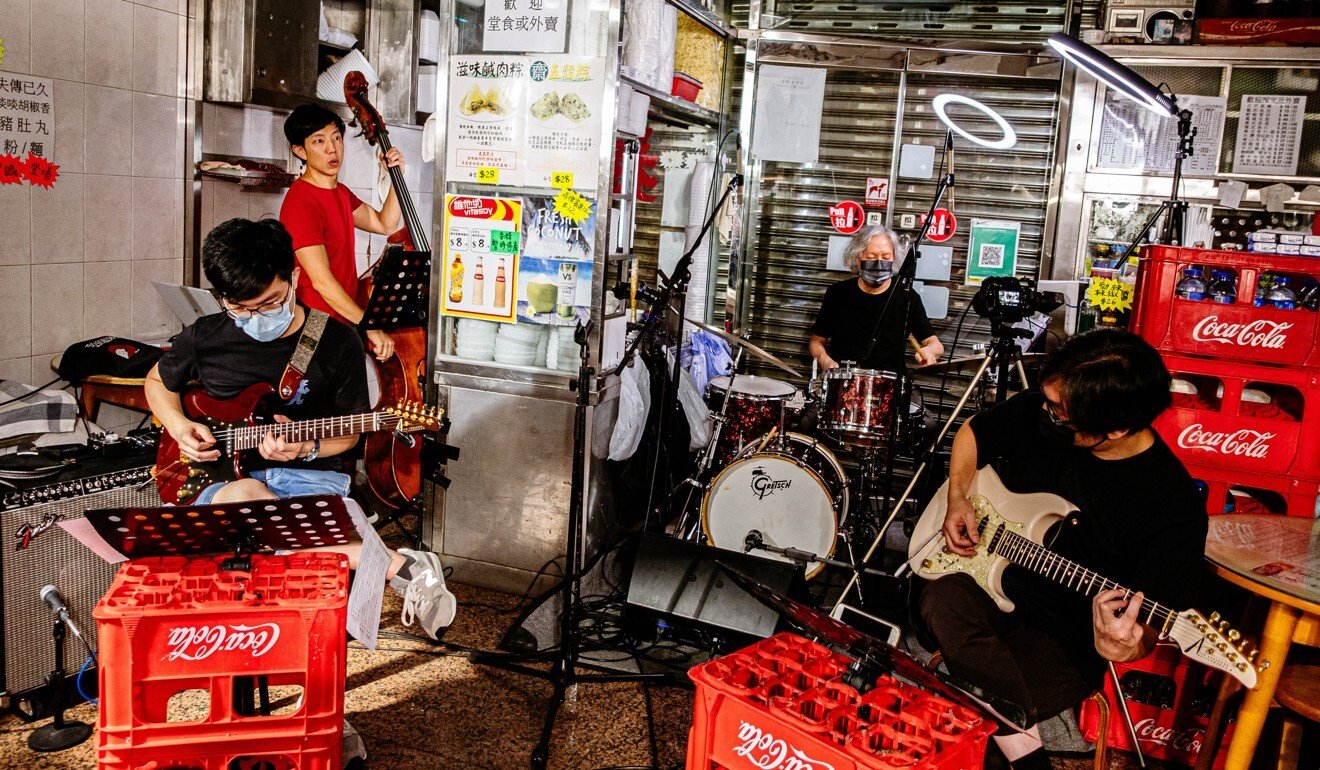 Siu said the small space made it hard to control the sound quality, and they took care not to break things. Sometimes the internet connection was unstable. But he said the experience was unique and inspirational.
"Unlike the fresh scent of high-end hotels, I was greeted by the smell of broth and fish," said Siu, who was inspired by the experience to create a piece named "Maru Maru Maru", a Japanese term meaning circle, much like the shape of meatballs served at the restaurant.
"I have gone from 'six stars' (hotels) to 'six balls'," he joked.
But the combination brought out chemistry, he said, adding that the essence of jazz lay in the spirit of grass roots despite its posh image in Hong Kong.
The band performed in the eatery for the first time on September 7 last year – a Monday when the restaurant was routinely closed. The owner lent the place to the band for free and so far, they had managed to live-stream seven performances there.
The disruption to the live music scene caused by the pandemic did not deter Siu, who turned to streaming performances online as a way to reach out to more people and integrate jazz into Hong Kong's grass-roots culture.
A master's degree holder in computer science from the University of Cambridge and former software engineer in the Silicon Valley in the United States, Siu started his career in music only after he returned to Hong Kong in 2004.
He discovered his love for jazz in the US, where the genre originated and is commonly played in clubs. After returning to Hong Kong, he began learning it from books and playing music in jazz venues like Salon 10 and Peel Fresco. Years of learning the cello enabled him to quickly master the double bass, a key instrument in jazz.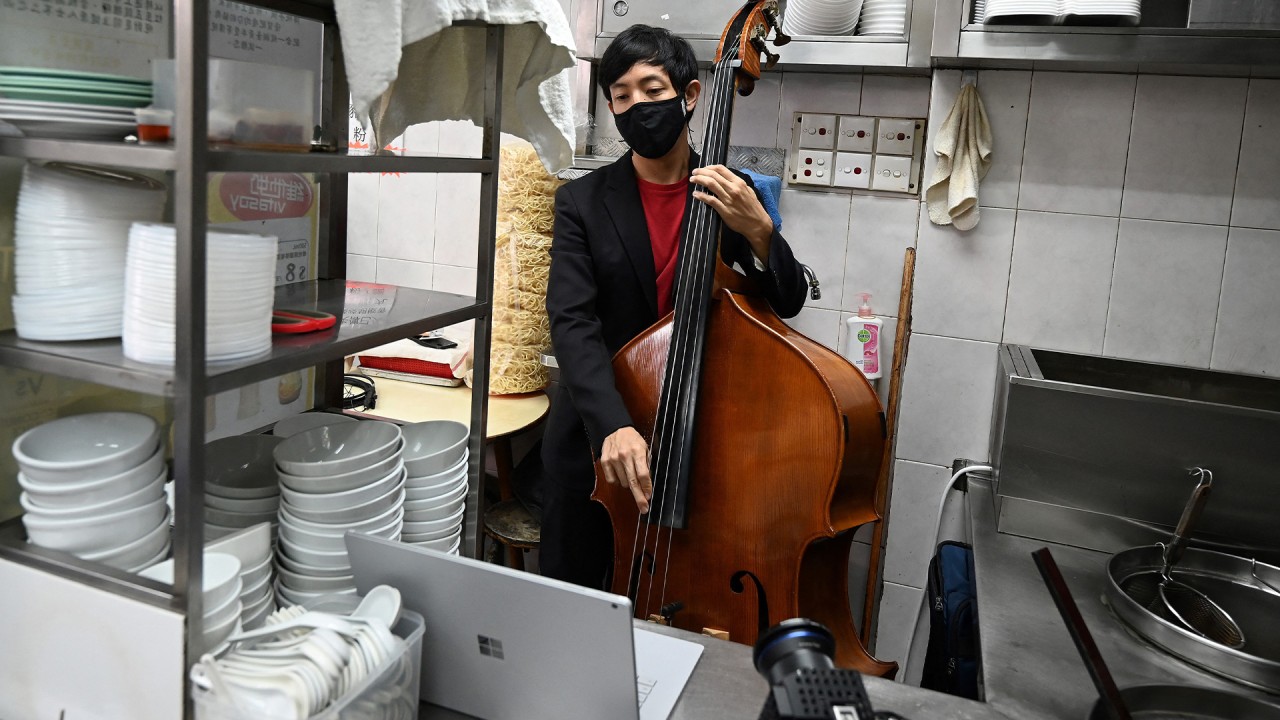 02:23
Tiny Hong Kong noodle shop turns into jazz club amid pandemic
Tiny Hong Kong noodle shop turns into jazz club amid pandemic
He honed his jazz skills during his 10 years of working as music director at Four Seasons Hotel from 2007, organising and performing for music events until 2017. He also set up a music production company, Innonation, in 2005 and worked with more than 600 musicians to organise live jazz performances in places such as at high-end hotels and the Hong Kong Convention and Exhibition Centre, and aboard yachts.
He released a jazz album in 2018 with three others – a singer, a drummer and a pianist.
But the
social unrest
in the latter half of 2019 and the pandemic disrupted music events in Hong Kong. Siu had no work for two months.
To keep playing jazz, he started live-streaming performances in April last year, inviting various musicians to perform together. So far, more than 100 performances had been streamed online from his studio in Sai Wan.
Siu said live-streaming music was fun, as there was more liberty to select the kind of music they wanted to perform and more room for improvisation. He also set up a screen displaying real-time online comments from the audience. According to Siu, some 5,000 people tuned in each time, and some had donated HK$100 (US$12.90) to HK$200 to show support.
Even though the small amount was hardly enough to make up for the loss of income during the pandemic, Siu said the positive feedback and number of people his music had reached motivated him to continue live-streaming jazz performances.
He also planned to bring jazz to other classic Hong Kong food places, such as Ser Wong Fun Restaurant, famous for its snake soup, and sugar cane juice shop Kung Lee, both in Central.
"I'm always looking for ways to make it interesting and viable," he said.
This article appeared in the South China Morning Post print edition as: All that jazz from a cramped noodle shop