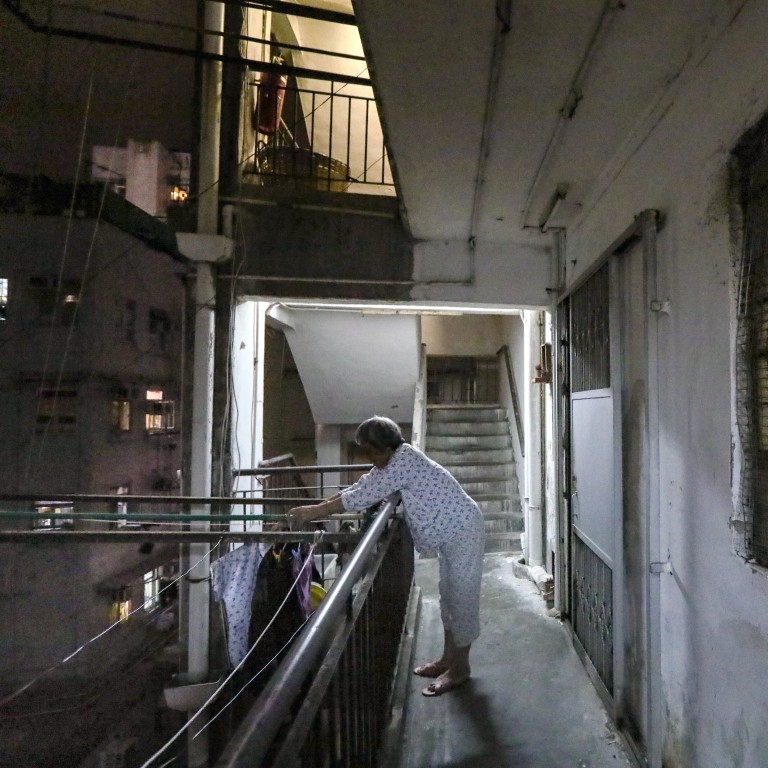 Hong Kong's 'lonely deaths' a ticking time bomb as more elderly live alone with little family, care support
Greying population a warning of crisis to come, unless elderly receive services now in short supply
Record number of elderly suicides last year, as pandemic deepens isolation of those on their own
Ho Yau-lin, 79, had no one by her side when she had cataract surgery for her left eye on Wednesday.
She did not tell her four children about it, as they all live in mainland China and she did not want them to worry.
The Hongkonger has lived alone since her divorce about 20 years ago. She has a cousin in the city, but they rarely get in touch.
With her eye blindfolded, she moves slowly as she does her housework in her public housing unit in Sham Shui Po, taking care not to hit anything or injure herself.
She survives on the government's Comprehensive Social Security Assistance monthly allowance of a few thousand dollars.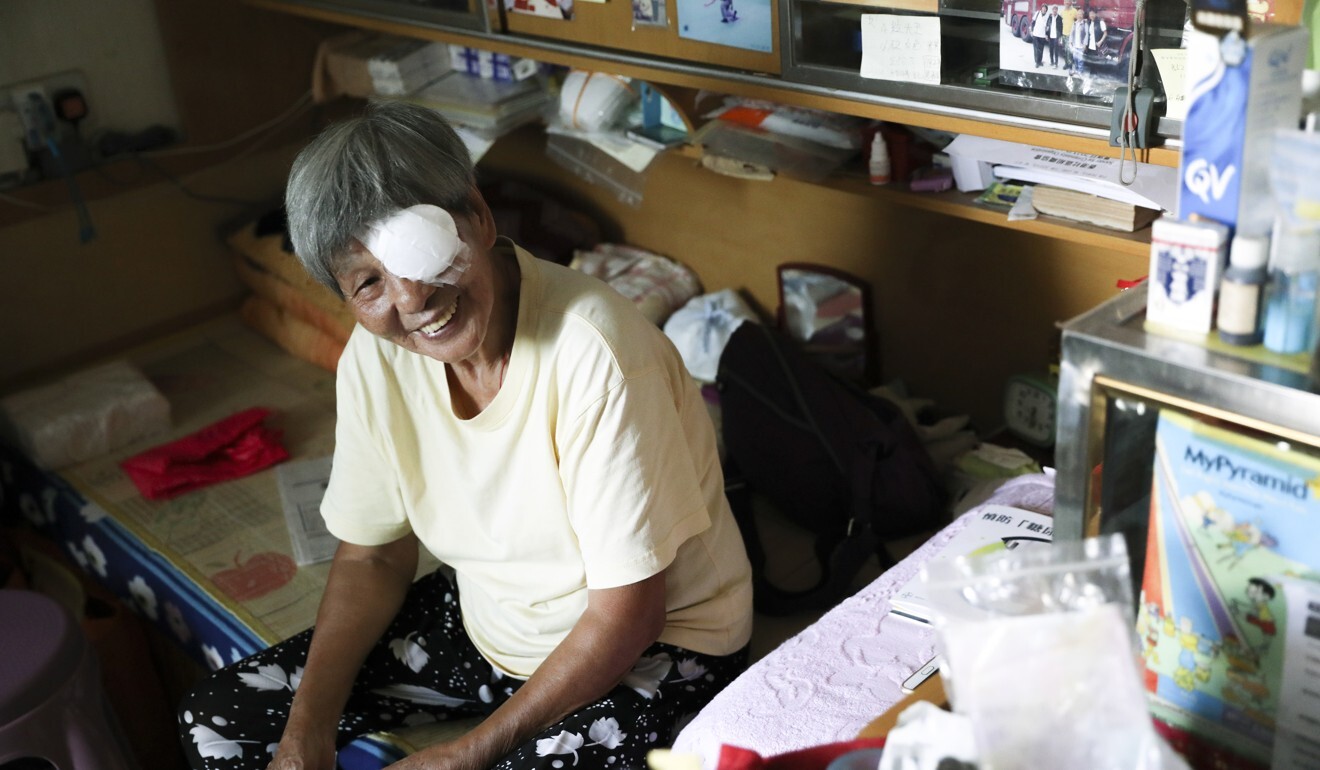 There are more than 152,000 people aged 65 and above like Ho, who live alone in Hong Kong. Lacking care and support, many face mounting physical and mental health risks.
Social workers and experts warn that the "hidden elderly" – those without family support and a normal social life and not known to community support networks – are also more vulnerable to increased isolation during the
coronavirus pandemic
.
They fear the city may see more "lonely deaths", with elders dying alone and unnoticed.
"It is pathetic to die alone," says Ho, who remembers the stench from another flat on her floor a few years ago. Days went by before neighbours noticed the smell and called the police, who found the elderly occupant's body.
With her multiple chronic health conditions, Ho has regular hospital visits and takes more than 10 tablets a day. She scribbles reminders to herself on a calendar on the wall.
Rheumatoid arthritis has left her fingers and toes severely deformed and stiff. Pain in her joints keeps her up on many a night, and she keeps a bottle of ointment by her bed at night if she needs relief.
She walks slowly, relying on a shopping trolley for support when she goes out for groceries or to collect disused bottles and cardboard for extra cash.
Accidents happen. She recalls how she hit the table corner at home and fractured a rib about two years ago. She called a social worker who took her to hospital.
Although Ho has managed to get by so far, she is worried. At her bedside, she keeps the photographs of her three daughters and son, five grandchildren and two great-grandchildren.
She says they used to visit her and she travelled to the mainland every year, but she has not seen them for about two years because of the pandemic.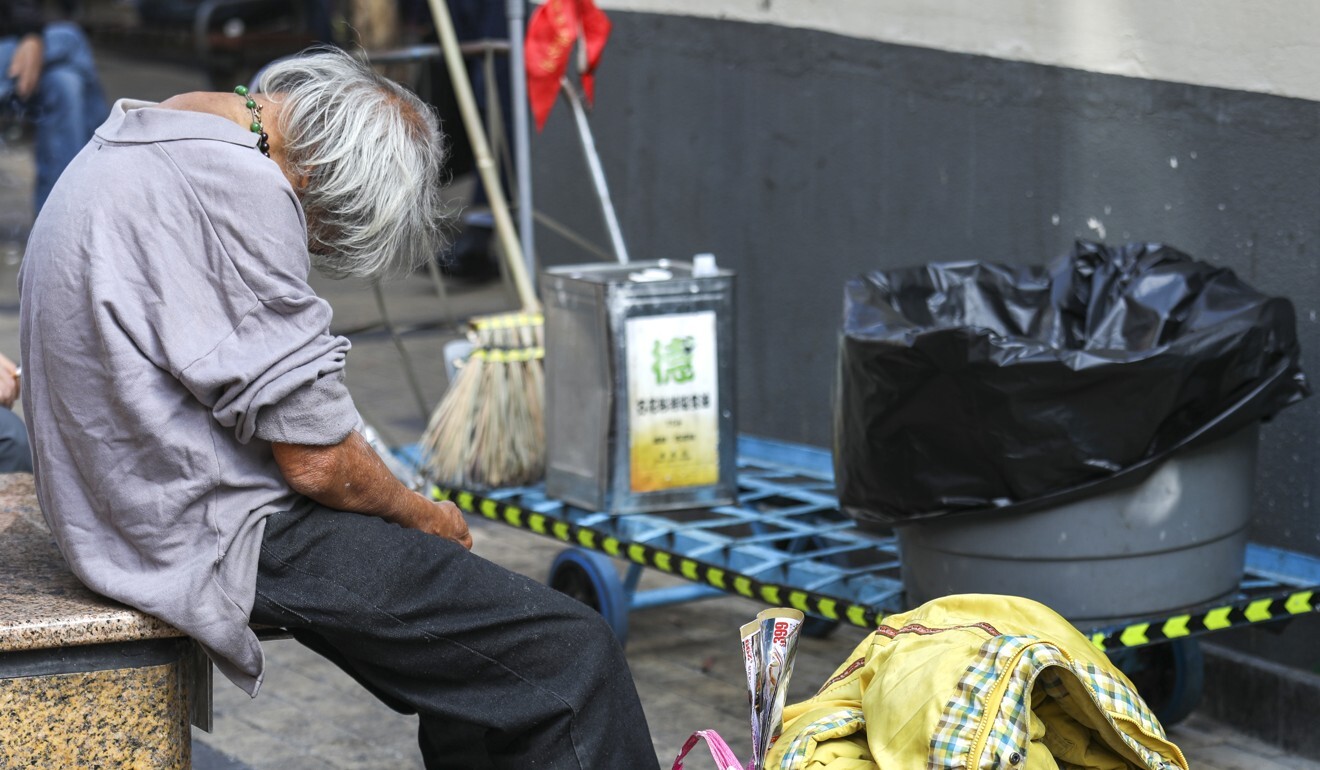 More calls for help during pandemic
Although there are no figures available, there are regular media reports of elderly people dying alone from illness, injury or suicide.
According to suicide prevention group the Samaritan Befrienders Hong Kong, Coroner's Court data showed a total of 1,019 suicides last year, with people aged 60 and above accounting for 438, or 43 per cent of the total. The number of elderly suicides was the highest for this age group since records started in 1973.
With the city's
greying population
, social workers and experts warn that the number of lonely deaths is poised to rise unless more is done to recognise the needs of the elderly and provide new services.
The number of Hongkongers aged 65 and above is expected to rise from 1.32 million in 2019 to 2.52 million in 2039, and 2.58 million in 2069, according to official projections.
That means more than one in three residents will be elderly.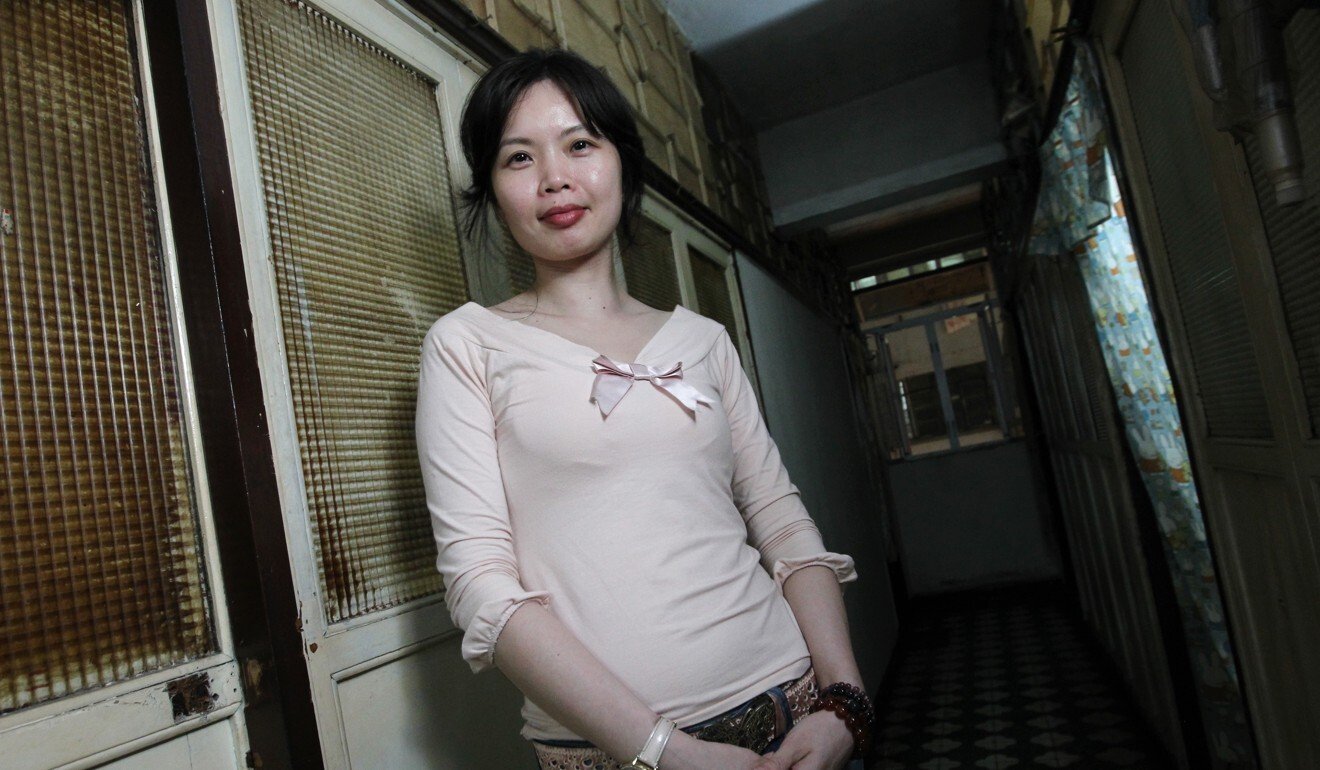 The 2016 by-census found 152,536 elderly residents living alone, accounting for about 13 per cent of the total ageing population of about 1.2 million aged 65 and above. There were also more than 293,000 elderly people who lived with only their spouse.
Sze Lai-shan, deputy director of the Society for Community Organisation (SoCO), says most of those who live alone are in public housing units, and are either single without children, or have children who do not live with or support them.
Some have been waiting years for a spot in government-subsidised care homes. They are put off by inferior services in low-cost private care homes, but cannot afford better.
Sze says that those living alone and without carers face greater risks to their physical health and may not receive medical treatment in time. Some are depressed and give up on themselves, she says.
"They fear that no one will even know if they die," she says.
Ivan Lin Wai-kiu, a SoCO community organiser who works with the elderly, says he received more calls during the pandemic, when some needed to be accompanied to hospital and others were just looking for social connection amid fewer activities and visits by family members.
The Senior Citizen Home Safety Association, which provides elderly support services including the 24-hour emergency hotline Care-on-Call, also received more calls during the pandemic from elderly people living alone.
They included people asking for an ambulance and help to get their homes cleaned, although some needed emotional counselling.
Long wait for places in care homes
Tsang Siu-ha, senior crisis counsellor of Samaritan Befrienders Hong Kong, recalls the case in June of a woman in her 60s, who lived alone and was suicidal.
The widow used to live with her only son, but after he got married and moved out, she was alone in a public housing flat in New Territories East.
Her son's visits became fewer through the pandemic, leaving her feeling lonely and abandoned. Tsang says the woman often stared at the windows of her flat and felt the urge to jump.
"Elderly people living alone are overwhelmed by a strong sense of loneliness. They question their self-value and the point of living," she says.
Between June and July, the Samaritan Befrienders interviewed 613 people aged 60 and above and found that 91, or 15 per cent, felt very bad or not good mentally, including 25 with suicidal thoughts.
Many said they had low self-esteem, felt very lonely and lacked meaning in life, mainly because of their health conditions and the state of society.
Clarence Tsang Chin-kwok, executive director of the organisation, says the pandemic played a part in last year's surge in elderly suicides, as
social-distancing
measures meant the elderly met their family and friends less frequently than before.
"They experienced an increased sense of loneliness, and felt more disconnected with society during the pandemic," he says.
In Hong Kong, with its greying population, older people contemplate suicide because of chronic health conditions, the struggle to adapt to retirement, and feelings that they are a burden to family and society.
Tsang says many do not seek help because they are reluctant to bother others.
With Hong Kong's ageing population and a substandard elderly care system, experts warn the problem of lonely deaths may only worsen.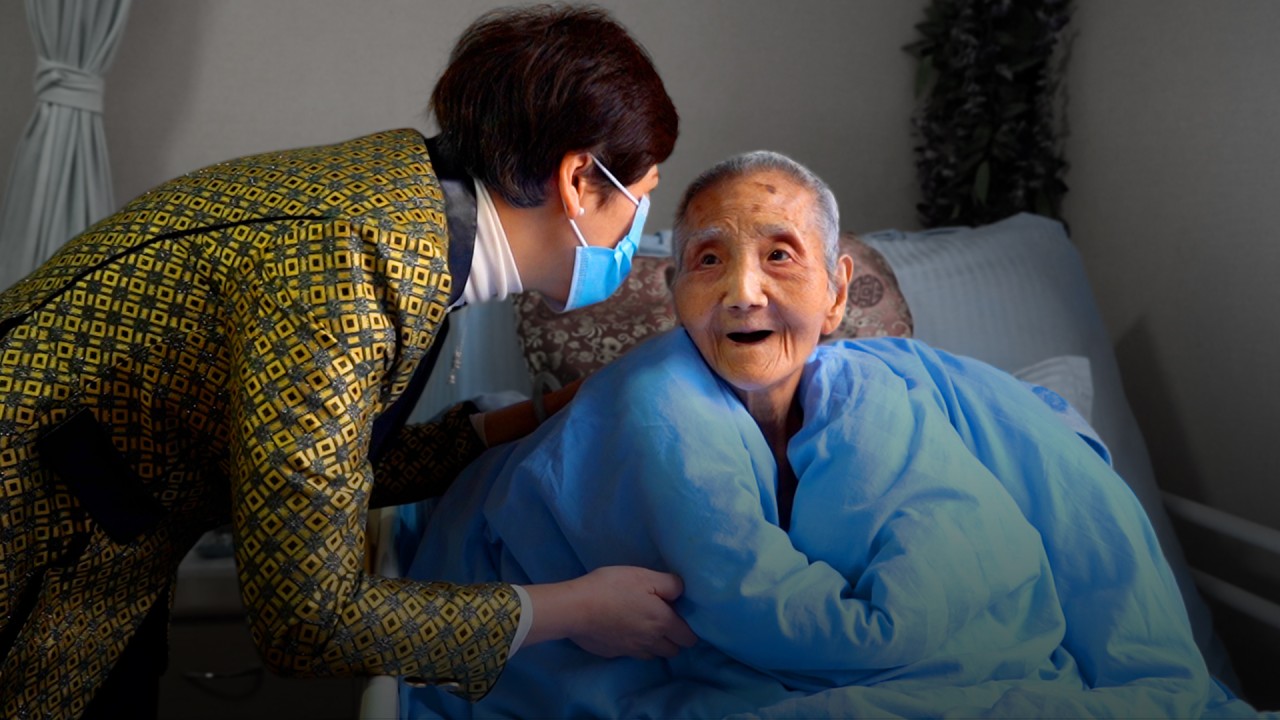 13:30
Chinese woman couldn't find suitable nursing home for elderly parents, so she opened one
Chinese woman couldn't find suitable nursing home for elderly parents, so she opened one
Tsang says the government's population policy should do more to consider the medical needs of the elderly and improve their medical care, such as home visits by doctors.
According to the Social Welfare Department, there were 34,742 places in residential care facilities for the elderly, including 29,533 subsidised and 5,209 non-subsidised places in Hong Kong as of June.
Statistics show that 7,024 elderly people died last year while waiting for a subsidised placement.
SoCO's Lin says the city is so short of subsidised residential care places that those in the queue have to wait more than three years.
He urges the government to improve community care services for those living at home, including meal delivery, home cleaning and showering.
He also suggests providing more support and allowance for carers as incentives for them to take in the elderly and tend to them.
Professor Paul Yip Siu-fai, associate dean of the faculty of social sciences and director of the Centre for Suicide Research and Prevention at the University of Hong Kong, says one key is to proactively reach out to the "hidden elderly".
"We need to recreate a safety net for them, and reconnect them to the community," he says.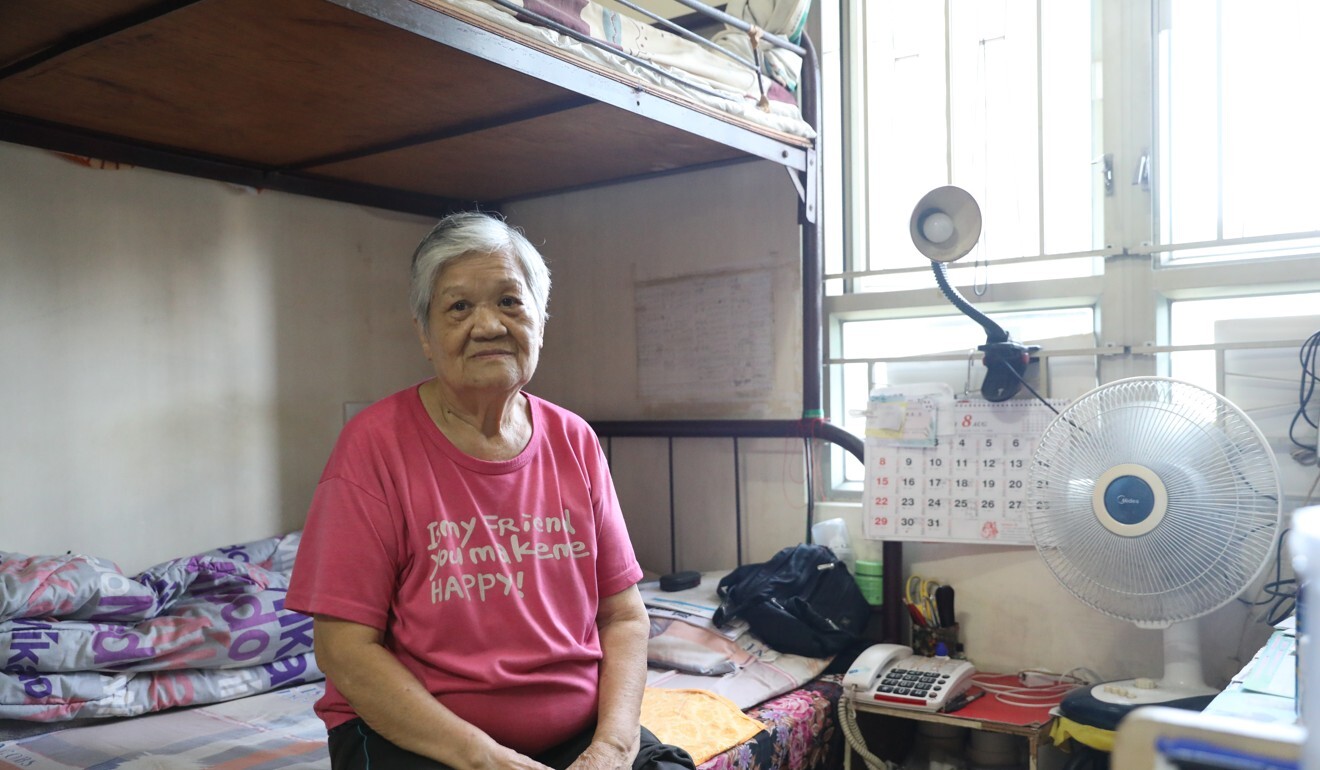 Living alone with dementia
These days, Lau Sau-kam, 81, takes a chair to the kitchen and sits there, keeping an eye on the food she is cooking over the gas stove, in case she forgets.
Several times now, she has left food on the stove and forgotten about it until neighbours smelled something burning and knocked on her door.
Lau was diagnosed with dementia about two years ago, and her memory has deteriorated since then.
Divorced more than 10 years ago, the Hongkonger lives alone in a public housing unit in Sham Shui Po. She has a married daughter who lives in the city with her family and sometimes takes her out for Sunday yum cha lunch, but nothing more. Her son lives on the mainland and is seldom in touch.
Two years ago, she passed out at the bottom of her block after a fall, and a security guard who found her called an ambulance.
She was admitted to hospital with injuries to her arms and legs. She says that for weeks after returning home, she just lay on her bed with no one by her side. Even the few steps to the toilet was hard, so she used a bucket she kept nearby.
Lau says she used to attend activities at community centres and churches, but the pandemic put an end to that. She stays at home mostly now, playing card games to keep her spirits up.
She writes down everything from hospital appointments to close contacts on scraps of paper she keeps by her bedside. But still, it takes time for her to find her daughter's number, and sometimes she forgets how to write Chinese characters.
"Living alone is hard, but I have no one to rely on but myself," she says.