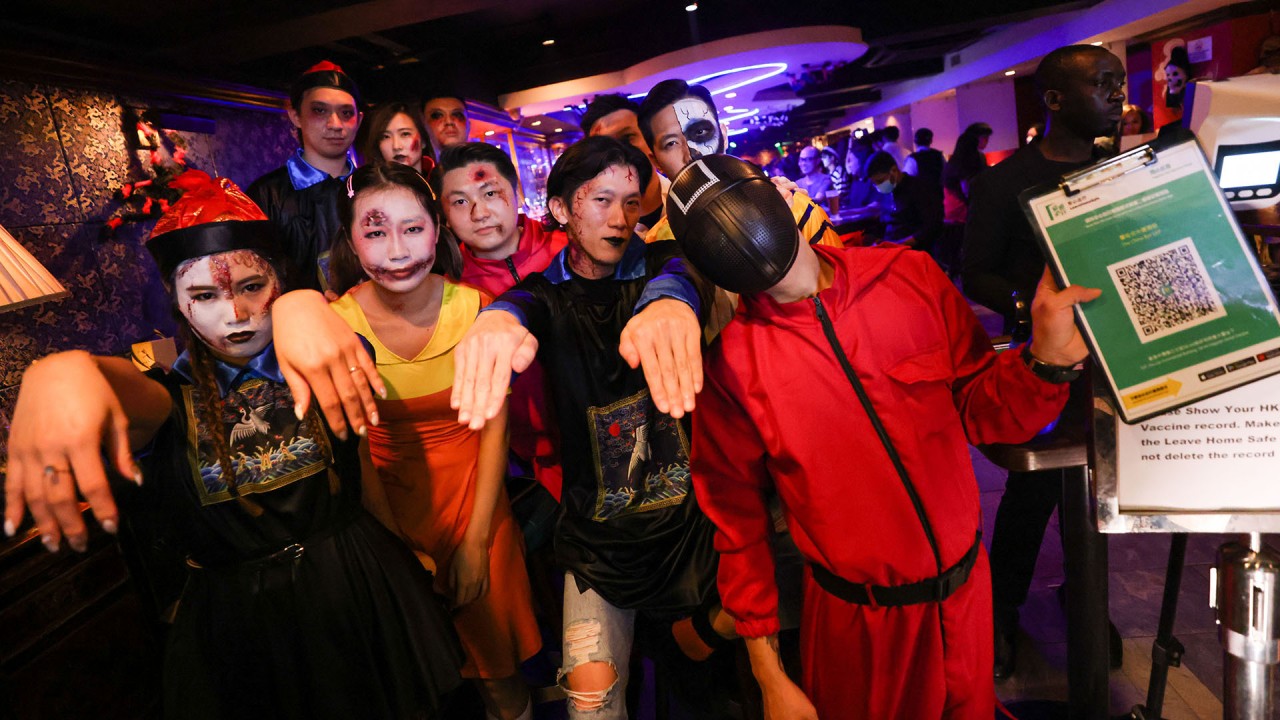 02:47
Halloween in Hong Kong: revellers descend on Lan Kwai Fong for frights and frolics
Halloween in Hong Kong: revellers descend on Lan Kwai Fong for frights and frolics
Squid Game costumes all the rage for Hong Kong Halloween revellers in Lan Kwai Fong nightlife hub
Thousands throng streets on night before Halloween, many dressed in elaborate costumes and drawing crowds of photo-takers
Businesses revert to speciality attractions to pull in customers, rather than opting for discounts like last year, trade group says
Squid Game
costumes – guards, contestants and a creepy doll from the hit Korean drama series – dominated the Hong Kong nightlife hub of Lan Kwai Fong on Saturday, although prop guns were not part of revellers'
Halloween
outfits after a police warning.
Thousands thronged the streets on the night before Halloween, many dressed in elaborate costumes and drawing crowds of photo-takers even as a heavy police presence kept the flow of people moving.
Police had warned revellers to observe social-distancing rules and not to break firearms laws by bringing along fake weapons, after noting many might wear costumes from Squid Game, in which masked guards in reddish-pink jumpsuits carry guns.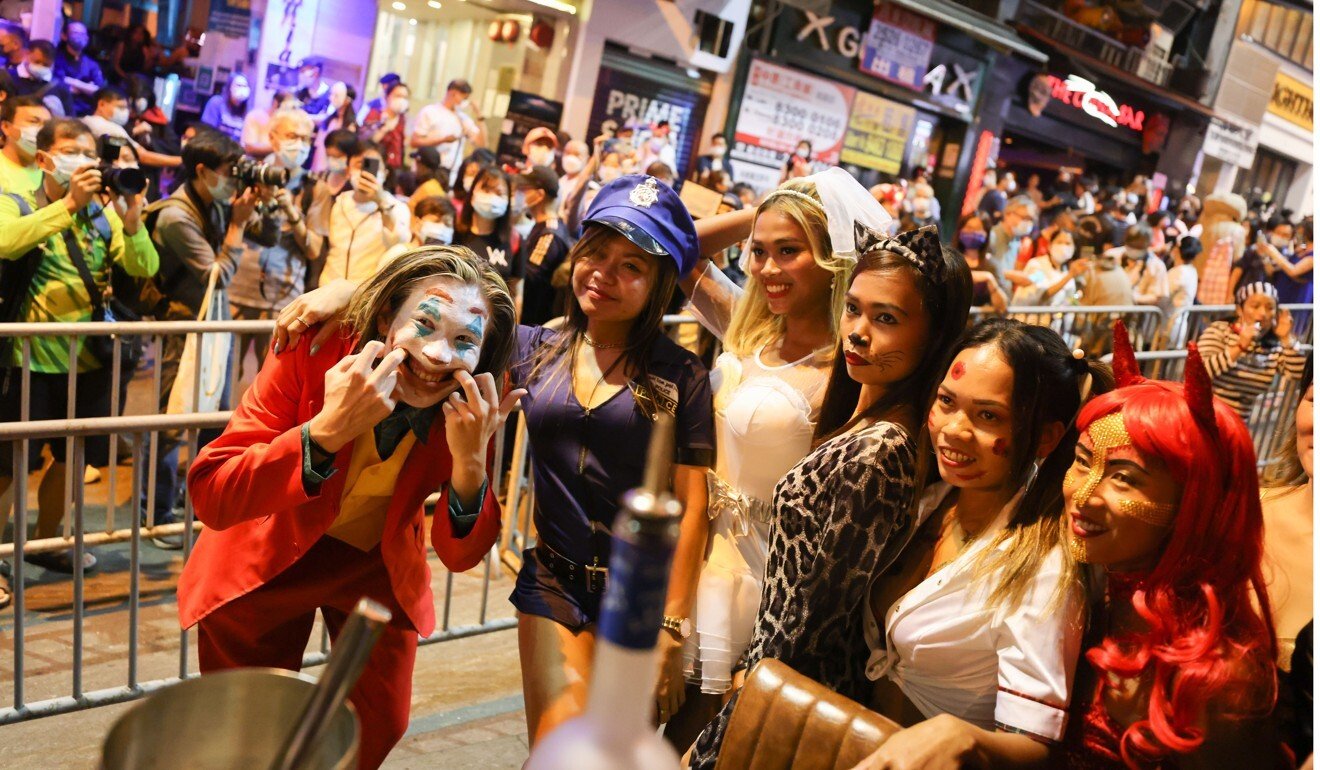 About 1,000 officers would be deployed around the area each night from Friday to Sunday.
Special constables – personnel recruited from the five other disciplined services to help police since the anti-government protests in 2019 – were also deployed.
Three girls dressed as Squid Game guards said they were used to a heavy police presence at public events and one, despite the warning, carried a water gun.
"The police warning is a bit arbitrary and unclear since it doesn't clarify which 'weapons' are okay and which are not," said one, who only wished to be known as "Triangle" after the symbol on her mask.
Police officers did not appear to stop partygoers with fake medieval weapons such as axes, swords and knives.
With the coronavirus situation stable locally, revellers and restaurants noted the bigger crowd this year.
"It's intimidating," said a reveller named Richard. Dressed as a dalmatian from the Disney animated film 101 Dalmatians, Richard, a banker, said it was the most crowded he had seen Lan Kwai Fong in two years.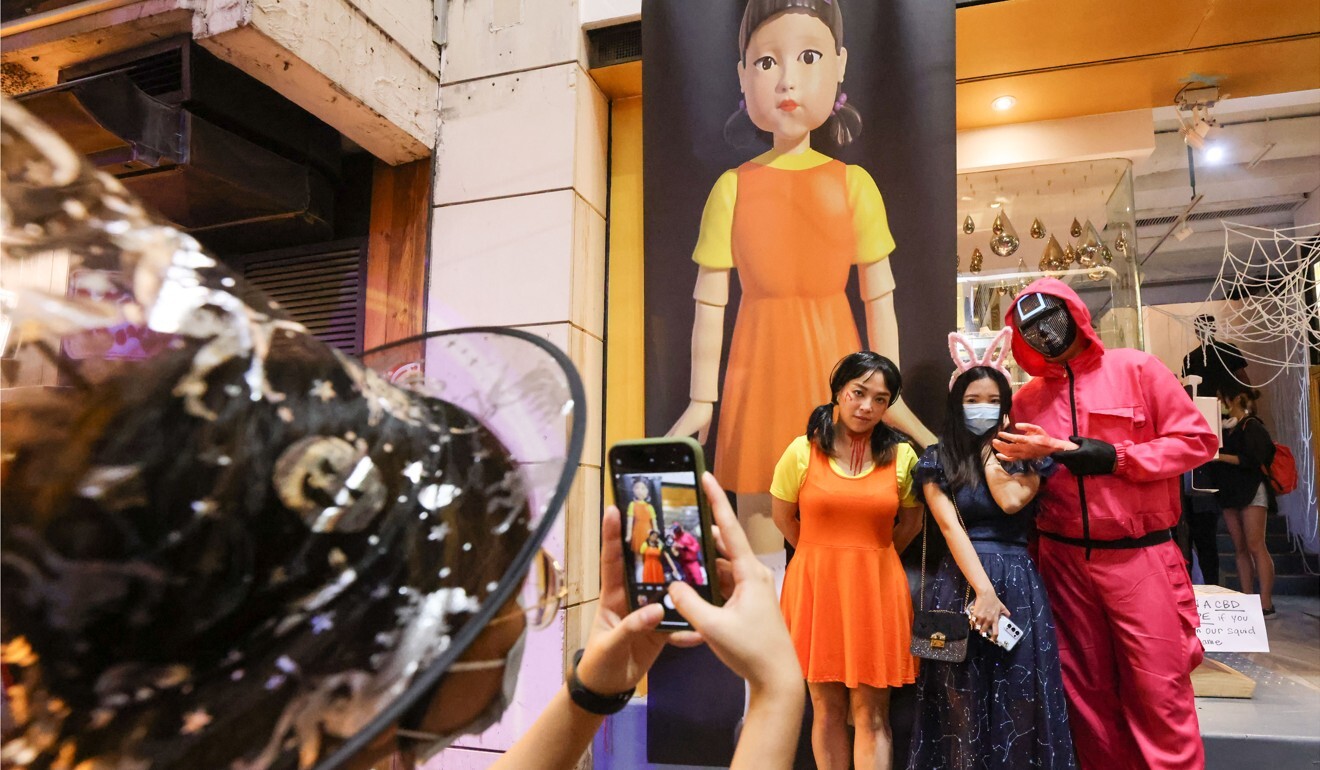 While he and his three friends were happy with the atmosphere, they hoped Hong Kong would adopt a "live with the coronavirus" strategy and relax social-distancing restrictions.
Anthea Cheung, director of the Lan Kwai Fong Association, said businesses had reverted to speciality attractions to pull in customers, rather than opting for discounts like last year.
"Even though the crowds last year were large too, the economy was bad and so prices had to be low," she said.
Bars and restaurants, particularly famous fine-dining establishments, were almost fully booked with corporate clients making a comeback, Cheung said. More hidden venues were about 70 per cent booked.
However, Ravi Beryar, who runs Rula Bula, a street-level bar in Central, said he and some other operators were concerned about how police would handle crowd control, particularly after several other establishments were hit with a 14-day closure after a few customers were found to have not used the government's "Leave Home Safe" risk-exposure app or shown a fake vaccination record.
"There's been concern with any bookings for today and tomorrow as we just don't know how police will handle crowds in the streets or venues with crowds," Beryar said.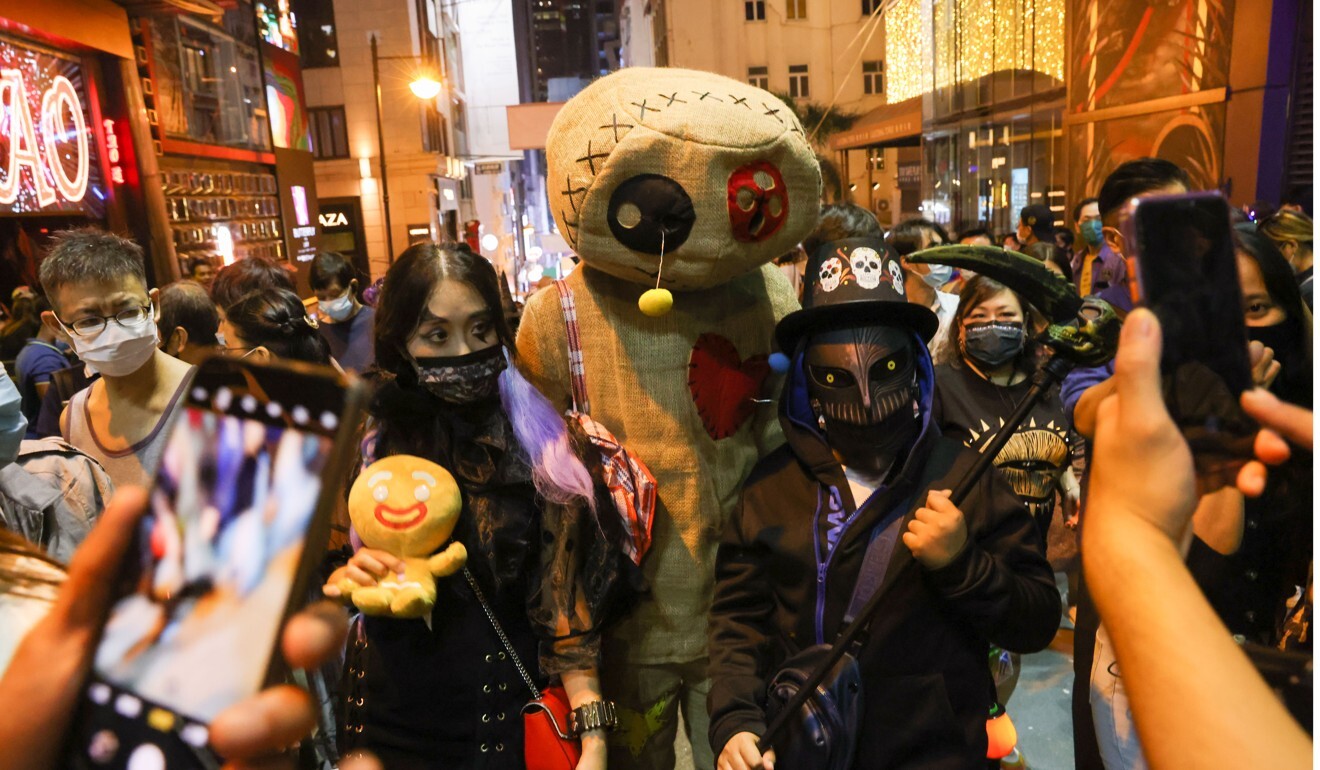 While his bar had bookings for about 50 customers on Saturday, Beryar was cautiously optimistic Sunday night would bring enough revellers to increase business.
However, both Cheung and Beryar noted the need to step up checks on customers' use of vaccination records and the Leave Home Safe app, with Rula Bula hiring extra bouncers "not for security but just to check" patrons were actually using authentic versions of records and apps.
Beryar said he had personally seen some customers try to use screenshots of the app to get in, while others used fake vaccination records.
Cheung urged establishments to also verify vaccination records against a customer's identification to ensure they were real.
Additional reporting by Christy Leung
This article appeared in the South China Morning Post print edition as: Squid Game costumes dominate Halloween