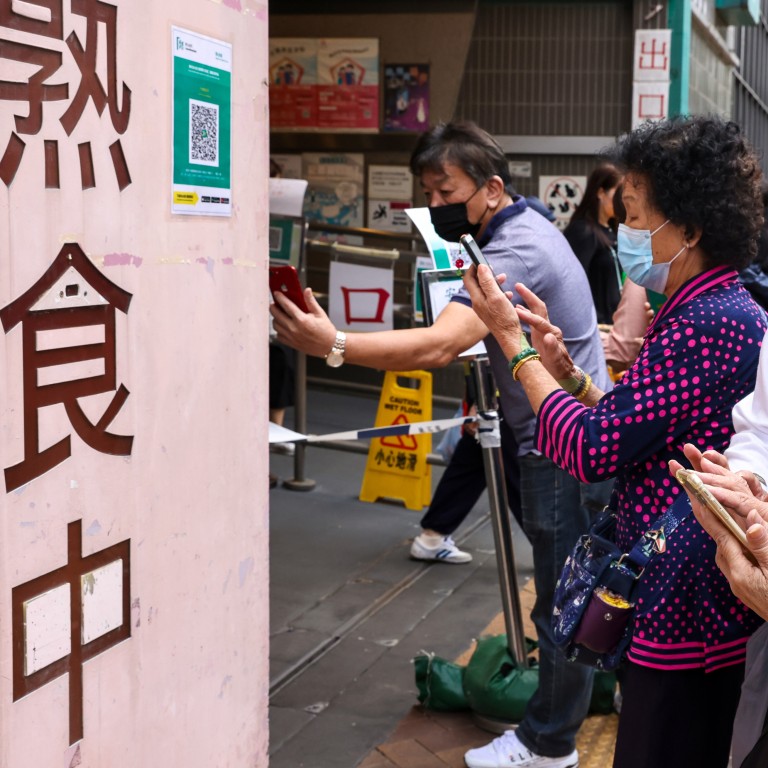 More elderly Hongkongers have smartphones, survey shows, but 'access to such devices does not necessarily mean digital awareness'
Increased smartphone penetration among older residents mainly due to mandatory use of 'Leave Home Safe' app to enter premises, social workers and experts say
Nearly 1 million people aged 65 and above had a smartphone in 2021, but more than one in four elderly still without device, report reveals
More elderly Hongkongers had access to smartphones last year, according to an official survey, but observers warn that owning such devices does not necessarily make them digitally smart.
The increased smartphone penetration among the city's older population was mainly due to the mandatory use of a Covid-19 contact-tracing app to enter various premises including restaurants and government facilities, social workers and experts said.
More than one in four elderly in Hong Kong still did not own a smartphone, according to the thematic household survey report released by the Census and Statistics Department on Thursday.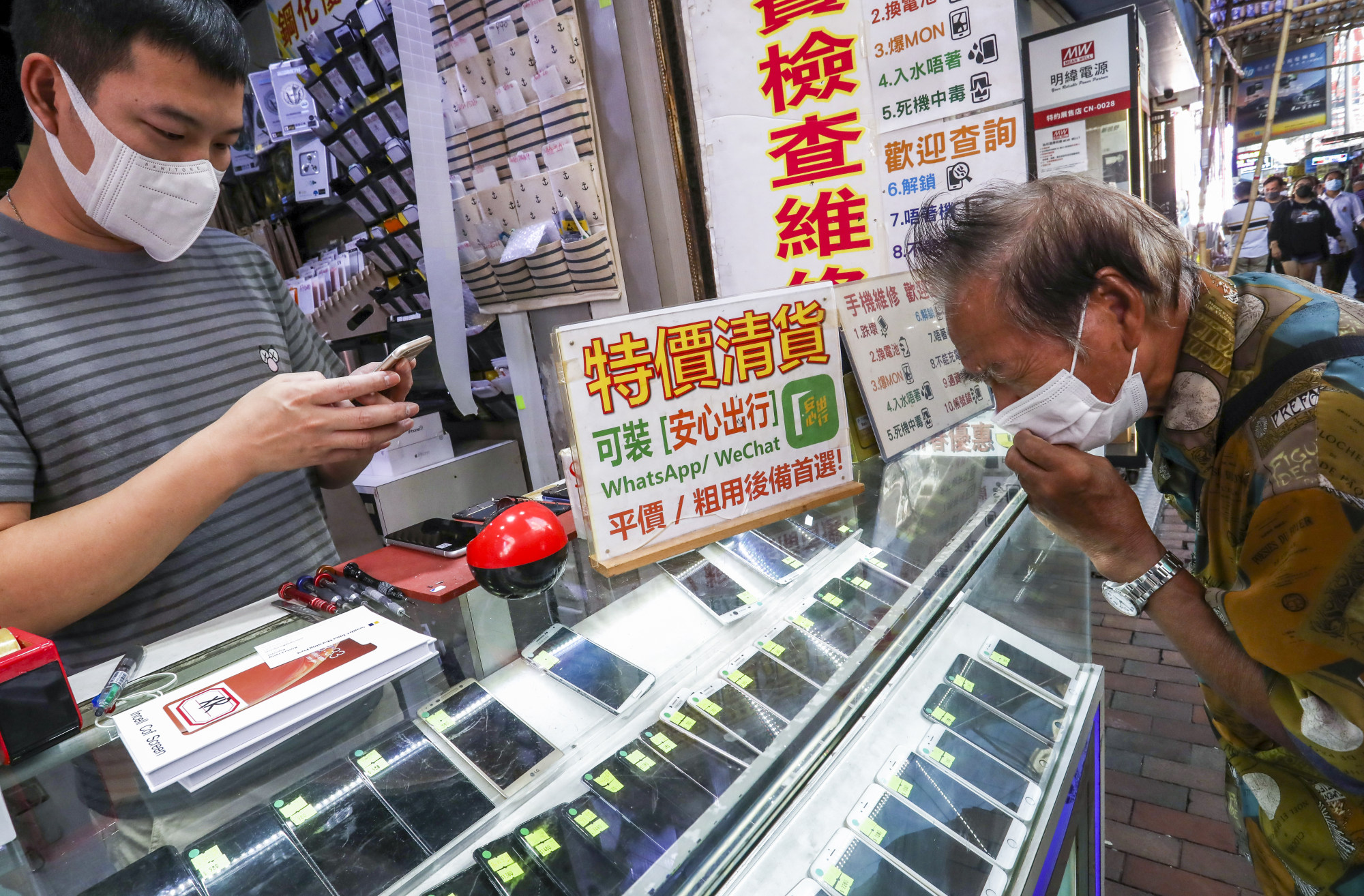 The report showed that nearly 1 million people aged 65 and above had a smartphone in 2021, accounting for 73 per cent of the total elderly population, up from 68.1 per cent a year earlier.
The survey, conducted between April and July last year, found the overall popularity of smartphones in Hong Kong also continued to increase, with about 6 million people aged 10 and above having a smartphone in 2021, or 92.9 per cent of the total. The rate was up from 92.1 per cent in 2020.
Many elderly residents flocked to buy smartphones after the government introduced the "Leave Home Safe" risk-exposure app in November 2020 and made it mandatory for people to scan a QR code using the app to enter various premises.
Some organisations also donated devices to the underprivileged elderly who could not afford one.
Francis Fong Po-kiu, honorary president of the Hong Kong Information Technology Federation, said the mandatory use of the app was a major incentive for elderly residents to get smartphones.
He said although it started with the use of the app, the elderly would gradually learn to use other functions on the devices, including watching videos and using social messaging apps to stay connected to families and friends, especially during the pandemic.
"This will help improve their quality of life, and also speed up the city's 'digital inclusion' in the long run," he said, adding the smartphone penetration among the elderly would keep growing.
But Ivan Lin Wai-kiu, a community organiser of the Society for Community Organisation who works with the elderly, said despite more older residents owning smartphones, many still did not know how to use them. Some had to pay others to help them upload their vaccination records, which also risked exposing their personal information to strangers.
"Having a smartphone is one thing, but knowing how to use it is another," he said.
Lin said many elderly residents, especially the underprivileged, still did not have a smartphone, pointing to affordability and difficulty in using the devices as possible reasons. He called it "digital inequality".
Lin urged the government to enhance support for older residents, including allocating dedicated workers to teach them how to use digital devices at centres for the elderly, and providing allowances for them to pay for devices and an internet connection.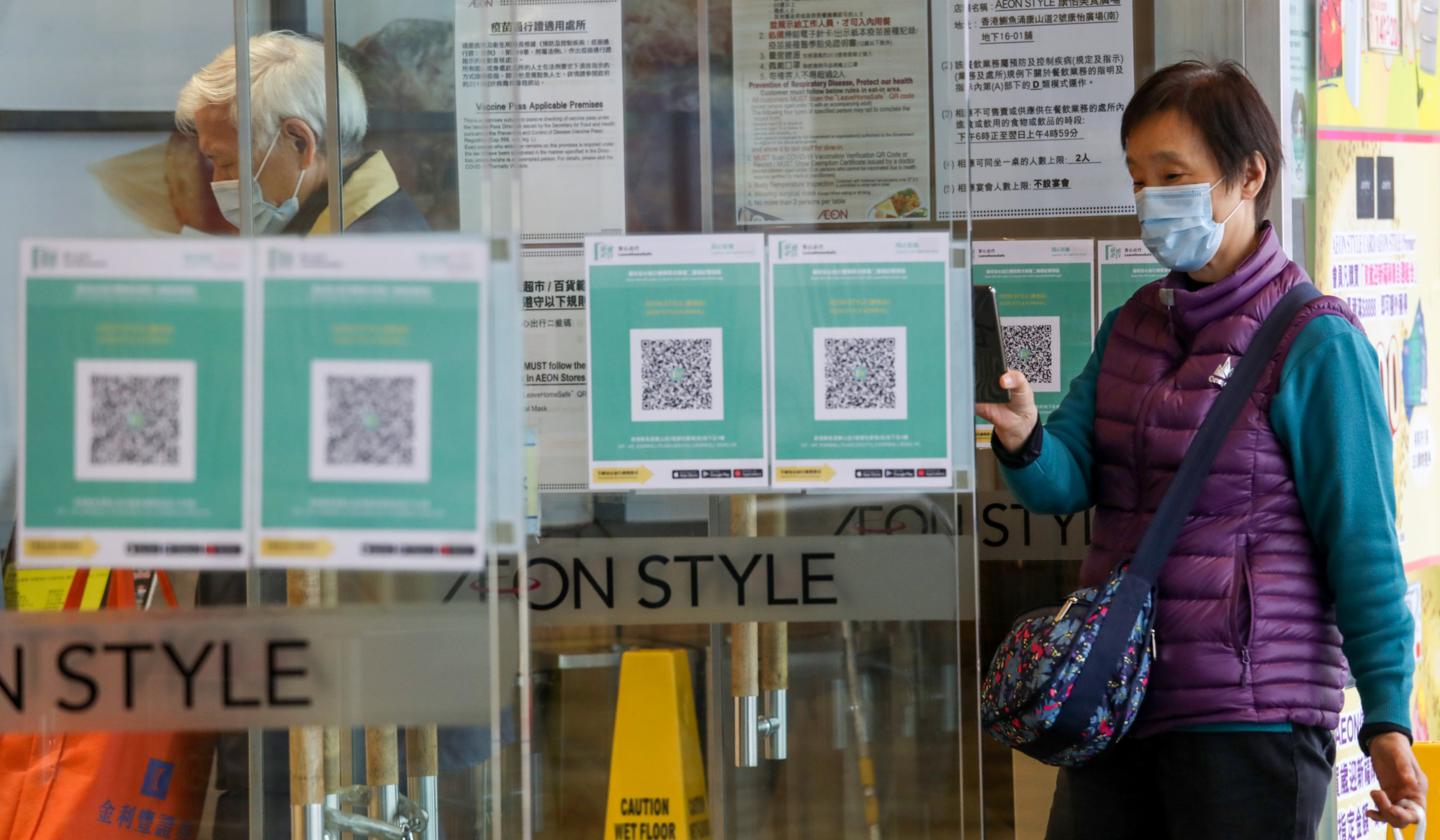 Retired garment seller Luk, 88, said she and her husband, 89, had never owned a smartphone, relying on a mobile phone with simple call functions.
The couple live in a flat in a dilapidated tenement building and survive on monthly government allowances for the elderly of about HK$8,000. They have an estranged daughter who seldom visits them.
Luk said without a smartphone, she could not dine in restaurants or go shopping at supermarkets. The couple had to eat at home and buy groceries at roadside stalls which did not require use of the "Leave Home Safe" app.
"Without a smartphone, I have faced many difficulties in daily life during the pandemic. But I simply can't afford one and do not have anyone to teach me to use it," she said.