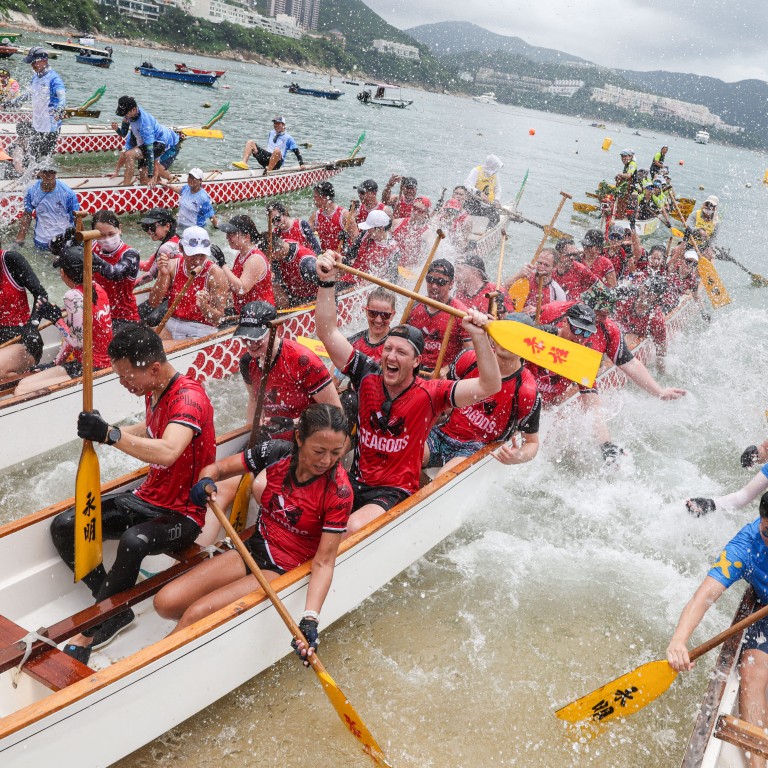 Hong Kong's Stanley beach welcomes back annual dragon boat race after 2-year pandemic hiatus
This year's event less packed because of pandemic control measures, but revellers are undeterred from soaking up sun, sand and sea
From 8am to 2pm, 33 teams comprising about 700 rowers will compete in 30 rounds
Dragon boat racing returned to scenic Stanley and Tai O in Hong Kong on Friday for the first time in two years amid the coronavirus pandemic as hundreds of rowers and revellers flocked to the beach to soak in the festivities under the sweltering heat.
The glaring sun and a temperature of more than 30 degrees Celsius did not deter some 700 dragon boat enthusiasts from competing in the event, which kicked off at Stanley Main Beach at 8am.
Apart from Stanley, another place on Friday hosting Dragon Boat Festival events was Tai O on Lantau Island, where a century-old water parade ritual was held in tandem with races.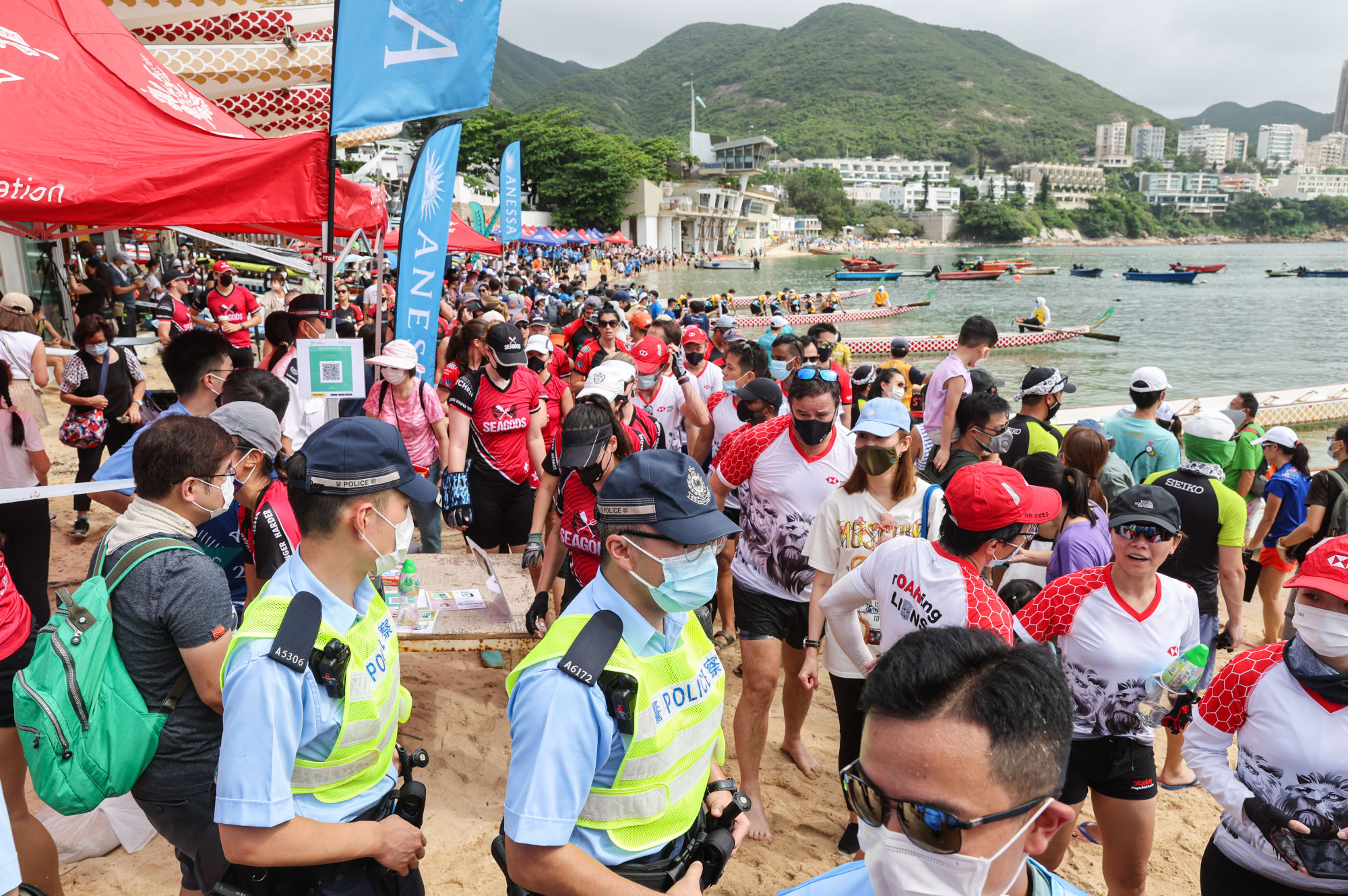 Tai O Rural Committee chairman Ho Siu-kei said about 1,000 people lined up along the esplanade of the Tai O typhoon shelter starting from 11am.
"We are so grateful that we are able to hold the water parade and the race again, weather is good, and visitors and locals have a great time," he told the Post.
At Stanley, participants rotated in various rounds of the competition as teammates onshore cheered, while others waded in the waters to prepare for their turn.
"It's nice to be back racing again after so long. The last two years have been a bit strange," said toxicologist James Wakefield, 42, from the Loreley Dragon Boat Team who has been joining the annual race for eight years. "Obviously it's nothing like the one in 2019, the last time we were able to have a big corporate race."
Because of the pandemic, organiser Stanley Dragon Boat Association had for the past two years suspended its flagship event in place of smaller-scale boat parades and games.
Friday's race was an unofficial one as the Stanley Dragon Boat Championships has been postponed to October this year and the Hong Kong Dragon Boat Short Course Races will be held in mid-June.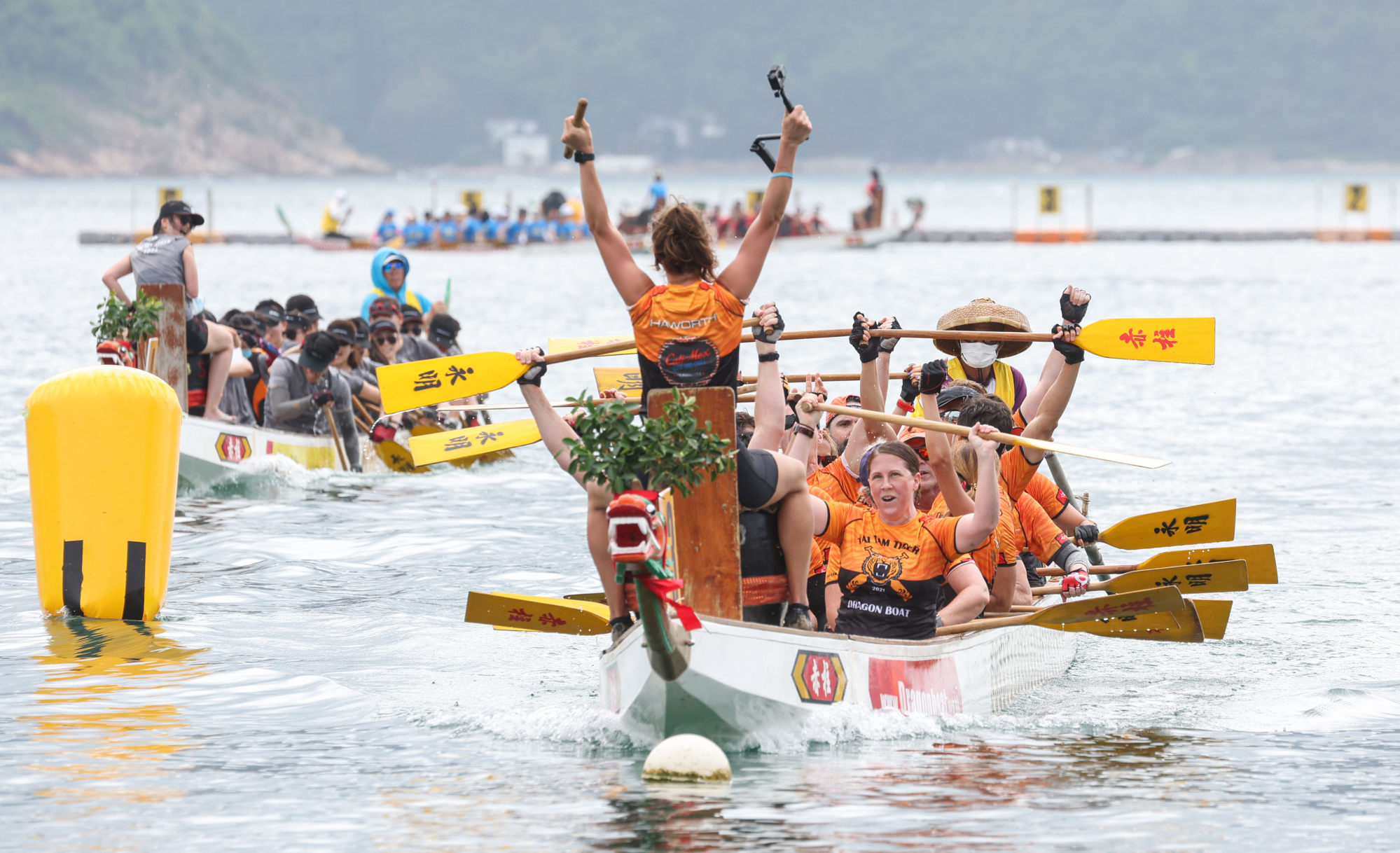 From 8am to 2pm, 33 teams comprising about 700 rowers competed in 30 rounds. All participants were required to use the official "Leave Home Safe" risk-exposure app, with the organiser reminding competitors to wear masks after finishing the race. A number of police officers were also seen around the beach.
Participants and spectators said there were fewer people compared with previous years, when 180 to 200 teams worldwide would converge on the beach with greater fanfare.
"In 2019, there were hundreds of teams here so it was a very different atmosphere because then you couldn't even see the sand," Wakefield said. "Actually it's nicer now as it's a bit more relaxed and we've got some space for our warm-ups."
Amaury de Rivaz, 35, from Green Tigers, the corporate team of French bank Crédit Agricole, said the atmosphere was comparable to previous events despite the smaller crowd.
"There are fewer members of the public but you can see more people coming and it's still early in the day. I think more people will start to come to see the finals," he said at his eighth race outing. "The competition is still enjoyable because there are very good teams here."
But retiree Wong Yin-chung, 73, who had been taking photos of the race in Stanley for nearly 10 years, said the excitement this time round was muted.
"Back then, there used to be many people wearing costumes, masks and make-up, which made it very festive and merry," he said. "After social-political events and the pandemic, I'm very happy that the race came back this year."
To facilitate visits to Stanley, the frequencies of franchised bus routes 73, 260, 973, 14 and 65 were ramped up depending on demand, while special route 73S provided one departure from Stanley Village to Ocean Park at 5.15pm.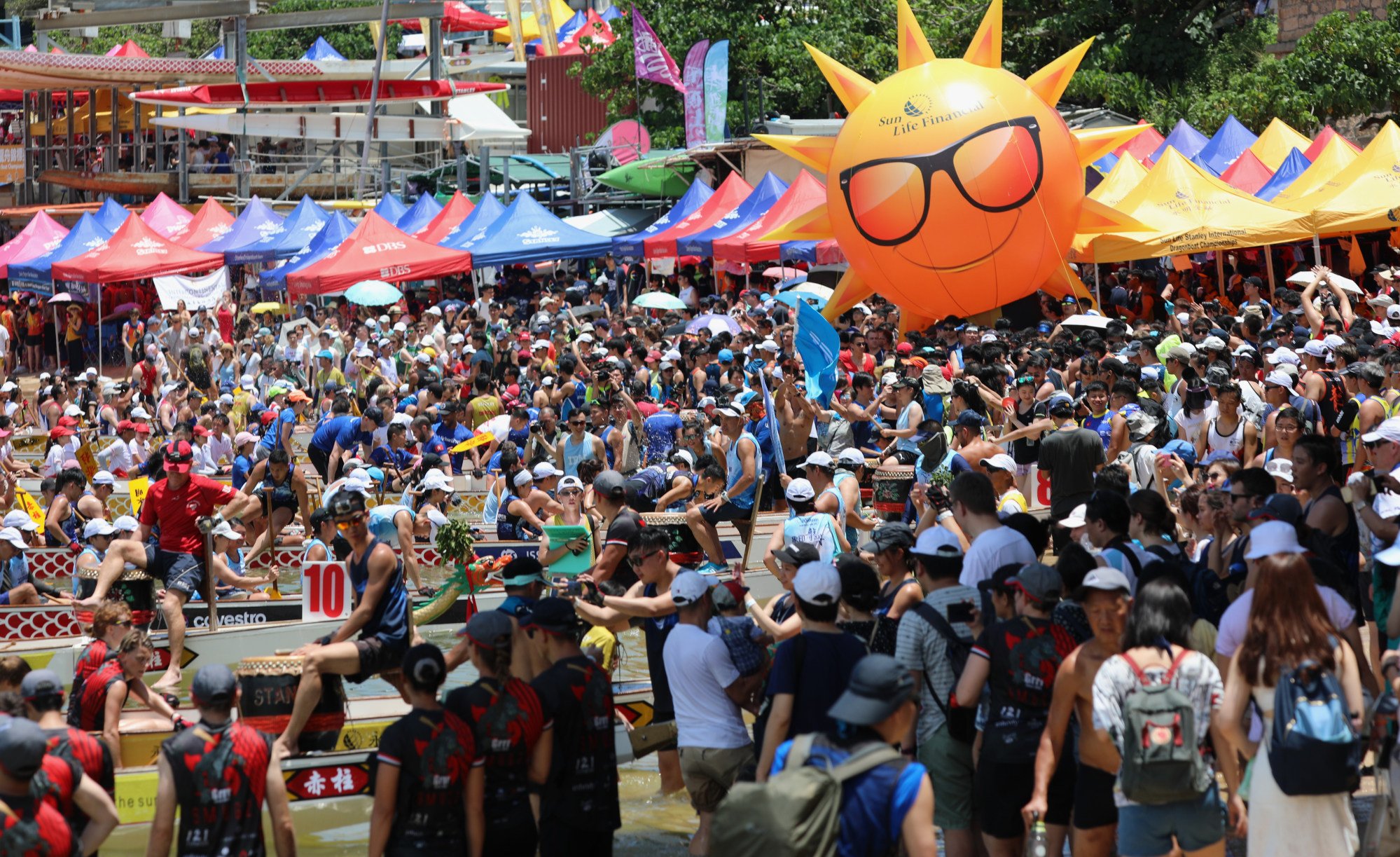 The Dragon Boat Festival or Tuen Ng public holiday falls on the fifth day of the fifth month in the lunar calendar. To observe the occasion, many Chinese people eat rice dumplings and pay homage to the poet Qu Yuan from China's Warring States period (475-221BC).
According to legend, Qu hurled himself into a river after being exiled, disillusioned with the plight of the government. Villagers sailed their boats, splashed their paddles, played drums and threw rice into the water to keep fish from consuming his body.
Finance worker Chris Smith*, 32, who moved to Hong Kong from the United States in 2020 and competed in the race for the second time, said on Friday he was glad to be part of Chinese culture.
"It's nice that the tradition lines up with the event," he said. "I think it's nice to be exposed [to the culture] … I love to hear about the [festival's] backstory. I was raised on Greek mythology. I enjoy Hawaiian and Chinese mythologies as well."
Elsewhere on the beach, a woman who only gave her name as Wai, said she was there with her husband and two sons, aged eight and two, to learn about tradition and enjoy the activities.
"Being Chinese, we need to learn about such festivals. If not, [these traditions] may be lost," she said. "A few years ago, there were so many people that they had to stand near the water. When we left, we almost could not get out."
She added that she was not very worried about Covid-19 risks as long as people wore masks and complied with social-distancing rules.
*Name changed at interviewee's request
Additional reporting by Denise Tsang