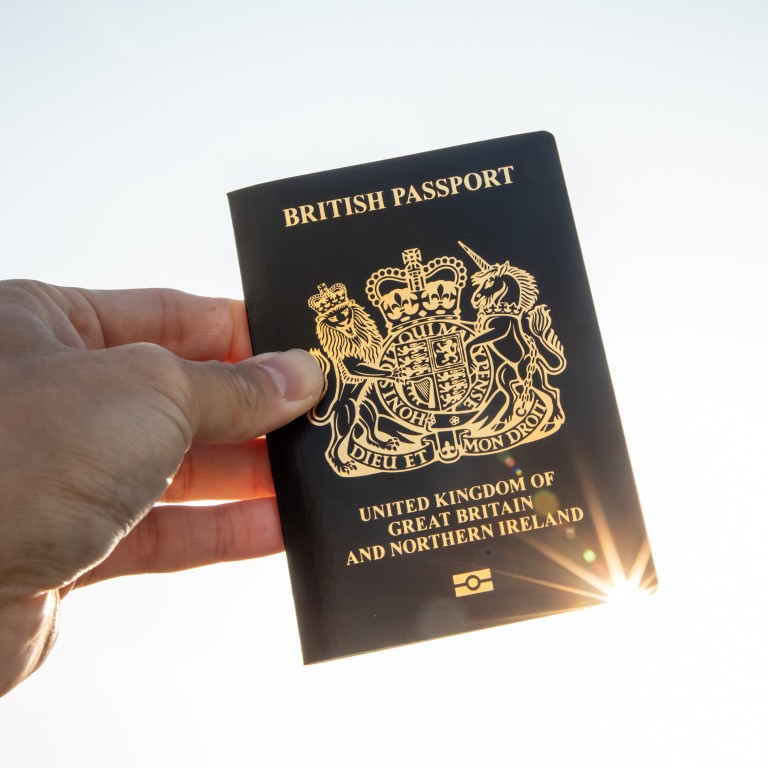 More than 540,000 Hongkongers issued BN(O) passports since 2019 with most approved after UK citizenship scheme unveiled
Freedom of Information request to British government shows 541,873 BN(O) passports were approved for issue between 2019 and 2022, with 58 per cent granted in 2020
Immigration consultants say BN(O) pathway scheme two years ago led to 'enormous increase' in applications for passports over past three years
More than half a million Hong Kong residents have received
British National (Overseas)
passports since 2019, with about 60 per cent of the travel documents approved for issue in 2020, when the UK announced a new pathway to citizenship scheme.
Immigration consultants said the unveiling of the pathway scheme for BN(O) holders two years ago had led to an "enormous increase" in those renewing or applying for their passports in recent years.
The initiative was announced by the United Kingdom a month after Beijing's decision to impose a national security law on Hong Kong in June 2020. The legislation bans acts of secession, subversion, terrorism and collusion with foreign powers.
After filing a Freedom of Information request with the British government, the Post found that 541,873 BN(O) passports were approved for issue between 2019 and 2022, with 58 per cent of the travel documents granted in 2020.
Margaret Szeto, founder of migration consultation company Aura Global, said: "The reason behind the enormous increase in the renewal of BN(O)s between 2019 and 2022 is that many Hongkongers want to have a backup plan for themselves, so that they may leave Hong Kong and migrate to the UK through the BN(O) visa scheme in case of an emergency."
The data indicated that 62,055 BN(O) passports were approved for issue in 2021, while 8,631 have been granted so far this year.
Immigration lawyer Antonia Grant, of the legal firm Baker McKenzie, said residents might have sought the UK travel document when the scheme launched under the misapprehension that applicants needed to hold a physical, active passport.
"An individual can still apply provided that he or she was registered as having BN(O) status within the specific deadline. People may have rushed to apply for the passport on that basis," she said.
The UK government figures also showed an almost eightfold increase in the number of BN(O) passports approved for issue between 2018 and 2019, rising from 19,592 to 154,690.
Between the launch of the visa scheme on January 31 last year up until the end of March, 123,400 Hong Kong residents had applied for the citizenship scheme, with 92 per cent of applicants being approved.
During the first quarter of 2022, the number of Hongkongers applying for the pathway to British citizenship rose by 25 per cent in comparison with the three months that preceded it.
According to the British government, about 5.4 million people among Hong Kong's population of 7.4 million are eligible for the scheme, which allows successful applicants and their dependents to live, work, and study in the UK for up to five years. They can then apply for citizenship after six years.
UK officials had also said they planned to expand the visa initiative in October to accept applications from Hongkongers to independently settle in the country if residents have at least one parent with BN(O) status and were born on or after July 1, 1997.
Immigration data from the Hong Kong government, meanwhile, showed that the number of residents opting to renew or apply for their HKSAR passports increased from 250,896 in 2020 to 312,536 in 2021.
However, Willis Fu Yiu-wai, a senior immigration consultant for Goldmax Associates, said residents could be holding both types of travel documents as a contingency, noting it was common for people to have more than one passport.
"From my point of view, having one more passport is always better, just to 'play it safe'," he said. "We do not know what will happen in the future, especially in regard to the political situation, so renewing the BN(O) is normal."
Fu said he believed most eligible Hongkongers would apply for both HKSAR and BN(O) passports, then opt to use whichever travel document they needed based on the political situation at the time.
Both Fu and Grant also noted that BN(O) passports were widely recognised as valid travel documents.
Last March, local authorities told 14 countries to stop accepting the use of BN(O) passports to apply for working holiday visas.
But officials from Japan, South Korea, Italy and New Zealand, which are among the signatories to the scheme, had told Reuters they still recognised the passport for working holiday applications.
BN(O) passports, however, are not accepted by mainland China, Macau or Hong Kong.
The HKSAR passport is valid for travel to all countries in the world, with 168 locations granting visa-free access or visas-on-arrival to holders of the document.