Nearly 1 in 4 young Hongkongers from low-income families 'lying flat', while some feel hopeless about future, survey shows
Findings show 23 per cent of 100 young people polled have taken to lying flat, but three in five respondents do not want to do so and some say working hard can bring hope
City's housing crisis, scarce job opportunities and limited chances for upward mobility among reasons cited for young Hongkongers lying flat
Nearly one in four young Hongkongers from low-income families have taken to "lying flat", or doing the bare minimum to get by, with some saying they feel hopeless about the future, a survey has found.
The poll, conducted by the Society for Community Organisation (SoCO) from February to May, found 23 per cent of 100 young Hongkongers interviewed opted to lie flat, a phenomenon that swept mainland China last year in which young people reject the rat race and hard work, preferring to earn only enough for their basic needs.
The findings, released on Sunday, showed that the reasons for young Hongkongers to lie flat included choosing to do so of their own accord, being satisfied with the status quo, adapting to the social environment, and having no hope for the future.
The interviewees, aged between 15 and 25, came from low-income families.
University student Kacey Choi, 21, said she had no other option but to lie flat given the city's soaring home prices. Choi, who lives in public rental housing with her family, said she worked during her free time to help support the household, but still could not save up enough to buy a home or rent a place.
"Young people like me are forced to accept the reality," she said. "I feel helpless about the future. I can only resort to lying flat."
However, nearly three in five respondents said they would not lie flat, with some adding that striving for improvement and working hard could bring hope. Others said the unwillingness to make progress would take a toll on a person's mental state, while bowing to the reality and being indolent would hamper the city's social and economic development.
"Although the public has assumed that many young people chose to lie flat, many from low-income families are actually working hard," said Sze Lai-shan, SoCO's deputy director.
"Despite their efforts, they still find it hard to break out of poverty. They feel helpless," she said, adding some had to work for years after graduation to pay off their educational expenses.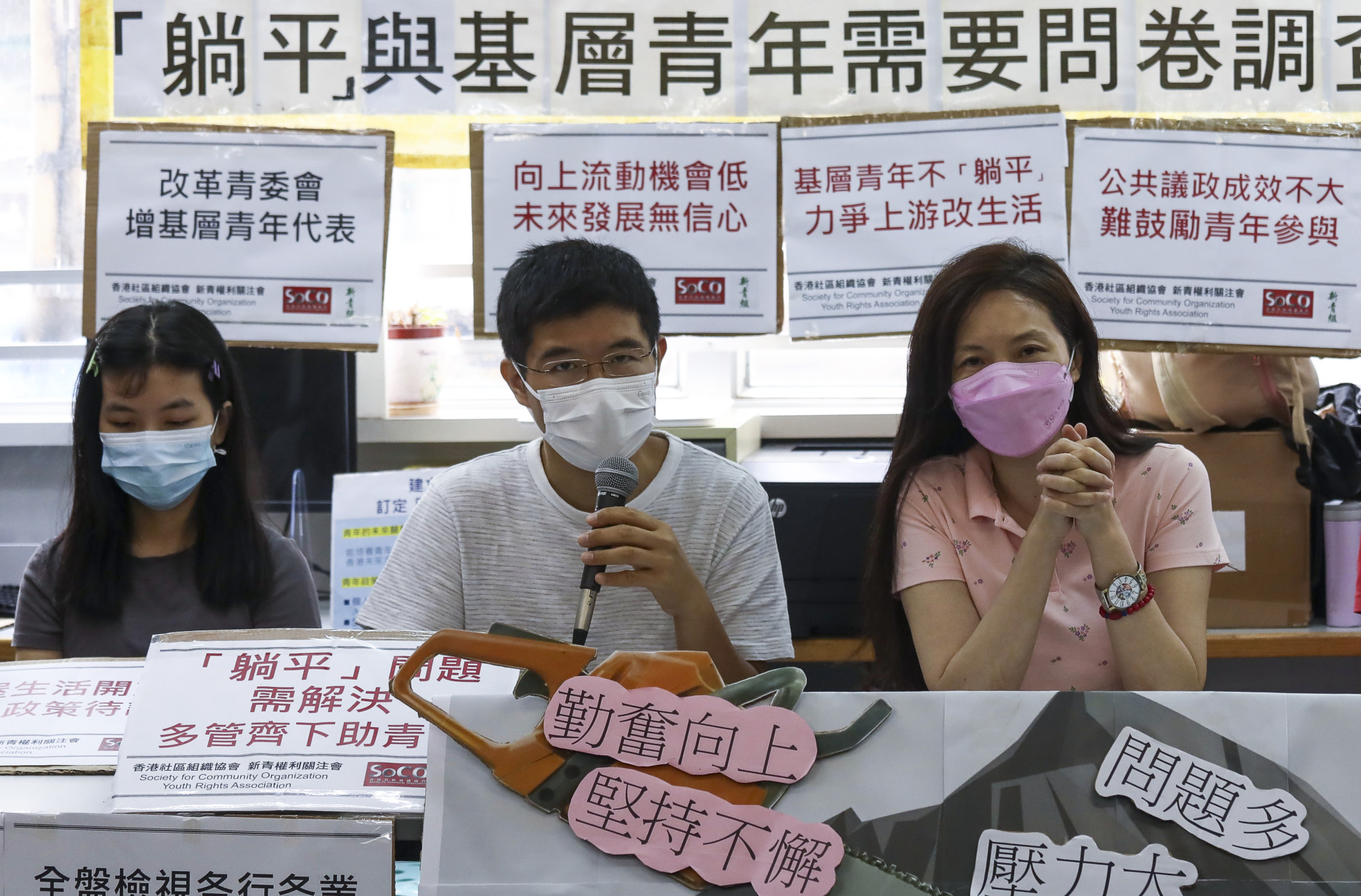 The survey found that nearly eight in 10 respondents said they felt the problem of lying flat, caused by factors such as economic development, personality, educational and political systems, needed to be addressed.
Most of those polled said the city's housing problem, including skyrocketing prices and rents, and long wait time for affordable homes, caused young people to opt to lie flat. Other reasons cited included limited job opportunities and few chances for upward mobility, huge educational expenses and an absence of avenues for participation in public policies.
Hongkonger Vicky Lo, 21, studies traditional Chinese medicine on the mainland, but returns to Hong Kong during summer holidays to work part-time in a warehouse to earn money to pay for about HK$8,000 (US$1,020) a year of her tuition and accommodation expenses.
The third-year student said her father had retired, her mother worked part time at construction sites, and the family survived on the government's Comprehensive Social Security Assistance (CSSA) monthly allowances.
Lo said her part-time work deprived her of time for internships, which she feared would make her less competitive in the job market, but she had no other option.
Despite the hardship, she said: "I don't want to lie flat."
To tackle the issue, respondents suggested the government increase the supply of homes for young people, offer affordable housing and provide free tertiary education.
"Young people are faced with challenges including high home prices, long waiting time for public rental housing and difficulties finding jobs, but the government's support for them is very limited," Sze said.
She called on the government to formulate a concrete youth policy with a specific road map and time frame, provide rent allowances for those waiting for public housing, and offer more hostel and transitional housing units for young people.
Sze also urged the government to boost job opportunities for young Hongkongers, offer educational subsidies and include postsecondary students of low-income families in the CSSA and Working Family Allowance schemes.