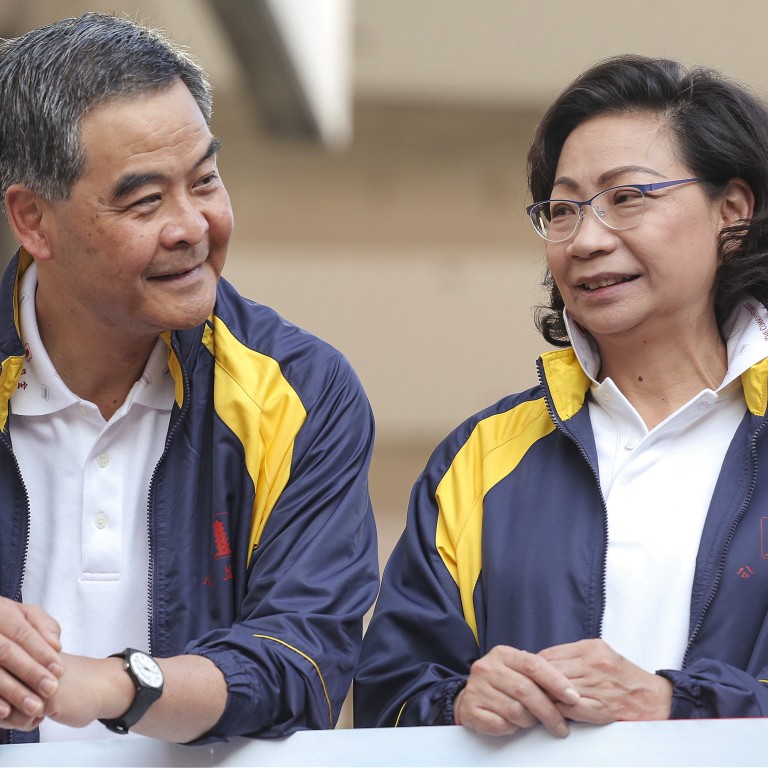 Former Hong Kong leader CY Leung says American Express apologised to wife Regina after suing her over allegedly unpaid HK$93,155 credit card bill
Leung Chun-ying says the incident is 'unusual' and he and his wife will continue to look into it
American Express International claimed Regina Leung had 'refused, failed or otherwise neglected' to settle an outstanding bill of HK$93,155 as of April 28
A former Hong Kong leader has revealed that a credit card company that sued his wife over an alleged outstanding bill has apologised for the inconvenience caused.
But
Leung Chun-ying
on Monday said the incident was "unusual" and that the couple would continue to investigate the circumstances.
The case brought by American Express earlier this month claimed Regina Leung Tong Ching-yee had not settled a HK$93,155 bill (US$11,867) as of April 28.
A writ submitted to the District Court earlier this month said: "Despite the plaintiff's repeated requests and demands for payment including the plaintiff's solicitors' demand letter dated May 4, 2022, [Leung] has wrongfully refused, failed or otherwise neglected to pay and settle the said total sum of HK$93,155.41 … and the late payment charges thereon."
American Express also asked for a late payment charge at a rate of 35.34 per cent a year from April 29 to the date of payment or an alternative interest rate to be set by the court.
But Regina Leung, a solicitor by training, denied she still owed the sum despite repeated warnings to make the payment.
Leung told Chinese-language newspaper Ming Pao on June 9 that she had received a letter from American Express before May that asked her to pay the bill, but the amount was not specified.
She said that after being in contact with the credit card company several times, she had settled the bill in mid-May as requested, and on June 9 had also paid back a few thousand dollars after she got another letter from American Express the week before.
Leung added that she had no idea why American Express had gone down the court route and taken legal action.
Her husband said on his Facebook page on Monday that the company had apologised to her lawyer by email.
He said American Express wrote: "We sincerely apologise for any inconvenience caused to Mrs Leung."
But the former chief executive added: "The matter is unusual. An investigation and pursuit is ongoing."