Mother's cancer episodes spur Hong Kong app developer to use tech to track patients' emotional distress
Patients' mood monitored round the clock by smartphone app using software, artificial intelligence
Early clinical trials have begun on cancer patients, who are vulnerable to depression, anxiety
Hongkonger Cameron van Breda grew up watching his mother deal with three different types of cancer for more than 18 years and knows first-hand that serious illnesses can affect a patient's emotional state and recovery.
That experience led the 24-year-old tech entrepreneur to develop Hollo, a mobile application to track users' moods and levels of distress so that they could receive the help they need.
The idea grew out of a social innovation course he attended at the University of Hong Kong (HKU) in 2019, and his discussions with some of his classmates.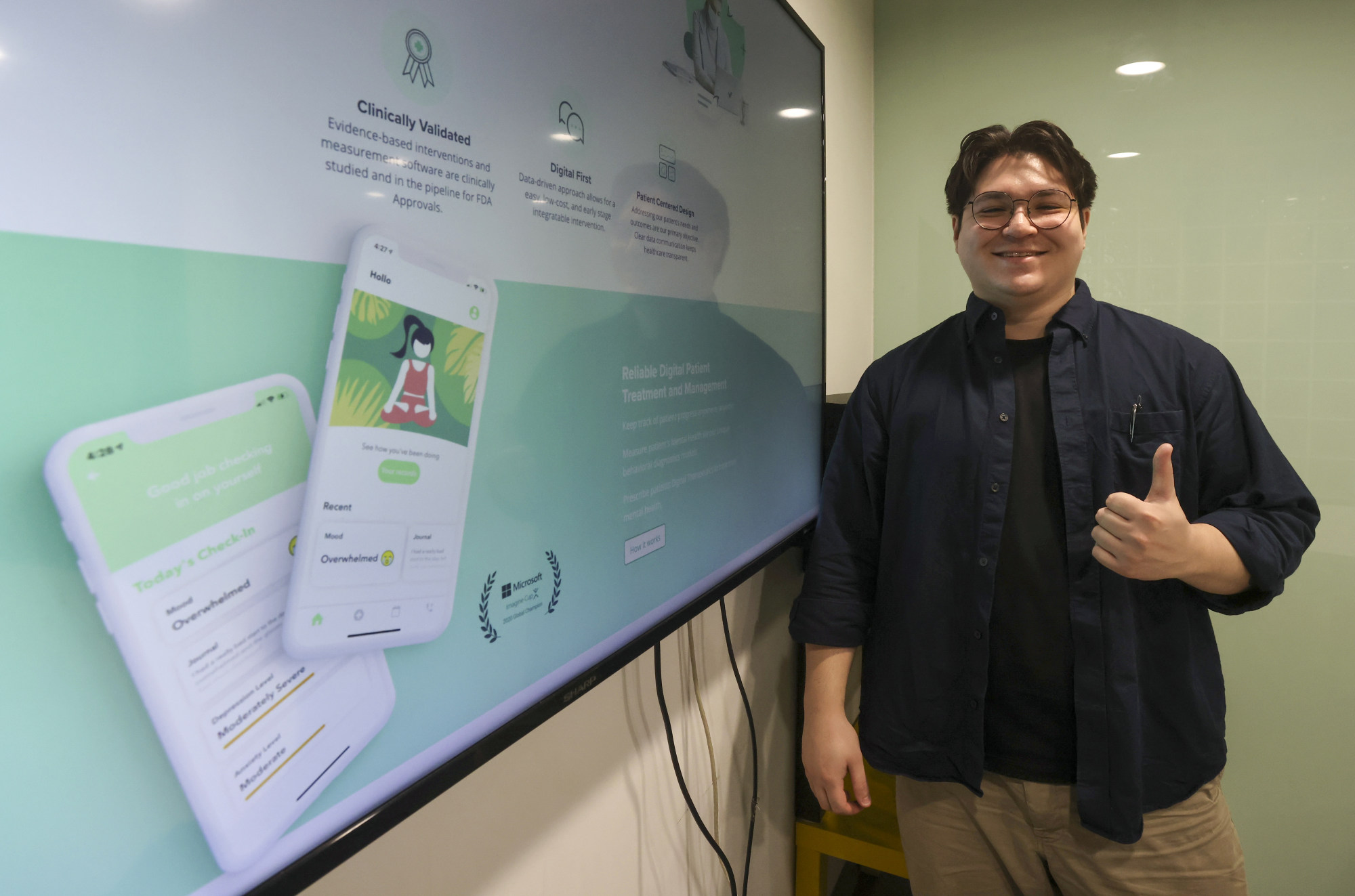 "We figured that the mental health situation in Hong Kong was dire, and we all had our experiences with depression and anxiety," he recalled.
He and two classmates started working on Hollo that year, using deep technology, a blend of software and artificial intelligence (AI).
Their early efforts won the top prize of HK$780,000 (US$100,000) at Microsoft's 2020 global Imagine Cup for viable start-ups and tech innovation, spurring them to press on.
The smartphone app helps to evaluate a patient's mental health, using AI from videos, voice and mobile sensors to suggest treatments such as breathing and mindfulness exercises.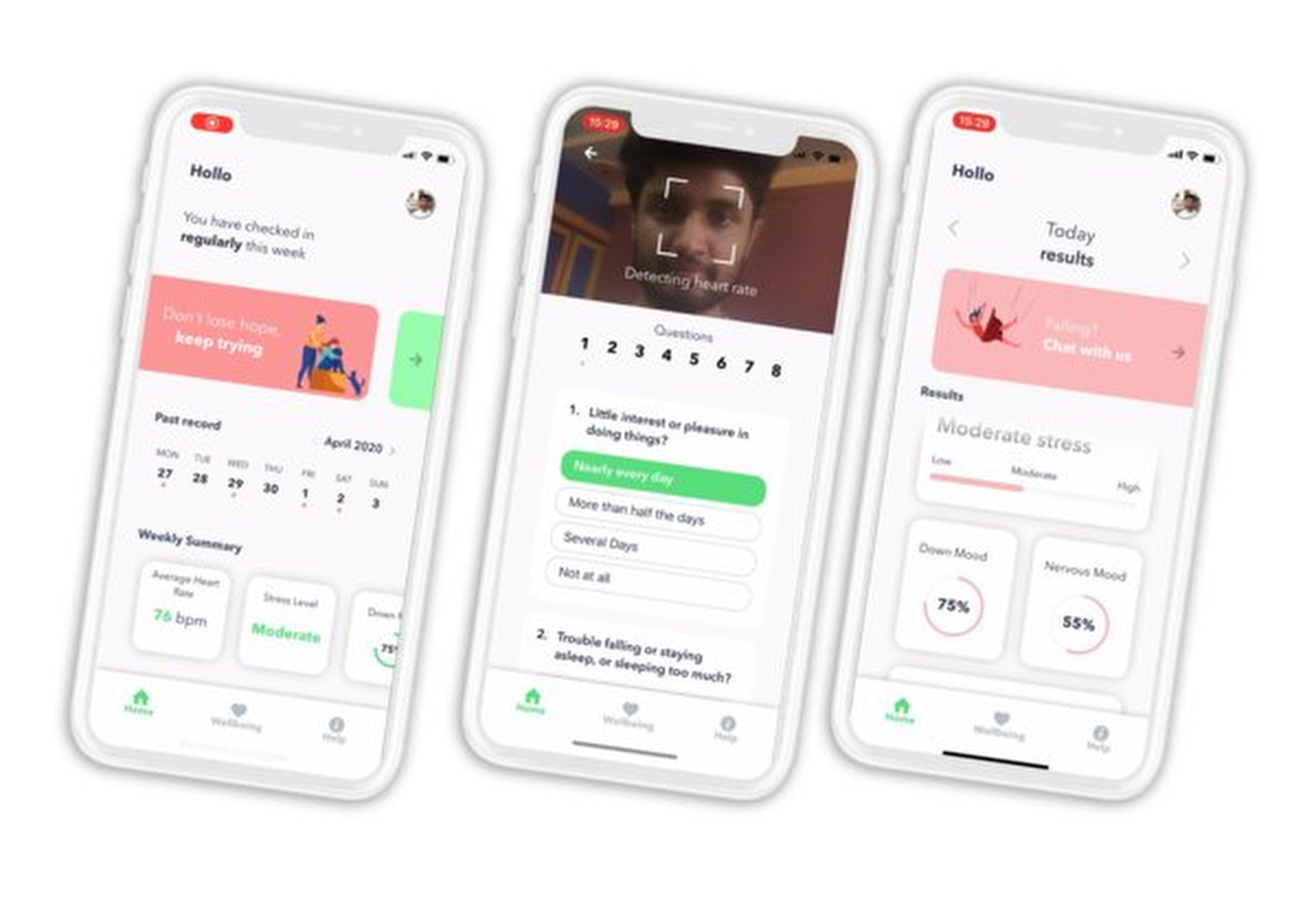 Active tracking via the camera and microphone can observe a patient's eye and cheek movements to gauge their level of stress, while mobile sensors monitor their movement, heart rate and sleep quality round the clock without the need for wearable devices.
Van Breda said a clinical trial began in Hong Kong this year with 50 cancer patients at Queen Mary Hospital and several private cancer clinics trying out the app as well.
"We're specifically applying it to cancer patients because they're highly likely to develop depression, anxiety and have suicidal thoughts," he said.
The data collected also allows medical and mental health professionals to decide what help the patient needs, including counselling and medication.
His team emerged among the top eight in this year's Hong Kong Social Enterprise Challenge, and won a trip sponsored by the government's Intellectual Property Department to the Youth Co:Lab Summit organised by the United Nations Development Programme in Singapore last month.
Told about the app, Dr David Tsang Fan-kwong, a psychiatrist in private practice, said he thought it was a great idea, especially as cancer patients tended to be vulnerable to mental health problems.
"They have a higher risk of having an anxiety disorder. It could be caused by the illness itself or the medicine they take," he said.
Tsang added technology was being used more widely in the West to treat mental health issues such as depression, anxiety and obsessive-compulsive disorder.
"The most common is anxiety management training through an app," he said.
The psychiatrist said new apps might need a clinical trial process involving "at least a few hundred cases", adding that the more data the software could collect, the more accurately it would be able to indicate a patient's profile to help develop treatment plans.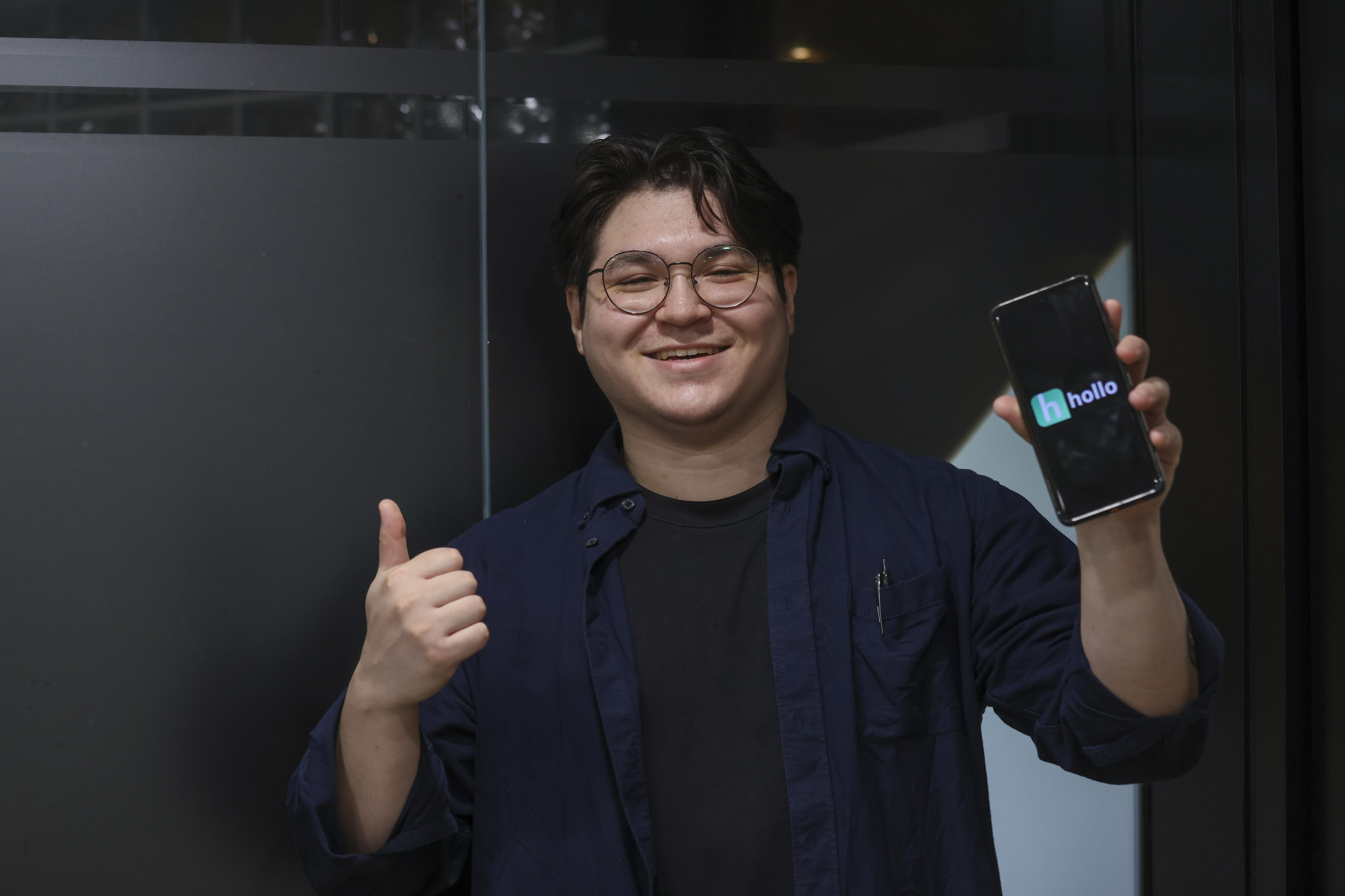 Van Breda, whose father is South African and mother is a Chinese Hongkonger, received his Bachelor of Science degree from HKU last year, with a major in molecular biology and biotechnology and a minor in science entrepreneurship.
The course and his experience caring for his mother got him interested in research on mental health issues.
His mum has fought illness since 2004, when she had thyroid cancer. She then had ovarian cancer in 2014 and her ovaries were removed. In 2020, she had lung cancer and needed surgery to remove part of her left lung.
"The sick ones always think of themselves as a burden on everyone around them," van Breda said. "They get frustrated with not being able to take care of themselves. A lot of cancer patients also fear the recurrence of another episode, and that makes them very anxious."
He said his mother, now 55, was well, taking long walks and exercising regularly.
He found time to focus on the start-up when he was able to switch to attending classes online at night, during the social unrest in 2019 and the Covid-19 pandemic.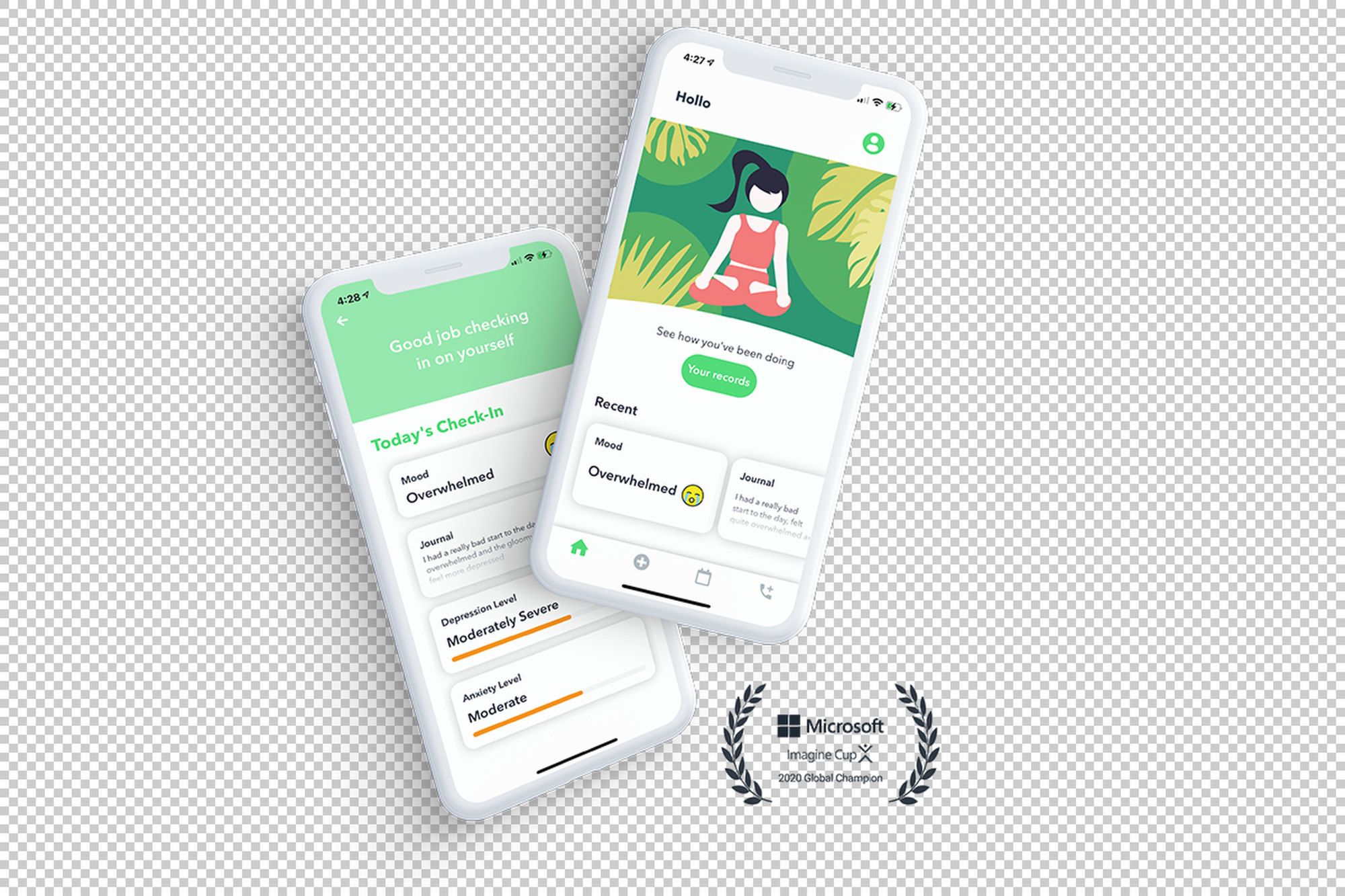 He went online to seek out and consult experts in Britain and the United States, as well as professors at HKU and Chinese University.
"I started to understand the room for development, in terms of how AI and software could be applied," he said.
The app was built by his teammate Ajit Krishna N.R, 22, a HKU computer science graduate who is no longer with Hollo.
As Hollo's chief executive officer, van Breda said he took care of fundraising, outreach for research and development and most of the product and clinical trial management.
Three key members who joined late last year were data scientist Louis Luk Kin-fai, 30, who built the app's AI models on detection and treatment personalisation, cognitive scientists Imogen Yih, 24, who worked on the psychological assessment models, and Duncan Lim, 25, who worked on the digital therapies.
Van Breda conceded that cost was a factor, as a six-week subscription for the Hollo app was currently priced at HK$3,900 and users could find this expensive.
For now, however, he said he hoped to get at least 10 doctors or oncologists to recommend the app to their patients, and another small-scale clinical trial would begin in October.
"Once that's through, we'll be clear to operate and sell in Hong Kong, because doctors will see the results of the study and understand how it works," he said.
The next goal would be a trial by the US Food and Drug Administration next year and to obtain clearance to distribute the app in Asia, van Breda said.
Francis Fong Po-kiu, honorary president of the Hong Kong Information Technology Federation, recognised the challenges faced by Hollo, saying other local companies that developed smart health technology faced "a big hurdle" in pricing their products.
"You need to pinpoint what users really need, especially for chronically ill patients, for them to willingly buy," he said.