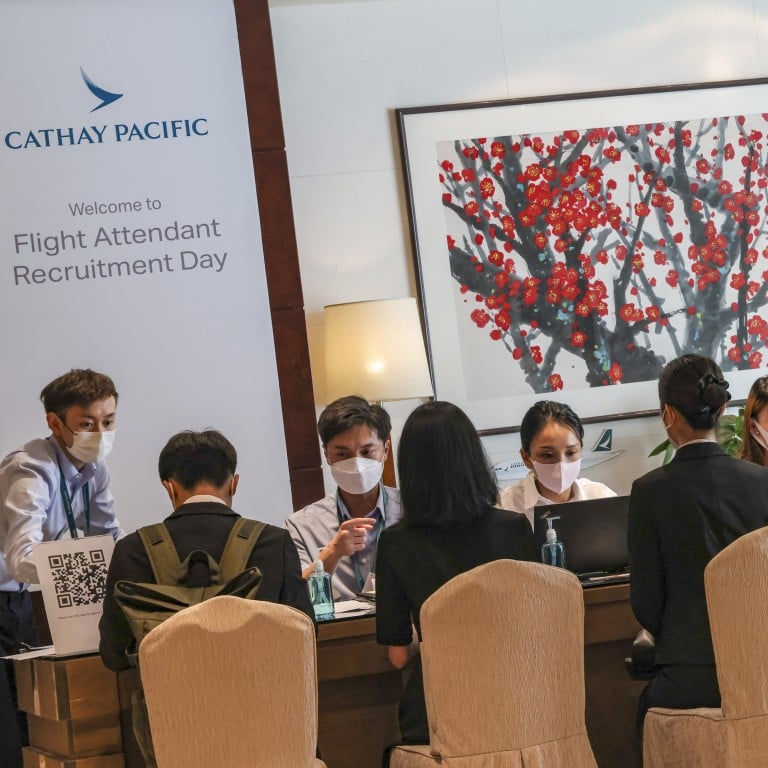 'It's my dream job': Hong Kong candidates reach for the sky at Cathay Pacific's first large-scale hiring fair in 3 years
Last-minute walk-in candidates head to two-day event as city's flagship carrier looks to hire 2,000 flight attendants
'I believe [the industry] will improve in the future,' a 25-year-old aspiring flight attendant says
Cathay Pacific's first large-scale recruitment fair in Hong Kong nearly three years after the Covid-19 pandemic began has attracted some last-minute walk-in candidates aiming to land their "dream jobs" as they feel optimistic about the aviation industry's future.
The two-day event entered its second day on Saturday, as the city's flagship carrier looked to hire 2,000 flight attendants to help achieve its target of running at a third of its pre-coronavirus passenger capacity by the end of the year.
The airline arranged a two-hour walk-in session in the afternoon for those who had not applied to the positions earlier. Among those who seized the opportunity was 25-year-old Vanessa Wong.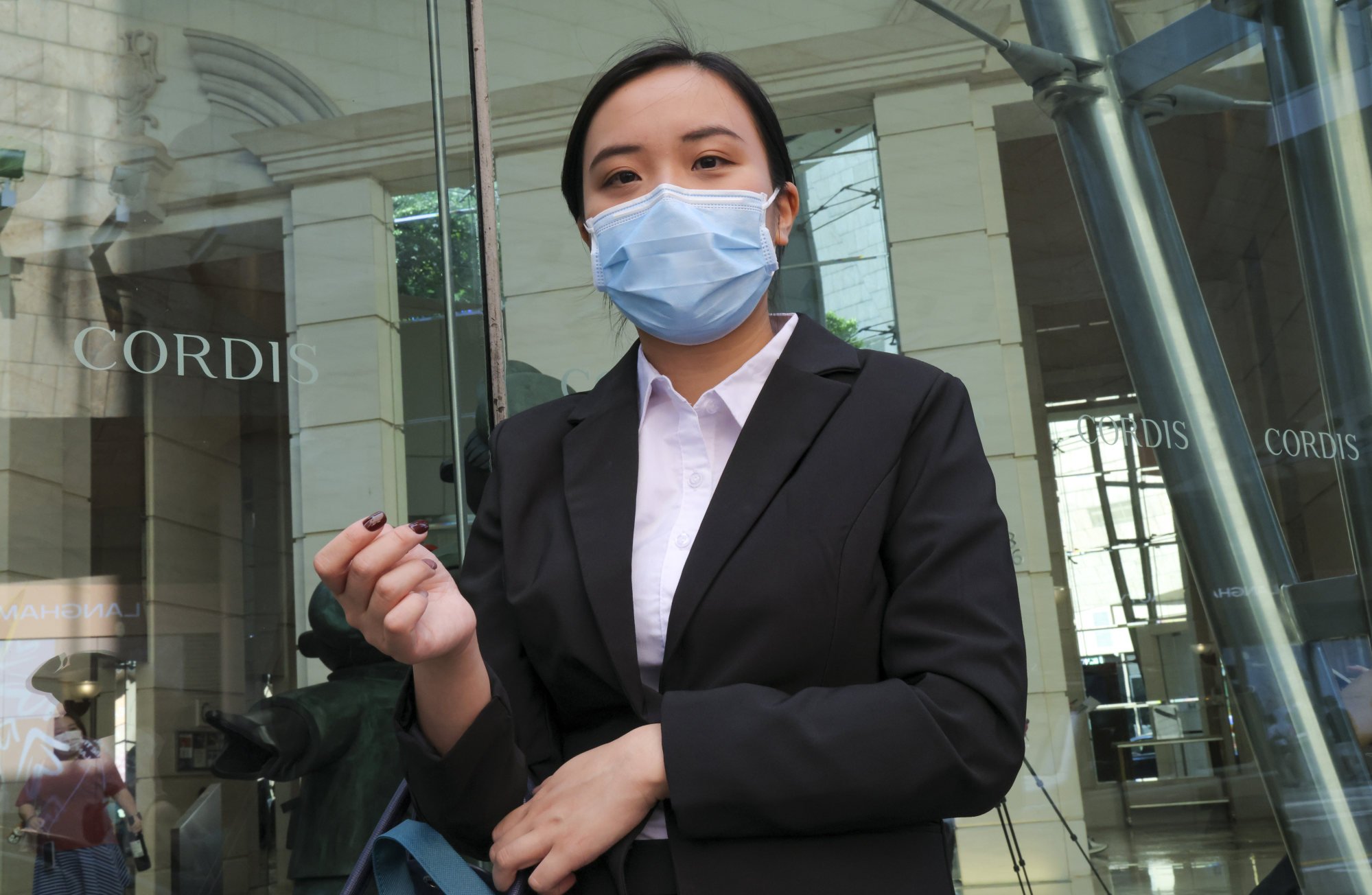 Wong, who currently works in the city's insurance sector, said she was hoping to fulfil her childhood dream of becoming a flight attendant, even if it meant enduring a pay cut from her current monthly income of about HK$18,000 (US$2,292).
"I have always wanted to join this industry. It is my dream to become a flight attendant who can wear beautiful uniforms and fly around the world," she said.
She noted that the city's aviation industry had been dealt a huge blow by the coronavirus pandemic, but she said she believed its prospects would improve as Hong Kong continued to relax its restrictions.
"I believe [the industry] will improve in the future," she said, adding that she felt confident that she could get the job.
Last month, the city introduced a "0+3" model for overseas arrivals, under which travellers are no longer required to quarantine at a hotel, but must instead spend three days under home medical surveillance with limited citywide movement.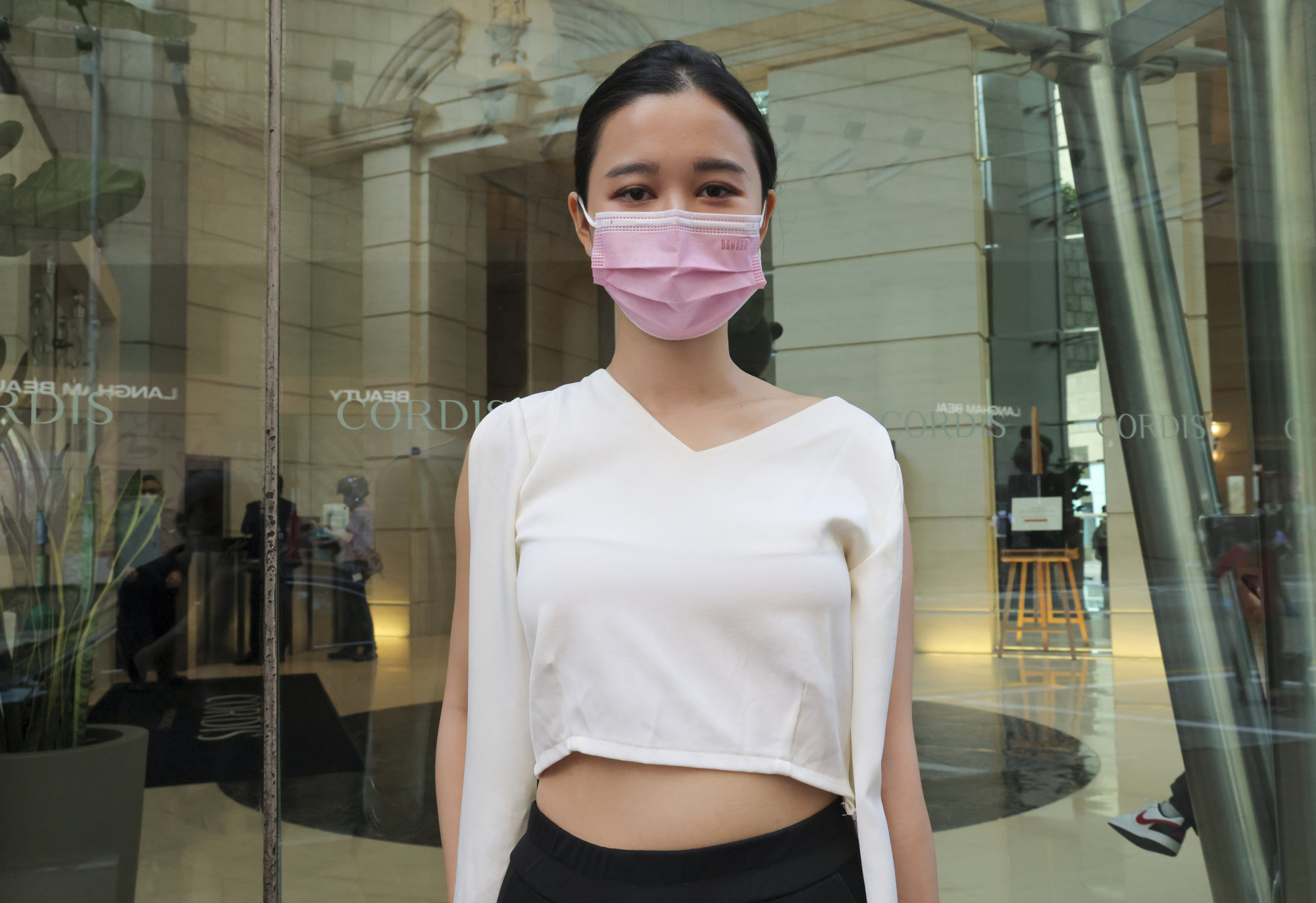 Nina Chan Wing-yan, 23, also walked in for an interview on Saturday afternoon. She had earlier quit her job in human resources.
Chan, a graduate in airport and airline service from HKU School of Professional and Continuing Education, said she had once applied for the flight attendant position, but the carrier had been laying off a number of people at the time. She added that she hoped to seize the opportunity now to land her dream job.
"I'm such an outgoing person, and I'm so keen on travelling and flying around the world. This is the right job for me," she said, adding that she was not deterred by the position's lower pay compared with her current salary, or any further impact of the pandemic on the industry.
Others who had applied in advance for a cabin crew spot were also at the fair.
Former retail employee San Yau, 32, said she attended the event to explore new opportunities and hoped to broaden her horizons with the job, which she described as "mysterious".
"I wanted to give the opportunity to land this special job a try at this stage in my life when I still have the capacity," said Yau, who quit her sales job about a year ago after the coronavirus pandemic disrupted the retail industry.
She revealed she had once applied for the position with Cathay Pacific a decade ago when she was 22 and a fresh graduate, but had failed to land the job.
Yau said she was more confident this time owing to the experience she had gained over the years, adding that the airline was her top choice since it was one of the world's largest carriers.
Despite the pandemic's impact, she said: "Every industry has its good and bad times. I believe the aviation industry will definitely bounce back."
Former flight attendants hoping to be rehired also took part in the latest recruitment drive.
Jessica Tam, 25, said she lost her job as a flight attendant at Cathay Pacific after working with the airline for two years, during the company's mass lay-offs amid the pandemic.
She later worked in the retail sector, but said she found that she was still interested in aviation, especially as the industry was bouncing back.
"Hong Kong will gradually reopen its borders, and local and global demand [for travel] remains strong. The outlook for the aviation industry is an optimistic one," she said.