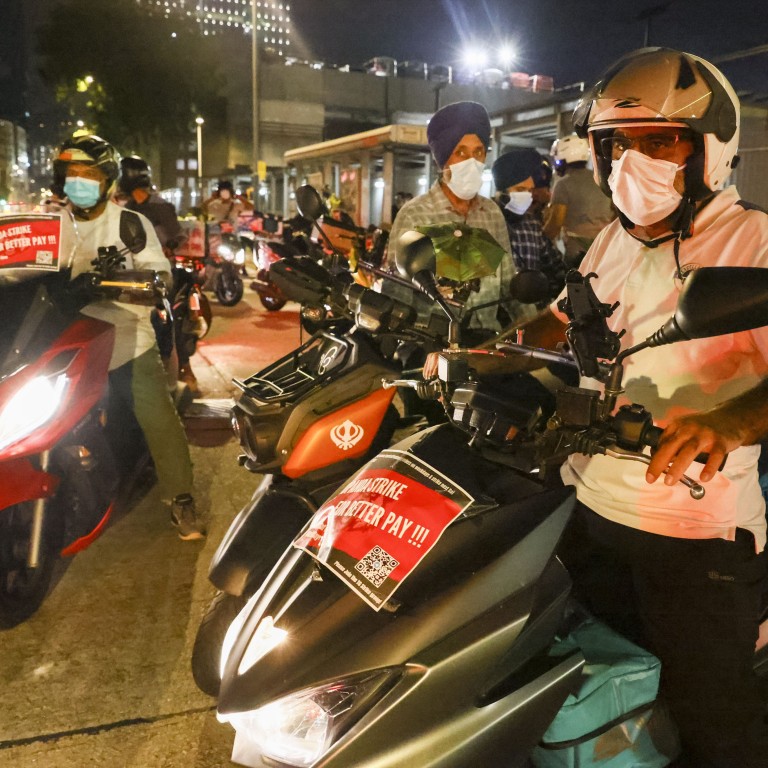 Hong Kong Foodpanda couriers go on strike to 'demand better and fairer pay', saying new map system has cut wages
Couriers to go on strike from 6pm on Saturday until midnight on Sunday
From Monday to Friday they will not accept any orders from Foodpanda's grocery service Pandamart
Hundreds of disgruntled Foodpanda couriers have gone on strike in Hong Kong over a new map system, which they claim the online food delivery platform has rigged to impose further pay cuts, among other grievances.
The delivery workers planned to go on strike from 6pm on Saturday until midnight on Sunday, which would be followed by a five-day industrial action during which they would refuse orders from Foodpanda's on-demand grocery service Pandamart.
While Foodpanda argued its new system ensured a more accurate and fair measurement of the actual distance its couriers travelled, the deliverers threatened to continue the actions if the company refused to negotiate or meet their demands.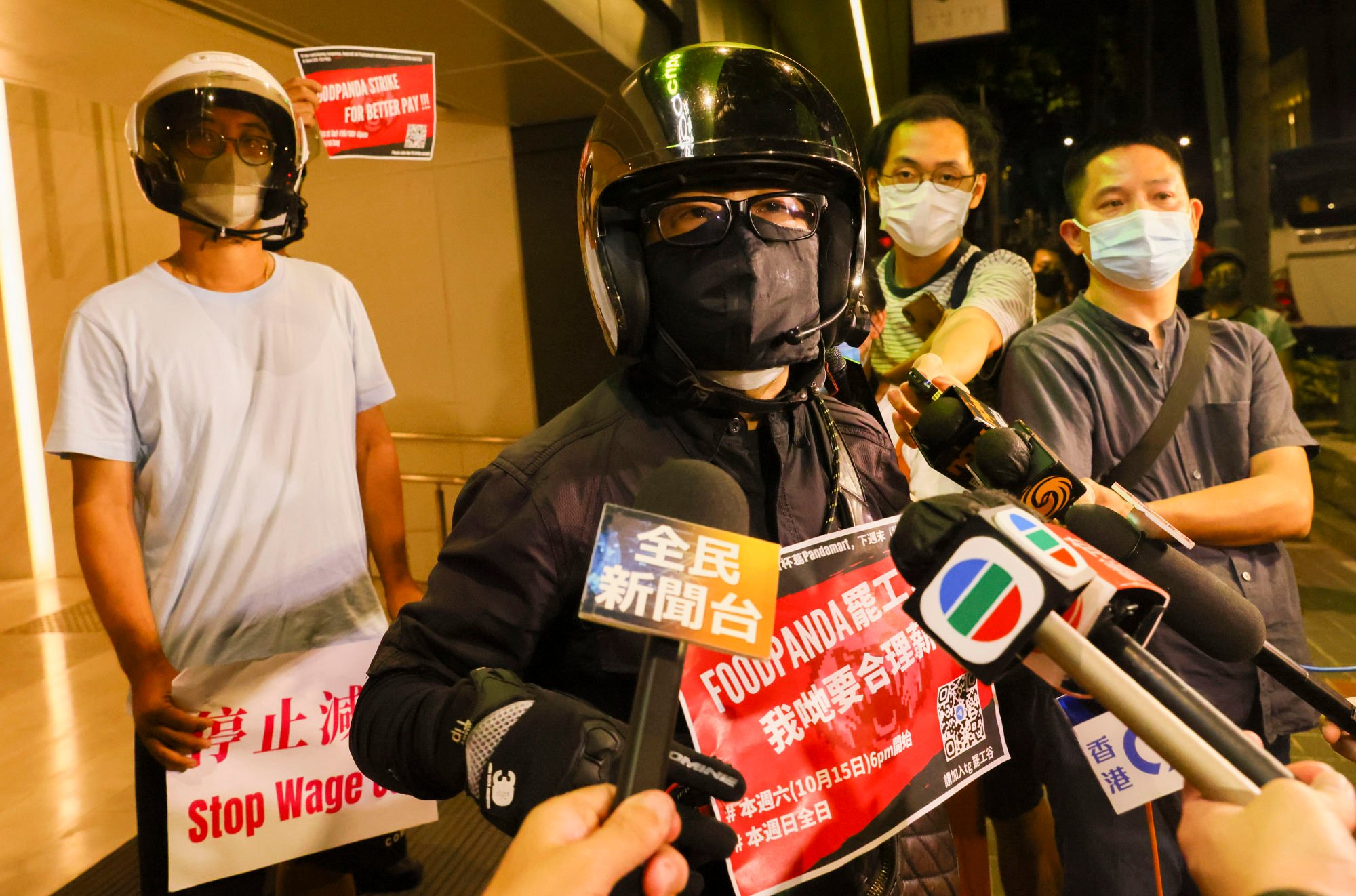 "We launch this strike to demand better, fairer pay," Rehman, a Foodpanda rider and one of the strike organisers who asked to be identified by only his surname, told the Post.
At the top of their list of grievances was a new map system the company rolled out late last month that calculated the wages of couriers based on their delivery distance.
The new system was introduced to meet the demands raised by couriers during a strike last November when they complained that the previous map did not take into account the city's hilly terrain and called for fairer calculation of their wages.
Rehman, 35, who has worked for Foodpanda for about three years, said he used to earn about HK$45 (US$6) to HK$47 for an order with a delivery distance of between 3km and 5km, but the amount had fallen to between HK$40 and HK$42.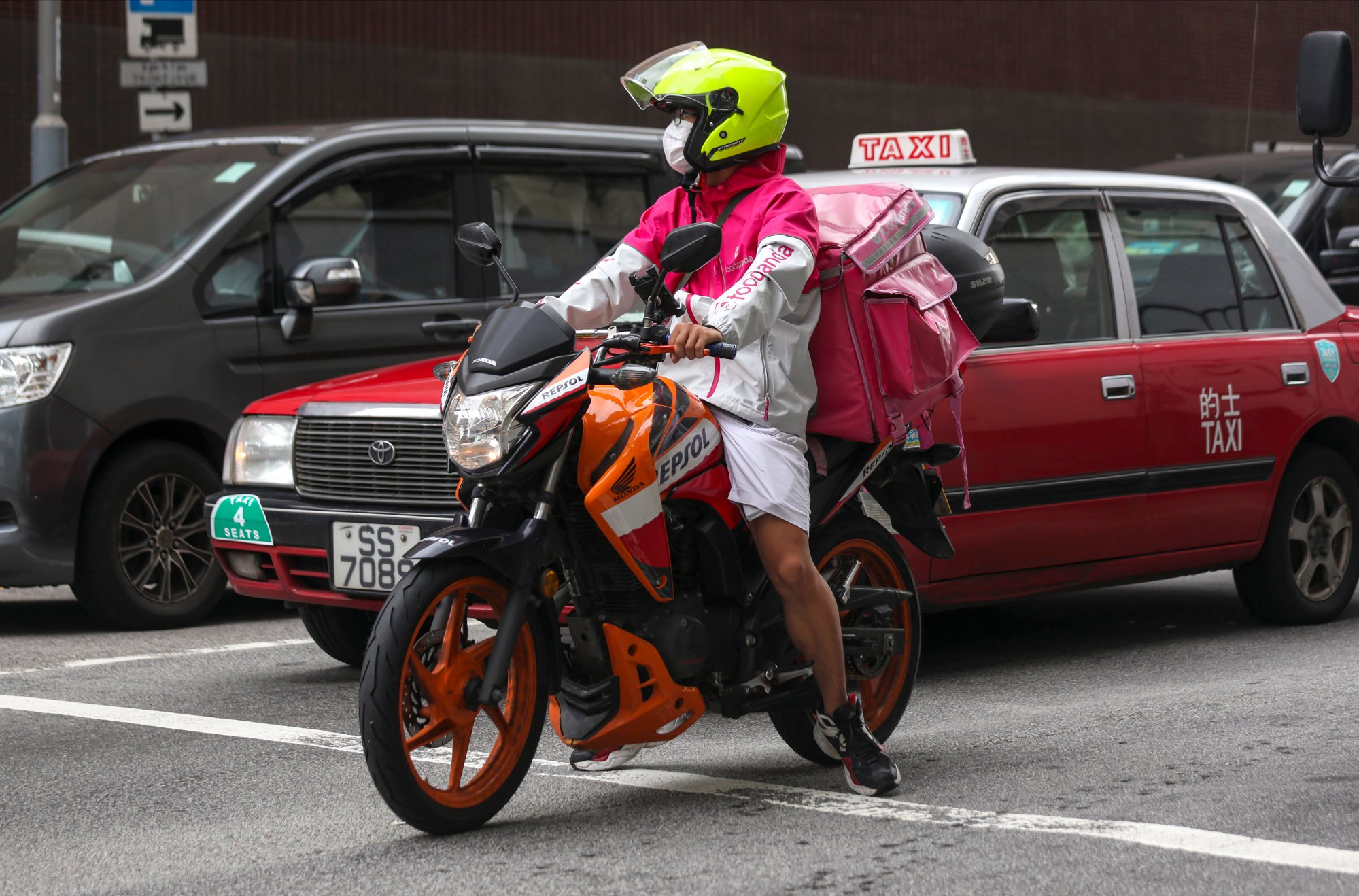 An order with a delivery distance of 5km to 7km used to earn him more than HK$90, but now he only gets about HK$65, he added.
"This new map is even worse than the former one. The company is controlling it manually to impose pay cuts on us," he said, adding his monthly income had plunged from about HK$30,000 to about HK$23,000.
Rehman also called on Foodpanda to offer better insurance for its employees, who were not entitled to rights and benefits under the city's Employment Ordinance, as they were simply treated as self-employed.
"For Foodpanda, I work day and night. I even work during typhoon [signal] 8 and 9 and black rainstorms. But what is this company doing for us?" he said.
Under the new system, workers said not only were they earning less wages than before, there was a bug in the system that had led to lower payment than what had been indicated. They regarded that as "a double pay cut", while accusing the platform of scamming employees.
They said in a statement that Foodpanda had dismissed such complaints as merely a system problem, and promised to make adjustments before Wednesday. But the workers said the issue had remained unsolved.
"The method is vile, deceiving delivery workers, and seriously violated the terms of the work contract," they said. "Couriers cannot bear it any more, and have decided to launch a citywide strike again to demand negotiation with the company."
Food couriers are considered freelance workers and are typically paid per delivery depending on the estimated duration and distance of a trip, rather than by an hourly rate.
Rehman said there were hundreds of couriers joining the strike, but he did not provide an exact number.
The workers demanded Foodpanda immediately stop pay cuts and raise wages to a reasonable level which were calculated based on the actual delivery distance.
Also on their list of demands was allowing workers to decline or transfer orders, compensating couriers for waiting for more than five minutes for an order, and bonuses for working in bad weather.
Rejecting the accusations, Foodpanda on Saturday argued its new system launched last month ensured a more accurate and fair measurement of the actual distance its couriers travelled.
It said while the company was aware of couriers taking action to express their opinions and demands, it had increased its investment in distance service fees by 17 per cent after the launch of the new function, and its fleet received higher service fees for all zones and vehicle types on average, with 66 per cent of orders being paid more, especially long-distance ones.
Despite the strike, Foodpanda's app was functioning normally on Saturday night at 7.30pm and delivery went smoothly, according to a Post reporter's experience.
Last November, hundreds of Foodpanda couriers went on strike for two days over issues such as delivery fee cuts. The company later backed down and agreed to make changes to its mobile app and fee calculation system, as well as look into the workers' other demands.
Foodpanda is one of two dominant online food delivery platforms in Hong Kong, although mainland Chinese company Meituan has signalled an interest in staking out a claim in the market.