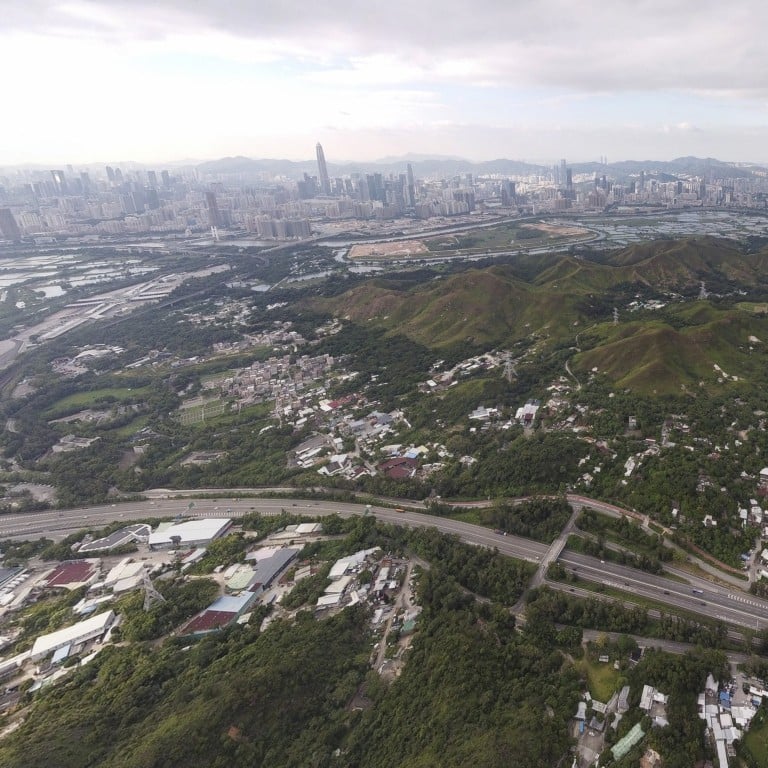 Hong Kong officials admit for first time failure to boost public housing supply in short term, but vow enough homes in coming decade
Deputy Financial Secretary Michael Wong says this was why 'light public housing' scheme was raised in city leader's policy address a day earlier
Finance chief Paul Chan however reassures public that land identified will yield 493,000 public and private homes by 2033, at least 60,000 more than original target
Top Hong Kong officials have conceded for the first time that they failed to boost public housing supply in the short term, while assuring residents that in the coming decade there will be more than enough homes for people.
Financial Secretary Paul Chan Mo-po on Thursday said "at least 3,280 hectares" of land had been identified to be developed by 2023, equivalent to the size of Sha Tin and Ma On Shan districts in the New Territories. The land will yield 493,000 public and private homes by 2033, at least 60,000 more than the original target.
"With substantial and sustained efforts in land production, the situation of stringent supply in the past is now greatly reversed, which will allow us to cope with extreme demand if it happens," Chan told a press conference on housing and land initiatives that were rolled out a day earlier in the city leader's policy address.
But Deputy Financial Secretary Michael Wong Wai-lun conceded that the government had failed to put in place steps to further boost public housing supply over the next five years, which led to the creation of the Light Public Housing scheme mentioned in the latest policy blueprint, an improved version of existing transitional homes.
"It is objective reality," he said. "Currently for us to construct conventional public housing, it [takes] up to 60 months. In other words, if we continue to make use of conventional public housing as the only solution, then actually we would not be able to increase the supply for the coming five years."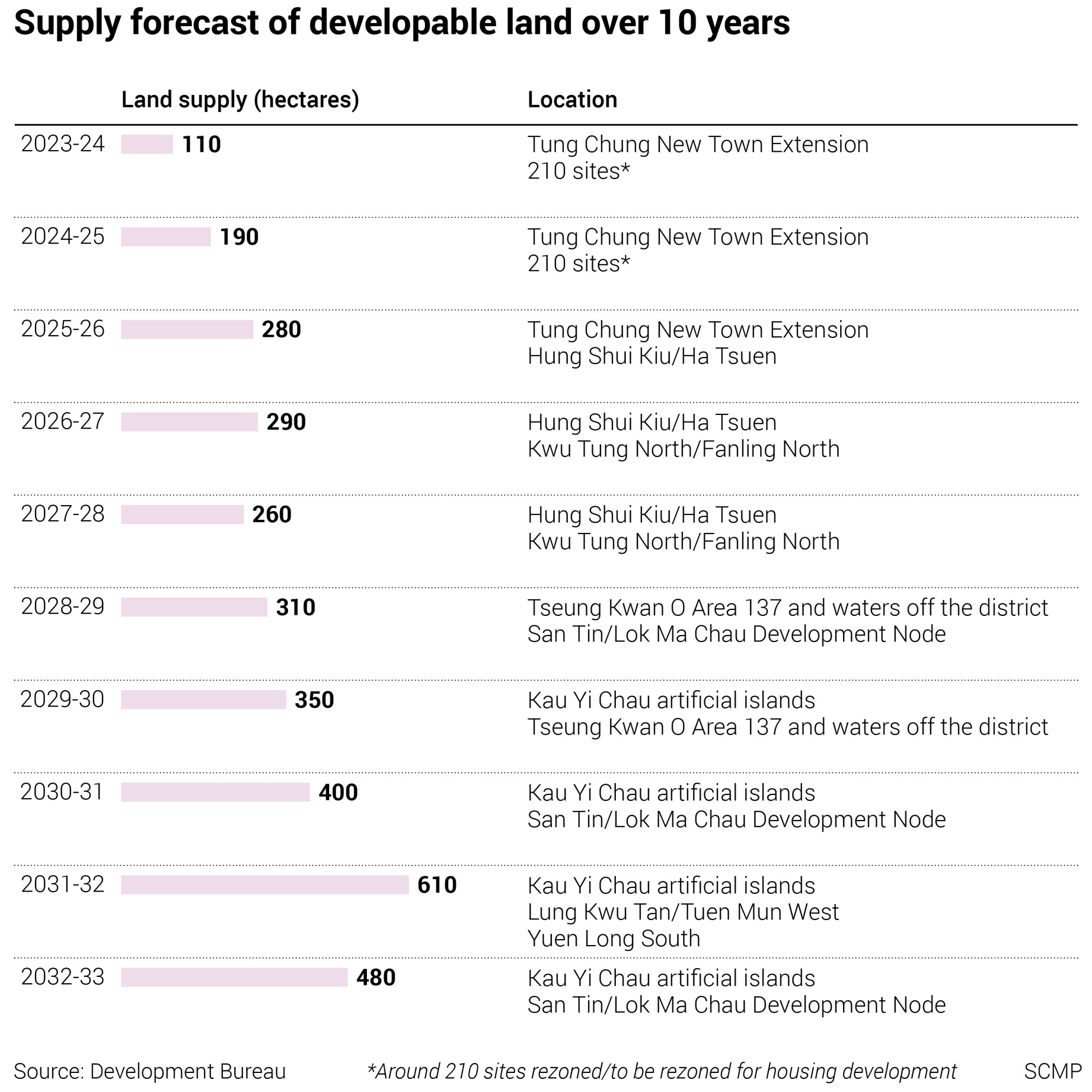 The new project – seen as a highlight of Chief Executive John Lee Ka-chiu's maiden report – is designed to yield 30,000 better transitional homes built on temporary sites. The flats, which will have cheaper rent, will come with basic facilities such as air conditioners and water heaters, and are aimed at reducing the waiting time for public housing from six years to 4½ by 2026-27.
Wong said light housing could be built within a period of 12, 18 or 24 months. He said authorities had eyed five to six sites in Kowloon and the New Territories that could be used for the first batches of the new transitional homes.
Asked if some of the pandemic isolation facilities at Kai Tak or Penny's Bay would be turned into these transitional homes, Wong said the government had no such intention for the time being, as they were for community treatment or quarantine purposes.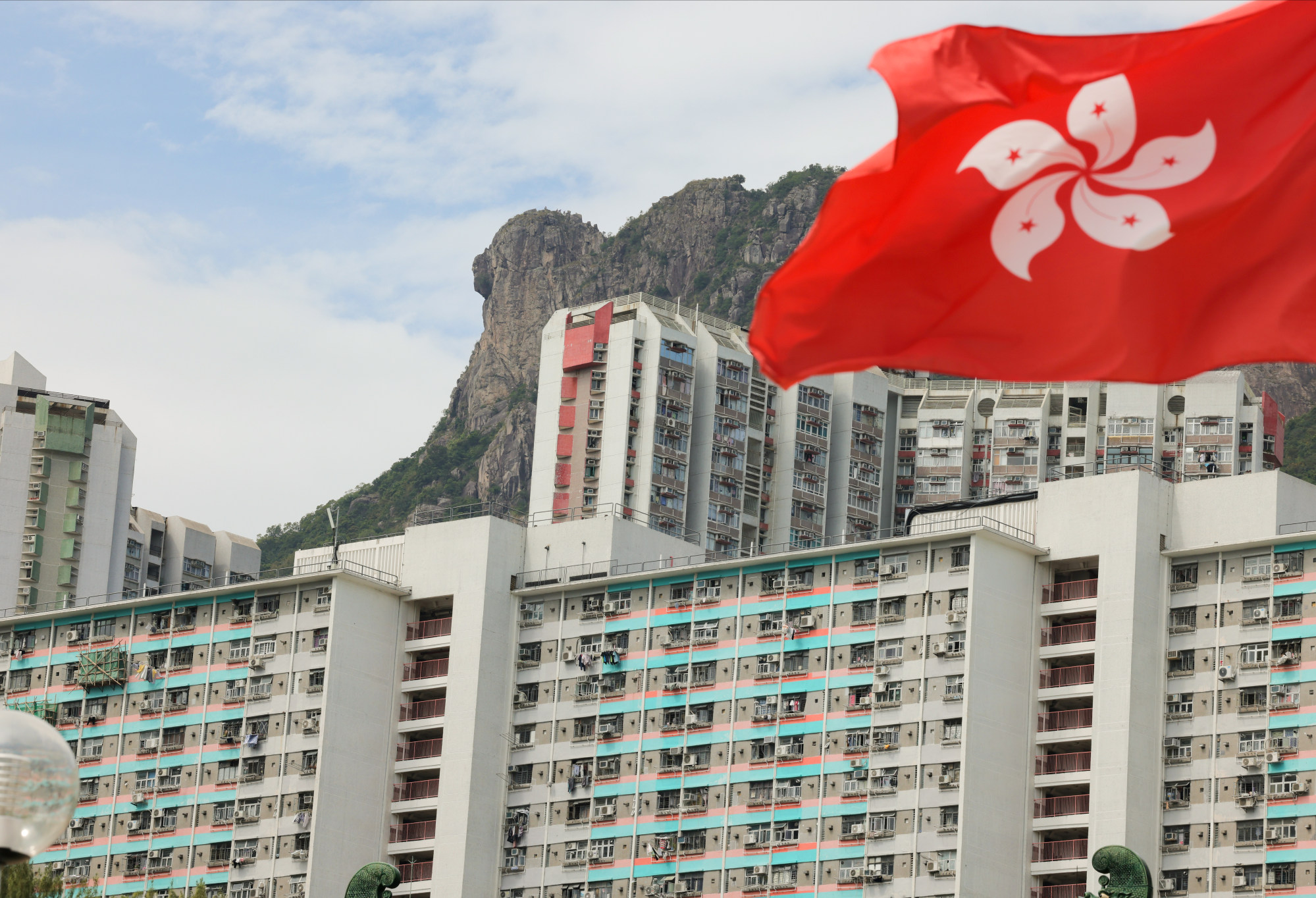 The officials said a forecast for a 10-year supply of developable land, or spade-ready sites, would be made public to enhance transparency and underscore government efforts in land creation and monitoring of progress in this area.
In the next 10 years, from 2023-24 to 2032-33, the supply of spade-ready sites will hit 3,280 hectares and show an upwards trend, from 110 hectares in the first year to 480 hectares in 2032-33, according to the government. That could be turned into 493,000 public and private flats and commercial land with more than 1 million square metres of gross floor area.
New development areas will be key land supply sources in the coming decade, with Tung Chung New Town Extension an initial region in the spotlight. This will be succeeded by Kwu Tung North, Fanling North, Hung Shui Kiu/Ha Tsuen, Yuen Long South and San Tin/Lok Ma Chau in the proposed Northern Metropolis, a master plan that will supply around 1,300 hectares of land.
In the medium to long term there will also be supply of land from the Kau Yi Chau artificial islands reclamation and a new town at Tseung Kwan O Area 137.
The 10-year supply also includes 255 hectares of new green belt sites shortlisted by the Development Bureau which can potentially hold 70,000 flats and were mentioned in the policy address.
"We are a bit more aggressive this time," development minister Bernadette Linn Hon-ho said. "Some sites are far away from roads, with steeper slopes. About 30 per cent is private land, which means the government will resume them if we want to build private flats in the future."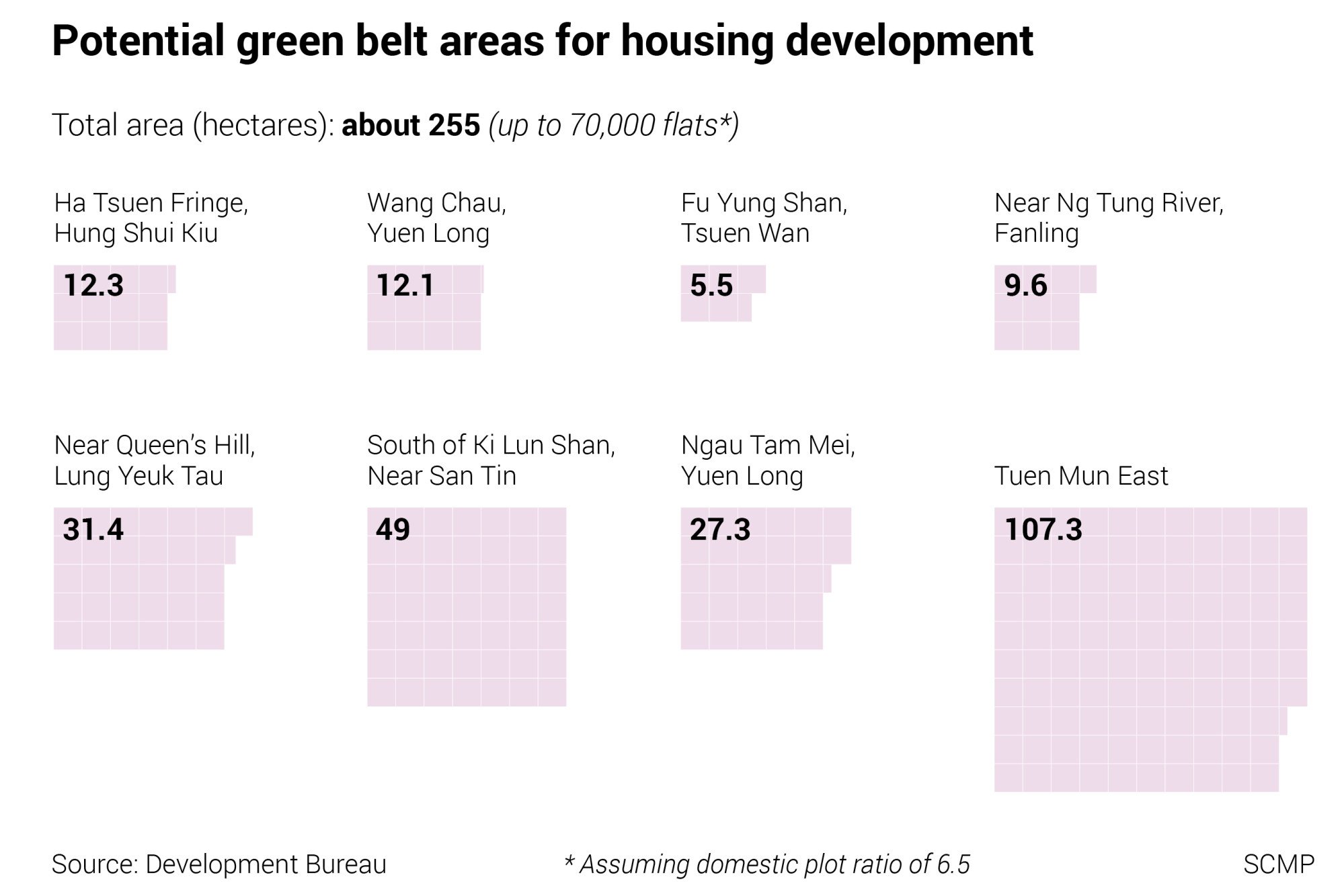 The financial chief, meanwhile, also explained his rationale for not lifting any cooling measures for the private property market.
He said the government had taken into account changes in property prices, but it was still a slight adjustment compared with 1997 and 1998, when they fell by more than 30 per cent.
It was also a normal phenomenon that the market had been relatively quiet recently given the current economic environment and interest rate rises, he noted.
Chan added that transaction volumes in the past few years were roughly stable, with little volatility, while the future supply of private flats was also very stable, without a sharp bounce.
"In terms of economic outlook, the epidemic is now under control, and the economy is recovering with lower unemployment rates. The economic situation is incomparable with the situation in 1997 and 1998," he said.
Francis Lam Ka-fai, vice-president of the Institute of Surveyors, urged the government to include idle public land to increase spade-ready sites in the first few years, and to speed up reclamation work on planned artificial islands off Lantau Island to secure future supply.
"The government has to streamline land development procedures to start reclamation works by 2025 and finish by 2029-30. The government should also start building roads to connect the island with the rest of the city," Lam said.
Chan Kim-ching, founder of the Liber Research Community, a local NGO focusing on land and development, said the government should prioritise the development of brownfield sites – mainly agricultural land in the New Territories now occupied by warehouses – rather than green belt areas.
"The chief executive's manifesto mentioned reviewing brownfield sites but the policy address has not mentioned it," he said.
"Why not focus on using them instead of using green zones that will impact village residents and ecological operators? It is a clear land development decision."