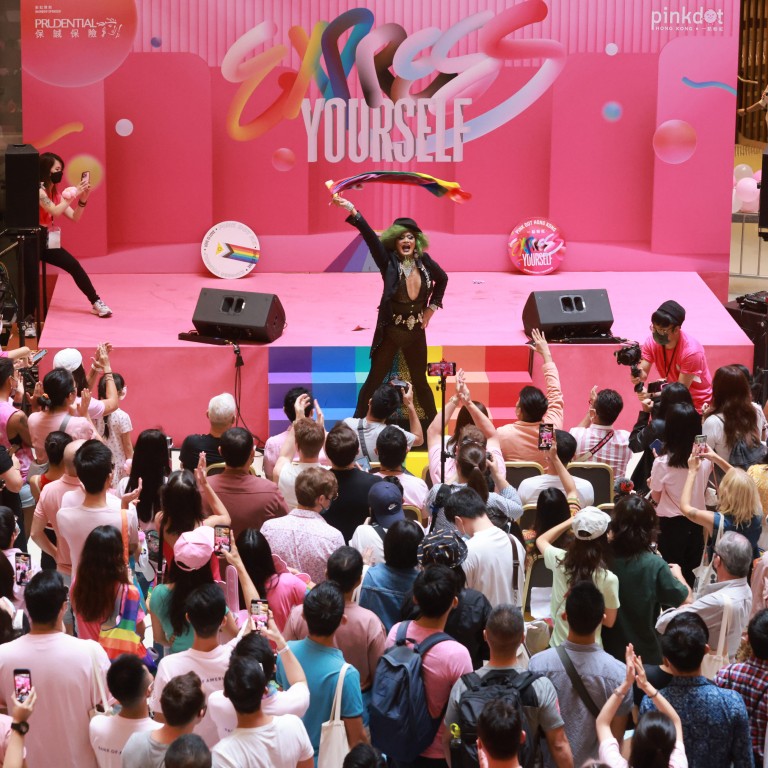 Same-sex couples stress inclusivity at Hong Kong's Pink Dot festival
Rainbow Families in Hong Kong among groups behind city's largest annual event celebrating LGBTQ community
Attendee British expatriate Neil Lewis describes raising daughter with husband Ma Hongyou, saying he wrote and published his own story books explaining families
While every parent wonders how they will respond when their child gets old enough to ask: "Where did I come from", Hong Kong resident Neil Lewis says he needed to put in extra work early to make sure daughter, now aged three, understood why she has two fathers.
The 44-year-old British expatriate, who works in the retail industry, was among the same-sex parents who attended Pink Dot HK 2022, one of the city's biggest annual
LGBTQ
celebrations, on Sunday with his 41-year-old Chinese-New Zealander husband Ma Hongyou, who works as a nurse, and their three-year-old daughter, Lily Ma-Lewis.
Ma said he instilled the concept of having two fathers to his child since she was born.
"I wrote and published my own story books showing Lily about family diversity," Ma told the Post. "The ones out there always illustrate family with one father and one mother, but that's not the case at all. For her, she has two dads."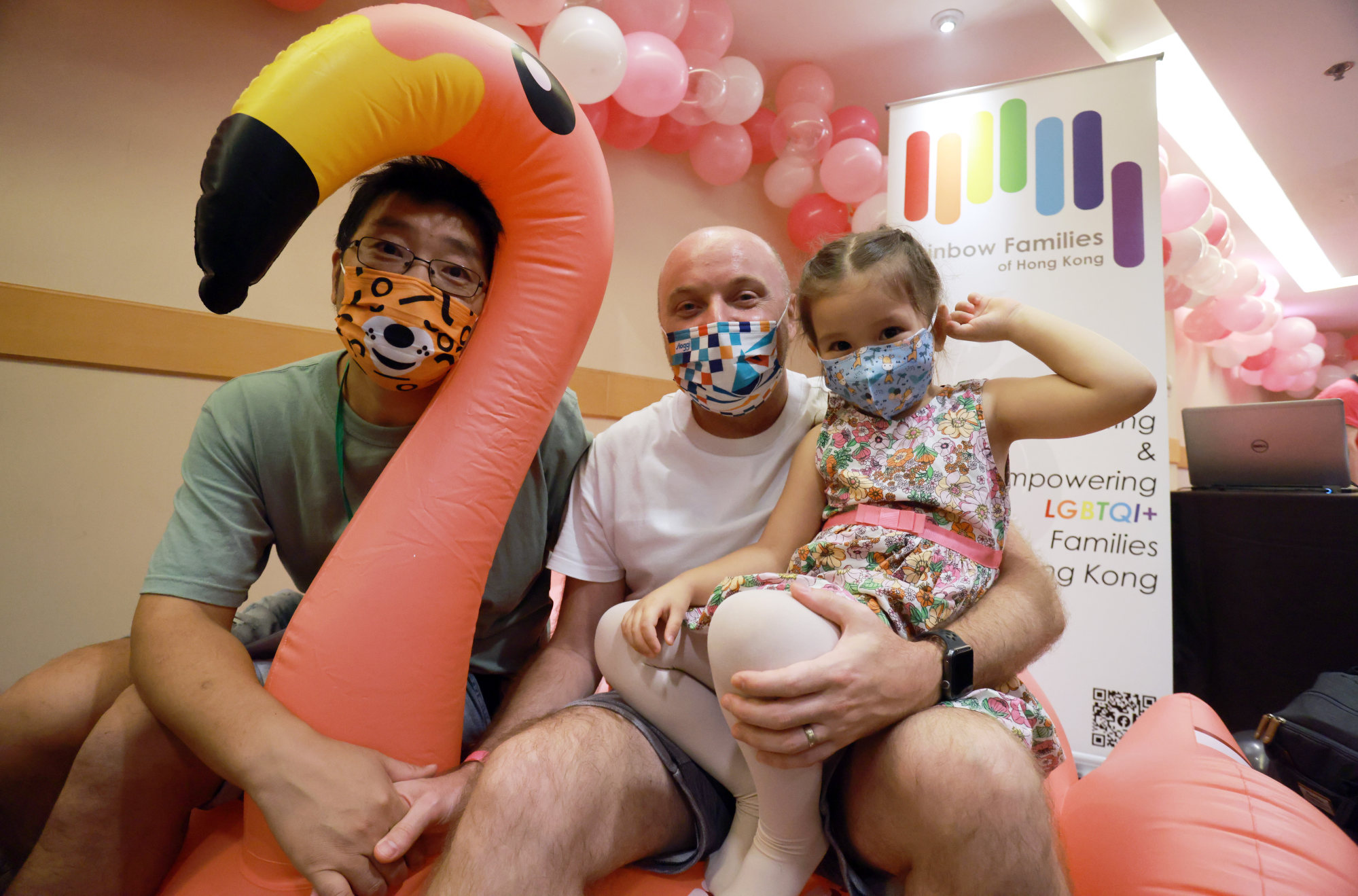 The couple met in 2016, married two years later in New Zealand and realised they both longed to start a family.
"I actually contacted my sister and asked if she would donate an egg for surrogacy with my partner's sperm. And she ended up carrying for us," Lewis said, adding he found support through Rainbow Families in Hong Kong, a Facebook-based community group.
"We joined the group so she can meet other families who are similar to us. We want her to be aware there are families who've got two moms or two dads."
The support group, co-founded by Betty Grisoni, was among the community organisations that set up booths for the one-day carnival in hopes of bringing same-sex partners together to share thoughts about parenting.
"Rainbow families always existed, but I guess they didn't know each other let alone support each other. I started this with my partner though we're not parents," Grisoni said.
Gay right activists were disappointed when the Court of Appeal ruled in August the city's mini-constitution granted access to the institution of marriage only to opposite sex partners and that the government had no obligation to recognise same-sex unions.
The judges also found that successful legal challenges to discriminatory policies in recent years did not justify a "short-cut" to avoid constitutional restraints that denied LGBT people the right to marry in Hong Kong.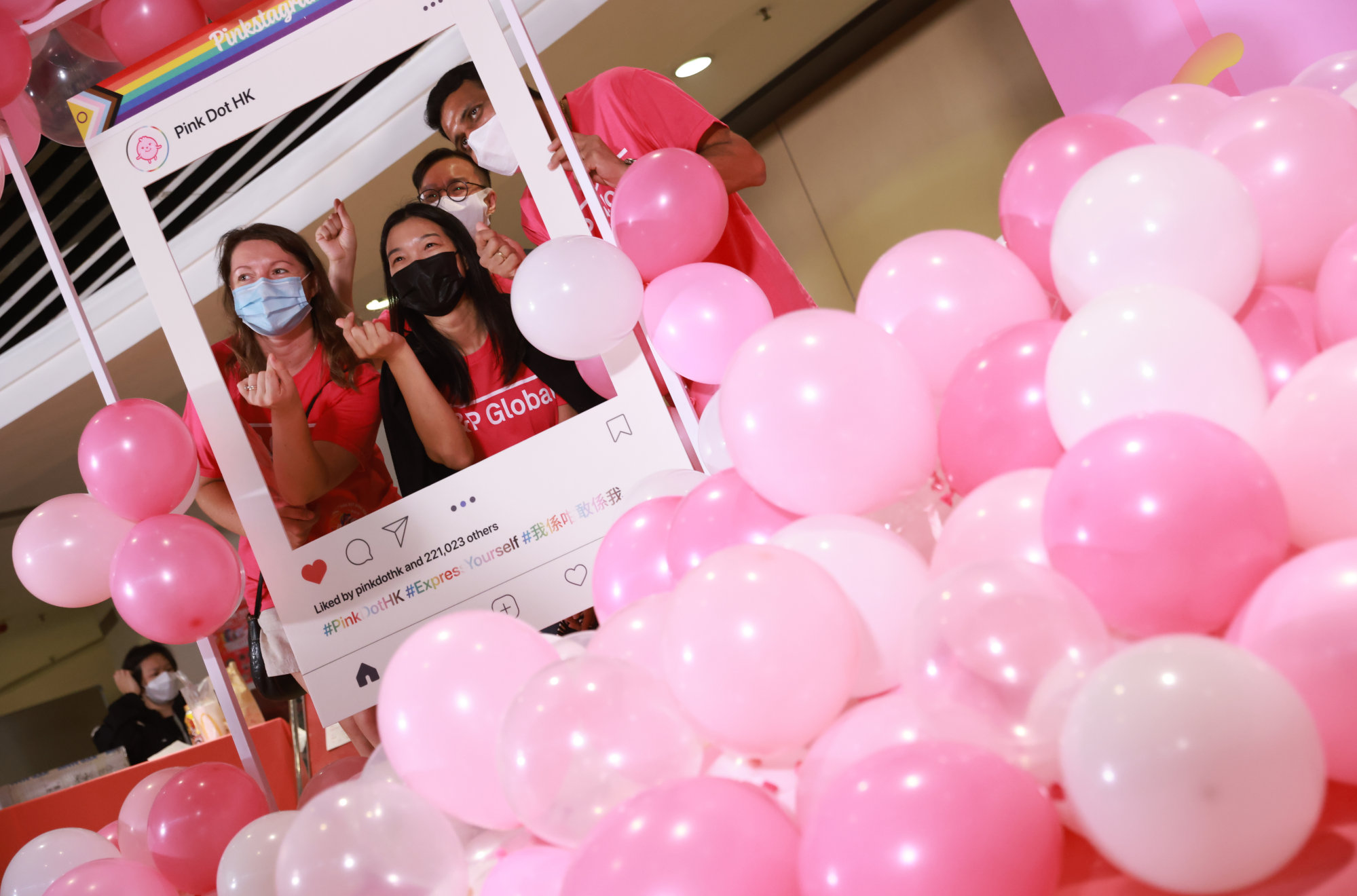 Themed "Express Yourself", Sunday's carnival was held at the Kowloon Bay International Trade and Exhibition Centre, and hosted more than 25 community booths and 35 pop-up stores, as well as arts and craft events.
Participating groups included the Red Ribbon Centre under the Aids unit of the Department of Health, which promoted community participation in HIV education and research. There were also performances by drag entertainers and musicians, as well as movie screenings.
Carnival co-organiser Brian Leung Siu-fai said the aim of the event, first held in 2014, was to provide a fun space where people could meet and connect.
"This is our second year doing an indoor carnival since Covid-19 hit. It's good to see people gather as individuals, couples and families because they were isolated for so long during the pandemic," Leung said.
Other groups behind the event included the BigLove Alliance, QLove and Lezo. Gas Ng Yee-tung, one of the organisers, said inclusivity was the key.
"Before you ask people to accept who you are, we need to be inclusive and embrace everyone who comes here," Ng said. "And you'll realise we are all the same as human beings."