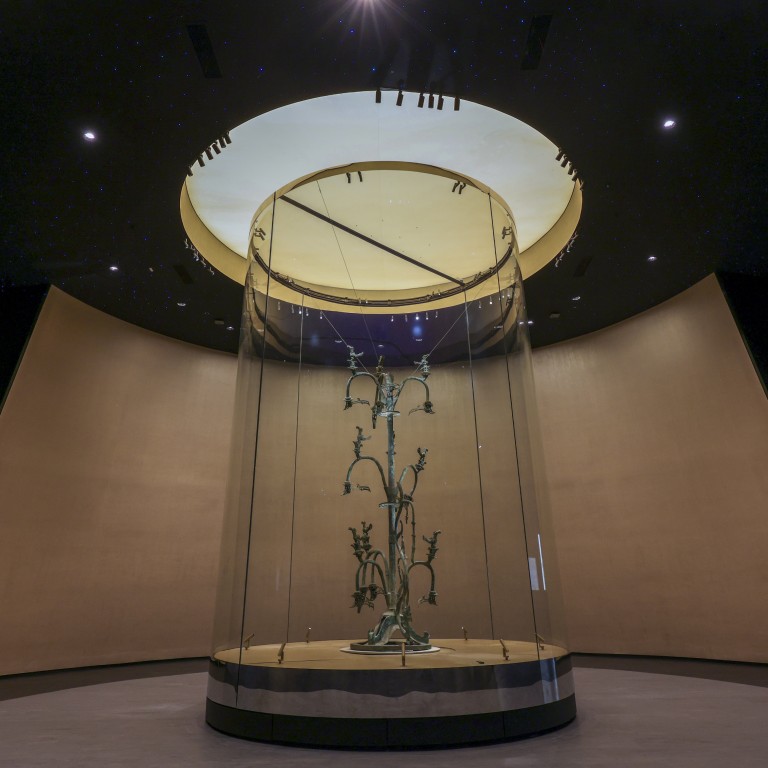 Hong Kong's Sanxingdui museum showcase: sacred trees, mythical creatures among relics brought to life by holograms
Feature will be part of exhibition at Hong Kong Palace Museum from September 27 to January 8, 2024, boasting 120 ancient items mostly from mysterious kingdom
Sanxingdui finds in Sichuan regarded as one of the most important archaeological discoveries of 20th century
Against the backdrop of a dark universe, birds fly around a shimmering gold tree while others perch on its flower buds and branches. This is a 1:1 holographic projection that brings to life a mysterious artefact among China's Sanxingdui ruins, with the relic believed to date back some 3,000 to 3,800 years.
Little is known about the story behind the nearly four-metre-tall (13 foot) structure, believed to be a sacred tree and one of the largest bronze creations of its kind found in China. It is among tens of thousands of
relics
that had been unearthed since the 1920s at the Sanxingdui archaeological site in Guanghan city in Sichuan province.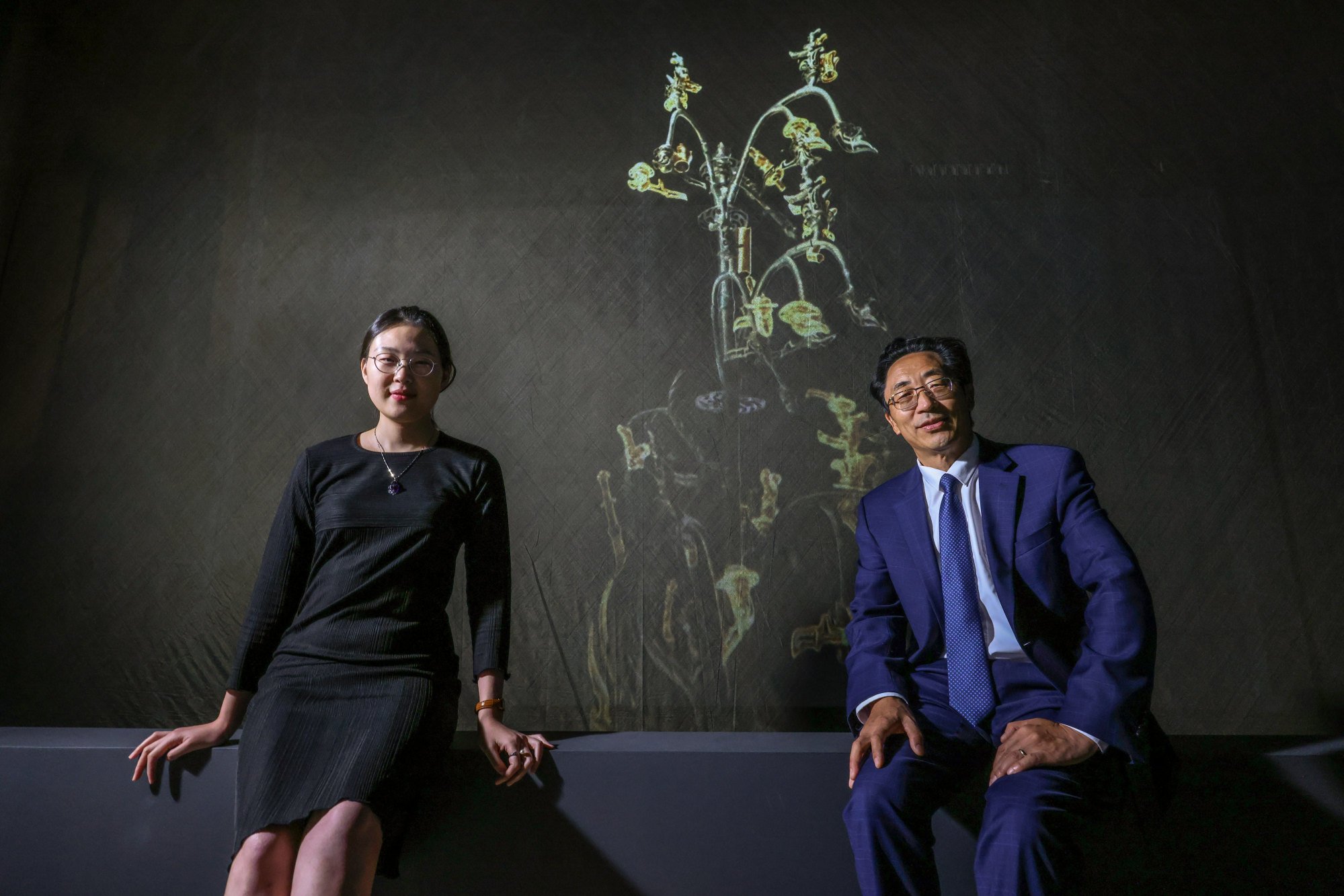 Although the prized tree – deemed too precious to leave its exhibition ground – sits at the Sanxingdui Museum, also in Sichuan in mainland China, the multimedia holographic presentation of the relic will be part of a
coming show
at the Hong Kong Palace Museum, called "Gazing at Sanxingdui: new archaeological discoveries in Sichuan".
The exhibition from September 27 this year to January 8, 2024, in the West Kowloon Cultural District arts hub will showcase 120 artefacts mostly from Sanxingdui and some from the Jinsha ruins in the same province, marking the first time such items will be shipped out of the mainland.
The Sanxingdui finds are considered one of the most important discoveries of the 20th century, and among the most prolific in China since the Qin dynasty's Terracotta Warriors in 1974. But Sanxingdui, shrouded in steeper mystery, is at least a millennium older.
Apart from the sacred tree, among eight found so far, the most striking finds from the ruins comprise numerous bronze masks with exaggerated facial features. No discernible language or text has ever been found on the works, thickening the historical fog surrounding Sanxingdui.
Archaeologists have turned to technology such as 10 multimedia presentations and holograms to recreate theories behind the artefacts, found exclusively only in Sanxingdui and believed to be from the mysterious Shu kingdom.
"Only a fraction of the tens of thousands of Sanxingdui artefacts will be displayed in Hong Kong – it is a challenge to know all of them, so we adopt multimedia and technology to tell a better story," Hong Kong Palace Museum head curator Jiao Tianlong said in a recent interview.
Mainland experts believe the Sanxingdui ruins marked a prosperous civilisation in the Bronze Age.
Baptist University's history department associate professor Sammy Li Kin-sum said: "It was a cosmopolitan area in southwestern China, which showed a lot of exchanges along the Yangtze River.
"You can see independent invention and diffusion occurring in this civilisation through its stunning bronze masks and figures, astonishing trees and use of gold."
Li noted gold, also found in many Sanxingdui artefacts such as masks and bronze tree branches, reflected "the elite of the elite in society".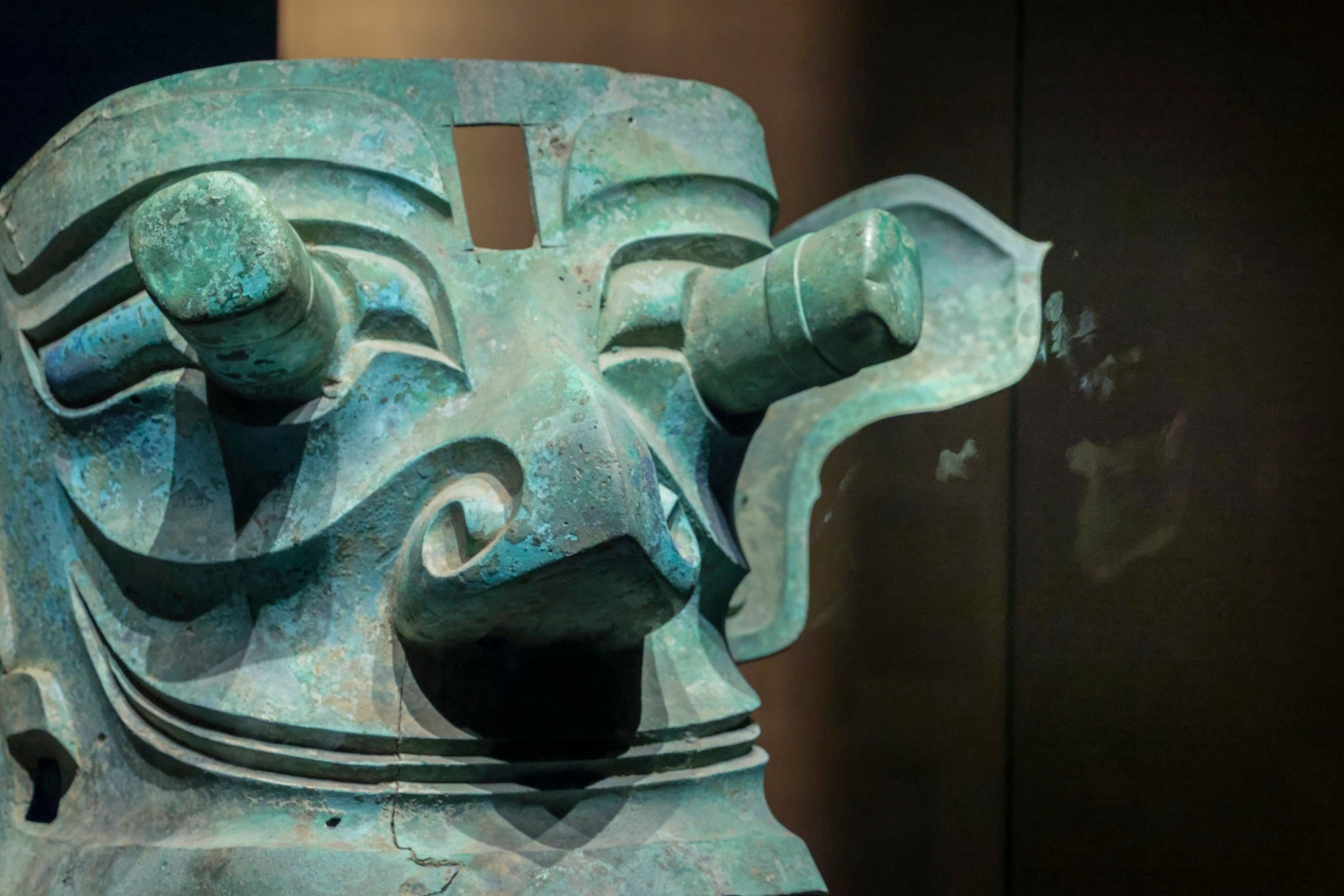 Peter Cobb, an archaeologist and assistant professor with the University of Hong Kong, said from a technological standpoint, bronze was a prominent construction material in ancient Southwest Asia from about 1,600 BC to 1,200 BC.
"The Late Bronze Age in Southwest Asia is extremely interesting because there were a lot of connections between various states in the region. So we had Egypt as an important kingdom, the Hittites who were in what is now Turkey, we had the Assyrians and Mittani in Mesopotamia, what is now Iraq and Syria. All these states were communicating with each other, while engaging in fascinating trade and diplomatic relationships," he said.
Cobb added that bronze reflected an elite culture – signalling that the Sanxingdui residents had access to metals, including tin, as well as manufacturing know-how and artists to create the sculptures.
"The deeper you look at the evidence, the things left behind by the people of the past, the more you recognise that they tend to share the same concerns as us – you have to eat, you have to have housing, you have relationships with other people, you have family, as well as political and religious concerns, just as we do today," he said.
A case in point is a 1.93-metre tree base in the coming exhibition in Hong Kong, believed to be related to religious activities. It belongs to a second bronze tree, called No 2, among the eight discovered at Sanxingdui.
The No 2 tree has been under restoration for years and will also not be shown in Hong Kong, but curator Jiao said his team had also reconstructed the relic through multimedia and archaeological data.
When the tree was found in 1986 in a pit, it was badly damaged and scattered in pieces, with archaeologists attributing the damage to fire and forceful destruction. There are flower buds sculpted on the tree branches and nine birds on leaves.
At the base of the relic are kneeling human figures with bulging eyes, believed to be depicting sacrifices or religious rites.
"The sacred trees were used to communicate with spirits or gods which was part of their understanding of cosmology," Jiao, also an archaeologist, said. "The artefacts are up to people's interpretation, so we have done our best to keep close to what is known about the trees and other displays and avoid overinterpretation," he said.
Out of the eight trees, only three were found in relatively complete shape.
Museum assistant curator Wang Shengyu said the first tree, or No 1, was the largest bronze relic ever found in China in terms of size, at 3.96 metres, and a diameter between 92.4cm and 93.5cm.
As one of the most iconic displays at the new Sanxingdui museum in Guanghan, Sichuan, the No 1 tree is graded a top national treasure and will never leave the mainland. The holographic projection at the Hong Kong exhibition will show what it looks like after being assembled from nearly 2,500 pieces over a decade from 1986 to 1996.
In similar fashion, a multimedia clip will also show the top part of the tree – called a zun-vessel – riding on a four-legged mythical creature, excavated from a sacrificial site at Sanxingdui in 2022.
The deified creature with a rabbit's ear and thick tail, also has a small human figure standing atop its wide mouth. Another human figure kneels on its back, with hands stretched forward and holding an object.
To help visitors better understand the culture of the kingdom, holograms will also be used to show the locations of the relics as they were found across various archaeological sites in Sichuan.