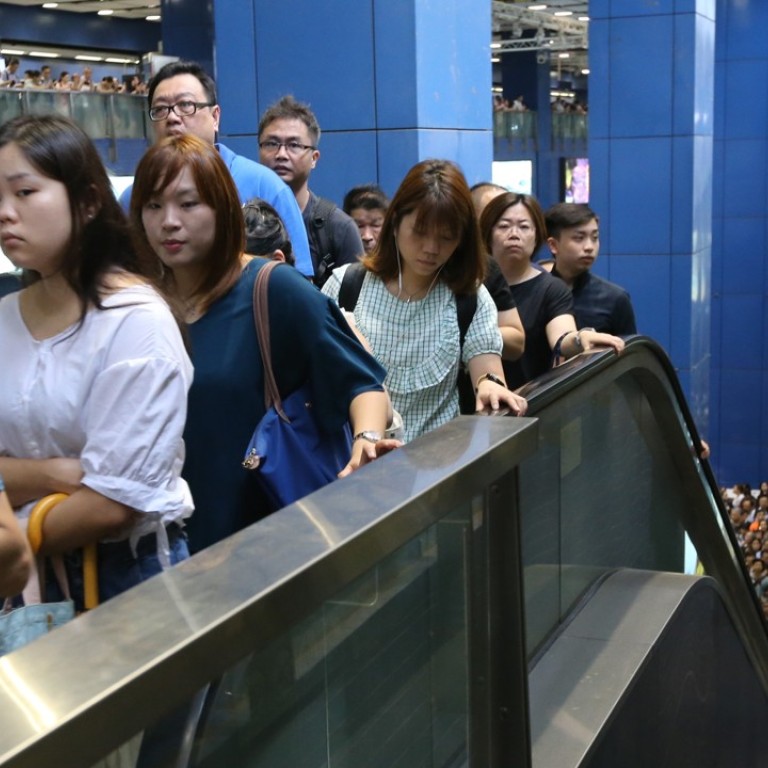 More than 600 road sections blocked and chaotic scenes at Hong Kong MTR stations as grim Typhoon Mangkhut recovery begins
After one of the most powerful storms on record to hit the city, suspensions and delays mean confusion and long waits for residents
Typhoon Mangkhut left more than 600 sections of road across Hong Kong blocked by strewn trees and other debris, officials revealed on Monday morning.

And commuters were left confused and angry as they tried to get to work during large-scale suspensions of rail and bus services caused by the storm.
The city's major bus companies announced they would continue to suspend most services, while ferry and rail operators said services could not resume in full.
Mangkhut, one of the most powerful storms on record to hit the city, caused extensive damage and flooding when it struck on Sunday, at its height sparking the No 10 typhoon signal. The signal was lowered from No 3 to No 1 at 2.40pm on Monday.
Commissioner for Transport Mable Chan told a media briefing, attended by city leader
Carrie Lam
Cheng Yuet-ngor, about the more than 600 blockages, few of which had been cleared.
"About 30 road sections, especially those on major highways, have been cleared for residents' commuting this morning," Chan said.
"The Transport Department's emergency coordination centre will continue to follow up with the Highways Department and contractors on other road clearances."
She said more than 170 sets of traffic lights around the city had been damaged, and repair work was under way. She called on travellers to be patient.
KMB, Hong Kong's largest bus operator, and its sister company Long Win Bus, which serves Lantau Island, said their daytime services would be suspended for safety reasons until further notice because conditions on most major roads remained unsatisfactory, and some bus stops had been damaged during the storm.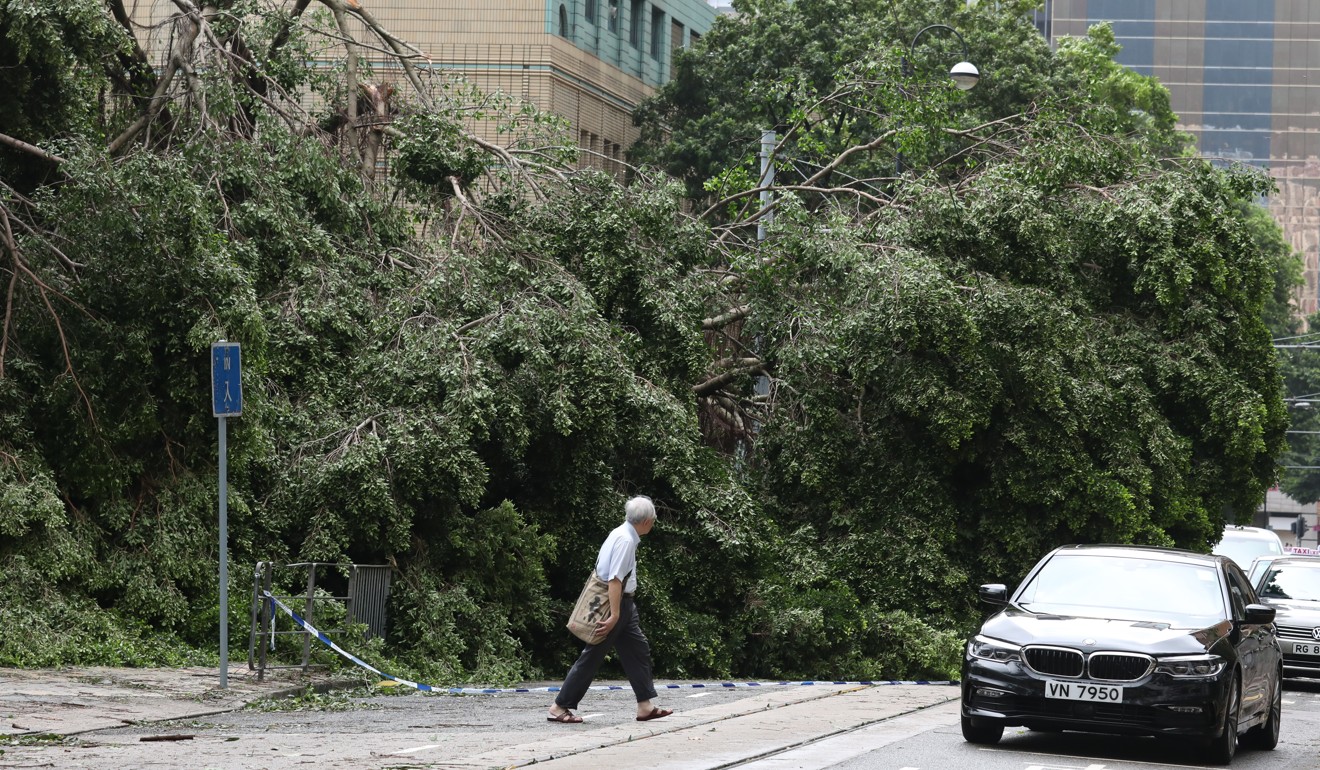 All daytime routes of two other major bus companies would also be suspended, except for two routes of New World First Bus (routes 42 and 82M), and Citybus routes 48, 70, 72, 72A, 75, 90, 592, S1 and S56, which would provide limited services.
By early afternoon, some bus services had resumed.
All rail links were set to resume normal service, apart from East Rail and Light Rail, where some routes remained suspended.
On the East Rail Line, services from Tai Po Market station to and from Sheung Shui station would be suspended, while the intervals of trains running between the route's four other sections would be extended to 15 minutes.
First Ferry announced that the Central to Mui Wo ferry service could only be resumed by late morning, while inter-islands and inner harbour ferry services would remain suspended.
Ferry services between Central and Cheung Chau would resume after 7am, but departure times would be arranged according to the on-site situation.
In Fanling, one of the four East Rail Line stations with no train services at all, one woman said she was upset about the suspension.
"They originally told us to wait for their shuttle bus. I waited for a long time, and then they said there won't be anything … What should I do? I work in Whampoa and my boss is chasing me," she said.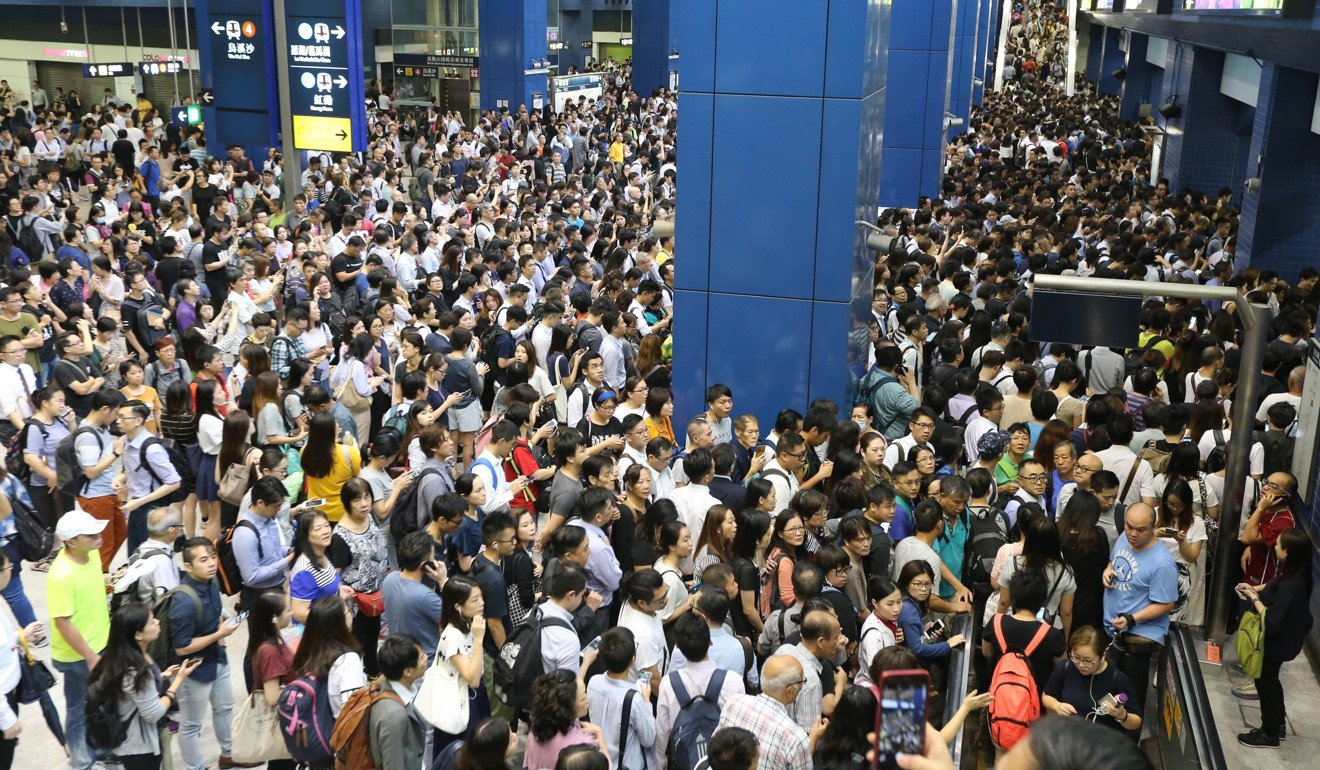 Cally Chan, a 45-year-old office clerk at Sha Tin station, who lives in Sham Tseng in the New Territories, said she normally went to work by bus. But due to bus suspensions, she had to switch to the MTR.
"I waited for 45 minutes for a minibus to get to Tsuen Wan MTR station this morning and arrived here to see the crowd. I don't know what to do now," she said.
"I heard from my colleague that she has been waiting at Tai Wai station for 45 minutes."
But she was not too angry about the situation. She said: "The arrangement is acceptable. There's no other way. Trees are collapsed everywhere."
Lau Wing-hong, a 46-year-old IT clerk who works near Tai Po Market station, had just arrived at Kowloon Tong.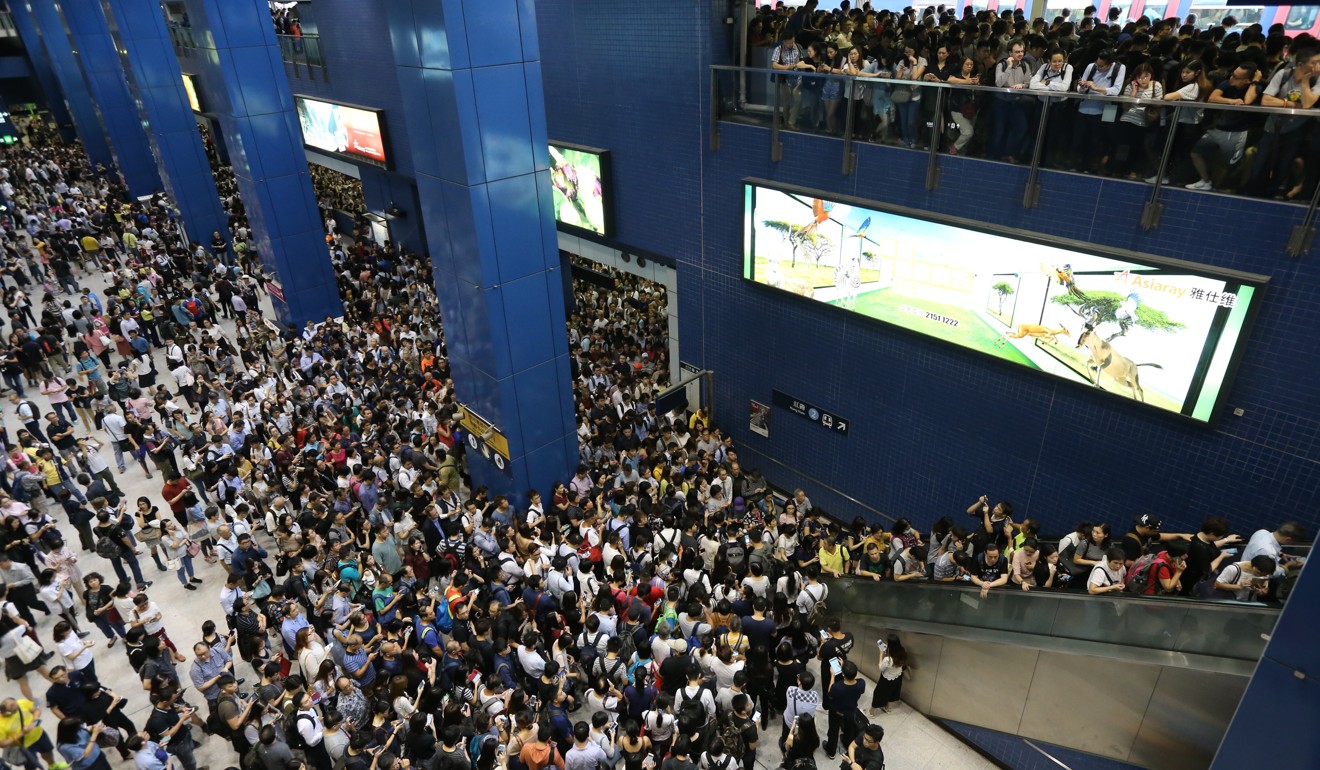 "The staff said I can only get off at Sha Tin and find other transportation to get to Tai Po Market," he said.
"I don't know how long I have to wait here. I asked the staff, but they were not able to give me much information. I wish they would arrange shuttle bus services, but I also understand that the roads are blocked. I'm now contacting my boss about the situation."
The scene at Lau's intended destination was not much better. At 8.45am outside Tai Po Market, the line of people stretching out from the already crowded lobby only grew longer, despite many frustrated travellers deciding to leave.
"I have waited 45 minutes," said Ben Lo, 40, who lives near Tai Wo, where train services were suspended.
He said he left home at 7.45am and took a minibus to Tai Po Market station to try to get to work in Central. But he decided to leave after speaking on the phone to a colleague, who said he was stuck a few stations away at Tai Wai.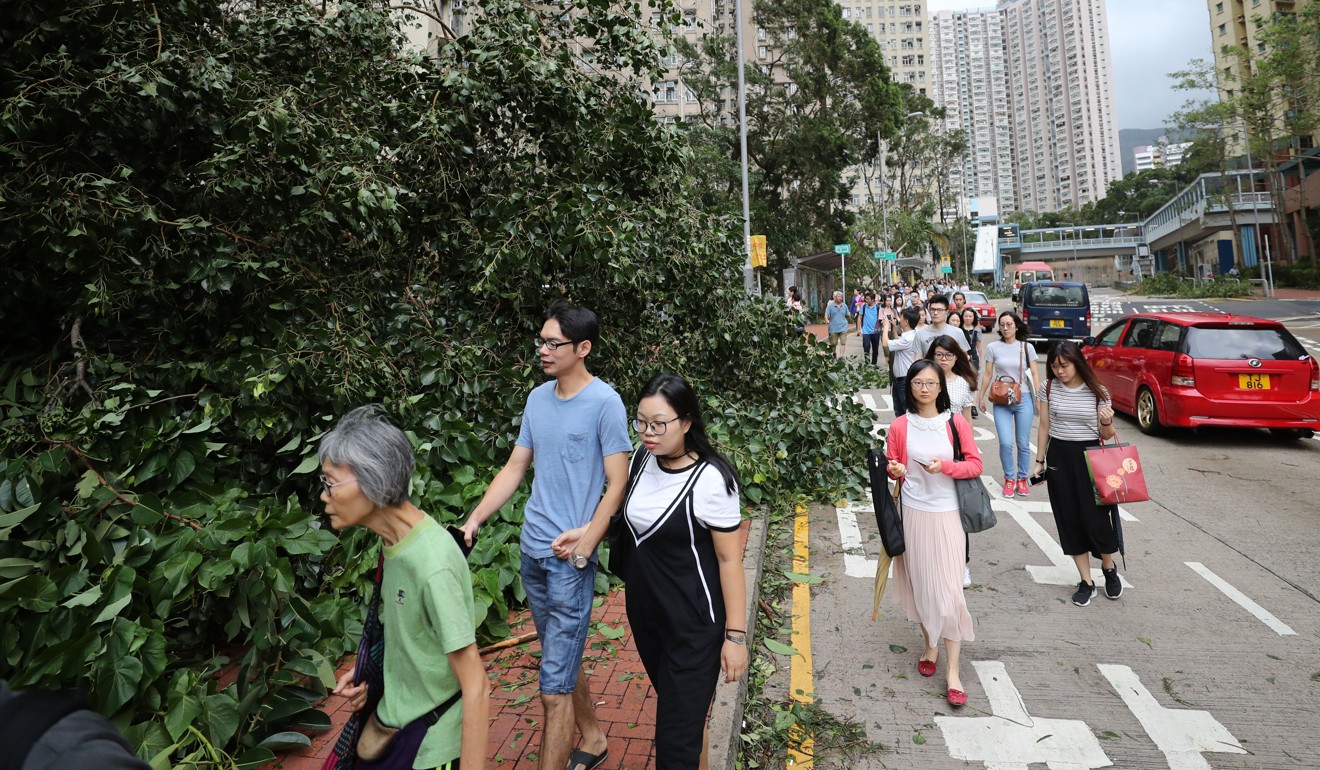 "There should be an announcement to call a half-day off so clear-up work can be carried out," he said, complaining about the lack of bus services.
Commuters from the Tsuen Wan and Kwun Tong lines continued to arrive at Kowloon Tong station to transit to the partially suspended East Rail line.
William Wan, a 63-year-old engineer working in Fo Tan, had been waiting at the station for 30 minutes. He had gone up to the street to search for buses, only to find services were yet to resume.
"The government should allow all workers to be exempted from work today," he said. "The MTR has tried its best, but I think they can raise the frequency of trains from every 10 minutes to every two to three minutes."
Speaking on an RTHK radio programme, Ronny Tong Ka-wah, who sits on Lam's cabinet, the Executive Council, said it was impractical to expect the government to give people the day off work.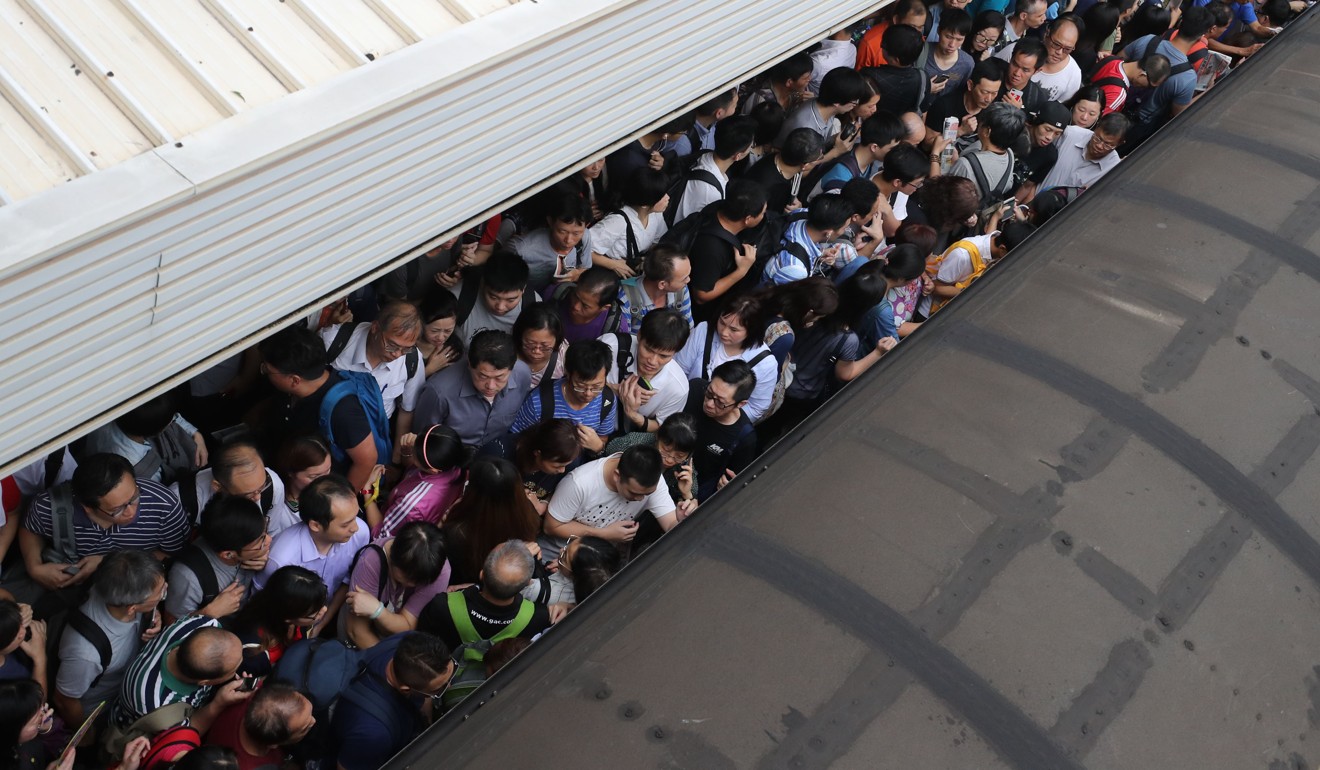 "In a capitalist society, the government has no power to meddle with all the contracts between employers and employees," he said.
Tong added that while the chief executive and the education minister had the power to suspend schools or courts for specific reasons, there was no law saying the government could exempt ordinary residents from work.
The Peak Tram service, as well as service along Hong Kong Tramways' Happy Valley loop, were suspended until further notice.

The Hospital Authority announced that its services, including its public clinics and physiotherapy services, had resumed.
"But because of serious road traffic disruptions, if any patient could not make it to his medical appointment today, he can call the clinics and make another one. One must not worry and rush to their medical appointments," the statement read.
For the latest information on other modes of transport, travellers can check: