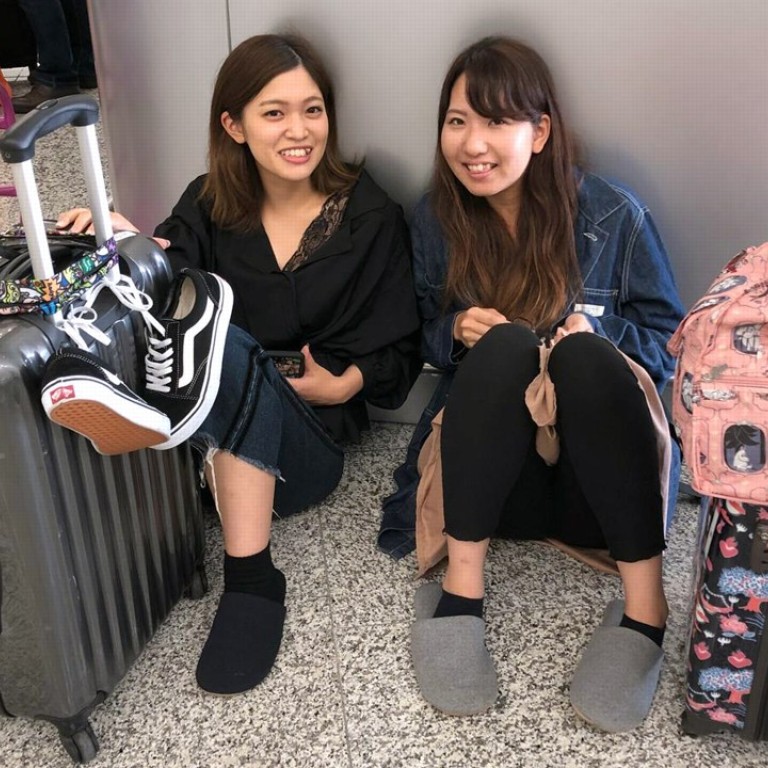 Typhoon Mangkhut: Hong Kong airport to handle 2,000 rescheduled flights over two days with both runways to remain open overnight
Passengers urged to confirm their flight departure times with airlines before heading to the airport
The two runways at
Hong Kong International Airport
will both remain open overnight on Monday and Tuesday to handle 2,000 rescheduled flights after
Typhoon Mangkhut
, the most intense storm to hit the city on record, wreaked havoc on Sunday.
"About 900 flights will be rescheduled today and a total of 2,000 within 48 hours," Jack So Chak-kwong, chairman of the Airport Authority, said on Monday morning.
Hong Kong Airlines would operate 95 flights on Monday, among which 26 were originally scheduled for Sunday and four for Saturday.
All of budget carrier Hong Kong Express' flights scheduled for Monday resumed fully, plus four deferred from the weekend.
"Usually the two runways take turns to be closed for maintenance at night," an Airport Authority spokesman said. "But we will have both of them open for two nights to clear as much of the backlog as possible."
So said: "After today [Monday], everything should return to normal."
He urged passengers to confirm their flight departure times with airlines before heading to the airport, and thanked his staff for sustaining operations under extreme weather.
A total of 889 flights were cancelled on Sunday, when Mangkhut, for which the hurricane signal No 10 was issued, battered Hong Kong for 10 hours with fierce winds and a record-breaking storm surge.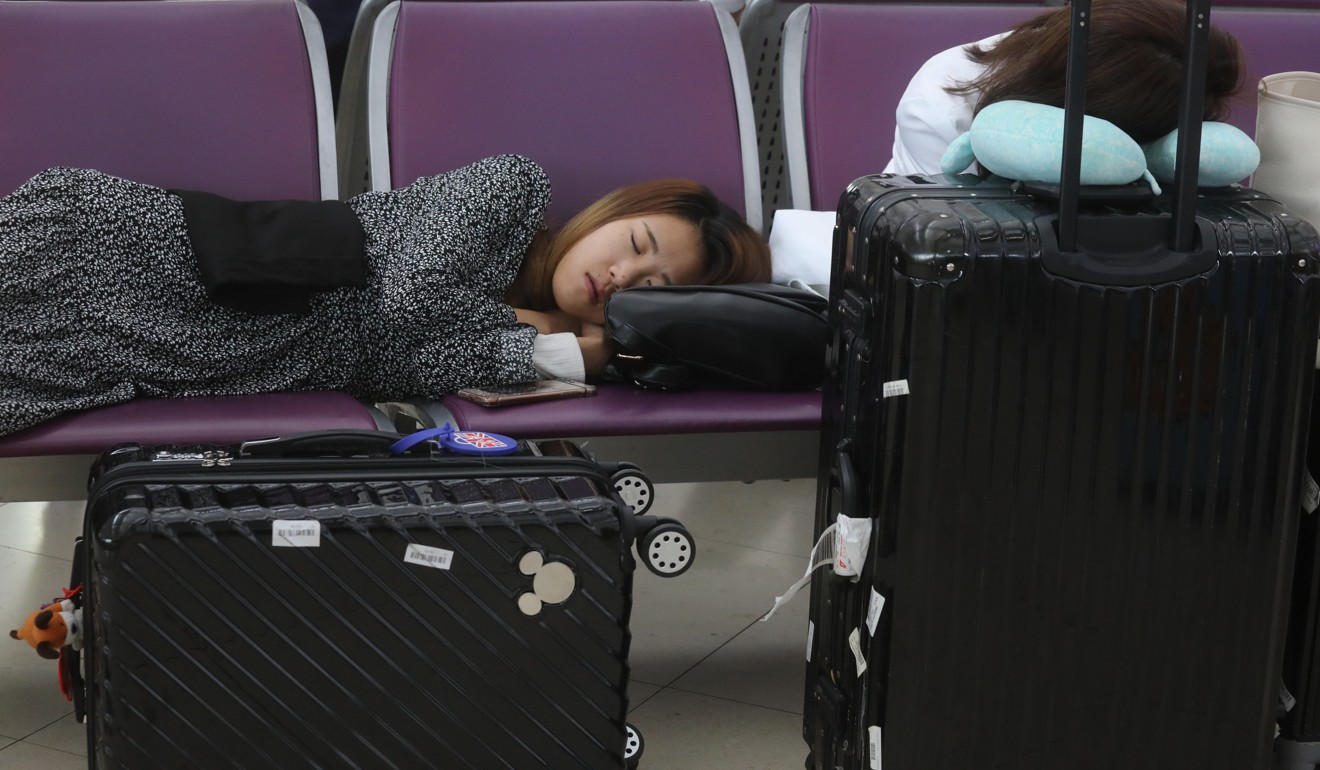 The Airport Express, a rail link between downtown Hong Kong and HKIA, was suspended for almost 23 hours until early Monday morning.
As airline services gradually resumed, passengers stranded at the airport looked for the earliest flights out of Hong Kong or faced uncertainty over departure times after a string of delays and cancellations.
Angel Armijos from South America was visiting mainland China and Hong Kong with his wife but Mangkhut brought their trip to a premature end.
"We were in Shanghai and Xian before. Our plan was to spend three days in Hong Kong before going back to Shanghai [on Sunday]," Armijos said.
The couple only learned about Mangkhut on Saturday – their second day in town – and decided to visit the Big Buddha on Lantau Island while the going was good. "We went there but we were advised not to go up because we might not be able to come down later because of the typhoon," he said.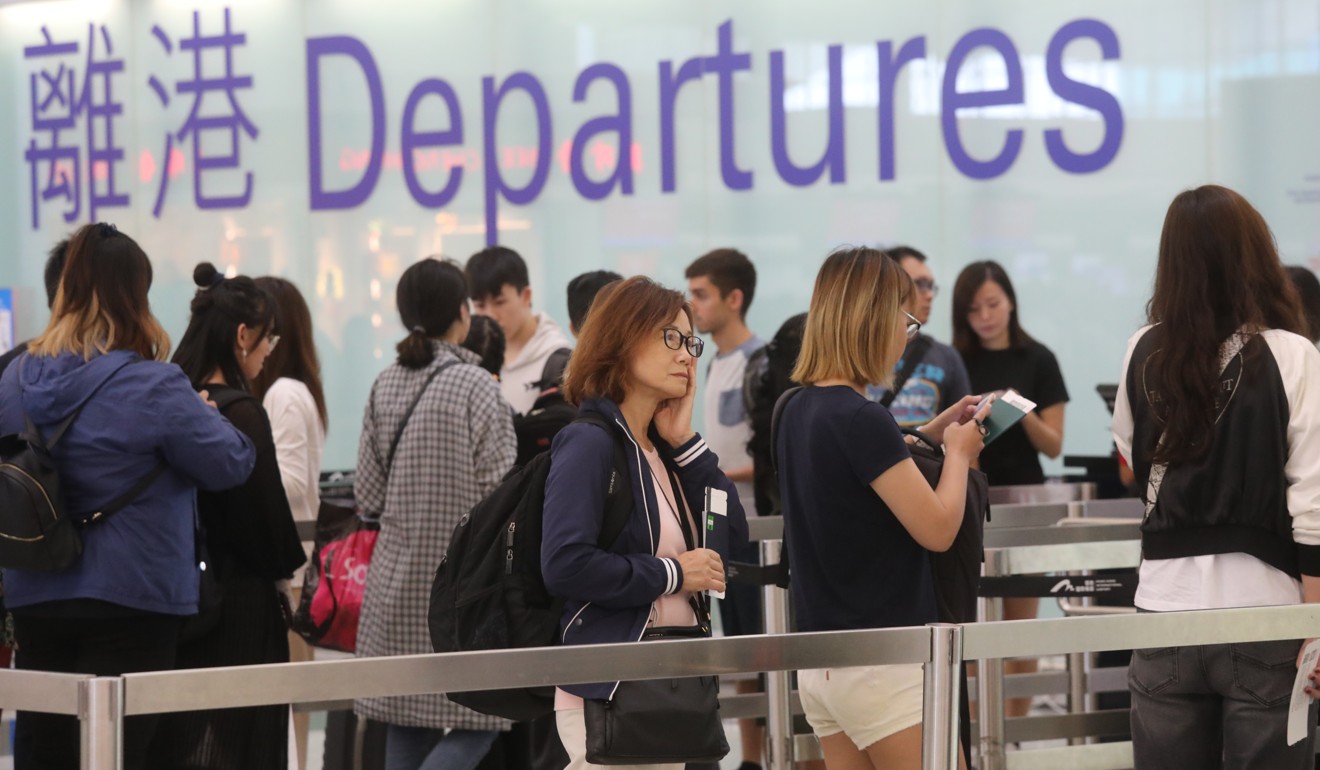 The couple then rushed to the airport only to learn their Monday morning flight to Shanghai, from where they were supposed to fly home, had been cancelled. They booked another flight to Shanghai on Monday afternoon but it was cancelled on Monday morning.
"Now we are on standby, waiting for seats. Maybe for a flight at noon," Angel said. "But the flight attendant told us there are many people waiting. So we are not sure if we can get it.
"We were expecting to have a very nice trip here for three days … but the typhoon changed all our plans. And the airline is not helping us in the least."
The Armijos were not alone.
Japanese tourist Arisu Miyamoto, 24, and her friend Haruka Koizumi only managed a visit to Disneyland since they arrived in Hong Kong on Friday.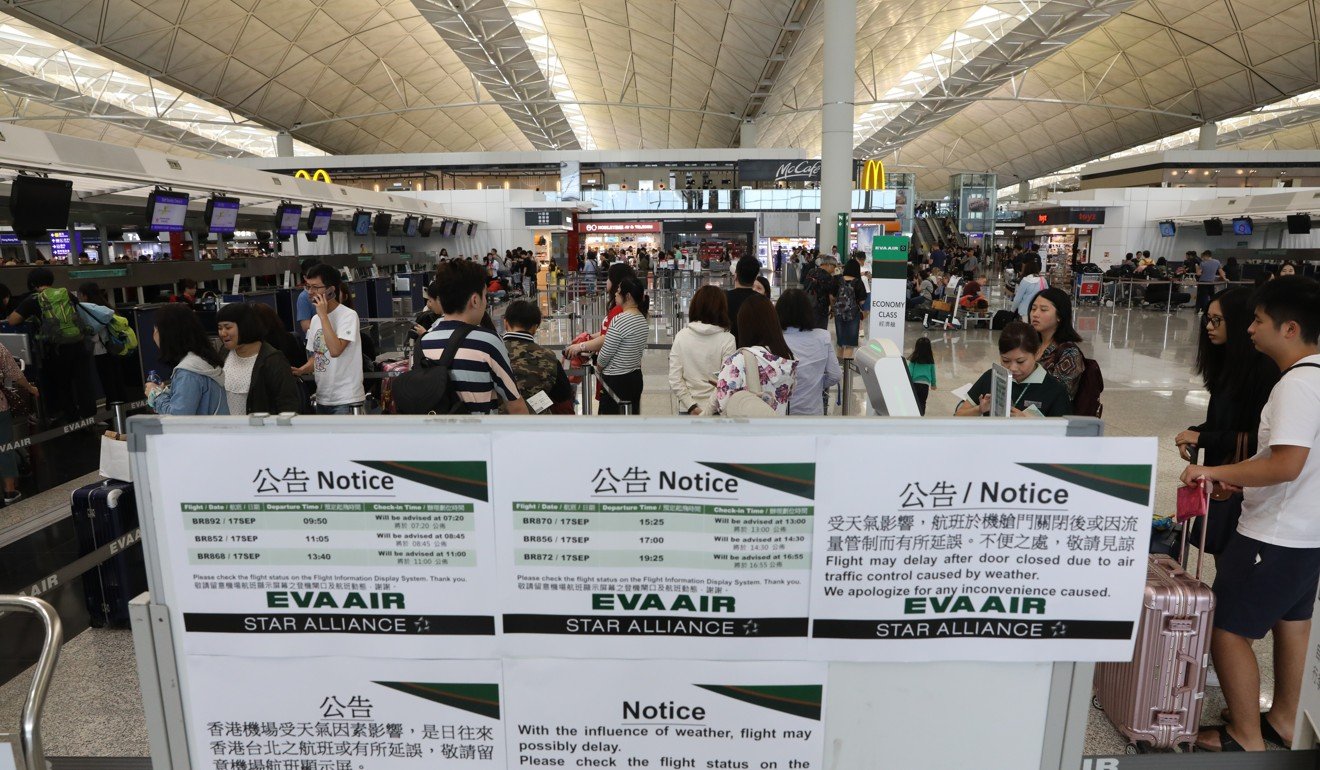 Their flight to Tokyo was rescheduled from Monday to Thursday by Japanese airline ANA. Rather than wait, the duo bought tickets for a Monday afternoon flight on Korea's Jin Air although the journey would take more than 25 hours including transit time.
"We just want to go home now," Miyamoto said.
Newlywed Nicole Yang lost one day of her honeymoon because of flight delays.
The 29-year-old, who got married on Saturday, arrived in Hong Kong from Beijing in the early hours of Monday and she and her husband were supposed to catch another flight to Mauritius at 1.45pm.
The newlyweds planned to spend eight days in the Indian Ocean island nation.
"But we were told that the flight was rescheduled to 1am on Tuesday," Yang said. "We need to spend about 11 more hours here."
What the couple wanted most was somewhere to rest.
"We went to the McDonald's but it was too noisy," Yang said.