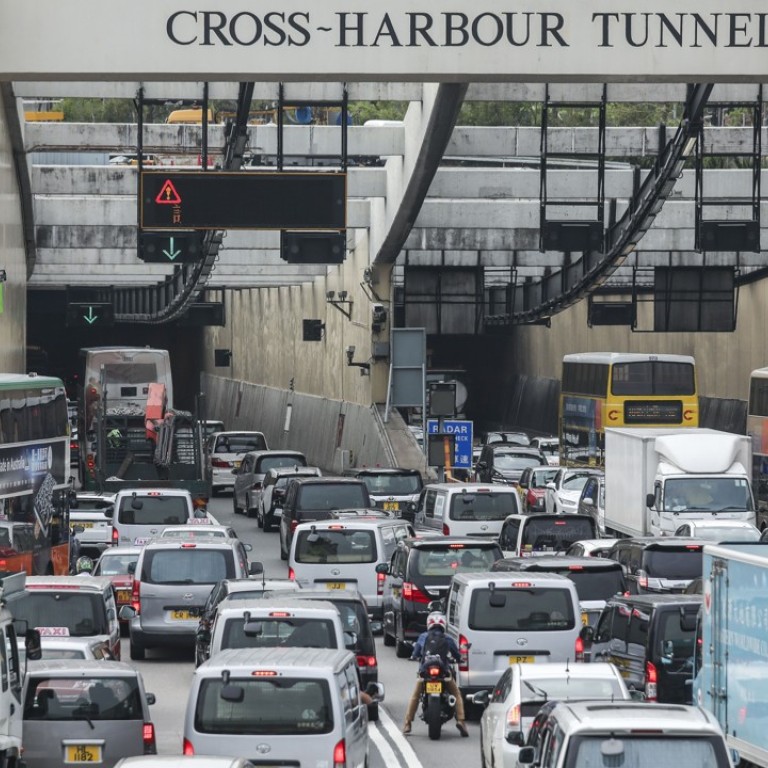 Hong Kong urged to control rising car numbers and traffic congestion with cohesive transport policies
Car ownership increasing seven times faster than population, with drivers undeterred by exorbitant costs
Experts call for holistic plan boosting attractiveness of public transport but also regulating sector's private operators
Every day during the morning and evening rush hours, a familiar sight appears at Hong Kong's three cross-harbour tunnels – rows of vehicles, from buses and taxis to private cars, choke up entrances in a mind-numbing mash of wheels and exhaust fumes.
And despite Hong Kong's public transport track record still being among the best in Asia, longer waiting times and journeys for buses citywide are becoming the norm, while MTR train carriages seem to be getting fuller.
According to transport experts, these inconveniences are not the result of population growth: instead, a surge in the number of cars on the city's roads is causing increased congestion, which in turn affects public transport.
Car licensing figures show that between 2008 and 2017, the number of private cars in Hong Kong leapt by 48 per cent, with an average annual increase of 3.7 per cent. By comparison, the city's population grew only 6.8 per cent roughly over the same period. This means cars are multiplying at seven times the rate of people.
"The car growth rate is unsustainable," says Evan Auyang, chairman of policy tprihink tank Civic Exchange. "In terms of public transport, Hong Kong might be among the best right now, but we're not headed in the right direction."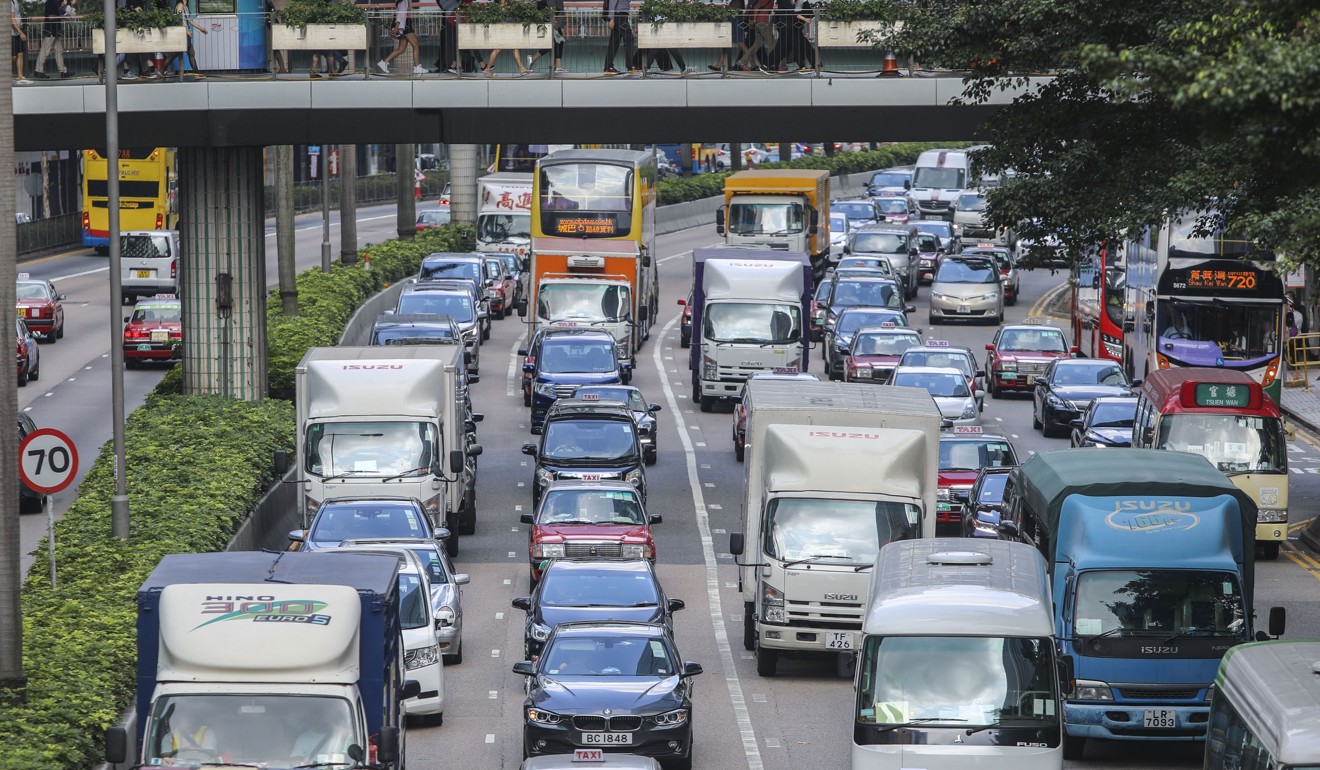 Chan Lok, 40, lives in Causeway Bay and commutes to Kowloon by bus and rail, which takes him about an hour. "The traffic is congested, but there is actually not much the government can do about it," he says. "Perhaps if they raise tunnel fares and lower public transport fares, it may persuade more people to go car-less?"
Car owner Chin Wai-lap, who lives in Tsuen Wan and works in Causeway Bay, says that for him, driving makes sense. "It's convenient and helps me better control my time compared with public transport," Chin, 50, says. "It takes about an hour for me on the bus or MTR from home to work, if I include traffic and the walking distance. By car, it's 45 minutes."
But Chin admits cost is a factor. "For me, if the government raised the tunnel fares or the car licensing fee, that might persuade me to stop driving."
Despite commuter dissatisfaction, Hong Kong regularly takes first place in global rankings of public transport services. This year, when American consultancy McKinsey & Company surveyed 24 cities, comparing 95 different criteria, they gave Hong Kong a top score of 70.8 per cent – ahead of runners-up Singapore (69.2 per cent), Paris (59.7 per cent) and Moscow (56.8 per cent).
But Hong Kong may not keep that lead for long. From 2008 to 2017 – the same period car ownership rose by 48 per cent – various forms of public transport have stagnated. According to a report last year by the Transport and Housing Bureau, the city's major bus franchises delivered about 74,000 trips around Hong Kong daily in 2017. But crucially, the report noted this number had remained roughly the same for 10 years.
Auyang says there is a need to understand the role of private cars in this. "It's physically impossible to run a city on private cars. More cars on the road increase congestion, which leads to longer journey times," he says. "In turn, bus and minibus operators must devote more vehicles and drivers to the same routes." And, as people get frustrated with the roads, they turn to an already crowded MTR.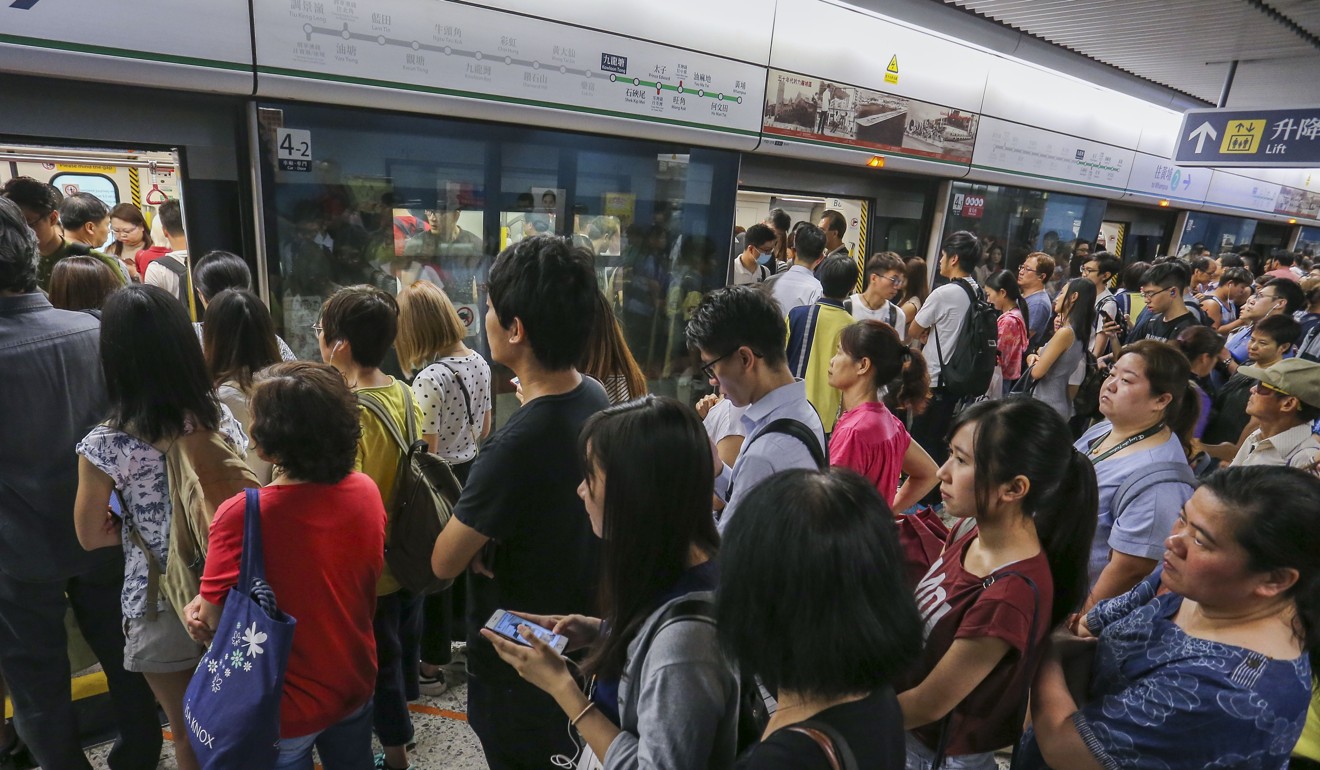 Private whims in a public sector
Alleviating the situation, says Professor Hung Wing-tat, fellow at the Hong Kong Society for Transportation Studies, requires a comprehensive strategy to make public transport more attractive.
But he says the government puts itself at the mercy of private operators.
In 2016, then transport chief Anthony Cheung Bing-leung said: "It is the government's policy that public transport services should be run by the private sector in accordance with commercial principles for greater cost-effectiveness."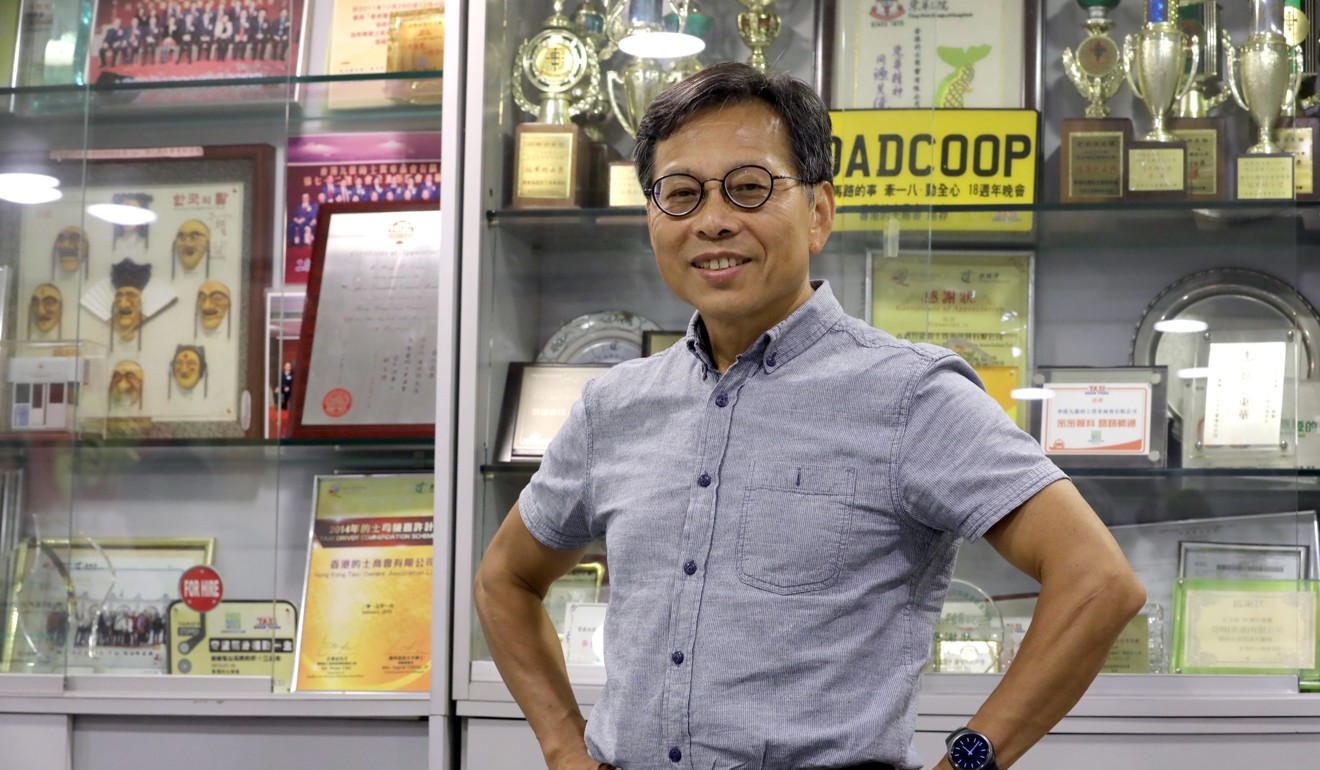 Hung says such a policy makes it difficult to plan a comprehensive public transport strategy. "The government requests that operators make their own development plans according to their interests, but it's impossible to order the private sector to do what they don't want to do for no profit."
At the same time, Hung points out, costs for travellers are steadily increasing. "Fares have reached a level where affordability is becoming an issue for the community," he says.
This year, two of Hong Kong's bus operators, Citybus and New World First Bus, applied to authorities to raise their fares by 12 per cent, while the city's tram operator raised fares by up to 13 per cent. The MTR Corporation, which last year saw total operating profits of HK$21.1 billion, raised its fares by 3.14 per cent.
Hung believes that the profits generated by more lucrative services, such as the MTR, should be ploughed back into the whole public transport network. "They should be used to improve the entire public transport system – including buses, minibuses and even taxis," he says.
He stresses, however, that he is not an advocate of public ownership of the sector. "I propose that the government owns the assets, but leases the operation and maintenance to the private sector."
In an effort to alleviate the financial burden on commuters, the government announced this month that from January 2019, it would launch a scheme to refund 25 per cent of people's public transport costs, after the first HK$400. The money-back scheme is available to all, and applies to all forms of public transport, but is capped at a maximum of HK$300 monthly per person.
But Evan Auyang says that far from being a fix for transport woes, the money-back scheme fails to address the root of the problem. "Providing subsidies to help the less privileged with transport costs is well-intended, but it further confuses an already incoherent transport policy," he says. "Hong Kong needs to make systems-based solutions, not Band-Aid, piecemeal solutions."
Curbing car growth
For its part, the government has said it recognises the car growth problem. In its last major report on traffic congestion, published in 2014, the Transport Advisory Committee (TAC) stated that if the growth rate of private cars – 4.5 per cent per year in 2014 – was to continue, average journey speeds would drop by 15 per cent in the following 10 years.
The report found that if the city was to cut private car growth to just 1.5 per cent per year, journeys would be impacted by 7.5 per cent. Further, it stated that 70 per cent of respondents in a survey of pedestrians and drivers favoured measures to cut car growth.
To bring down the growth in private cars, the TAC report recommended raising the First Registration Tax on car purchases, which starts at a 40 per cent tax on the first HK$150,000 of a car's value.
Simply raising the cost of car ownership, however, may not be enough to deter some Hongkongers. The city is already notorious for costly parking spaces, yet people are still willing to spend exorbitant sums on somewhere to put their wheels. This year, it was revealed that two financiers had paid HK$6 million (US$760,000) for a single parking spot at the Ultima residential complex in Ho Man Tin.
According to the Legislative Council, the average annual cost of a private residential parking space more than tripled over the past decade, going from HK$380,000 in 2006 to some HK$1.6 million in 2017.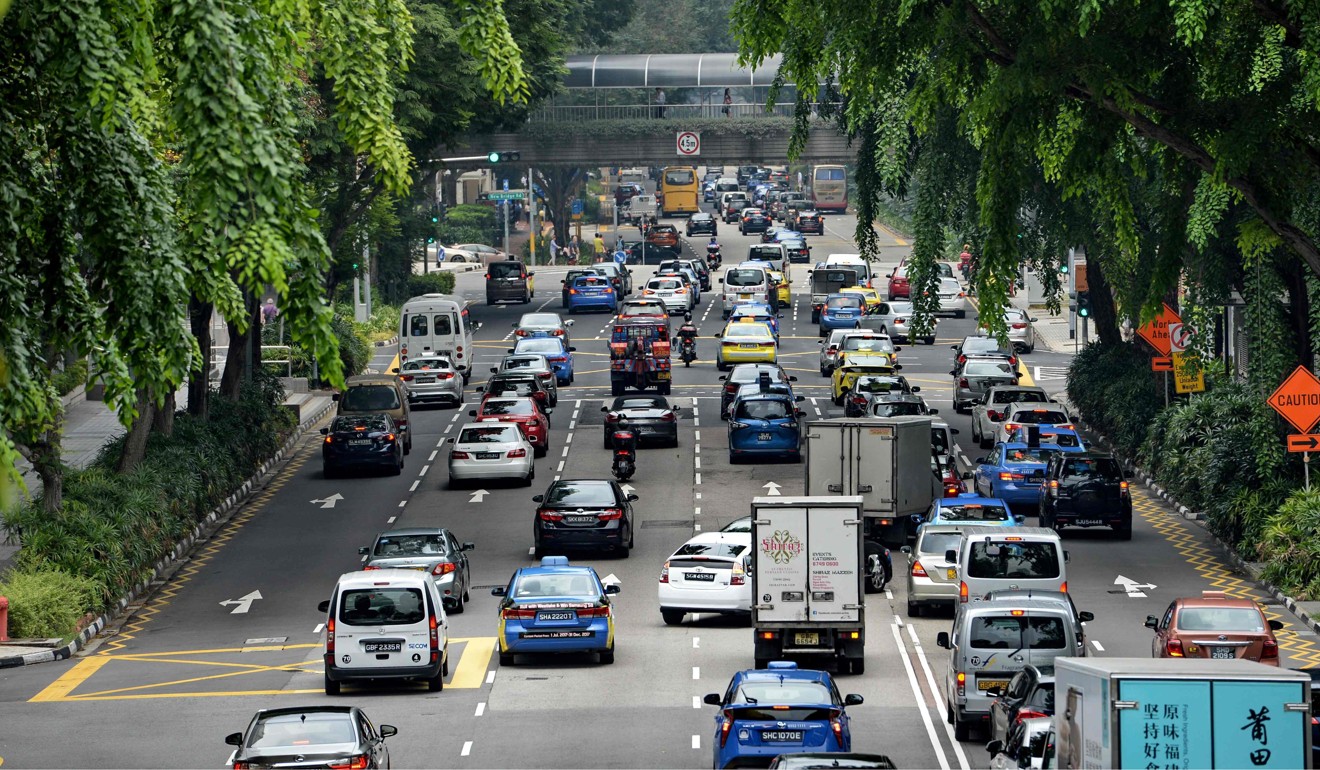 The TAC report also discussed congestion charging, a measure used in Singapore, where motorists are charged automatically when they use specific roads during peak times, with a current maximum charge of S$6 (HK$34) for entering the city's Central Business District.
Professor Walter Theseira, an economist and urban transport researcher at the Singapore University of Social Sciences, says the city state's measures go much further than that: earlier this year, the Singapore government set car growth at zero per cent, under a vehicle quota system first introduced in 1990.
Theseira says of the Lion City's residents: "People accept the need for road charging in the central areas, and vehicle growth has been rather low for many years."
But Professor Alain Chiaradia of the Institute of Transport Studies at the University of Hong Kong notes that Singapore's car-curbing measures come alongside a major expansion of the city's public transport infrastructure.
Chiaradia also points to Paris as an example of a city with a holistic policy for improving transport. Studies in the French capital found that people use public transport more readily when commuting involves as few connections as possible.
He says the city has built an extensive set of encircling transit loops, incorporating both bus and rail networks, and taking into account bicycle lanes. This has involved the extensive implementation of bus lanes, and giving public transport priority at interchanges.
This emphasis on alternatives and choice is the real takeaway from other major world cities, Auyang says. "The right direction means improving the availability, frequency, cost and comfort of public transport – including road transport."
He suggests that the government begin by assessing the usage of roads. Researchers in the United States, Australia and New Zealand have found that by setting targets for the proportion of each vehicle type on the road – buses, cars, minibuses, trucks – authorities can make informed decisions about tolls, bus lanes and other mechanisms to benefit public transport.
"The government needs an answer for how they want to allocate road space," Auyang says. "If they can answer that question, maybe they can help make public transport more attractive."
The Post reached out to the Transport Department on road space allocation policy but it did not respond by press time.