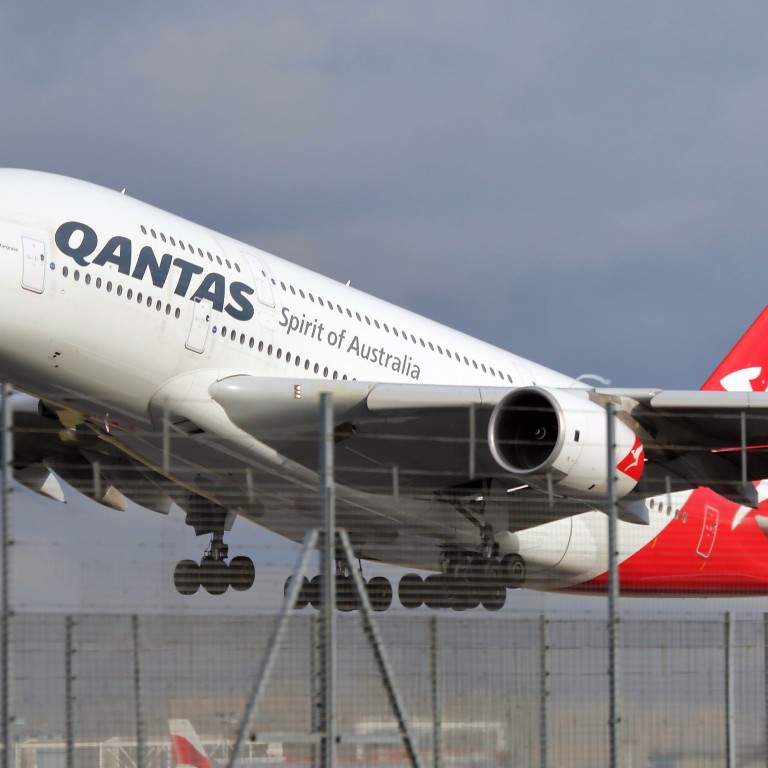 Hong Kong's Cathay Pacific Airways and Australia's Qantas move ever closer – and Virgin is miffed
New code-share plan – still to be approved – would dramatically boost the travel options for fliers between Hong Kong and Australia
Struggling rival says deal would be to the 'detriment of the travelling public'
Cathay Pacific Airways customers may soon be able to fly in the world's biggest passenger jet.
But Hong Kong's top airline has not bought a batch of the Airbus A380 planes; it will be selling tickets for Qantas' jets under a proposed code-share plan, according to sources.
The arrangement – which has riled rival Virgin Australia – would dramatically boost the travel options for fliers between the city and Australia.
Highlighting its effort to strengthen its presence in the China market, Qantas CEO Alan Joyce told the Post last week in London that the arrangement "had huge consumer benefits".
Qantas applied to the Australian air traffic rights body on behalf of Cathay Pacific at the start of the year. The International Air Services Commission (IASC) has responded and the country's competition regulator asked for more details on the proposal.
If the authorities approve the tie-up, Cathay and Qantas will be able to offer six daily flights to and from Sydney, for example, starting as early as March 31. Virgin offers one daily flight, code-sharing with Hong Kong Airlines.
Qantas sends the double-decker A380 between Sydney and Hong Kong during summer in the southern hemisphere.
Virgin Australia offered the strongest opposition to the deal, as its bitter rivalry with Qantas resurfaced. In a letter to the IASC dated January 22, it branded the expansion unnecessary and said it was to the "detriment of the travelling public", citing both airlines' market power.
Expanding on its opposition, a spokeswoman for Virgin said it had "no plans to reduce flights between Australia and Hong Kong" despite struggling to win over passengers.
Joyce hit back at Virgin's struggling Hong Kong route, saying his rival's weakness was of its own making, citing its loss of a partnership with Air New Zealand, which in turn opted to work more closely with Qantas.
"They have had a lot of partners moving the other way. They've always said [HNA] was a better partner and a great partner so they just have to live with that, as that's the bed they made for themselves," Joyce said.
Hainan province's debt-ridden HNA Group owns a 19.8 per cent stake in Virgin.
Virgin Australia landed on the Hong Kong-Melbourne route in March 2017, the first carrier to challenge the duopoly. Cathay Pacific and Qantas competed on Sydney, Melbourne and Brisbane. Separately, Cathay is the only airline flying to Perth, Cairns and Adelaide from Hong Kong.
But Virgin has only managed to fill its Hong Kong flights by 66 per cent, according to Australian government data.
Hong Kong Airlines flew planes which were 61 per cent full. The airline flew to Cairns and the Gold Coast before exiting Australia altogether due to the poor performance. The airline is unable to fly to major Australian cities as all air traffic rights are taken by Cathay Pacific.
In contrast, Cathay Pacific and Qantas would control 90 per cent of all aircraft seats between Australia and Hong Kong, with planes 80 per cent full.
A Cathay Pacific spokeswoman said: "We are looking to grow our relationship with Qantas, our Oneworld partner, to give our customers more travel choices."
Virgin's entry on the Hong Kong route was initially welcomed as providing choice against Cathay and Qantas, said David Flynn, editor of Australia Business Traveller.
Citing Cathay and Qantas' existing relationship in the Oneworld alliance, plus frequent fliers enjoying the benefits of travelling with both airlines, Flynn concluded: "It's hard to see how closer ties between the Australian and Hong Kong flag carriers would impact Virgin.
"None of this stands to detract in any way from Virgin Australia, because even without the code-share arrangement Qantas and Cathay already enjoy a very strong synergy."
The new application builds on an earlier deal, which allowed Cathay Pacific to sell tickets on 13 domestic Qantas routes and for the Australian carrier to do the same on 10 South Asian destinations served by the Hong Kong carrier.