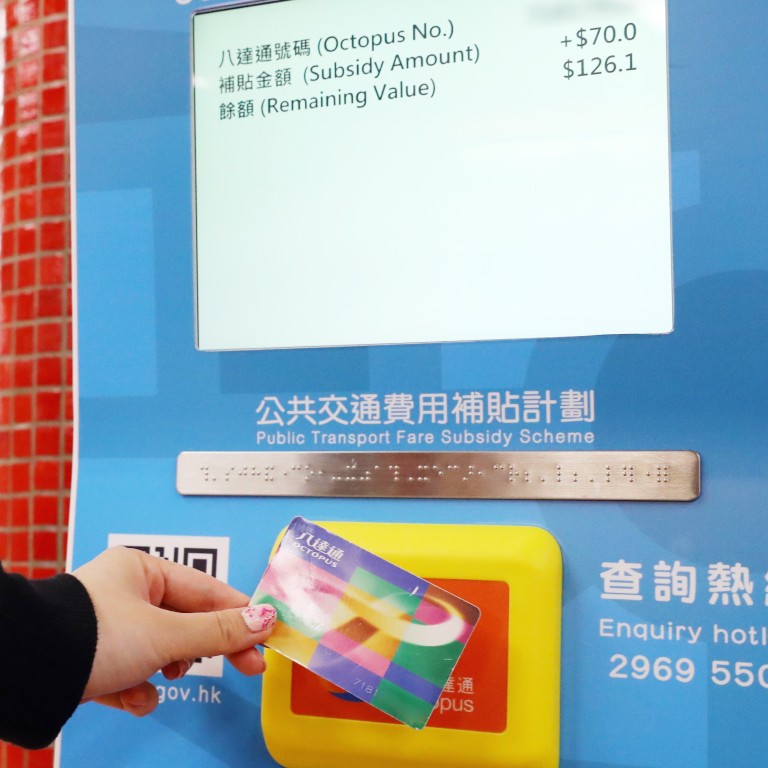 Hong Kong transport subsidy scheme launches with minor hiccups for tap-and-go Octopus card top-ups at stores
On the 16th of each month, users can collect 25 per cent rebates, capped at HK$300, for monthly transport costs beyond HK$400 for previous month
More than 1,800 collection points, in blue, are located across city, including in train stations, ferry piers and convenience stores
A new transport subsidy scheme in Hong Kong enabling commuters to earn rebates on their Octopus cards kicked off on Saturday with some hiccups at kiosks in convenience stores.
Under the Public Transport Fare Subsidy Scheme, commuters with monthly travel expenses exceeding HK$400 (US$51) received subsidies of 25 per cent of the difference between their total cost and this sum, capped at HK$300.
The extra credit is topped up into users' Octopus cards at various self-service collection points across the city. While users said they encountered some issues at convenience chains, no problems were reported at kiosks in MTR stations.
At Mong Kok station, 63-year-old Yip Shu-fai was overjoyed to collect HK$152 for his transport costs in January.
"I travel from Tuen Mun to Mong Kok every day to take care of my ailing 90-year-old mother, so this is very helpful," Yip said. "Now I can go enjoy some afternoon tea with the extra money."
Yip said he could spend more than HK$1,100 a month on round trips by MTR and buses.
Housewife Jenny Cheuk was also satisfied with the easy "tap-and-go" process. "It's really convenient. I didn't have to do any pre-registration. Just a simple tap on the device and you're done."
Cheuk said the three-month window to collect each month's subsidy was "more than enough", since all MTR stations were equipped with the special card readers.
From the 16th of each month, commuters can collect the subsidy for the previous month via the Octopus App or at more than 1,800 collection points around the city, including Octopus Service Points, MTR stations, light rail customer service centres, designated ferry piers and any 7-Eleven, Circle K or Wellcome supermarket.
The collection points are blue in colour.
For those who pocket the subsidy at convenience stores, they will also be given a HK$10 coupon for purchases in the same shop.
But both 7-Eleven and Circle K chains experienced hiccups, with some users complaining they could not get the vouchers after collecting the subsidy.
"I just went [to 7-Eleven] in Sheung Shui this morning and they told me there was a malfunction with the machine and I could not get the coupon. This is ridiculous," Facebook user Momo Chu posted on the store's page.
In response, 7-Eleven apologised for the glitch and asked users to hold on to their receipts for follow-ups.
Circle K said its system was overloaded on Saturday morning, causing a half-hour disruption. Its kiosks were back online after 9.30am.
The scheme, effective from January 1 this year, was first announced by Chief Executive Carrie Lam Cheng Yuet-ngor in her maiden policy address in 2017 as a relief measure for commuters and is expected to cost the government about HK$2.3 billion (US$293 million) a year.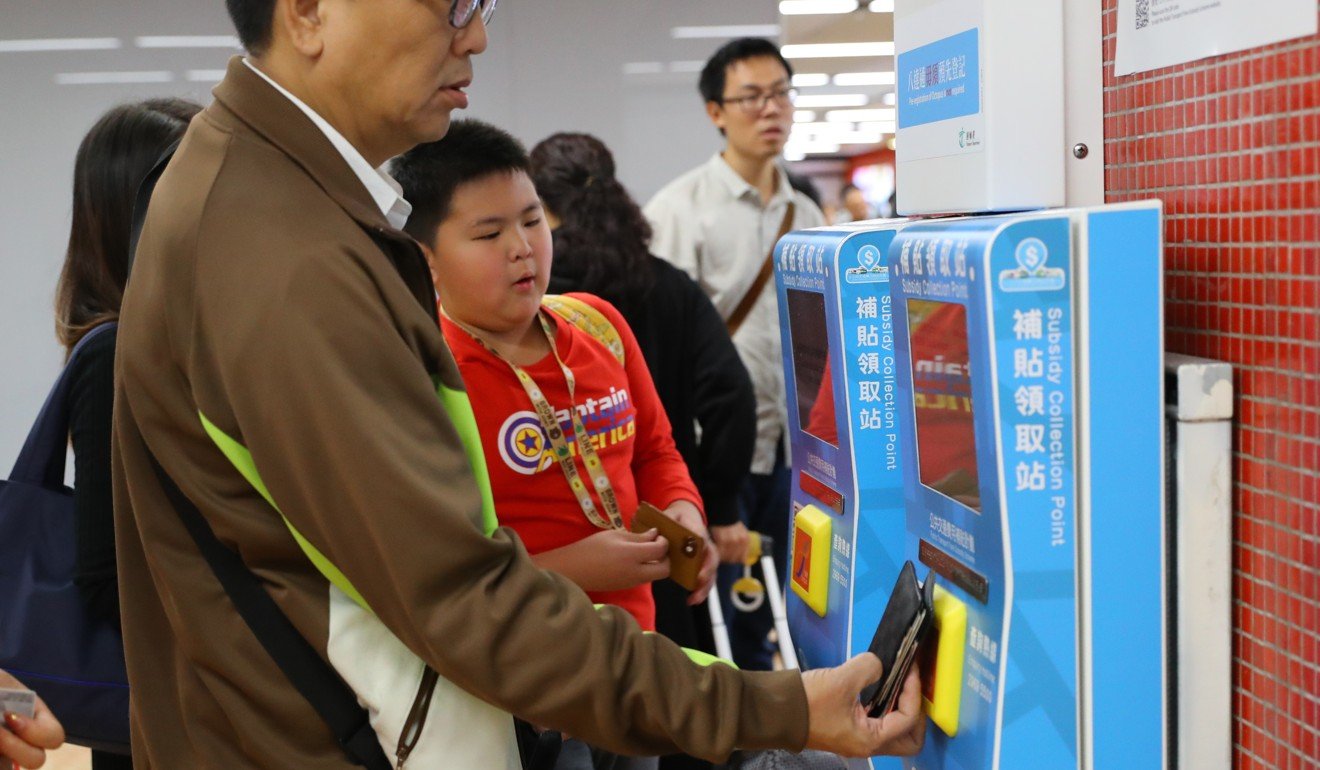 The total amount of subsidies expected to be handed out for January is HK$186 million, benefiting some 2.3 million users. About 90 per cent of commuters for this wave would receive rebates of HK$200 or less, according to the latest data. Of the remaining group, about 20 per cent are projected to get the maximum of HK$300.
The scheme covers a wide range of public transport, including the MTR, franchised buses, green minibuses, ferries, trams, designated routes of red minibuses, kaitos – small ferries that serve mainly residents of outlying islands – and non-franchised buses for residents and employees, approved by the Transport Department.
However, one commuter said while the whole arrangement was convenient, there was room for improvement.
"I think the MTR can do a better job in putting up more signs indicating where the devices are located. Mong Kok MTR station is so big, it can be hard to find," Twinkle Poon, 20, said.
At Causeway Bay station, one commuter said she would not have to pinch her pennies as much with the new scheme in place.
"On weekends I used to plan my schedule down to a 'T' so I can save money and avoid making extra trips. Now with this subsidy I can relax a little," Fion Ng said.
The Transport Department said in a statement that operations at various collections points on Saturday morning were generally smooth.
It urged the public to collect their January subsidy before May 15, after which it would automatically be forfeited.
This article appeared in the South China Morning Post print edition as: commuters cash in on fare subsidy scheme