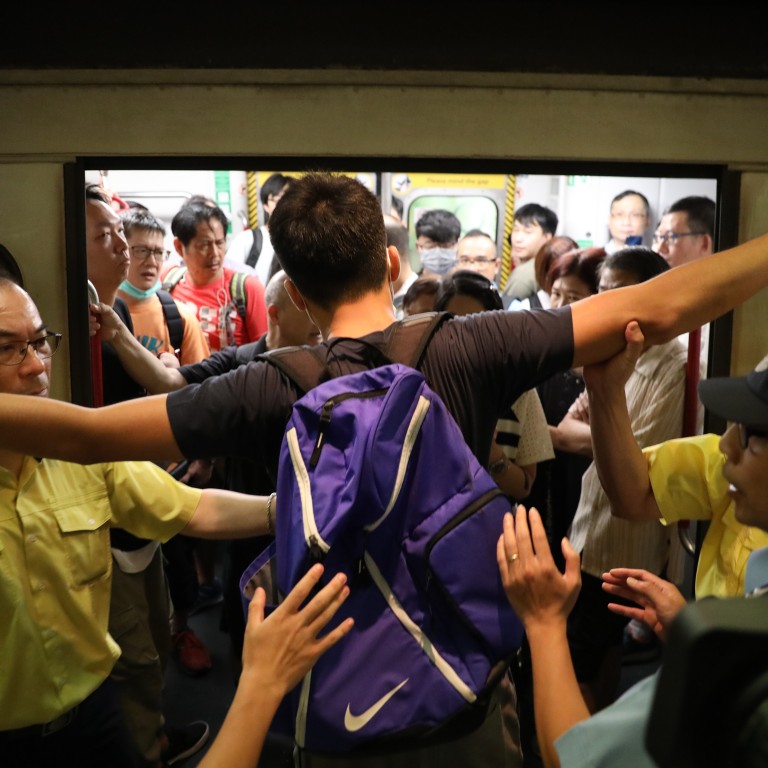 A protester prevents a train from leaving Tiu Keng Leng MTR station. Strike organisers said traffic disruptions would start Monday morning. Photo: Nora Tam
Hong Kong prepares for transport nightmare and massive flight cancellations as citywide strike against extradition bill crisis targets MTR, airport and roads
Organisers intend to prevent passengers from reaching work in crucial business districts like Central, Tsim Sha Tsui and Mong Kok
Critics say large-scale disruption – across industries ranging from finance to the arts – will severely damage reputation of Hong Kong
Topic |  
Hong Kong protests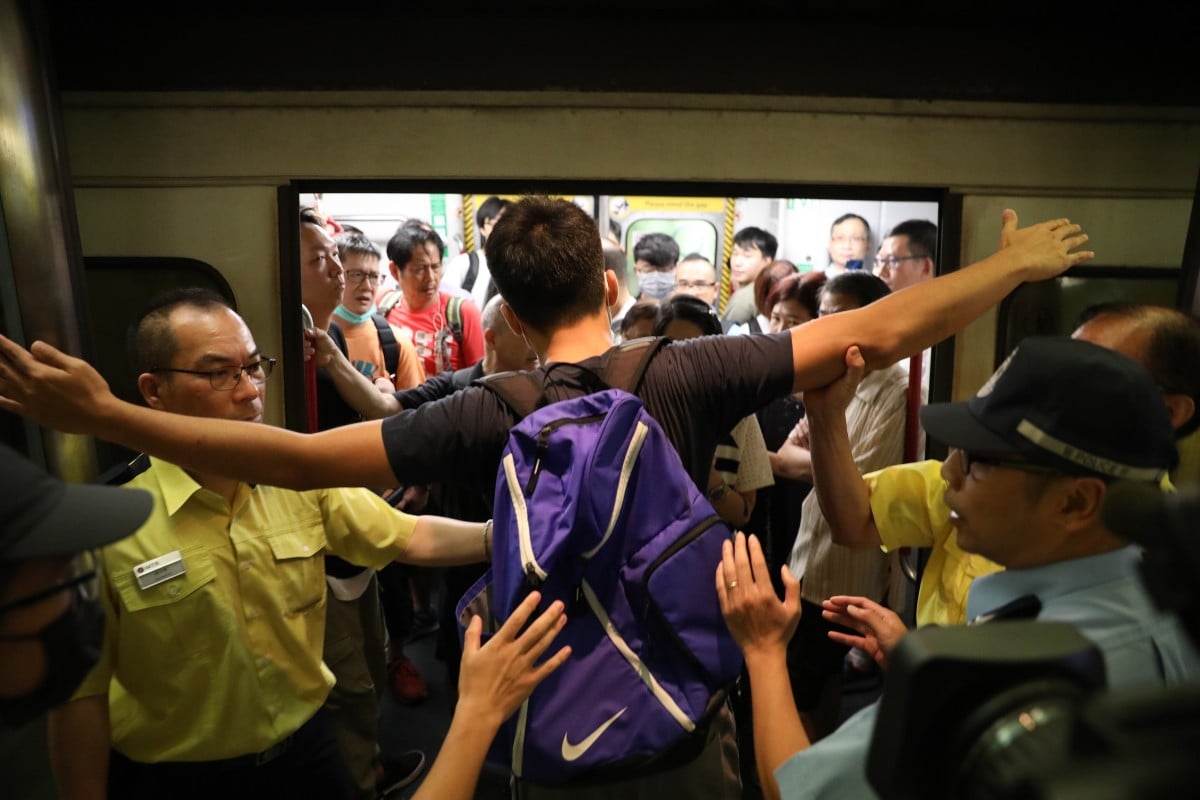 A protester prevents a train from leaving Tiu Keng Leng MTR station. Strike organisers said traffic disruptions would start Monday morning. Photo: Nora Tam
Hong Kong is preparing for massive flight cancellations, commuter chaos, traffic jams and service disruptions on Monday when the largest citywide strike in decades takes aim at public transport networks and crucial industries to protest against the government's extradition bill fiasco.
The airport is expected to reduce flight operations to just one runway from two. Based on estimates, this could mean half of flights on Cathay Pacific Airways, the city's flag carrier, could be affected, in the most direct blow to travellers, as concerns about the near nine-week anti-government protests gain international attention.
More than 1,000 commercial flights were initially due to depart and arrive in Hong Kong on Monday, with 511 services scheduled to leave the city, according to the Airport Authority's website.
The decision by the Civil Aviation Department on Sunday night came amid anonymous air traffic controllers following through on threats to join Monday's citywide strike.
More than 500,000 Hongkongers from over 20 business sectors were expected to join the industrial action, with organisers on Sunday urging all city employees to join the strike to pile more pressure on the city's embattled administration.
Critics of the strike said the large-scale disruption – across industries ranging from finance and aviation to restaurants, green groups and the arts – would be a severe blow to the reputation of Hong Kong, a city that has long prided itself on stability and world-class services.
Strike organisers said work stoppages would be held in seven districts – Admiralty, Mong Kok, Sha Tin, Tai Po, Wong Tai Sin, Tuen Mun and outside Hong Kong Disneyland.
Organisers circulated online warnings that non-cooperation tactics would begin at 7.30am at four
The activists said their goal was to prevent passengers from reaching work in crucial business districts such as Central, Tsim Sha Tsui and Mong Kok. They asked the public for tolerance and patience over service delays.
Protesters also revealed plans to block harbour tunnels, including the Cross-Harbour Tunnel and Eastern Harbour Crossing, and encircle the bus depots in Kowloon Bay and Lai Chi Kok.
Officials with two MTR unions, including the 4,000-strong Hong Kong Federation of Railway Trade Unions, and the MTR Corporation Staff Union, which has over 400 members, said they would not ask members to take part in the strike and were not aware of any drivers planning to join the walkout.
Participating Hongkongers, who as a rule consider work a priority, plan to temporarily leave their jobs to reinforce the five demands of the
On Saturday, nine activists, many of them wearing masks, said workers from more than 20 business sectors had already applied for time off to take part in the strike. Representatives of the unions for Citybus and KMB workers said a number of bus drivers would also take sick leave on Monday.
Carol Ng Man-yee, chairwoman of pro-democracy Confederation of Trade Unions (CTU), said the labour umbrella group had called for public support of the strike.
She said it was possible that a half a million local workers
, citing the nearly 200,000 members of the CTU subgroups.
"This is a citywide strike. Judging from the 1 million turnout for the June 9 march, I reckon the number of people joining the strike might reach 500,000," Ng said.
"I think the absence rate will be very high tomorrow."
"I understand that the airline companies have put a large number of staff on standby because they fear there could be massive delays to flight services and also a large number of flight cancellations," said Ng, a long-serving flight attendant.
More than 20 air traffic controllers from the Civil Aviation Department collectively took sick leave on Sunday, accounting for about one-third of the officers on duty. An official said the department managed to find replacements to avoid disruption.
One air traffic controller, who gave his name as Chan, said they hoped their action would motivate more people to join the general strike on Monday.
"We want to support young people," he said. "We know that [the aviation department] has some backup plans in place, so we took our sick leave one day in advance."
The Airport Authority has advised airlines to brace for disruption until about 6am on Tuesday. Its spokesman advised passengers to "check with their airlines for the latest flight information, and to proceed to the airport only when their seats and flight time have been confirmed". He added that they should keep an eye on announcements from airlines, as well as the authority's website and mobile app.
Cathay Pacific issued similar advice, adding that it recommended customers postpone non-essential travel on Monday.
It added that it would waive rebooking and rerouting charges for tickets issued on or before Monday on Cathay Pacific and Cathay Dragon for arrival or departure on Monday or Tuesday.
The Transport Department said it would try to keep traffic smooth and uninterrupted.
The department said in a statement: "The Emergency Transport Coordination Centre of the Transport Department will continue to closely monitor the road traffic situation and public transport services, and maintain close liaison with the police,
The department asked the public to watch for the latest traffic news for any service adjustments.
"They should plan their journey in advance, consider using alternative routes if necessary, start their journey earlier and allow more time for travelling tomorrow," the department said.
An MTR spokesman called on passengers not to disrupt train services, saying the railway operator would remain flexible on staff deployment to provide smooth services for commuters.
Additional reporting by Alvin Lum
This article appeared in the South China Morning Post print edition as: Strike organisers hope action brings city to a standstill