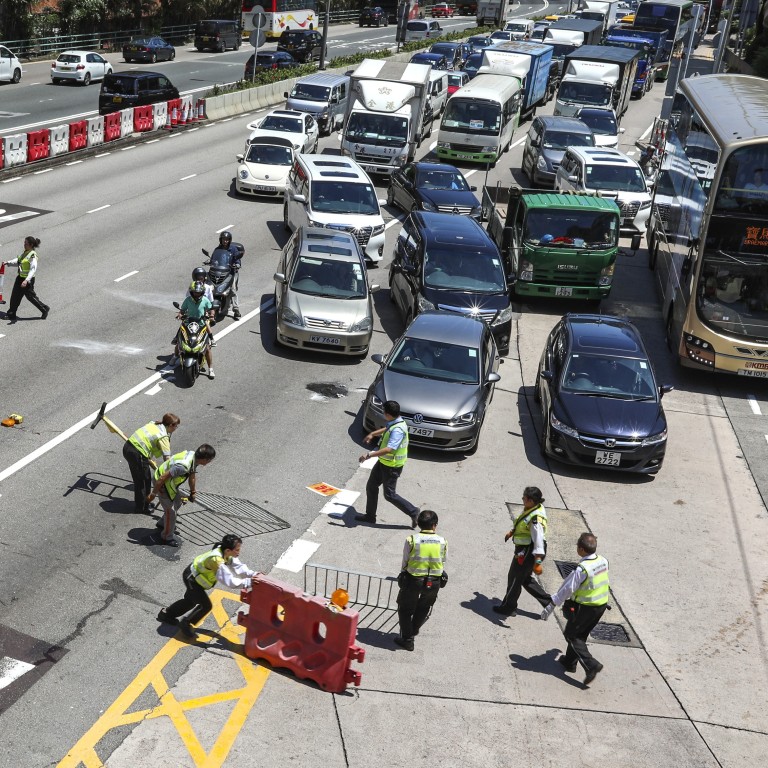 Hong Kong residents wake up to transport chaos with suspended train service, blocked roads and cancelled flights as extradition bill protesters launch citywide strike
City comes to standstill in morning as protesters block roads, disrupt train services and airport officials skip duty, resulting in cancellation of flights
Scuffles break out between commuters and protesters at MTR stations, while police rush in to clear blockade at Hung Hom Cross-Harbour Tunnel
Hong Kong commuters on Monday woke up to what was believed to be the worst transport chaos since the 2014 Occupy movement, bringing the city to a standstill, with major MTR lines coming to a full or partial halt, a cross-harbour tunnel shut down, several key roads blocked, and hundreds of flights cancelled.
The first signs of MTR service disruption emerged as early as 7.30am at four major stations and interchanges when groups of anti-government protesters, mostly wearing masks and in black, poured onto platforms and blocked train doors, triggering heated verbal exchanges with commuters.
At Fortress Hill MTR station on the Island line, rescuers had to be called in after a pregnant woman fell sick around 8am. Her husband shouted: "Ambulance! Police! My wife is about to give birth!"
He then shouted at protesters: "You are messing up Hong Kong. You always ask the government to reflect. You should reflect on yourselves first."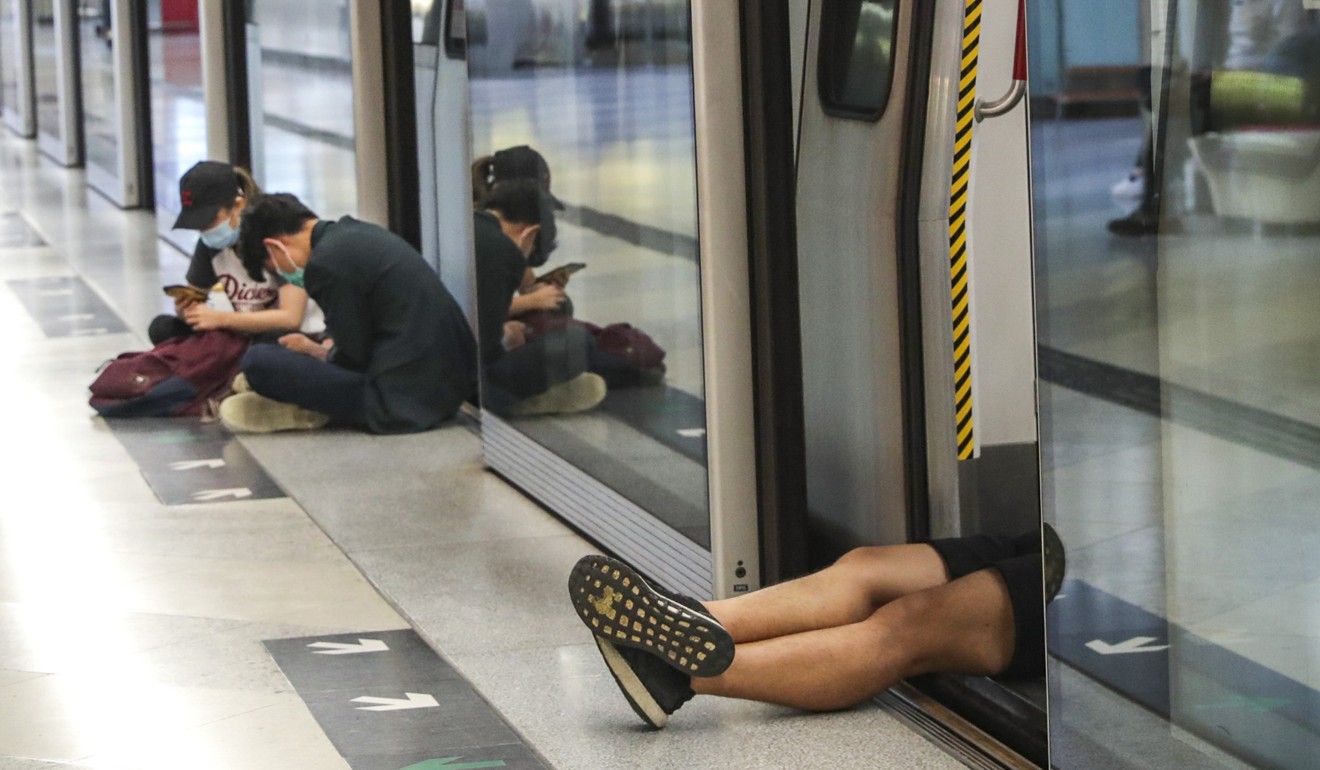 There were also reports of minor scuffles between commuters and protesters at some stations. Around 8.20am at Lai King station on the Tsuen Wan line, a protester blocking a train door was shoved off the train.
MTR services resumed at about 12.45pm. And there was no news of service disruption of the high-speed cross-border rail at press time.
Part of an escalating anti-government movement that started off with protests two months ago against the now-shelved extradition bill, Monday's so-called "uncooperative campaign" was aimed more at preventing people from going to work.
Among the main demands of protesters are the complete withdrawal of the bill and an independent investigation into police's handling of the demonstrations.
Meanwhile, a group of protesters forming a flash mob also shut down the Cross-Harbour Tunnel in Hung Hom, blocking roads using plastic barricades at about 7.30am. Police rushed in to clear the area, but the blockade had already resulted in a traffic jam.
At the airport, air traffic controllers called in sick en masse, affecting flight departures and arrivals.
"We advise passengers to contact their airlines first, and to proceed to the airport only when their seats and flight times have been confirmed," an Airport Authority spokesman said in a statement.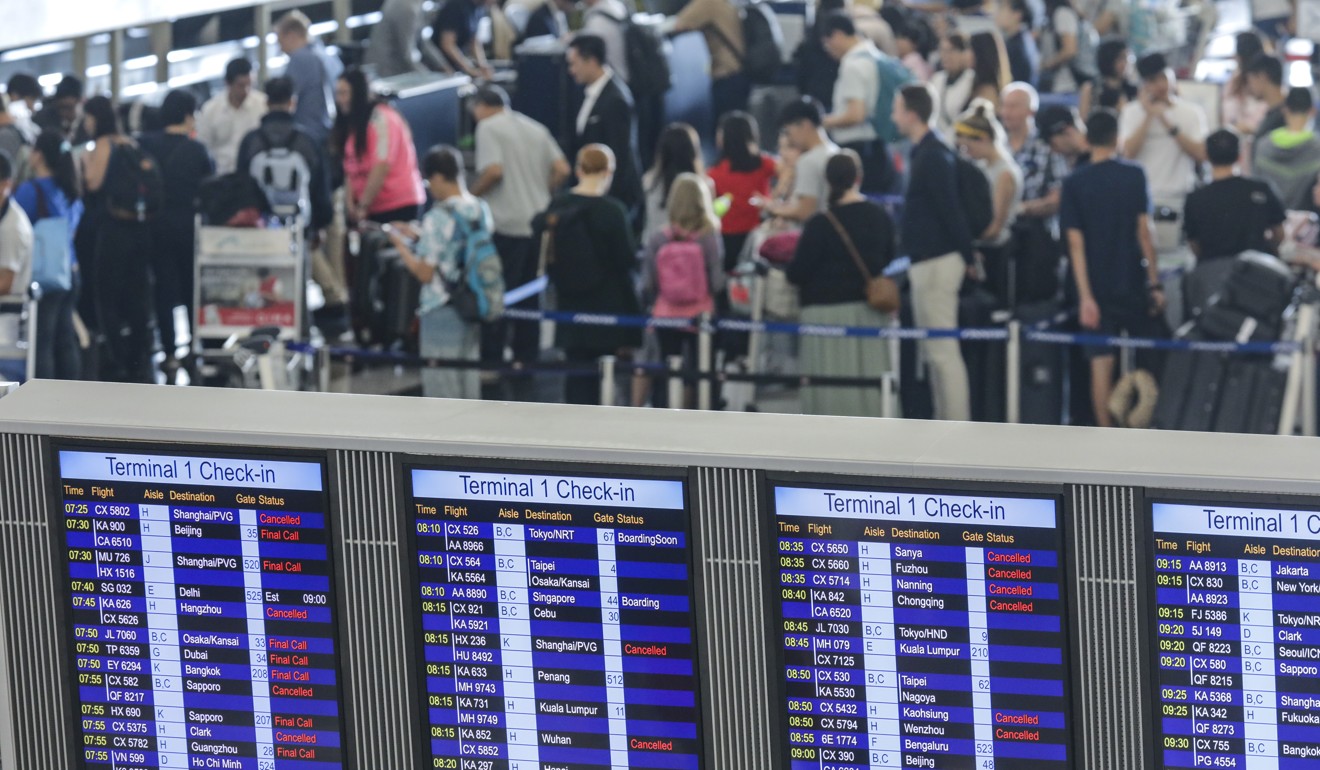 "The Airport Emergency Centre has been activated at 7am to coordinate operations among various business partners. Airport operations continue to be orderly. Flight movements are likely to be increased gradually from the afternoon."
In-town check-in services at Airport Express stations were also suspended.
Filipino domestic helpers – Angiels Rondalas, 67, and her friend Amelia Quia – arrived at the airport five hours in advance for their 1pm flight to Manila to avoid any disruption, only to find it had been cancelled.
"I have been in Hong Kong for last 30 years, but have never seen things like this. Now I don't leave the house to be safe even during vacations," Rondalas said.
Tech professional Davis Ng, 45, was sympathetic to the protesters' cause. His 2.30pm Cathay Pacific flight to Singapore was cancelled, but he bought a ticket for an 8am Singapore Airlines flight instead.
"It is not inconvenient for me to change to an earlier flight. I already knew about the strike and could plan in advance accordingly. The traffic to the airport was very smooth as well. People understand what the situation is all about," Ng said.
But just getting to the airport proved to be a challenge for some in the morning, with protesters forcing the Airport Express train service to be suspended briefly.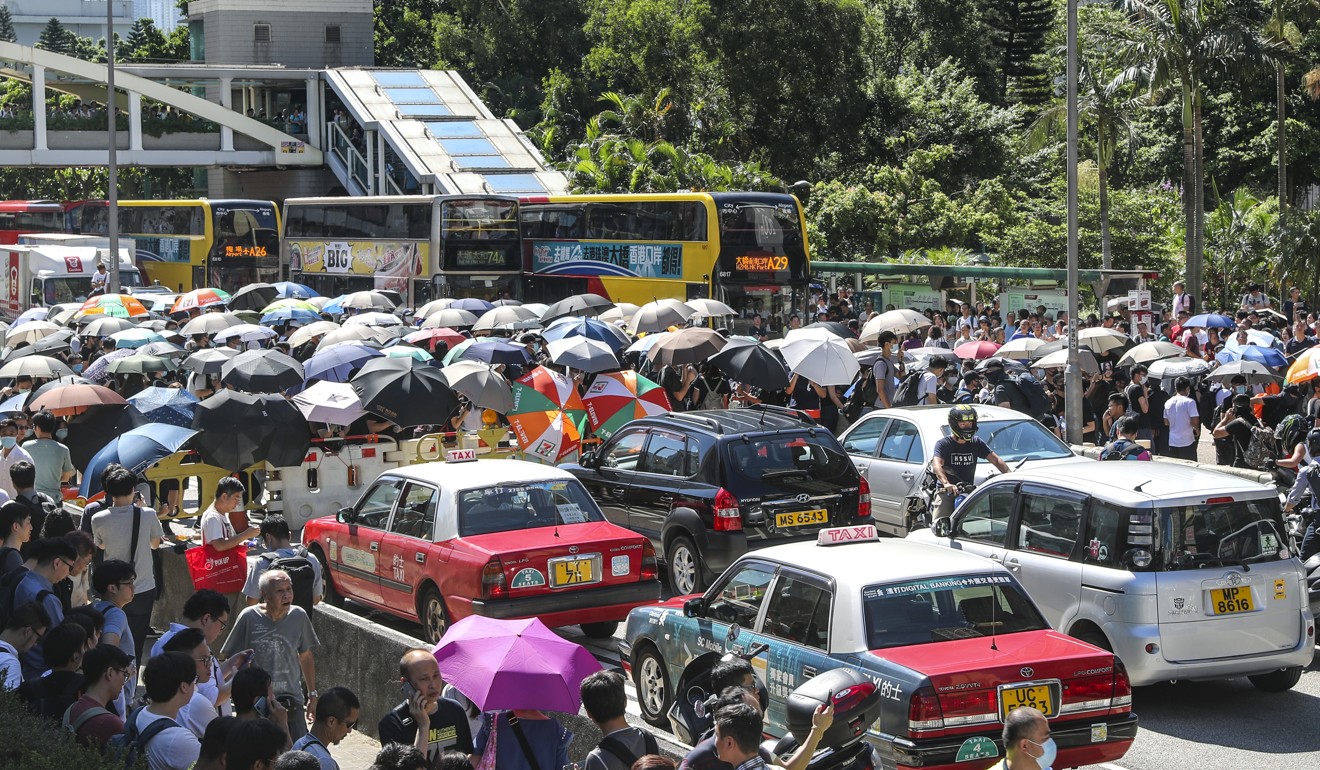 Taxi drivers seemed to be benefitting from the transport paralysis. Taxi driver Leung Tat-chong, who is also a member of the Motor Transport Workers General Union, said some of his fellow cabbies reported a 30 per cent boost in business during the rush morning hours.
"The road blockades were not a major concern. Experienced drivers know the shortest alternative routes to take passengers to their destinations.
"I just don't want to accidentally enter a protest area and get trapped. The protests have become very fluid. Road barriers could be set up anywhere all of a sudden without any warning," Leung said.
This article appeared in the South China Morning Post print edition as: day of total chaos for commutersFlashpoints