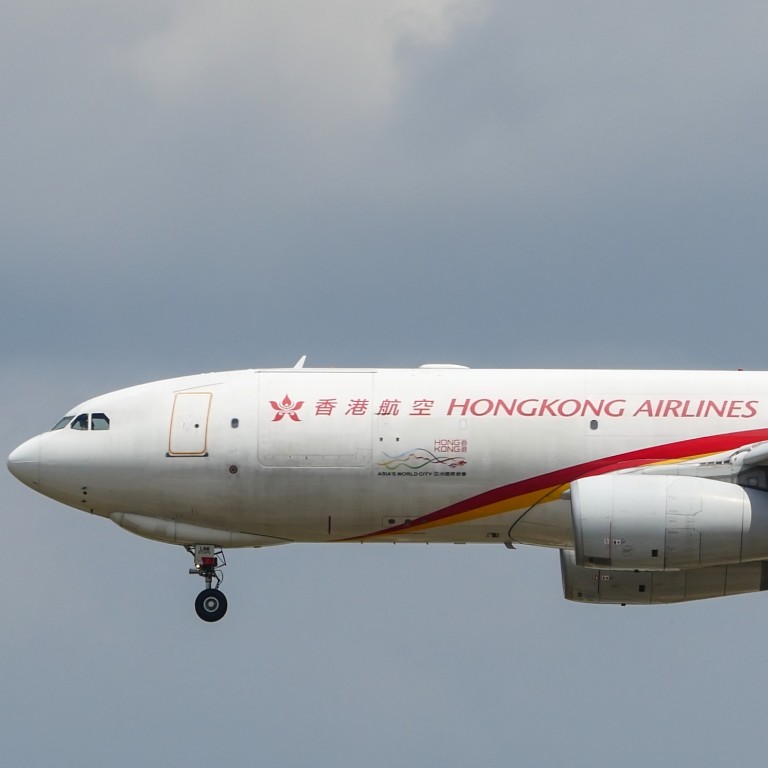 Hong Kong Airlines staff face unpaid leave and reduced working hours as travellers deferring or cancelling trips cause cash flow shortfall
Beleaguered airline blames deteriorating financial situation on anti-government protests that have been rocking the city since early June
Stricken airline endured months of boardroom turmoil earlier in the year
Hong Kong Airlines staff could be asked to take unpaid leave or reduce their working hours because of a cash flow "shortfall", blamed on the anti-government protests, which has prompted thousands of travellers to defer or cancel trips.
Revealing the impact from the protests, the number of passengers carried by Hong Kong Airlines in the past three months decreased year-on-year, dropping more than 13 per cent for the month of August. Forward booking for September to December has dropped by 30 per cent compared to the same period last year. The airline carried 7.64 million passengers in 2018.
In a note to staff on Tuesday, the loss-making airline blamed its worsening financial problems on the
citywide demonstrations
, which have regularly turned violent.
"As you are aware, hundreds of our flights in and out of Hong Kong were cancelled because of public assemblies at the airport … which impacted on our cash flow," the note said.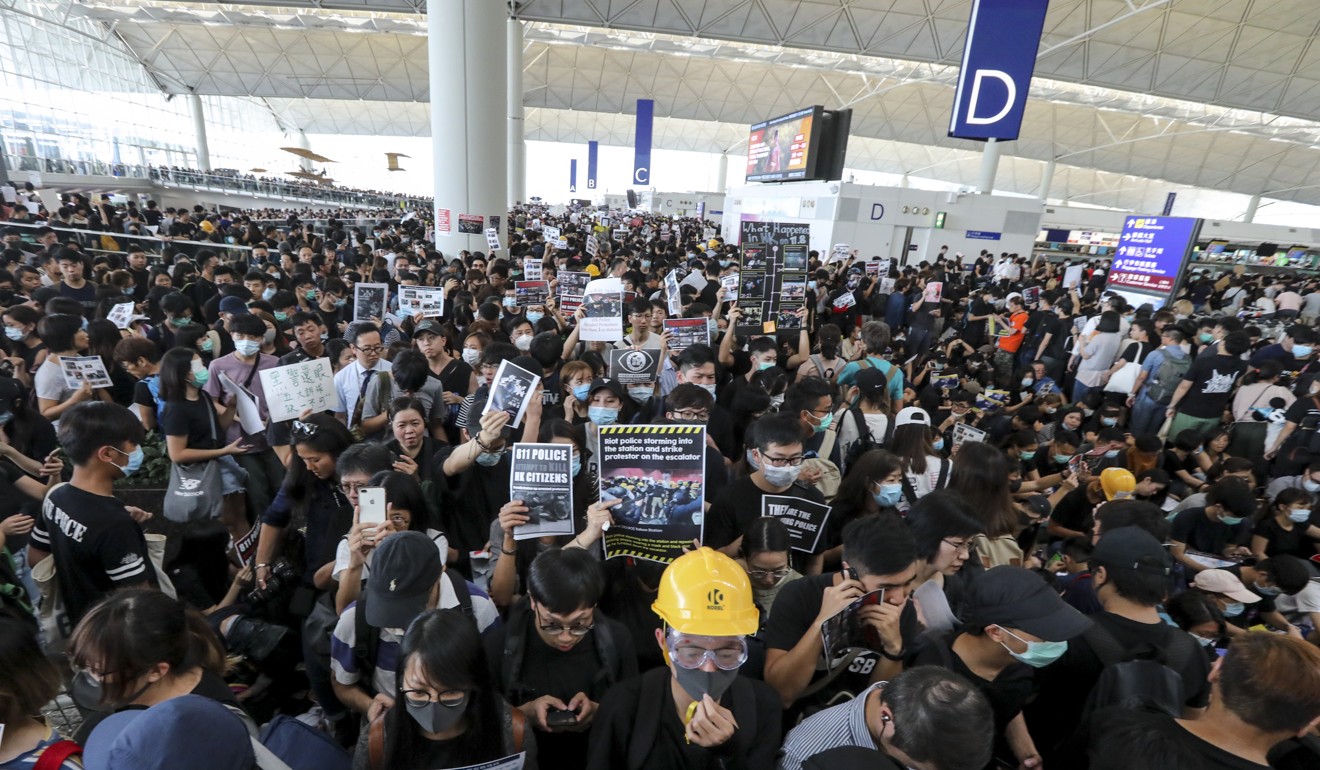 "To let us get prepared for the foreseeable difficult time in Hong Kong, you are encouraged to clear your unused annual leave and the company will also consider implementing additional measures, such as part-time options or unpaid leave programmes to all employees across the board," the company said.
Larger rival airline, the
Cathay Pacific Group
, had also warned of a "significant" revenue impact from August onwards.
The extent of the HNA-backed airline money woes meant it would also delay August salary payments until the last working day of the month rather than a few days before.
Hong Kong Airlines said protests had taken a toll on the city's economy and the situation was spread across the board. It cited revenues of core industries including tourism, hospitality, catering, retailing, logistics, transport and aviation all being significantly reduced.
"Management is doing its best to adjust the shortfall and to ensure smooth operations of the business," the company said.
Recent anti-government protests in the city have exposed the precarious condition of Hong Kong Airlines, which started late last year over concerns it was unable to repay a large amount of debt. Earlier this year it endured
months of boardroom turmoil
, sudden management changes and a shareholder battle over the control of the ailing airline.
The infighting prompted the government to scrutinise the airline closely, while the airline cut routes and offloaded some planes and pilots to cut costs.
"Recent public events in Hong Kong have impacted companies in various industries, including Hong Kong Airlines," a company spokeswoman said. "While we have striven to maintain normal operations, the public disruptions have affected our business."
"We value our staff and pay their salaries on time," the airline added. "We are monitoring Hong Kong's situation closely and will make adjustments to our services when necessary, including internal arrangements to support our operations during this challenging period."
Prospective investors headed by Citic Group, Wuxi company and the family of former chief secretary Henry Tang Ying-yen are still waiting in the wings to take a majority stake in Hong Kong Airlines, and inject much-needed cash into the privately held business.
Directly and indirectly, the protests have hurt or worsened business for home carriers and foreign airlines.
Qantas was the first to publicly announce it would switch to smaller planes after facing a
10 per cent drop
in customers flying to Hong Kong, and United Airlines suspended its
Chicago-Hong Kong flights
, citing weakening demand on the route, and moved forward plans to halt services between Guam and Hong Kong altogether.
According to official figures, between August 1 and August 21, the number of travellers passing through Hong Kong International Airport fell 11 per cent, year on year, to 4.16 million visitors. Tourist arrivals to Hong Kong dropped by nearly 50 per cent between August 15 and August 20.
The Cathay Pacific Group, which operates Cathay Pacific, Cathay Dragon and budget carrier HK Express, warned of a "significant impact" to its revenue starting in August. The airline had warned of a double-digit decline in advanced bookings.
Cathay controls more than 50 per cent of the take-off and landing slots at Hong Kong's airport. Analysts expect the company to cut flights in response to the protests. Hong Kong Airlines has control of just 1 in 10 runway slots.
This article appeared in the South China Morning Post print edition as: HK Airlines staff face unpaid leave as protests take toll