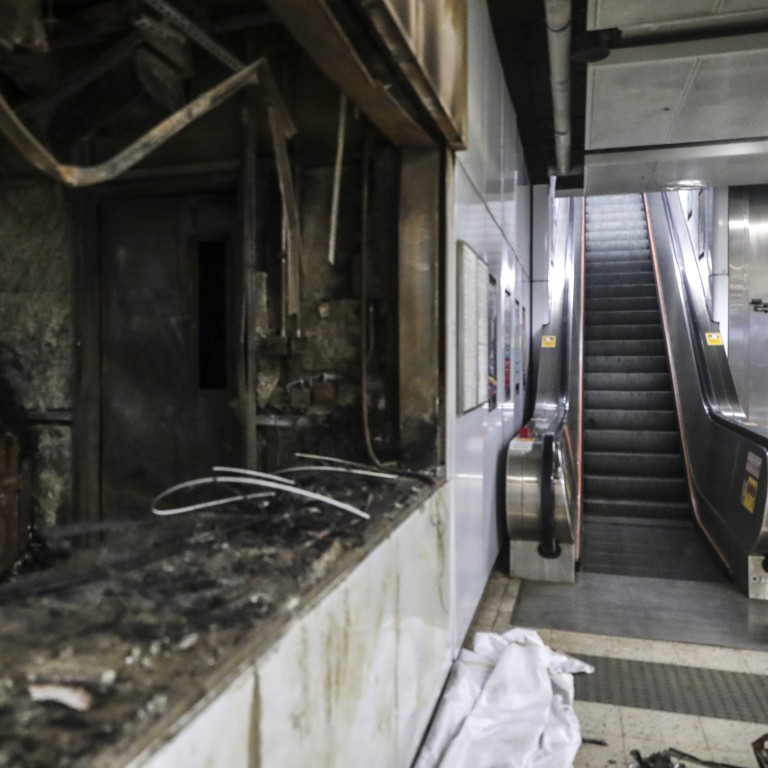 Hong Kong MTR Corporation confirms plain-clothes police conducted checks inside closed Sheung Shui station after rumours officers dressed as protesters to damage facilities
Online footage showed man with his face covered by bandana standing behind closed entrance gate at the station, shining torch at passers-by and threatening to use pepper spray
Hong Kong's embattled rail operator has said plain-clothes police were inside a closed station on Tuesday night to conduct checks after videos went viral claiming officers disguised as protesters were damaging facilities.
Online footage showed a man wearing a hat with his face covered by a bandana standing inside Sheung Shui MTR station behind a closed entrance gate on Tuesday night. Four other people in masks were also inside the station.
From the video, the man closest to the entrance appeared to hurl abuse at passers-by who questioned his identity and what he was doing inside a closed station. He also pointed torches and threatened to use pepper spray to stop anyone filming him.
A separate video showed a group of people standing behind closed entrance gates at City One station in Sha Tin at about 1.45am on Wednesday.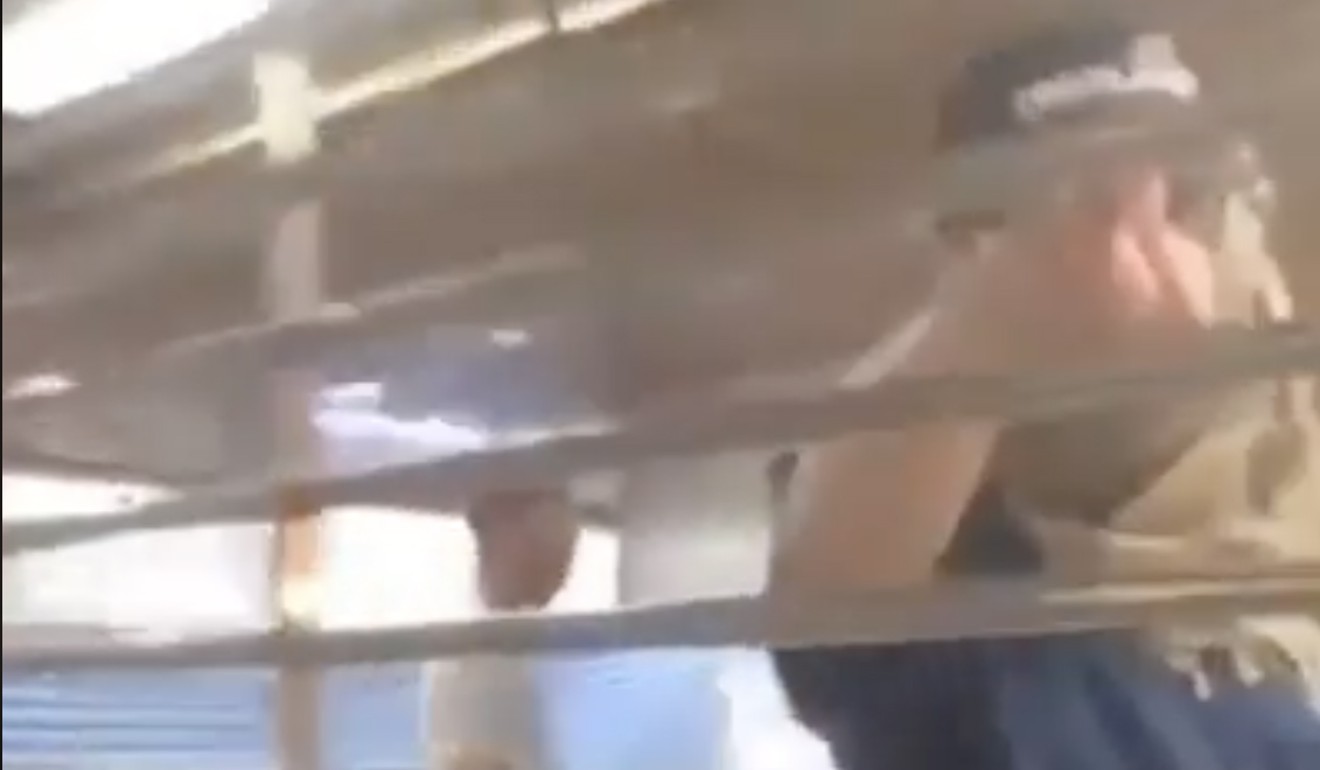 An MTR Corporation spokeswoman confirmed on Wednesday that after Sheung Shui station was closed on Tuesday night, police dispatched plain-clothes officers to "conduct checks".
"There were also several members of MTR security staff there," she said, adding the rail firm had not called the police to attend.
Regarding Sha Tin, an MTR spokesman said those inside were contractors trying to repair damaged gates.
"The gates were dislocated and stuck, so the contractors needed to shake them hard to restore them to their original location," he said.
On its Facebook webpage, police denied accusations that officers disguised as "rioters" damaged station facilities.
"We must clarify that upon receiving reports of vandalism by rioters, plain-clothes officers were deployed to carry out investigations in the station," the force said.
"Officers will not break the law. The police will continue to make use of different methods to combat crimes according to operational needs."
However, Democratic Party lawmaker James To Kun-sun did not buy the explanation and asked why they had an officer on guard at the entrance preventing pedestrians from filming or looking inside.
"There are already plain-clothes officers inside a closed station. There is no need to dress like protesters and cover their faces with a bandana or masks. Their dubious behaviour has aroused strong suspicions they were doing something unlawful inside, such as damaging facilities to frame the protesters or cover up some illegal act," he said.
Michael Luk Chung-hung, lawmaker for pro-Beijing Hong Kong Federation of Trade Unions, declined to speculate on what officers were doing inside the station.
MTR Corp's CEO Jacob Kam Chak-pui also met staff unions on Wednesday and pledged to step up security "at all costs" after stations suffered extensive damage by violent mobs of protesters.
According to Hong Kong Federation of Railway Trade Unions vice-chairman Tam Kin-chiu, the MTR chief vowed to enhance its security team and other measures to protect the safety of passengers and staff, and prevent further damage to its facilities.
"Kam said he would not haggle over the costs for such measures," Tam said. The rail firm said its security team had been expanded from 100 staff in the past to the present 1,000.
MTR Corp said about 1,200 turnstiles, 800 ticketing machines and add-value machines, as well as roughly 900 security cameras, 40 lifts and 70 roller shutters, had been viciously damaged since the protests began in June.
Kam's promise came as five security guards were arrested on Wednesday, accused of blocking riot police from entering MOSTown shopping centre to investigate the sabotage of facilities at Ma On Shan MTR station.
Tam also revealed the rail firm planned to change the look of the damaged stations to make facilities more resistant to attacks.
"For station entrances and customer service centres which had exterior glass walls destroyed, the company will consider using different materials," he said.
There were also mounting calls for the rail giant to compensate monthly pass holders as the city entered its sixth day of MTR service disruption.
A spokesman said they would actively study the compensation arrangement after assessing the impact of its crippled service for the whole month.
The MTR Corp later said there was "unfounded speculation" the corporation intentionally allowed people to damage station facilities.
"We strongly refute these false allegations," the statement said. "Illegal acts of vandalism and arson have severely damaged our assets, undermined the safety of passengers and our staff, disrupted our services and impacted on our maintenance cost and fare revenues."
This article appeared in the South China Morning Post print edition as: Masked men inside MTR station 'were police, not vandals'