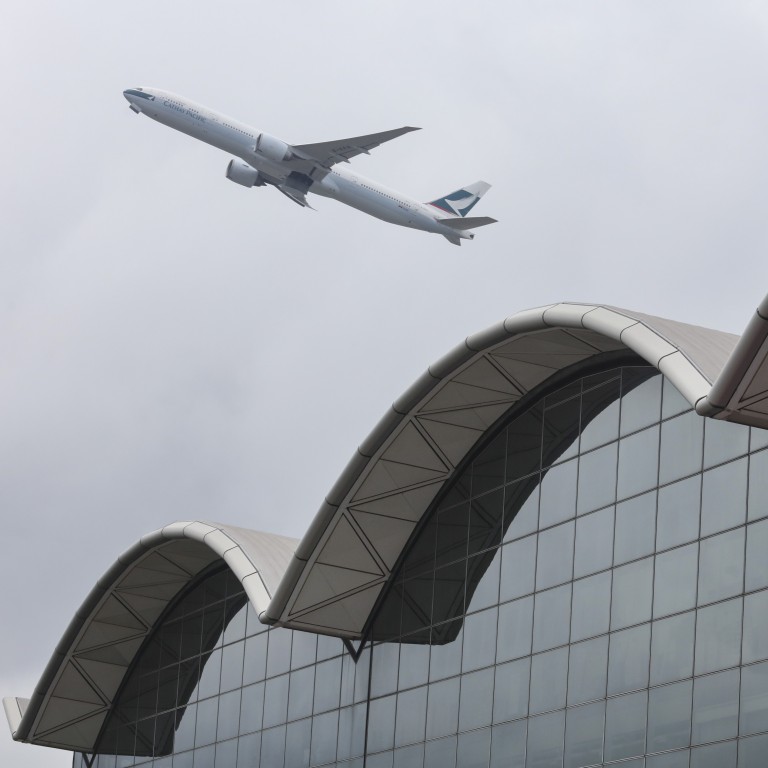 Hong Kong protests force fresh cull of city flights, led by mainland China airlines
Carriers including Xiamen Airlines and China Eastern among those stripping back services for the city
Axing of flights becoming more frequent after more than five months of civil unrest
Carriers from mainland China have led another round of Hong Kong flight cuts as the civil unrest spirals in the city home to one of Asia's busiest international airports.
Xiamen Airlines has suspended all flights to Hong Kong International Airport, with the exception of two services a week scheduled temporarily for November.
China Eastern also slashed its 56 flights from Shanghai Pudong to HKIA to 32 per week and removed all large aircraft from the route, according to flight schedule tracker service Airline Route.
Hong Kong has been battered by more than five months of anti-government protests, which have often descended into violence and paralysed the city's transport system.
The demonstrations have intensified this month with radicals causing citywide carnage during working hours, an escalation of what had become the usual pattern of weekend rampages.
Last week, the city endured some of the most intense clashes between protesters and police, which continued into the start of this week.
Another batch of non-Chinese Asian airlines have also decided to reduce their exposure to Hong Kong as the flight reductions become more frequent.
Garuda Indonesia will go from running 21 flights a week to just four up to mid-December. Thai Airways and Philippine Airlines are each cutting one of five daily flights per week to Hong Kong.
Of the estimated 250 flights per week previously scheduled by mainland Chinese carriers on affected routes, about 100 have been temporarily dropped over various dates, according to analysis by the Post.
The downsizing in flights reflected adjustments made to services from 17 mainland Chinese airports by 10 mainland Chinese airlines, including the big three state-owned carriers.
Cebu Pacific, South Korea's Jeju Air and Jin Air, AirAsia and India's SpiceJet also made flight reductions or route cancellations over the weekend, Airline Route showed.
Airlines who have pared back their schedules for Hong Kong have been contacted for comment, however, the mainland Chinese airlines and South Korean carriers could not be reached.
Emirates, which along with China Eastern is one of the 10 biggest airlines operating out of HKIA, also made reductions by downsizing some flights to smaller planes and cancelling a handful of services outright.
The reduction, which is in place from November 13 until December 12, represents a 7 per cent cut in air tickets available for sale, according to people familiar with the matter.
Airlines that have made short-term adjustments to their Hong Kong routes include Air Canada, United Airlines, All Nippon Airways, Singapore Airlines and Asiana Airlines.
Local airlines Cathay Pacific and Hong Kong Airlines (HKA) have also made changes, which go beyond the impact of the protests alone.
Cathay Pacific is still feeling the effects of a
backlash from Beijing
, which led to a boycott from mainland passengers.
Xiamen Airlines all but withdrew its 26 flights from Hong Kong with the suspension of some routes varying. However, in November, it was operating a Wuyishan-Hong Kong service twice a week.
The Hong Kong-Shanghai Pudong route is the fourth busiest international route in the world, according to aviation data consultancy OAG.
China Eastern had a 28 per cent share, with Hong Kong's Cathay Pacific and Cathay Dragon offering half of the total flights. The route saw 20,678 flights in a single year by last year.
An annual summit held by Asian airlines, due to be held in Hong Kong this week, was cancelled earlier this month over the increasingly volatile situation in the city.
This article appeared in the South China Morning Post print edition as: mainland airlines lead way in flight cuts to hong kong